The Copa America is out. It is your chance to watch Messi, Neymar, Luis Suarez, James Rodriguez or Alexis Sánchez playing for their national teams. And what about FIFA 15 ? How Copa America 2015 will be celebrated in the game ?
Copa America 2015 and FIFA 15 – Frequenty Asked Questions
Q: There will be a new Copa America game mode, like it happened last year with the World Cup?
A: No. It never was an option.
Q: How Copa America 2015 will be celebrated in FIFA 15?
A: Nothing special. EA will release IF cards to the players most in form.
Q: It will be released IF cards with a new colour?
A: No. Not even green like the WC cards of the last year. Copa America. The treatment given to the Copa America will be similar to the given to the African Nations Cup earlier this year. That is, the cards will be orange (MOTM).
Q: Where I can see which Copa America MOTM cards were released?
A: As usual, you can see all the MOTM cards here.
Q: Why EA doesn't make something special to Copa America 2015?
A: Basically, because many of the players of this tournaments are not in their database.
Q: When Copa America 2015 MOTM cards will be released?
A: Probably in the following days:
Monday, June 22nd 2015
Sunday, June 28 or Monday, June 29 2015
Thursday, July 2nd 2015
Saturday, July 4th or Monday, July 6th 2015
Q: For each one of these dates, it is only expected to launch one single MOTM card?
A: No.
Q: For how long these cards will be available in packs?
A: 24 hours.
Q: During Copa America 2015, TOTW will be released as usual?
A: Yes. TOTW will not be affected by the Copa America.
Q: In which packs can I pull one of these cards?
A: In any pack with players cards.
Q: Which chances I have to pull one of these cards from a pack?
A: The same ones you have to pull these NIF cards in any other time.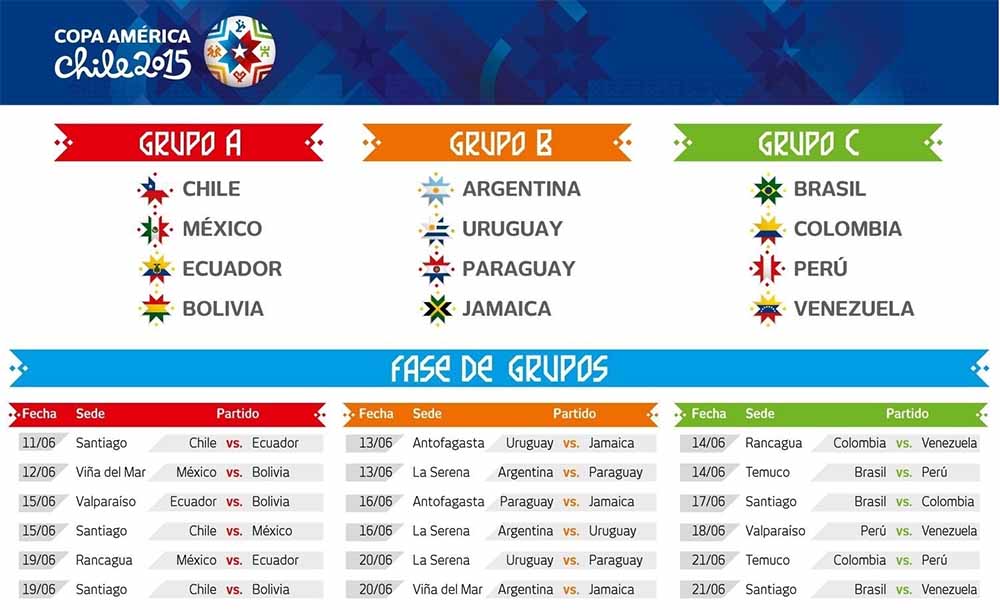 Group Stage of Copa America 2015