FIFA 21 Beta is released in August 2020 for a selection of players from US and UK.
CLOSED BETA RELEASE DATES
All release times are indicated in the UK time zone.
FIFA 21
Start: August 14, 2020 07:00 pm (Friday)
End: September 01, 2020 07:00 pm (Wednesday)
FIFA 20
Start: August 09, 2019 05:00 pm (Friday)
End: August 21, 2019 06:00 pm (Wednesday)
FIFA 19
Start: August 10, 2018 05:00 pm (Friday)
End: August 22, 2018 06:00 pm (Wednesday)
FIFA 18
Start: August 10, 2017 05:00 pm (Thursday)
End: August 20, 2017 06:00 pm (Sunday)
FIFA 17
Start: August 18, 2016 05:00 pm (Thursday)
End: August 28, 2016 06:00 pm (Sunday)
FIFA 16
Start: August 13, 2015 05:00 pm (Thursday)
End: August 23, 2015 06:00 pm (Sunday)
FIFA 15
Start: August 15, 2014 05:00 pm (Friday)
End: August 25, 2014 06:00 pm (Monday)
Everything you need to know about the FIFA 21 Closed Beta.


PURPOSE
The main purpose of the FIFA 21 Beta is to allow players to test the game. This way, they can give feedback about potential anomalies and suggest changes. The Beta is also used to promote the game itself.
DEVELOPMENT STAGES
Just like the previous games, FIFA 21 is very complex. It joins several game modes together, that have been developed over the years. There are several different teams responsible for developing determined projects and areas of the game that might or might not be integrated into the final product according to deadlines, the work's quality and other economic and strategic factors. Which means that these teams are not always working for the next FIFA.

The whole project must be exhaustively tested out for them to make sure it works correctly. That's why Electronic Arts usually invite a group of volunteers to test the game. After the adjustments regarding the first feedback period are made, the Alpha version is released. This is the version EA uses to show it to the public for the first time, at EA Play. The game's official release occurs at the end of September and always comes along with an update that's supposed to correct the anomalies detected after the disks are printed out. Between one thing and the other, there's the Beta and the Demo.
FEEDBACK
FIFA 21 Beta allows players to test the game before it's release to the general public. The lucky users that get to test the game are required to offer feedback so that EA can tweak the game and fix any last-minute bugs before the official release. They can do it in a
forum
created for the purpose, where the only people who have access to it are the invited registered players.
For the developer team, the closed beta is like a big test, so they may ask you to test something specifically. For example, in Ultimate Team you'll receive credits and asked to use them to buy packs.
PLATFORMS
This test version is exclusive for PlayStation 4 and Xbox One. It won't be available for PC, Nintendo Switch consoles or mobile platforms.
GAME MODES
The following game modes are available in the FIFA 21 Beta:
1
Kick-Off;
2
Pro Clubs;
3
Career Mode;
4
Ultimate Team;
5
VOLTA FOOTBALL.
Players selected for the FIFA 21 Beta will receive an invitation to the Kick-Off and one of the other game modes. EA usually add testers to the mode they have played most. In the first days, they will only have the chance to play the two game modes assigned to them. However, all game modes will be unlocked on August 27.
LANGUAGE
The FIFA 21 Beta is only available in English.
SIZE
The file you have to download is around 40 Gb, no matter the game modes you were selected.
DATABASE
Generally speaking, the players and ratings used in the FIFA 21 closed Beta are ones from FIFA 20. Even if you find differences, it doesn't mean that those ratings will be used on the final game release.
PROGRESS
No progress made on the FIFA 21 Beta will carry over to the final game.
BASIC DETAILS
Selected FIFA players in the US and the UK, who opted in to get EA emails, will get an email at their inbox that's linked to their EA account. Because of limited space in the Closed Beta, not everyone will get an email with a code. The email will include a FIFA 21 Closed Beta access code for PlayStation 4 or Xbox One.

REQUIREMENTS
There are a few basic requirements to play the FIFA 21 Beta:
1
You must have, at least, 18 years old;
2
Your console's account must be from UK or North America;
3
You must have a PlayStation 4 or Xbox One console (FIFA 21 Beta is not available for other platforms);
4
You must have played FIFA 20 regularly;
5
You'll need to have an Internet connection;
6
You'll need to accept the User Agreement and the FIFA 21 Beta Agreement;
7
You'll need to have an active subscription to either Xbox Live Gold or PS Plus, depending which platform you're playing on.
If you fulfilled these requirements, then you have chances to be invited.
IMPROVE YOUR CHANCES
Only players that are invited will be able to play the closed beta. No one can guarantee you an invitation but you can improve your chances to be selected. Just follow these two simple steps:
1
UPDATE YOUR CONTACT PREFERENCES
This will inform EA that you are available to receive emails from them and eventually the FIFA 21 Beta invitation

1) Open your internet browser and go to
this page
;
2) Login into your account;
3) Check the box 'Yes, email me about products, news, events and promotions consistent with EA Privacy and Cookie Policy';
4) Confirm that FIFA 19, FIFA 20 and FIFA Ultimate Team are all checked on the 'Preferred Games' box (if you can't see them, click in 'Add More');
5) Click in the 'Update' button on the bottom of the page.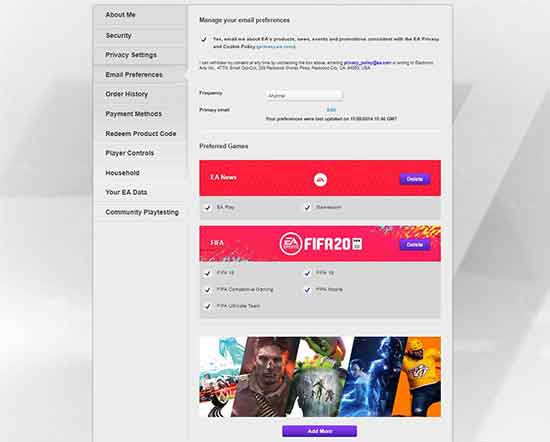 2
UPDATE YOUR GAME TESTER PROGRAM
This will inform EA that you are available to test FIFA and other games

1) After updating your contact preferences, click in the 'Community Playtesting' button;
2) Follow the instructions to sign up.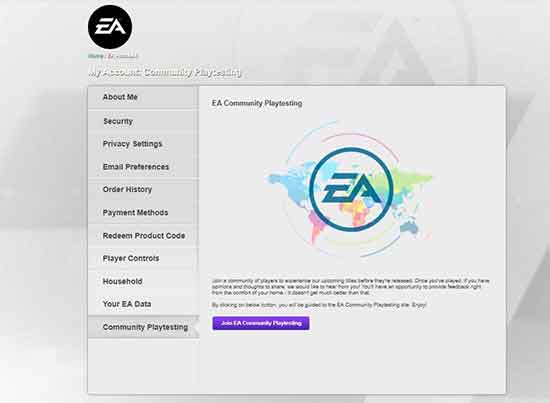 Generally speaking, the selection process is random. You don't have better chances to play the FIFA 21 Beta if you live close from EA offices, played thousands of FIFA 20 matches or are a professional player. Game advisors cannot authorize and provide email invites if you did not receive one. As you see, the best you can do to improve your chances to play it is to follow our simple tips. Be aware that updating your contact preferences, your game test program and the FIFA Insider status may not be enough to be invited to the Beta.
RELEASE DATES
Only players who were invited will be able to play the FIFA 21 Beta. EA started to send invitations on August 12, 2020 and have sent new codes on August 26 and August 27. In previous years, invitations were sent on the following days:
| FIFA 20 | AUGUST 08, 2019 |
| --- | --- |
| FIFA 19 | AUGUST 08, 2018 |
| FIFA 18 | AUGUST 09, 2017 |
| FIFA 17 | AUGUST 02, 2016 |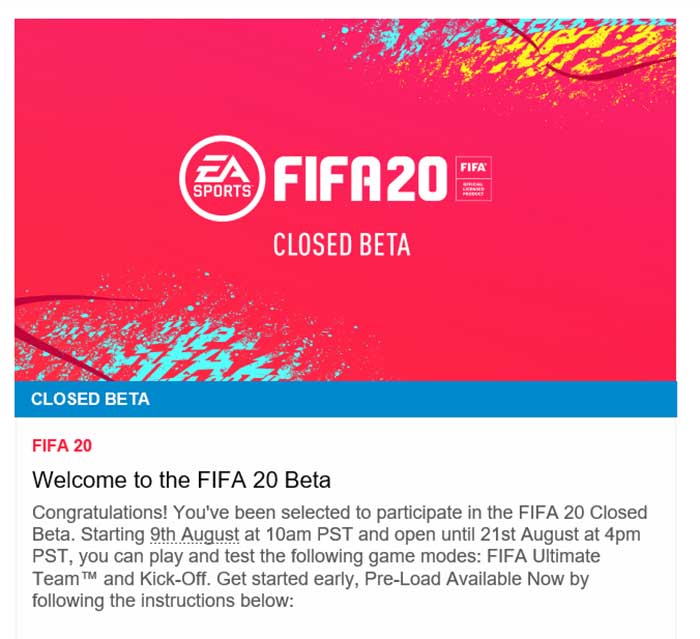 ACTIVATION
If you were invited, all you need to do is to follow these four simple steps.

1
Use your existing Sony Entertainment Network account on PSN;
2
Select the PlayStation Store icon on the PS4 system home screen;
3
Select 'Redeem Codes' at the bottom of the menu on the PlayStation Store;
4
Enter the code. You are now ready to play.

1
Go to 'Games' under Store;
2
Select 'Use a Code';
3
Sign in if prompted;
4
Select or enter the 25-character code. You are now ready to play.
CAUTIONS
Stay alert to your mailbox, the one you use for your FIFA account, to see if you were invited or not. Pay attention to all folders, including spam. If you've changed your email address or no longer have access to the one you used to create your account, swap emails from one account to another.
EA sends all Beta communication from
[email protected]
Add this address as a safe sender to receive emails. Check your spam, junk, or social folder for any missed email messages from
[email protected]
Don't trust in any emails sent from a different domain or share your credentials.
You will need a direct invite in order to try out the FIFA 21 Beta. You cannot buy it to anyone. A Beta code is created just for a specific player and it can't be transferred or shared with another player. It won't work in other accounts.
If you found invitations for sale, you should know that they are not legit because invitations are always associated with the Origin account of the owner.
RULES
By accepting the invitation, players are obliged to fulfil the agreement of the closed beta, which includes a confidentiality term. It basically forces the participants to not divulge any information regarding the game outside of the forum created for this purpose. Live streaming and image capturing of Closed Beta gameplay are against the rules.

Those who don't fulfil the confidentiality term will lose access to the current beta and to any other that's released afterwards. Other measures can be taken for more serious cases.