Every single Wednesday, Electronic Arts releases a Team of the Week featuring the most in-form players. However, the way they are selected is unknown to most of the community. Find out on this page how TOTW players are chosen on FIFA Ultimate Team.
FIFA Ultimate Team's Team of the Week
Introducing the TOTW
Since FUT 10, every single week EA Sports selects twenty-three players of any category that have played well the previous week in real life and join them in a single team. That team is called Team of the Week and you can play against them in the 'TOTW Challenge'. These cards are released as In Form for that week only and have boosted stats. In the week a player gets his TOTW card in packs, it is impossible to find his regular card there. The TOTW players from the starting eleven also have their card art altered with default images being replaced by special dynamic ones.
Except in special cases, the TOTWs are released non-stop for a year, from September. All matches from the domestic leagues licensed in the game are likely to result in a TOTW card. On the dates scheduled by FIFA to international qualifiers matches, domestic leagues stop and TOTW can be formed by players from these matches (friendlies are not taken into account). Most of the matches take place over the weekend, but no games are excluded just because they take place on a different day (yes, Monday or mid-week games can also receive these IFs). Players that stand out on a Tuesday, or later days, are candidates for following week's TOTW. When there are not many matches to be played, as in July, the batch of selected players can be shortened to eighteen instead of the usual twenty-three.
These black cards have become more important on FUT 17, when FUT Champions and Ones to Watch cards were introduced. The rewards of the most competitive FUT game mode are based on untradeable items that replicate the TOTW of each week. In addition, Ones to Watch investors are constantly alert to new TOTW to see if their cards will appreciate or not.
What many people do not know is the way how TOTW players of FIFA Ultimate Team are chosen. That is why we have decided to release this guide that clarifies how this is done.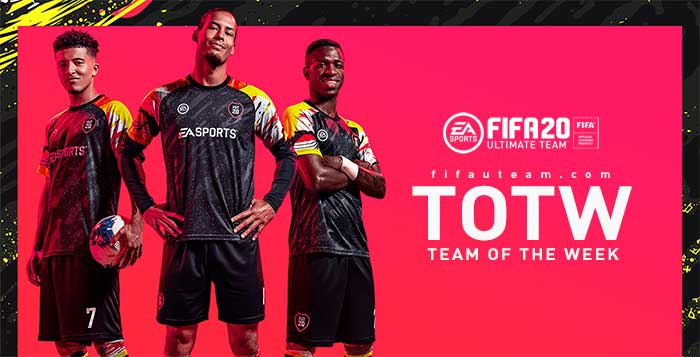 Click on the image to see the complete list of FIFA 20 TOTWs
How EA Chooses the FIFA 20 Players for the Team of the Week
Predicting a TOTW with a good success rate
Team of the Week items are announced every Wednesday at 3pm (UCT time) and released in packs three hours later. However, they begin to come to life much earlier. Although EA does not reveal anything about TOTW's backstage, the truth is that a few years ago a game developer uncovered in an interview that his team met every Monday morning to make a first plan of what would be the team of the week. For this, and according to the producer Niels Diekmann, they have the precious help of the weekly reports produced by an EA's department based in Cologne (Germany): the FIFA Data Collection and Licensing Group. As soon as the list of 23 players is closed, it goes through several other departments until they reach the official social networks where they are announced: licenses, brand, QA testing, design, strategic partners and marketing.
With the increasing importance of the TOTWs, more and more people try to predict the official choices. If you also want to do it, you should know the criteria EA uses to select the new cards.
01 GOALS SCORED
This is the number one factor when deciding who enters in the team of the week. After all, goals are the most important thing in football. Defenders that score more than one goal in a single match are almost guaranteed. On the other hand, the strikers may need more than one goal to be in. Three or more goals are almost always a passport to the TOTW, regardless of the player's position.
02 ASSISTS
Except for goalkeepers, it is not very common to see players who have not made any assist or scored a goal on the TOTW. The importance of assists is such that they are often analyzed together with goals in a single criterion (G & A).
03 DISTRIBUTION BY POSITIONS
Even if 23 defenders score a haul in a single weekend (it will be easier to pull a Ronaldo from a Gold Pack), someone will have to be left out. Players playing in the same positions compete with each other for a limited number of places. EA has set a minimum and a maximum amount of players for each position:
– 2 to 3 goalkeepers (two in 80% of the times)
– 4 to 6 defenders, regardless of whether they are full-backs or central-backs (five in 70% of the times)
– 7 to 12 midfielders, regardless of whether they are wingers or central-midfielders (nine to eleven in 60% of the times)
– 5 to 8 forwards, regardless of whether they are centre-forwards or strikers (six to seven in 60% of the times).
04 MATCH RESULT
The better the result, the more chances a player has to be named to the team of the week. However, a draw does not leave him out. This happens mainly to players of inferior teams that manage to surprise the most popular ones.
05 TEAM'S AND PLAYER'S POPULARITY
The popularity of players and teams is increasingly taken into account. After all, the community likes to see in the TOTW the players they follow and not mere strangers. Sometimes, this popularity is not related with the biggest clubs or the best players, but rather with the cards that are highly valued by the FUT community, such as the fastest players or the most OP in a certain edition.
06 PREVIOUS TOTW CARDS
When assigning a new TOTW card, EA always checks the amount of IF cards a player eventually already has and when has he received the latest card. If he has been awarded many times with these cards, it is likely that priority will be given to other players. Also if he has already received it two weeks before, most likely he will have to wait for another time. And yes, it already happened a player entering in two consecutive TOTWs but almost sure it won't happen again.
07 DISTRIBUTION BY RATING
When the top domestic leagues have not yet started the new season, it is common to see the TOTWs to be filled with bronze and silver cards. However, in the remaining weeks, EA tries to build teams as balanced as possible. It is unlikely that someday you will see Ronaldo, Messi and Neymar in the same TOTW. Generally, the rating distribution of TOTW players follows these ranges:
– five to eight 85+ rated cards (which affects the tiers bronze 1 and 2 Weekend League rewards);
– ten to fourteen 80-84 rated cards;
– three to five 75-79 rated cards;
– up to two bronze or silver cards.
08 LEAGUE
Everyone knows that the players from the most popular leagues are picked more times for the team of the week. This is the case for those who play in the Premier League, responsible for filling around 20% of the slots, even when the athletes are playing by their national teams. Serie A, LaLiga and Bundesliga compete against each other to see which one is the second league more represented in the TOTW, with around 12% each, while Ligue 1 stands at 8%. Still, there are always several leagues represented every week.
09 OPPONENT'S DIFFICULTY
To be decisive in a win over Manchester City or over Fulham is not exactly the same, isn't it? This is also reflected in EA's choices. The greater is the achievement, the more chances a player has to receive an IF card.
10 CONCEDED GOALS
This one also applies to defenders but it is more important for goalkeepers. A player in this position who has conceded goals will hardly be part of EA's choices.
11 SAVED PENALTIES
Nothing gives more visibility to a goalkeeper than to save a penalty. Those who achieve this and do not conced any goal are strong candidates for the Team of the Week.
12 SAVES
Do not concede any goal, save a penalty and make many saves. In this order, these are the main criteria used for the selection of goalkeepers. Has anyone got all three? Jackpot!
13 STATS AND SCORE
Specialized press and statistical sites, such as Whoscored, are also taken into account when EA is choosing the TOTW players. Whoever reaches a score 10 does not have his spot guaranteed but gets closer to get it.
14 MAN OF THE MATCH
Moving slowly to the bottom of this list, it's time to know the least important factors. Although with little relevance, it seems that, in some cases, EA uses the prizes awarded by domestic leagues to refine their choices.
15 MINUTES PLAYED
A player who gets in at ten minutes of the end will have to be truly brilliant (and decisive!) in order to convince EA. In other hand, leaving the match earlier, few or no implications will have to the TOTW selections.
16 BOOKINGS
A player has already been sent off and still made part of EA's choices. However, this is very rare. The yellow cards do not seem to have any influence.
17 RIVALRY
In addition to the opponent's difficulty, EA also takes into account, on a much smaller scale, the rivalry between two teams. A player who decides a match in favor of his team against the main rival, always gains more visibility.
18 OTHER RESTRICTIONS
More than a game, FIFA Ultimate Team is a business. And like all big business, everything has to be planned in detail. The common player does not have the slightest idea of the many situations that have to be planned day to day to the point where they can condition the players selected to the TOTW. Hence, there are choices that we will never understand because they were forced to happen in the interests of the game's producer and its strategic partners.
The Ratings of TOTW Players
What ratings are assigned to TOTW cards?
When the first TOTWs came out, in FIFA 10, there was not a rule that defined the increase each card would have. Over time, EA have standardized these upgrades, so that everyone could know in advance the rating of any potential new black card. Today, most of the community knows that, to a player with a NIF 77 rated item, an 81 rating will be assigned if he receives a TOTW card and an 84 if it happens again. If you are one of those who do not realize why a player gets an increase of 3 points while another only gets one point, it's time to learn how the ratings of TOTW cards are assigned. All you need to know is in the following table.
| NIF | IF | IF2 | IF3 | IF4 | IF5 |
| --- | --- | --- | --- | --- | --- |
| 75 | 81 | 84 | 86 | 87 | 88 |
| 76 | 81 | 84 | 86 | 87 | 88 |
| 77 | 81 | 84 | 86 | 87 | 88 |
| 78 | 82 | 84 | 86 | 87 | 88 |
| 79 | 82 | 84 | 86 | 87 | 88 |
| 80 | 83 | 85 | 86 | 87 | 88 |
| 81 | 84 | 86 | 87 | 88 | 89 |
| 82 | 84 | 86 | 87 | 88 | 89 |
| 83 | 85 | 86 | 87 | 88 | 89 |
| 84 | 86 | 87 | 88 | 89 | 90 |
| 85 | 86 | 87 | 88 | 89 | 90 |
| 86 | 87 | 88 | 89 | 90 | 91 |
| 87 | 88 | 89 | 90 | 91 | 92 |
| 88 | 89 | 90 | 91 | 92 | 93 |
| 89 | 90 | 91 | 92 | 93 | 94 |
| 90 | 91 | 92 | 93 | 94 | 95 |