FIFA 20 TEAM OF THE GROUP STAGE
The FIFA 20 Team of the Group Stage event features themed items, promo packs, dynamic objectives and exclusive squad building challenges.
This calendar shows you when Team of the Group Stage events were released in past years.
Estimated dates are highlighted in light blue.
All release times are indicated in the UK time zone.
DECEMBER 06, 2019 06:00PM – DECEMBER 13, 2019 06:00PM
DECEMBER 07, 2018 06:00PM – DECEMBER 14, 2018 06:00PM
DECEMBER 08, 2017 06:00PM – DECEMBER 15, 2017 06:00PM
DECEMBER 09, 2016 06:00PM – DECEMBER 16, 2016 06:00PM
DECEMBER 11, 2015 06:00PM – DECEMBER 14, 2015 06:00PM
Team of the Groups Stage Offers from previous years
Team of the Groups Stage Items from previous years
FIFA 19
Players available in packs
92
🇪🇸 GK: David De Gea (Manchester United)
89
🇸🇮 GK: Samir Handanovič (Inter)
90
🇩🇪 CB: Mats Hummels (Bayern München)
89
🇨🇲 CB: Kalidou Koulibaly (Napoli)
86
🇬🇷 CB: Sokratis (Arsenal)
88
🇪🇸 LB: Jordi Alba (FC Barcelona)
95
🇦🇷 RW: Lionel Messi (FC Barcelona)
89
🏴󠁧󠁢󠁷󠁬󠁳󠁿 RW: Gareth Bale (Real Madrid)
82
🇺🇦 RM: Viktor Tsygankovz (Dynamo Kyiv)
94
🇧🇷 CAM: Neymar (Paris Saint-Germain)
90
🇩🇰 CAM: Christian Eriksen (Tottenham Hotspur)
86
🇫🇷 CAM: Nabil Fekir (Olympique Lyonnais)
82
🇩🇪 CAM: Kai Havertz (Bayer 04 Leverkusen)
88
🇭🇷 CM: Ivan Rakitić (FC Barcelona)
83
🇦🇷 CM: Giovani Lo Celso (Real Betis Balompié)
81
🏴󠁧󠁢󠁥󠁮󠁧󠁿 CM: Ruben Loftus-Cheek (Chelsea)
92
🇵🇱 ST: Robert Lewandowski (Bayern München)
90
🇫🇷 ST: Antoine Griezmann (Atlético de Madrid)
90
🇦🇷 ST: Paulo Dybala (Juventus)
86
🇧🇦 ST: Edin Džeko (AS Roma)
81
🇮🇱 ST: Munas Dabbur (Red Bull Salzburg)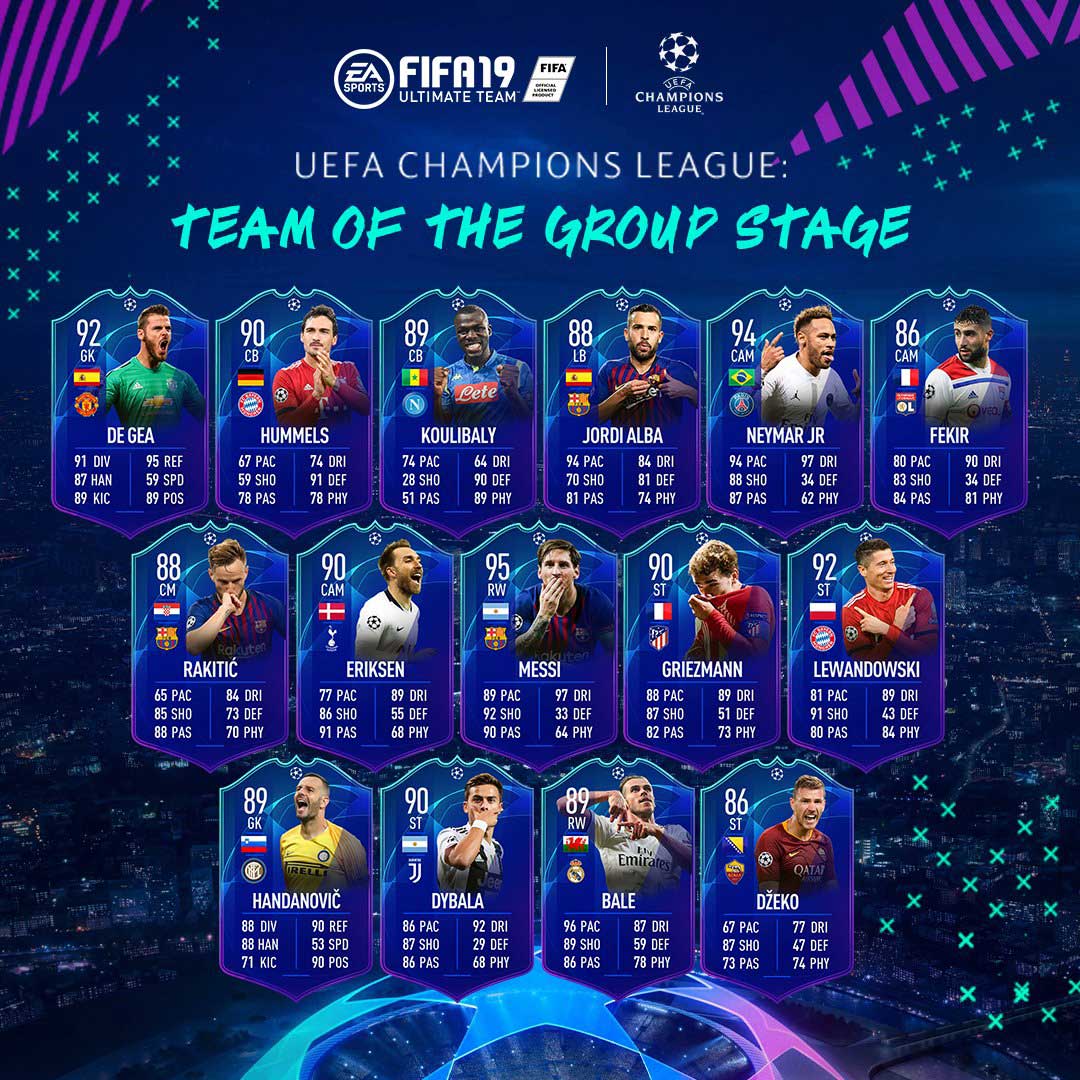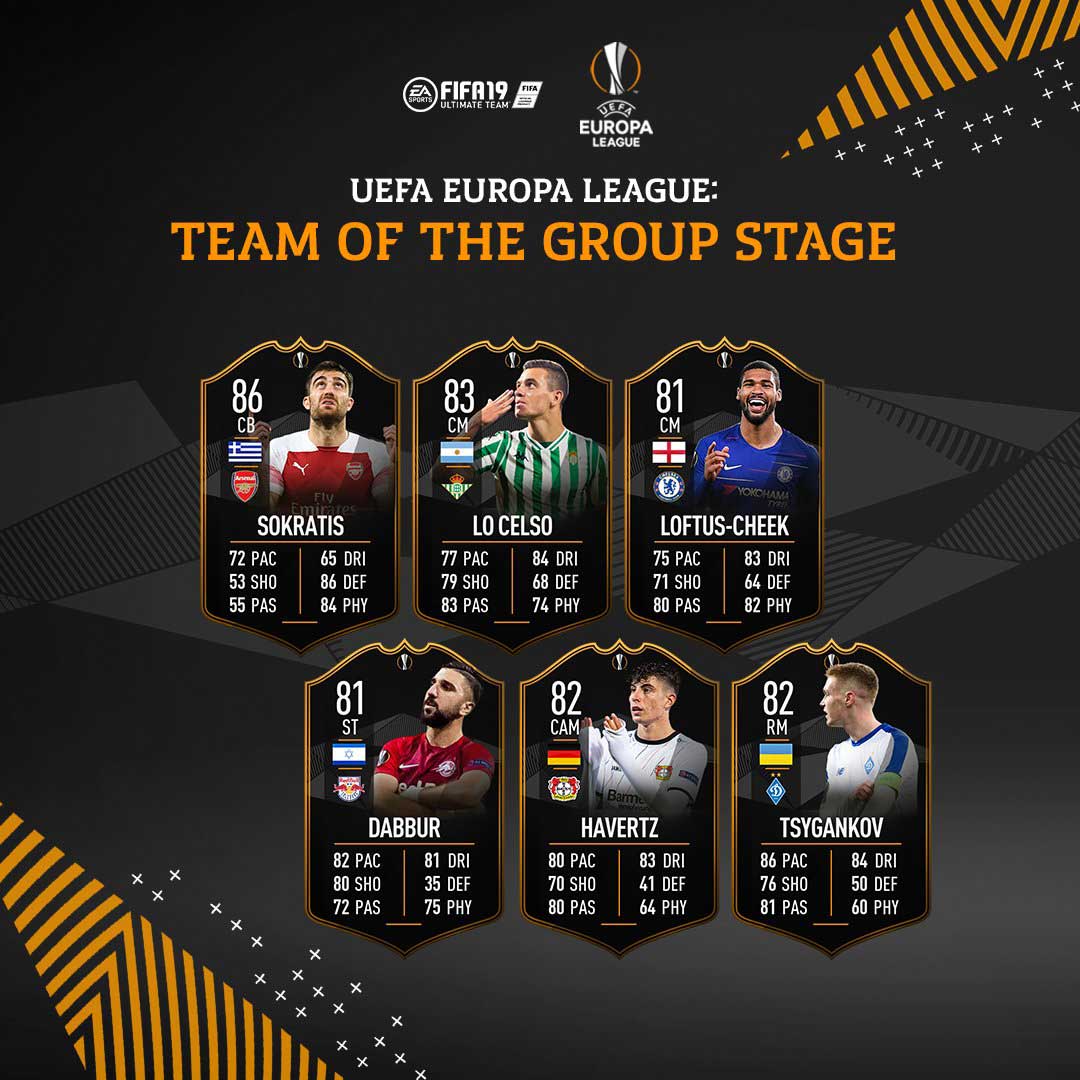 Players available via objectives
84
🇮🇹 CDM: Marco Parolo (Lazio)
Players available via objectives
91
🇩🇪 CM: Toni Kroos (Real Madrid)
85
🇫🇷 CB: Aymeric Laporte (Manchester City)
90
🇮🇹 ST: Lorenzo Insigne (Napoli)
FIFA 18
Players available in packs
89
🇫🇷 GK: Hugo Lloris (Tottenham Hotspur)
87
🇩🇪 GK: ter Stegen (FC Barcelona)
85
🇧🇷 RB: Dani Alves (Paris Saint-Germain)
87
🇩🇪 RB: Joshua Kimmich (Bayern München)
82
🇪🇸 CB: Diego Llorente (Real Sociedad)
82
🏴󠁧󠁢󠁥󠁮󠁧󠁿 CB: John Stones (Manchester City)
83
🇳🇱 LB: Daley Blind (Manchester United)
86
🇨🇭 LB: Ricardo Rodriguez (AC Milan)
87
🇧🇷 CDM: Casemiro (Real Madrid)
91
🇧🇪 CDM: Kevin De Bruyne (Manchester City)
91
🇧🇪 CM: Kevin De Bruyne (Manchester City)
81
🇨🇭 CM: Remo Freuler (Atalanta)
92
🇧🇪 CAM: Eden Hazard (Chelsea)
92
🇧🇪 CAM: Eden Hazard (Chelsea)
82
🇪🇸 CAM: Canales (Real Sociedad)
86
🇫🇷 RW: Kylian Mbappé (Paris Saint-Germain)
82
🇦🇷 RW: Rigoni (Zenit St. Petersburg)
93
🇧🇷 LW: Neymar (Paris Saint-Germain)
95
🇵🇹 ST: Cristiano Ronaldo (Real Madrid)
88
🏴󠁧󠁢󠁥󠁮󠁧󠁿 ST: Harry Kane (Tottenham Hotspur)
85
🇧🇷 ST: Roberto Firmino (Liverpool)
84
🇫🇷 ST: Wissam Ben Yedder (Sevilla FC)
82
🇵🇹 ST: André Silva (AC Milan)
82
🇷🇺 ST: Kokorin (Zenit St. Petersburg)
82
🇹🇷 ST: Cenk Tosun (Beşiktaş)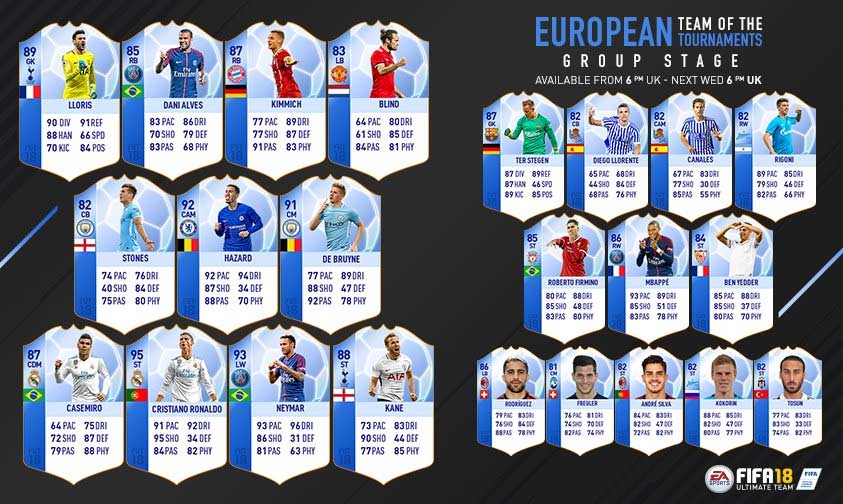 FIFA 17
Players available in packs
86
🇩🇪 GK: Ralf Fahrmann (FC Schalke 04)
84
🇩🇰 GK: Kasper Schmeichel (Leicester City)
86
🇧🇷 RB: Dani Alves (Juventus)
90
🇺🇾 CB: Diego Godin (Atletico de Madrid)
86
🇫🇷 CB: Raphaël Varane (Real Madrid)
87
🇧🇷 LB: Filipe Luis (Atletico de Madrid)
83
🇫🇷 LB: Djibril Sidibe (AS Monaco)
82
🇳🇱 LB: Terence Kongolo (Feyenoord)
87
🇩🇪 CM: Ilkay Gündoğan (Manchester City)
82
🇩🇪 CM: Joshua Kimmich (Bayern Munchen)
90
🇩🇪 CAM: Mesut Ozil (Arsenal)
86
🇩🇿 RM: Riyad Mahrez (Leicester City)
74
🇯🇲 RM: Leon Bailey (RC Genk)
94
🇦🇷 RW: Lionel Messi (FC Barcelona)
82
🇫🇷 LM: Ousmane Dembele (Borussia Dortmund)
94
🇧🇷 LW: Neymar (FC Barcelona)
86
🇧🇪 LW: Dries Mertens (Napoli)
92
🇵🇱 ST: Robert Lewandowski (Bayern Munich)
89
🇫🇷 ST: Antoine Griezmann (Atletico de Madrid)
88
🇺🇾 ST: Edinson Cavani (Paris Saint-Germain)
87
🇪🇸 ST: Aduriz (Athletico Club de Bilbao)
85
🇧🇦 ST: Edin Dzeko (AS Roma)
85
🇧🇷 ST: Giuliano (Zenit St. Petersbrug)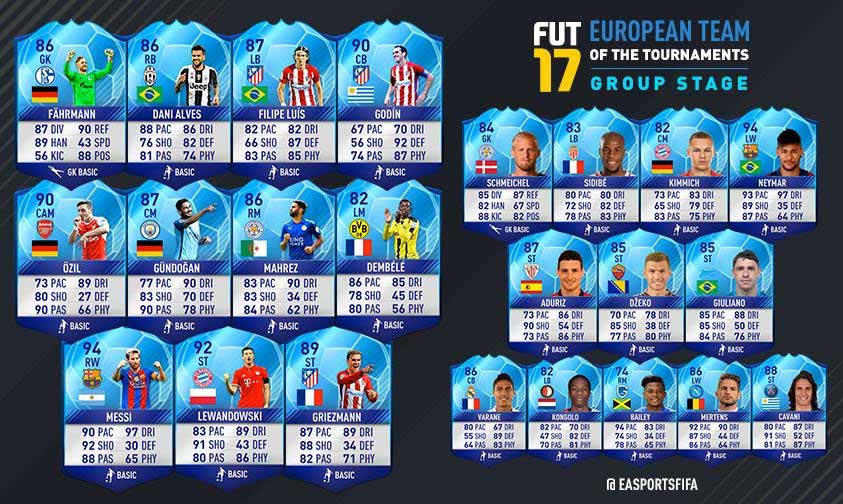 FIFA 16
Players available in packs
85
🇮🇹 GK: Gianluigi Buffon (Juventus)
74
🇧🇪 GK: Matz Sels (AA Gent)
89
🇺🇾 CB: Diego Godin (Atletico de Madrid)
88
🇮🇹 CB: Giorgio Chiellini (Juventus)
86
🇧🇷 CB: Naldo (VfL Wolfsburg)
86
🇦🇹 CB: David Alaba (Bayern Munchen)
81
🇫🇷 CB: Kurt Zouma (Chelsea)
80
🇳🇱 CB: Jeffrey Bruma (PSV)
86
🇧🇷 RM: Hulk (Zenit St. Petersburg)
85
🇪🇸 RM: Isco (Real Madrid)
83
🇧🇷 RM: Willian (Chelsea)
87
🇧🇷 RW: Ángel Di María (Paris Saint-Germain )
88
🇨🇱 LM: Aléxis Sánchez (Arsenal)
84
🇧🇷 LM: Douglas Costa (Bayern Munchen)
84
🏴󠁧󠁢󠁥󠁮󠁧󠁿 LM: Raheem Sterling (Manchester City)
84
🇦🇷 LM: Nicolas Gaitán (SL Benfica)
96
🇵🇹 LW: Cristiano Ronaldo (Real Madrid)
93
🇧🇷 LW: Neymar (FC Barcelona)
93
🇺🇾 ST: Luís Suárez (FC Barcelona)
91
🇵🇱 ST: Robert Lewandowski (Bayern Munich)
85
🇫🇷 ST: Antoine Griezmann (Atletico de Madrid)
81
🇷🇺 ST: Artem Dzyuba (Zenit St. Petersburg)
TEAM OF THE GROUPS STAGE OFFERS CALENDAR
This calendar shows you which TOTGS offers are new each day
DAY 01 - DECEMBER 06, 2019 (FRI)
✔️ Promo Packs
✔️ TOTGS items release
✔️ Three new themed SBCs
✔️ A new themed objective

DAY 02 - DECEMBER 07, 2019 (SAT)
✔️ Promo Packs
✔️ A new themed SBC
✔️ A new Player Moment SBC

DAY 03 - DECEMBER 08, 2019 (SUN)
✔️ Promo Packs
✔️ A new TOTGS item available via SBC

DAY 04 - DECEMBER 09, 2019 (MON)
✔️ Promo Packs
✔️ A new TOTGS item available via Objectives
✔️ A new themed SBC

DAY 05 - DECEMBER 10, 2019 (TUE)
✔️ Promo Packs
✔️ A new TOTGS item available via SBC
✔️ A new themed SBC

DAY 06 - DECEMBER 11, 2019 (WED)
✔️ Promo Packs
✔️ A new TOTGS item available via SBC
✔️ A new themed SBC

DAY 07 - DECEMBER 12, 2019 (THU)
✔️ Promo Packs