THE BEST FIFA 22 LIGUE 1 GOALKEEPERS
Goalkeepers are the players that are used least on the field. Because of this, they are also first ignored when building a team. Most players start their purchases with a forward, later they strengthen the midfield, the defence and only later the goal. The truth is a good goalkeeper may be worth a lot of goals. They are a good investment because they are usually the most economically accessible players.
Top 10
Key Attributes
Rating
Reflexes
Diving
Height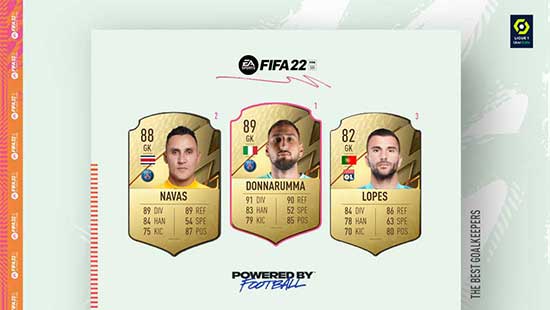 Donnarumma and Keylor Navas are by far the best goalkeepers playing in the French first division. The Italian player is the tallest and has the best reflexes and diving stats, two of the three most important attributes in a keeper.

If you don't have enough coins to buy them, Anthony Lopes and Mandanda are the best replacements.