FIFA 18 award winner cards are assigned to the best players of the month, best players of the year and best young player of the year. Let's learn something more about these special FUT 18 cards.


FIFA 18 AWARD WINNER CARDS
INTRODUCTION | RELEASE DATE | RATINGS & STATS | OVERVIEW | FAQ



FIFA 18 Award Winner Cards
What are Award Winner Cards?

The award winners of different leagues are rewarded with unique items, featuring boosted stats. Usually, award winner cards can be of two types: POTM or POTY.
Every single month, EA Sports makes a selection of the POTM, the most in form Premier League players of the previous month. The award is decided by a combination of a public vote and those from a panel of Premier League experts and current club captains. The winner receives a purple FIFA 18 POTM card with one or two points boosted.
Sometimes, when a domestic league ends, EA Sports also releases a award winner card for the Player of the Year of that league, with significant stat increases from his previous card.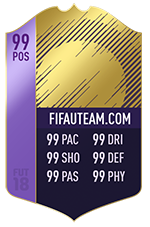 FIFA 18 Award Winner Card
Release Date
When FIFA 18 Award Winner Cards will be available?

The POTY cards are usually announced at the end of each domestic league.
The POTM nominees are usually announced on the first Friday of each month. The votes are open for three days and the winner is announced on the second Friday of the month.
You can have the regular card and the award winner card of the same player in your club. However, you cannot use them both in your squad at the same time.
Ratings and Stats
How big are the ratings and stats boosts?

The ratings and attributes of the award winner cards are usually boosted in one or two points, compared with their card. The attributes have a similar increase but it doesn't mean that all attributes have to be improved.
The position of the players in these cards may change if, in that month or season, they played really well in a different position.
You can follow every single Premier League POTM card release clicking here.
FIFA 18 Award Winner Cards Overview
Basic information about the FIFA 18 POTM and POTY Cards

Colour | Purple
How many Cards in FUT 18 | Around 20
How many times they are released | Less than 20
How often they are released | At least one per month
How long they are in packs | Never
When they are released in packs | Never
How big is the boost | One or two points
Date of the first card in FIFA 18 | October
First Card in FUT History | Released for the first time in FIFA 17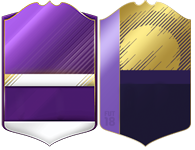 Award Winner Cards from FIFA 17 to FIFA 18