FC 24 Clubs is an online mode that allows you to create an avatar, and play your position on the pitch with other users in 11v11 matches.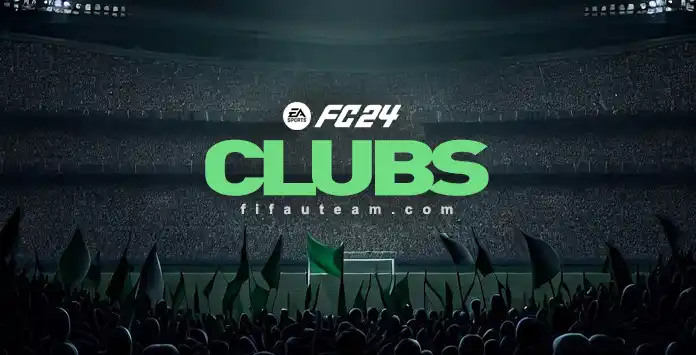 Welcome to the Clubs
Clubs, previously known as Pro Clubs, is a game mode in Football Club 24 that allows players to create and control their own virtual pro player within a team. It offers a unique multiplayer experience where each player takes on the role of an individual player in an 11v11 match. Instead of controlling the entire team, you focus on your
own player's performance
and contribute to the team's success.
In FC 24 Clubs, you have the freedom to customize your avatar, including their appearance, attributes, and playing style. You can choose their position on the field, improve their skills through skill points earned in matches, and even unlock special abilities as you progress. The mode encourages teamwork and coordination as you work together with your teammates to outplay and outscore the opposing team.
One of the exciting aspects of Clubs is its social aspect. You can form or join a club with friends or other players, creating a team that you can regularly play and compete with. Communication and collaboration are key to success in Pro Clubs, as you need to work together to develop strategies, coordinate movements, and maximize your team's performance. It's a mode that offers a dynamic and immersive multiplayer experience within the FC 24 game.
How To Access FC24 Clubs
From the main Football Club screen, navigate to [Clubs].
What's New
Pro Clubs has a new name: CLUBS. However, the news doesn't stop here.
From the stadium to the street, join your friends in Clubs and VOLTA Football in EA SPORTS FC 24 with cross-play. Play, progress, and personalise your Pro in true-to-football ways with the introduction of a new Clubs Season format culminating in Playoffs, the introduction of PlayStyles for more realistic player development, and more customisation than ever.
Cross-Play
In EA Sports FC 24, friends can share a club no matter the platform – last-gen players can hit the pitch together, as can current-gen players, thanks to new cross-play. This also unlocks unified leaderboards, one for each generation console, so players from different consoles can compete against one another for global placement.


Clubs League Season + Playoffs
A fresh Season format like FUT Rivals brings a new level of competition and dynamism to Clubs. During each season, Clubs compete in a League Phase, progressing from the lowest division to the Elite, earning points an pushing for promotion. Each Season (5 weeks) culminates in a brand new playoff phase (1 week) where Clubs have a fixed number of matches to climb their League leaderboard and earn additional end-of-season rewards.


Club Progression
Go beyond growing your Pro to grow your Club together with friends, gaining fans in order to unlock reputation levels and expand the exposure of your Club. The more popular your Club, the more you'll be able to tailor your stadium – and the better your AI squad will get.


PlayStyles in Clubs
Develop your Pro into your favourite player with PlayStyles – unique signature abilities that make them stand out on the pitch. Each PlayStyle makes your Pro more authentic and more powerful, giving control over the precise type of player your Pro becomes and unlocking a new level of customization.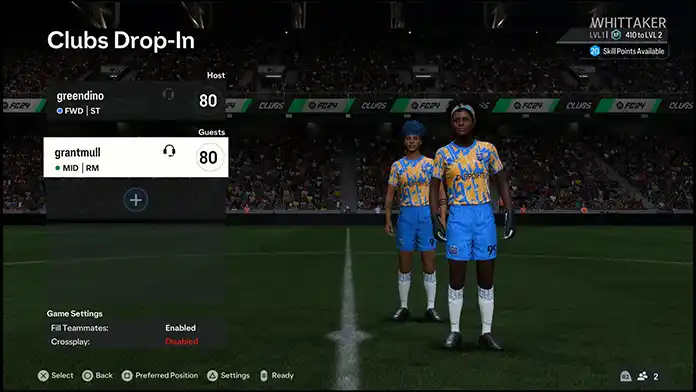 Clubs Tips
There are a few tips that will help you when playing FC 24 Clubs:
Earning/Distributing skill points
Skill points play a crucial role in upgrading your player's characteristics, such as speed, acceleration, and more. You earn skill points by actively playing and completing games. Skill points are awarded as you level up, although the specific amount earned cannot be determined exactly. When it comes to allocating skill points, prioritizing high speed is essential for a professional player.


Consider your weight and height
While the appearance of your pro doesn't impact performance, weight and height do matter. Taller players have an advantage in aerial situations, such as headers, but they tend to have slower speed;


Equip the right perks
Perks are additional qualities that enhance your pro's abilities, and you can equip up to three perks. There is a wide range of perks to choose from, including tireless runner, passing pro, distance shooter, finisher, hot streak, and more;


Substitute your weak players
As the captain of your team, you can replace any player at any time without any debate. This allows you to quickly substitute underperforming players to maintain an optimal lineup;


Play as a team
Regardless of your individual skill, without cohesive team play, the chances of losing increase significantly. If you don't play as a team player, other teammates may become frustrated and withhold passes, leading to defeat;


Communication is key
Joining voice chat with your teammates establishes high-level communication and proves to be a winning recipe;


Make use of different tactics
Take advantage of the available tactics to create a more decisive gameplay by effectively defending and marking opponents.


Frequently Asked Questions