FC 24 COMPENSATION TRACKER
EA provides compensations to the FC community when a product doesn't meet its advertised features.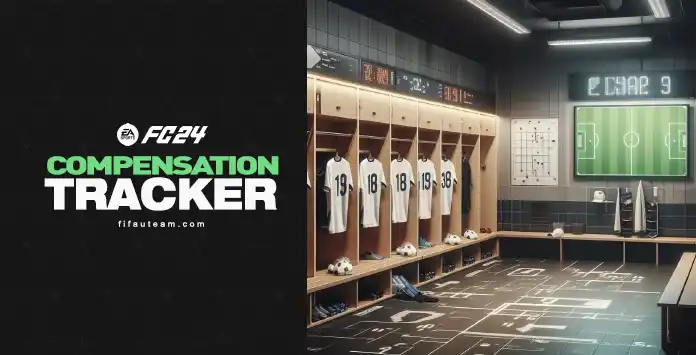 EA Policy
In a game like Football Club 24, new content is released daily. Unfortunately, not all of this content is properly advertised. Sometimes, the translation of pack content contains errors, while in other cases, specific special items are not made available in packs as advertised.
Whatever the issue may be, EA's policy is to compensate
affected players
whenever what has been advertised doesn't match reality. Sometimes, they even do so when the player has benefited from the error, receiving more or better cards, for instance.
The process for granting these compensations is lengthy and laborious, involving, in the first phase, the identification of the problem and the impacted players, and in the second phase, the distribution of compensation, typically in the form of
packs
.
Because it's a time-consuming and relatively complex process to keep track of, we have published an FC 24 Compensation Tracker on this page to provide you with the current status of each of these cases.
By offering these compensations, EA aims to maintain player trust and loyalty while also demonstrating accountability for any shortcomings in their Ultimate Team products. This approach fosters a positive relationship between the company and its user base, ensuring that players continue to engage with and support the FC franchise despite occasional setbacks or unmet promises.
FC 24 Compensation List
All issues identified by EA that require compensation are listed below, along with the date on which it was granted. All times are shown in the
UK time zone
.
Elite Centurion Week 2 Pack
Players haven't received three 86+ Rare Player items, as advertised.
Current Status: Fixed
Compensation: Impacted players received the remaining 86+ Rare Player items.
Issue Date: 04/11/23
Compensation Date: 08/11/23
Join The Club I Pre-Season Reward
It was incorrectly giving the Join The Club Pack.
Current Status: Fixed
Compensation: Impacted players received the correct pack and kept the one mistakenly assigned to them.
Issue Date: 12/10/23
Compensation Date: 18/10/23
The Join The Club III Pre-Season Reward
It was incorrectly giving an 85×5 Player Pack.
Current Status: Fixed
Compensation: Impacted players received the correct pack and kept the one mistakenly assigned to them.
Issue Date: 12/10/23
Compensation Date: 18/10/23
Pedro RTTK Item
Base Version of Pedro Rodriguez was incorrectly available in Packs.
Current Status: Fixed
Compensation: Impacted players received the correct Pedro RTTK item and kept the one mistakenly assigned to them.
Issue Date: 06/10/23
Compensation Date: 13/10/23
Ada Hegerberg in Draft Matches
Players who had the Ada Hegerberg Player Item in Ultimate Draft were unable to start a match.
Current Status: Fixed
Compensation: Impacted players received a Draft Token.
Issue Date: 25/09/23
Compensation Date: 26/09/23
Foundation V SBC Group
The Foundation V SBC group was temporarily removed due to issues identified with a formation.
Current Status: Fixed
Compensation: Impacted players received back the submitted items.
Issue Date: 21/09/23
Compensation Date: 01/10/23
Foundation V SBC Group
The Foundation V SBC group was temporarily removed due to issues identified with a formation.
Current Status: Fixed
Compensation: Impacted players received back the submitted items.
Issue Date: 21/09/23
Compensation Date: 01/10/23