The FUTTIES are like the oscars of FIFA 15 Ultimate Team. Let's check who are the players with chances of get one of the first FUT 15 pink cards.
Pink Cards – The nominees to the Oscars of FIFA 15 Ultimate Team
FUTTIES are special award in-form cards chosen by the FIFA community. These pink cards will be released in July / Early August, 2015 and you have until July 12 to choose them.
Starting July 1, you'll be able to vote for your favourite FIFA 15 Ultimate Team players in 10 award categories celebrating their in-game heroics for your FUT Club. After the votes have been tallied, each award category player with the most votes will receive a special pink FUTTIES in-form with improved stats. The voting will take place on EA official forum, on July 1st.
Let's see, category by category, who are the players with chances of get a pink card in FIFA 15 Ultimate Team:
In for the Safe Hands
Who is the most reliable between the sticks for your Ultimate Team?
Handanovic, Sirigu, Lloris, Leno, Muslera

In for the Tackles
Sliding or standing, these players have the ability to turn defence into attack with a single tackle
Khedira, Yaya Touré, De Rossi, Cattermole, Luiz Gustavo

In for the Skills
Showing appreciation for the entertainers who make their opposition look amateur
Quaresma, Nani EI, Taarabt, Chikhaoui, Çifty

In for the Longshots
Screamers, smacks, belters and blinders. They're all capable, who's your choice?
Ronny, Kolarov, Guarín, Hernanes, Rooney

In for the Headers
Responsible for the old-school number nine favourite. Get your cross in and there's only one result
Negredo, Cavani, Mandzukic, Carrol, Klose

In for the Leadership
They came, they saw, they conquered. Which of these icons would lead your Ultimate Team into battle?
Lampard, Ronaldinho, Gerrard, Pirlo, Xavi

In for the Weak Foot
It's fallen to the wrong foot, but there'll be no balloons or under-hits from this bunch
Blanco, Villa, Totti, Mkhitaryan, Eriksen

Out of position
They have their position, you've got different ideas. The players that you shift around the pitch regardless of chemistry
Alaba, David Luiz, Walker, Walcott, Bale

Perfect Link
Matches made in heaven. Same club and nationality is a deadly combination
McGeady and Coleman, Pastore and Lavezzi, Alba and Pedro, Barzagli and Chiellini, Gundogan and Reus

In for the Pace
In honour of the men who leave opponents in the dust
Ramires, Doumbia, Ibarbo, Ramos, Emenike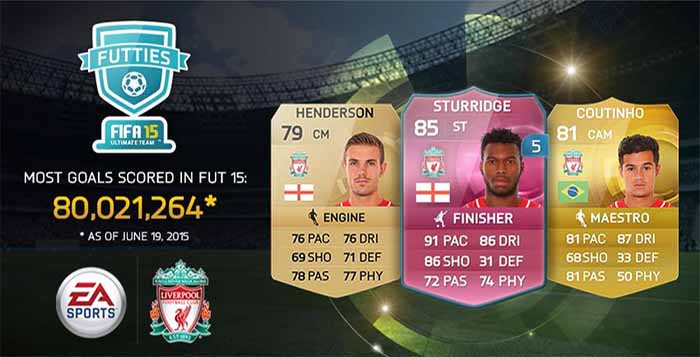 If you want to know more details about the FUTTIES and how the pink cards will work in FIFA 15 Ultimate Team, please click here and you will be redirected to a guide about this topic.