FIFA 21 FUT Friendlies is a feature which allows you to play FUT matches with your friends online and on the same console/pc in different match modes.
WAYS TO PLAY FUT FRIENDLIES
In FIFA 21 FUT Friendlies, you have the option of how you want to play and who you want to play against.There are three ways to play it: couch play, play online and play a friend.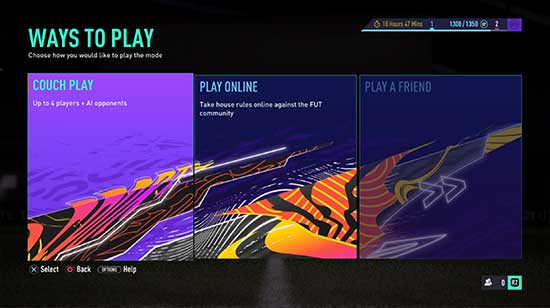 COUCH PLAY
Play locally with your friends, or against the AI, from your couch
Match up against friend's squads, the Team of the Week, real-world Clubs, select community teams and more alongside up to four friends.

PLAY ONLINE
Play matches against random opponents online
Take on a random member of the wider FUT community online. Search for a particular House Rule or a set shortlist of Favourites to help you jump into a game faster.

PLAY A FRIEND
Play online against your friends
Challenge a friend and their Ultimate Team online in standard or House Rules.
FIFA 21 FUT FRIENDLIES DETAILS
What else do you need to know about FUT Friendlies.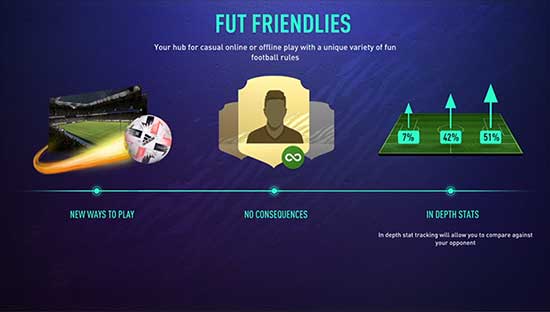 ACCESS
To access FUT Friendlies, you just need to go to the 'Play' tab and select 'FUT Friendlies'.

HOW MATCHES WORK IN FUT FRIENDLIES
When you play matches in FUT Friendlies, they're a little different than other matches you'd play in FIFA Ultimate Team. That means that when you play FUT Friendlies:
– Your matches don't consume contracts on your Players;
– The matches you play don't count towards your Club record;
– Injuries and red cards don't carry over;
– Loan Items won't be consumed. For example, you can use a Loan Item with 1 match remaining in a FUT Friendlies match, and it would not use their final remaining match;
– You'll still get basic match Coin rewards for all FUT Friendlies matches that you play.

STATS
Maintain ultimate bragging rights with an in-depth stats tracking system that records a range of statistics from the head-to-head matches you play. Use the stats to analyze and refine your game plan, tweak your pre-game tactics, and prepare for every match. With a host of detailed, immersive information, FIFA 21 allows you to approach every match just like you would an actual game of football, utilizing tactics and strategies gleaned from your stats. Tracked Stats include wins, losses, draws, win %, goals scored, goals allowed, goal differential, goal types (inside box, outside the box, penalties, free kicks), goal heatmap on net, shot on target %, total shots on target, total shots, average possession %, average possession % in areas and pass % completion. In addition to keeping track of the scores, new opposition scouting reports help you identify where you might find gaps in your friend's style of play.
FIFA 21 FUT FRIENDLIES TYPES
The mode features 11v11 Classic gameplay, but the true fun in comes when you branch out into some custom House Rules. In FIFA21 FUT Friendlies, you can build your own playlist by selecting a range of House Rules for your own custom playlist or select the exact type of match you want to play.

Description
A classic match with official rules.
Analyze
Media

Description
Battle for possession inside the control zone to boost the amount of points your next goal is worth.
Analyze
Media

Description
Each time the ball goes out of play, it can return as a new 'Mystery Ball' giving a powerful boost to the attacking side.
Analyze
Media

Description
Three players will be randomly swapped with your opponents before tha match. Scoring with a swapped player is worth 2.
Analyze
Media

Description
Every player on your squad will have a maximum chemistry boost!
Analyze
Media

Description
Goals will only count from heading the ball or from a volley shot. Free Kicks & Penalties will count as well.
Analyze
Media

Description
When a goal is scored, a random player from the scoring side will be ejected from the match, excluding the goalkeeper.
Analyze
Media

Description
Any goal scored inside the box will count as 1 and goals scored outside of the box will count as 2.
Analyze
Media

Description
A classic match with no offsides, fouls or bookings.
Analyze
Media

Description
Combining Squad Rules, with the different House Rules in Friendlies.
Analyze
Media