FC 24 MILESTONES OBJECTIVES
FC 24 Milestones Objectives are long term objective groups which are not tied to any Season.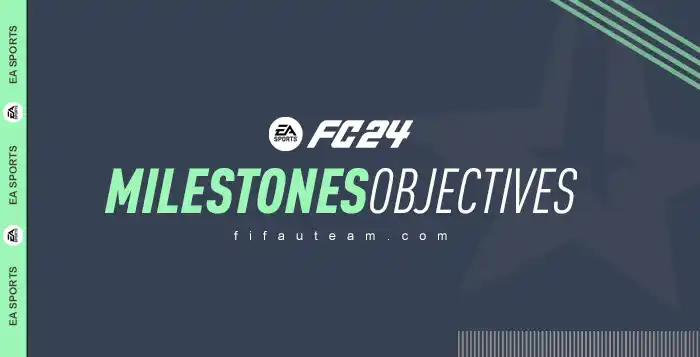 Milestones
Most Ultimate Team objectives are tied to a season, contributing with XP to the progress and the respective rewards. That's not the case with Milestones Objectives. They are not tied to any season, so they don't include XP as rewards.
Because Milestones are
long-term
objectives, you can make your progress on them and unlock the untradeable rewards at your pace. Some of these objectives are available until the end of the game, while others last for many weeks, usually exceeding largely the duration of an Ultimate Team season (six weeks).
You can complete them in-game or in the web/companion app, depending on what is requested. From squad management goals to dynamic in-match challenges, the harder the objective, the better the reward you will earn.
How to Access the Milestones Objectives
From the Ultimate Team main screen, navigate to [Objectives];
Press R1/RB once to select [Milestones] tab;
Scroll down to the respective objective.
Frequently Asked Questions
Permanent Objectives
You can check the complete list on our
objectives page
.
All rewards are untradeable.
Transfer Market
Buy 25 players using Buy Now
1,500 coins
Buy 50 players using Buy Now
1,500 coins
Buy 100 players using Buy Now
1,500 coins
Buy 250 players using Buy Now
1,500 coins
Buy 500 players using Buy Now
4x 75-83 Rare Players
List 50 players on the Market
1,500 coins
List 100 players on the Market
1,500 coins
List 250 players on the Market
1,500 coins
List 500 players on the Market
1,500 coins
List 1,000 players on the Market
Pitch Trophy
Squad Building Mastery
Moments Mastery
Jumbo Rare Players Pack
Stadium Mastery
Lanmower Pack
Play 1 match in any Ultimate Team game mode
Goal SFX Pack
Play 2 matches in any Ultimate Team game mode
Club Nickname Pack
Play 3 matches in any Ultimate Team game mode
Club Anthem Pack
Play 4 matches in any Ultimate Team game mode
Crowd Chant Pack
Play 5 matches in any Ultimate Team game mode
XL Tifo Pack
Play 6 matches in any Ultimate Team game mode
Tinted Flags Pack
Play 7 matches in any Ultimate Team game mode
Tifos Pack
Play 8 matches in any Ultimate Team game mode
Tinted Flags Pack
Play 9 matches in any Ultimate Team game mode
Goal Net Pack
Play 10 matches in any Ultimate Team game mode
Goal VFX Pack
Play 11 matches in any Ultimate Team game mode
Pitch Line Paint Pack
Play 12 matches in any Ultimate Team game mode
Tinted Flags Pack
Play 13 matches in any Ultimate Team game mode
Pitch Trophy
Play 14 matches in any Ultimate Team game mode
Goal Net Paint Pack
Play 15 matches in any Ultimate Team game mode
Pitch Trophy
Play 16 matches in any Ultimate Team game mode
Tifos Pack
Play 17 matches in any Ultimate Team game mode
Tifos Pack
Play 18 matches in any Ultimate Team game mode
Pitch Trophy
Play 19 matches in any Ultimate Team game mode
XL Tifo Pack
Play 20 matches in any Ultimate Team game mode
Goal VFX Pack
Squad Battles Mastery
Win 10 matches in Squad Battles on any difficulty
82+ Rated Rare Player Pack
Win 25 matches in Squad Battles on any difficulty
Two Rare Gold Players Pack
Win 50 matches in Squad Battles on any difficulty
Rare Players Pack
Win 100 matches in Squad Battles on any difficulty
Pitch Trophy
Win 200 matches in Squad Battles on any difficulty
Ultimate Pack
Win 300 matches in Squad Battles on any difficulty
Pitch Trophy
Rivals Mastery
Champions Mastery
Co-Op Mastery
Live Friendlies Mastery
Ultimate Pack
Draft Mastery
Play 10 Draft Matches
2x 75-83 Players
Play 25 Draft Matches
2x 75-83 Rare Players
Play 50 Draft Matches
Premium Gold Players Pack
Play 100 Draft Matches
Pitch Trophy
Bronze Squad Mastery
Rare Players Pack
Silver Squad Mastery
Rare Players Pack
Assist Mastery
Finishing Mastery
First Owned Mastery
Jumbo Rare Players Pack
Evolutions Mastery
Jumbo Rare Players Pack
League Mastery
Jumbo Rare Players Pack