FC 24 FOUNDATIONS OBJECTIVES
FC 24 Foundations Objectives are objective groups created specifically for new Ultimate Team players.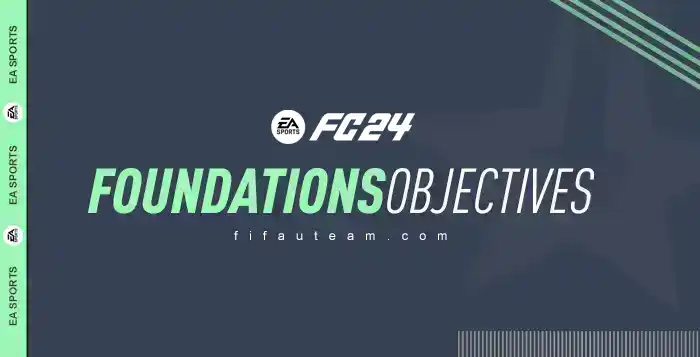 Foundations
FC 24 Foundations are the place for new players to learn the rules of Ultimate Team. Replacing Manager Tasks and Starter Objectives, they were created to help
new Ultimate Team players
to learn how this game mode works.
Just like with Milestones, Foundations are not tied to any season and don't include XP as rewards. Indeed, all objectives are released at launch and stay available until the end of the game.
With organized learning objectives grouped by subjects, you can complete these very easy objectives in-game or in the web/companion app, depending on what is requested.
How to Access the Foundation Objectives
From the Ultimate Team main screen, navigate to [Objectives];
Press R1/RB to select the [Foundations] tab;
Scroll down to the objective you want to see.
Frequently Asked Questions
Objectives List
Squad Maintenance
Premium Bronze Pack
Build 12 or more chemistry points within your squad
Catalyst Style Item
Buy 1 player using Buy Now
Bronze Pack
List 1 player on the Transfer Market
150 coins
Buy a player contract using Buy Now
100 coins
Apply a player contract to a player in your club
100 coins
Apply a chemistry style to a player in your club
100 coins
Complete all the 'Foundations I' SBC group challenges
Small Mixed Customisation Pack
Club Maintenance
Small Mixed Customisation Pack
Build 18 or more chemistry points within your squad
Silver Pack
Freshen up by changing your club's name
Bronze Pack
Buy a new Manager using Buy Now
100 coins
Apply a manager contract to a manager in your club
100 coins
Buy an injury item using Buy Now
100 coins
Buy a Club Badge using Buy Now
100 coins
Buy a Kit using Buy Now
100 coins
Complete all the 'Foundations II' SBC group challenges
Two Rare Gold Players Pack
Foundation Moments
Premium Silver Pack
Earn 1 star in Football 101 Moments Pitch Perfect campaign
150 coins
Earn 1 star in Attacking Moments Pitch Perfect campaign
Sniper Style Item
Earn 1 star in Defending Moments Pitch Perfect campaign
Artist Style Item
Earn 1 star in Set Piece Moments Pitch Perfect campaign
300 coins
Earn 1 star in Formation Moments Pitch Perfect campaign
Cat Style Item
Earn 1 star in Squad Building Moments Pitch Perfect campaign
Sentinel Style Item
Player Development
Three Common Gold Players Pack
Build 23 or more chemistry points within your squad
150 coins
Play a match with a In-Progress Founder EVO player in your starting 11
150 coins
Play 5 matches with In-Progress Founder EVO player in your starting 11
Silver Pack
Score a goal with a In-Progress Founder EVO player
150 coins
Assist a goal with a In-Progress Founder EVO player
150 coins
Team Warm Up
500 coins
Build 27 or more chemistry points within your squad
Silver Pack
Play the Squad Battles featured squad
250 coins
Play 5 Squad Battles matches
Three Common Gold Players Pack
Play any online Friendlies match
250 coins
Complete the Beginner Milestone Moments group
250 coins
Complete all the 'Foundations III' SBC group challenges
Premium Silver Pack
FC Competitor
500 coins
World Tour
Two Rare Gold Players Pack
Earn 1 star in the World Tour Cup group
Three Common Gold Players Pack
Earn 1 star in the K League Moments group
250 coins
Earn 1 star in the Saudi Pro League Moments group
250 coins
Earn 1 star in the Copa Libertadores Moments group
250 coins
Earn 1 star in the MLS Moments group
250 coins
Earn 1 star in the WSL Moments group
250 coins