THE BEST FIFA 21 PREMIER LEAGUE GOALKEEPERS
Goalkeepers are the players that are used least on the field. Because of this, they are also first ignored when building a team. Most players start their purchases with a forward, later they strengthen the midfield, the defence and only later the goal. The truth is a good goalkeeper may be worth a lot of goals. They are a good investment because they are usually the most economically accessible players.
Top 10
Key Attributes
Rating
Reflexes
Diving
Height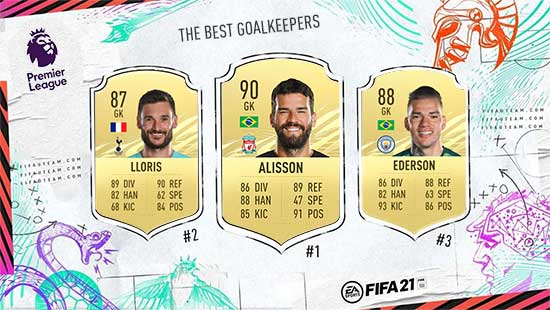 You will be in good hands with any of the three best-rated Premier League goalkeepers but, in our opinion, Alisson is the number one. He is taller and has the highest score of the most important attributes: reflexes, diving and handling.
You should choose between Lloris and Ederson depending on your play style. The French keeper is slightly better keeping your goal safe but Ederson is so much better with the ball on his feet (in fact, he is the best in the whole game). So, if you usually passe the ball to the goalkeeper, choose Ederson. Otherwise, keep with
Lloris
. De Gea and Leno are at a lower level.
After this group of five, there is Areola, Patrício and Schmeichel. They have similar attributes but our preference goes for the Fulham's goalkeeper because of his height.