The FIFA 23 WC Path to Glory event features World Cup Hero items in packs. Players can also get WC PTG items, which can be upgraded based on the progress of their national teams in the competition.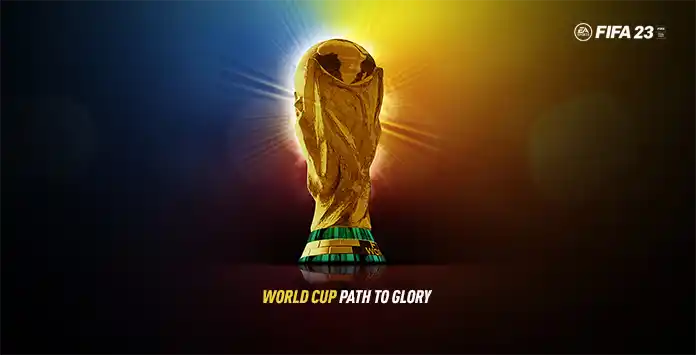 WC Path to Glory
The WC Path to Glory event is the first FUT promo dedicated to the World Cup Qatar 2022. It takes place in the two weeks before the competition.
The promo is most known by the release in packs of the WC Hero versions. These special items are released with a starter improvement in rating and stats, when compared to base versions.
However, during this promo players can also get World Cup Path to Glory live items. These special cards, assigned to each nation playing the World Cup, receive progression
upgrades
based on each nation's progress throughout the journey.
You can check our
tracker
to follow the progress of WC Path to Glory cards.
Release Dates

The WC Path to Glory event was released for the first time in FIFA 23.
Release dates for FIFA 23 are official.
| | |
| --- | --- |
| Start | 11/11/2022 18:00 Fri |
| End | 24/11/2023 18:00 Thu |
Offers
The FIFA 23 WC Path to Glory event features several offers, including special items in packs, SBCs and objectives. To know which promo packs are available, go to our
dedicated page
.
| | |
| --- | --- |
| 24/11 18:00 14d | ● Morientes 90 HERO U |
| 23/11 18:00 4d | ● 89- WC Hero Upgr R U |
| 22/11 18:00 6d | ● Cuadrado 87 PM U |
| 22/11 18:00 3d | ● 83+ Player Pick U |
| 21/11 18:00 7d | ● Degenek 85 PTG U |
| 21/11 18:00 4d | ● 86+ TOTW Upgr U |
| 21/11 18:00 2d | ● 80+ Double Upgr R U |
| 21/11 18:00 3d | ● WC France U |
| 20/11 18:00 32d | ● H Wilson 85 DD U |
| 20/11 18:00 32d | ● E Ampadu 85 DD U |
| 20/11 17:00 1h | ● WC Half-Time 1 U |
| 19/11 18:00 7d | ● 80+ WC Upgrade U |
| 19/11 18:00 3d | ● WC Portugal U |
| 19/11 18:00 7d | ● I Williams 86 PTG U |
| 18/11 18:00 3d | ● A Diallo 85 SHW U |
| 18/11 18:00 3d | ● Klaassen 85 SHW U |
| 18/11 18:00 7d | ● Ramsey 86 PTG U |
| 18/11 18:00 3d | ● WC Serbia U |
| 18/11 18:00 6d | ● Korean Captain U |
| 18/11 18:00 35d | ● WC Swaps Showcase II |
| 18/11 18:00 7d | ● Path to Glory Cup |
| 18/11 18:00 5d | ● WC Heroes T2 |
| 18/11 18:00 5d | ● WC Path to Glory T2 |
| 17/11 18:00 7d | ● WC Marquee Matchups |
| 16/11 18:00 2d | ● 84+ Upgrade U |
| 16/11 18:00 14d | ● David Silva 87 FLA U |
| 16/11 18:00 3d | ● FGS Challenge U |
| 16/11 18:00 28d | ● Silver Cup |
| 15/11 18:00 14d | ● Ribéry 90 EOAE U |
| 15/11 18:00 4d | ● 81+ TOTW Upgr R10 U |
| 14/11 18:00 40d | ● Borna Sosa 85 DD U |
| 14/11 18:00 40d | ● N Vlasic 85 DD U |
| 14/11 18:00 7d | ● Base Icon Upgrade U |
| 14/11 18:00 3d | ● 75+ Player Pick PP R U |
| 14/11 18:00 3d | ● Challenge England U |
| 14/11 18:00 7d | ● la Manette set U |
| 13/11 18:00 5d | ● WC Path to Glory MR1 |
| 13/11 18:00 14d | ● R Keane 88 HERO U |
| 12/11 18:00 7d | ● Palhinha 87 PTG U |
| 12/11 18:00 7d | ● Poland Retro Set U |
| 12/11 18:00 7d | ● 75+ WC Upgrade U |
| 12/11 18:00 3d | ● WC Challenge Ecuador U |
| 11/11 18:00 41d | ● World Cup |
| 11/11 18:00 7d | ● Choupo-Moting 86 PTG U |
| 11/11 18:00 3d | ● WC Challenge U |
| 11/11 18:00 7d | ● Berghuis 87 PTG U |
| 11/11 18:00 50d | WC Swaps |
| 11/11 18:00 | ● Free PO WC Hero |
| 11/11 18:00d | ● WC Starter Pack |
| 11/11 18:00 7d | ● WC Heroes T1 |
| 11/11 18:00 7d | ● WC Path to Glory T1 |
| Release Date | Content |
Frequently Asked Questions
WC Path to Glory Items

During the event, two teams of WC Heroes are released on the following dates:

WC Path to Glory Team 1
WC Heroes Team 1
Available in Packs: 11/11 to 18/11

WC Path to Glory Team 2
Wc Heroes Team 2
Available in Packs: 18/11 to 23/11