Who are the best FIFA 18 players in each one of the five biggest leagues? Find out the complete list of the best rated players from Premier League, LaLiga, Bundesliga, Serie A and Ligue 1.
This list is incomplete. More players will be added in the coming days.
LEAGUE
❌ To Be Announced | ✔️ Announced
❌ ?? PREMIER LEAGUE
❌ ?? LALIGA
❌ ?? BUNDESLIGA
❌ ?? SERIE A
❌ ?? LIGUE 1
The Best FIFA 18 Player by League
It is true that not always the best players are those who have higher ratings. But to this guide, that was our criterion. If you want to know who are the best FIFA 18 players or the players with highest rating, you are in the right place. Let's see who are the best players from the five most popular leagues.
The Best Premier League Players for FUT 18
Best players of Premier League – the top professional division of England

? 11/09/2017

?? EDEN HAZARD
Perhaps the most famous Belgian footballer in history, Hazard possesses an astounding 90 Pace and 92 Dribbling. Elusive and technical on the wing, Hazard is equally adept at cutting inside to shoot and moving to the touchline to pass or cross to a teammate.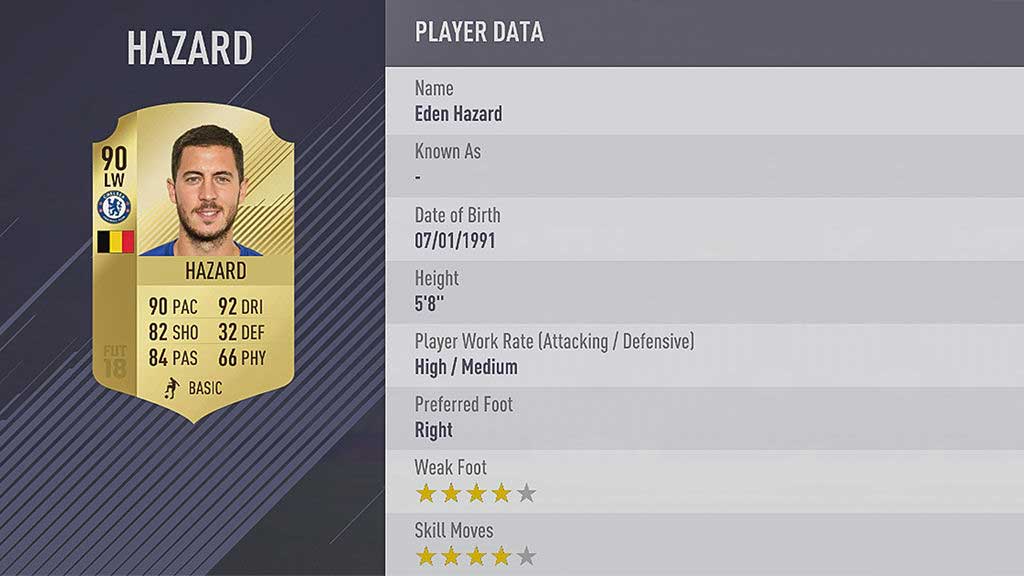 ?? DAVID DE GEA
Acrobatic and quick, De Gea has been sought by clubs all over Europe for years. His breathtaking 90 Diving and 90 Reflexes help him make what seem like impossible saves.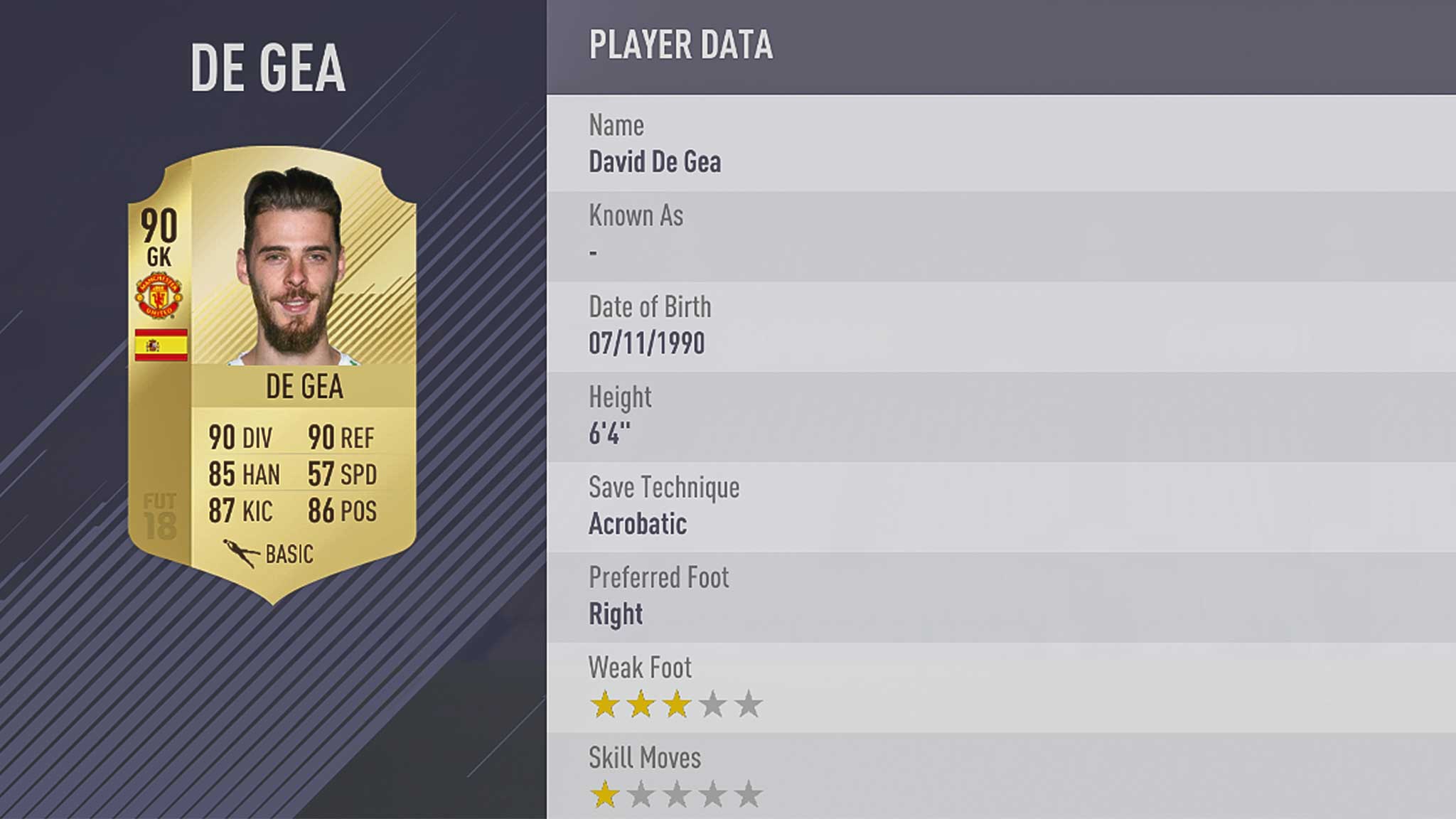 ?? THIBAUT COURTOIS
Few goalkeepers in the world are good enough to bump Petr Čech to the bench, but that's exactly what Courtois did at Chelsea. His 91 Handling and 88 Reflexes make him possibly the best shot-stopper in the game.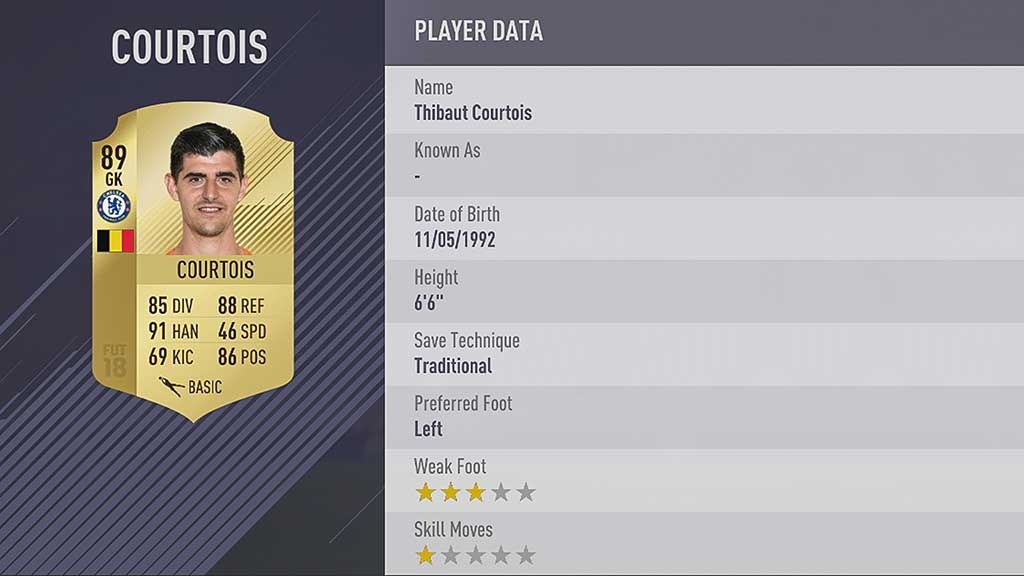 ?? SERGIO AGÜERO
The Argentine forward has always been elusive, fast, and brilliant in front of goal, but in recent years he's only gotten better. Agüero's 88 Shooting has rocketed him to the top of the scoring charts, and his 89 Dribbling and 87 Pace mean that he'll always be able to get himself in dangerous positions.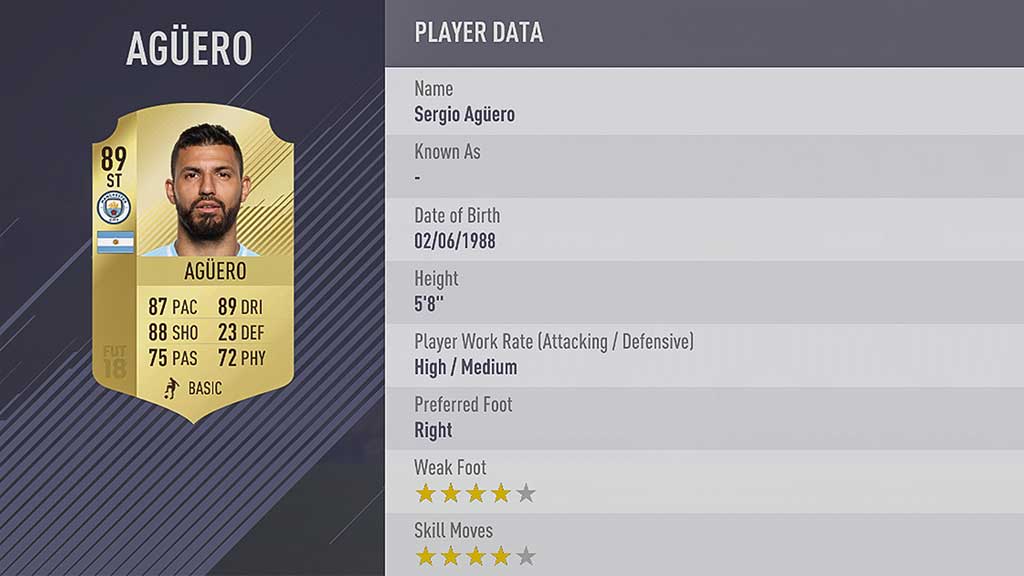 ?? ALEXIS SÁNCHEZ
Another winger-turned-forward in recent seasons, Sánchez uses the 89 Dribbling skills and 86 Pace to strike fear into the hearts of defenses in the English Premier League. His 84 Shooting isn't the highest in the world, but few would bet against Sánchez when he gets himself into a position to score.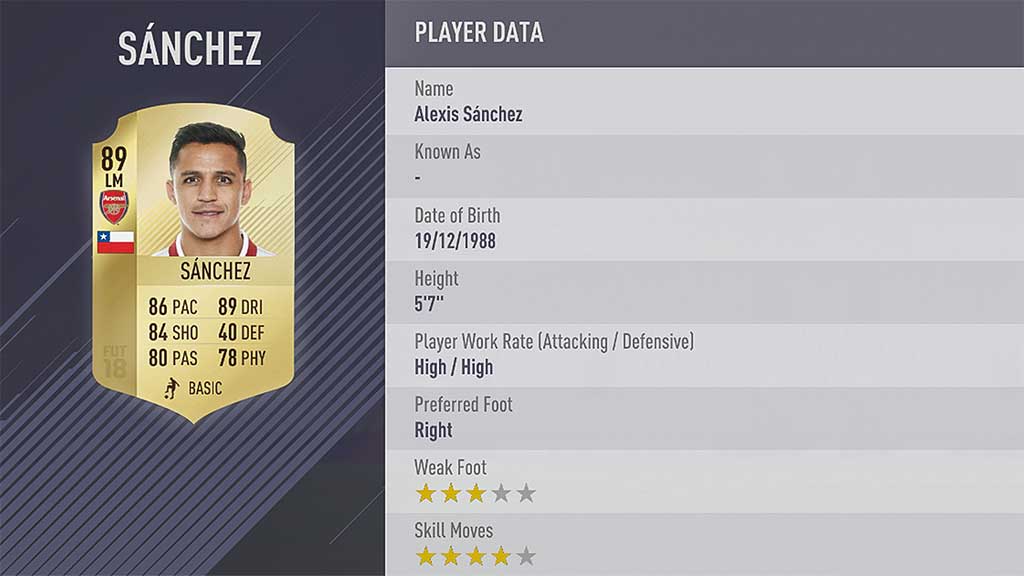 ?? KEVIN DE BRUYNE
There are few attacking midfielders in the world as well-rounded as De Bruyne, who doesn't just create chances for his teammates with his 88 Passing and 85 Dribbling. He can also strike a ball with the best of them, both from open play and in set piece situations, thanks to his 84 Shooting.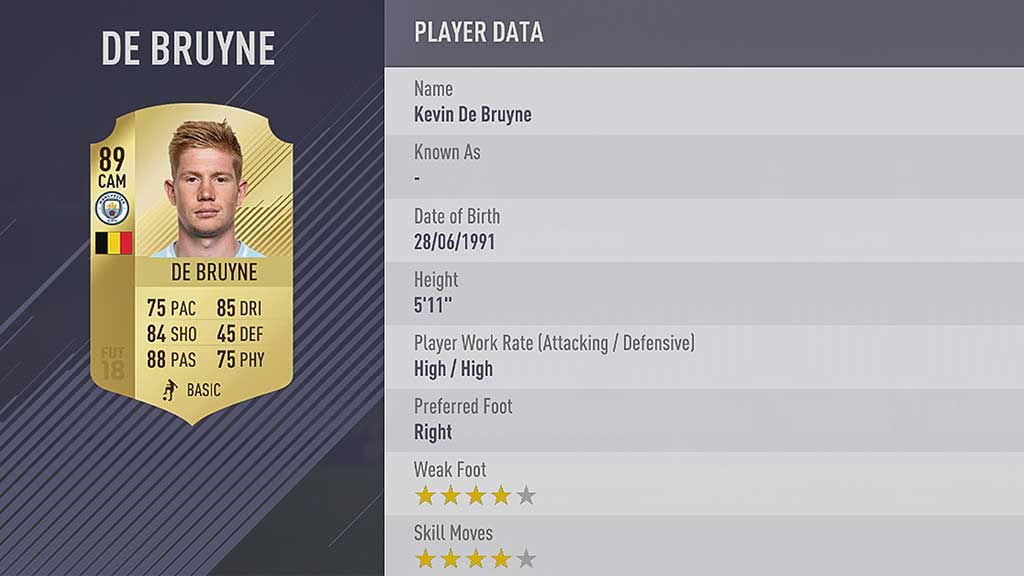 ?? HUGO LLORIS
Lloris is one of the more formidable goalkeepers in the world in 1v1 situations due to his 90 Reflexes, combined with his first-rate 88 Diving and 86 Handling.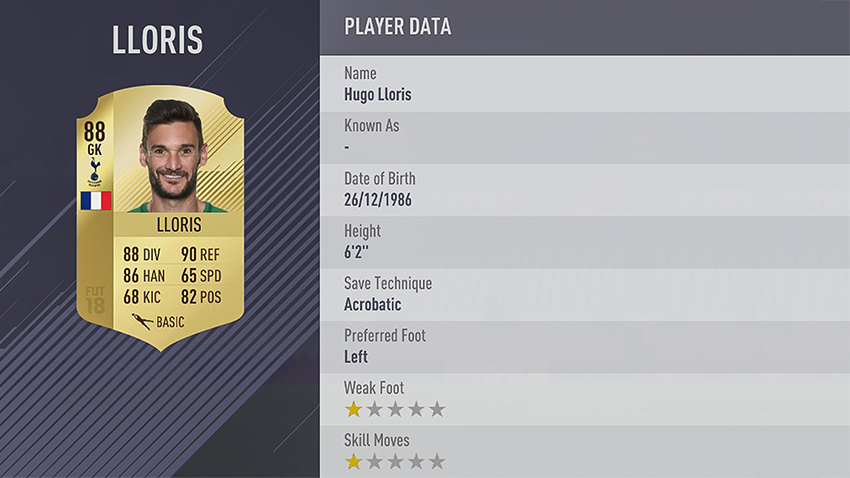 ?? ZLATAN IBRAHIMOVIC
Having played for many of the biggest teams in Europe, Ibrahimović is known the world over for his versatile finishing ability. His 88 Shooting score is one of the highest in FIFA 18, and his skills as a striker are supplemented by his 82 Dribbling and 82 Physical.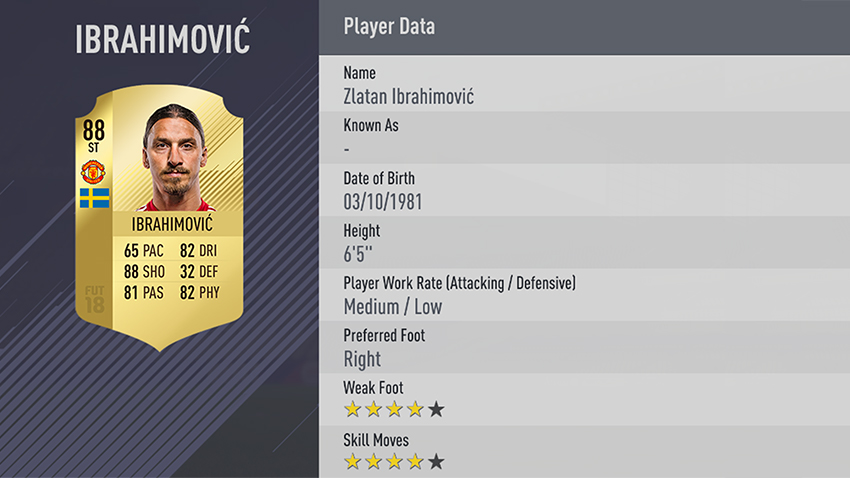 ?? CHRISTIAN ERIKSEN
An excellent crosser of the ball in both open play and from set pieces, Eriksen is the creative heart of Tottenham and the Denmark national team. He keeps possession well with his 84 Dribbling ability, and his 88 Passing makes him an assist machine for his teammates.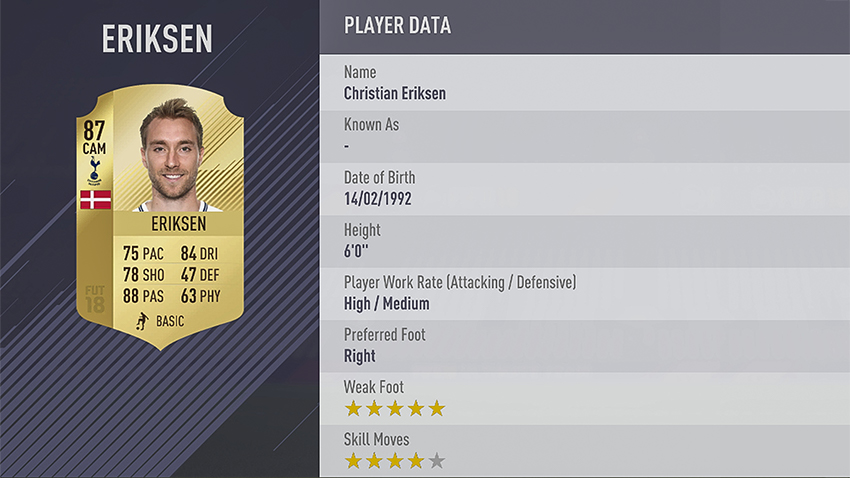 ?? PAUL POGBA
Often tasked with controlling the pace of play from midfield, Pogba's composure and ability to hold possession is evidenced by his 88 Strength and 84 Dribbling. When tasked with more attacking roles, Pogba can use his 84 Passing and 79 Shooting to create goals for himself and those around him.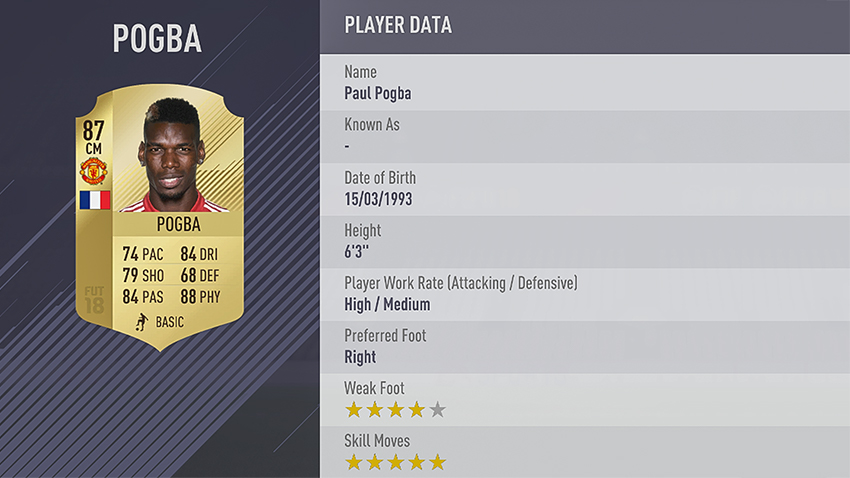 ?? N'GOLO KANTÉ
A key member of title-winning teams with Leicester City and Chelsea, Kanté excels in cleaning up and protecting the back line with his 81 Defending and 84 Physical. He also uses his 80 Dribbling to transition the ball between defense and attack without skipping a beat.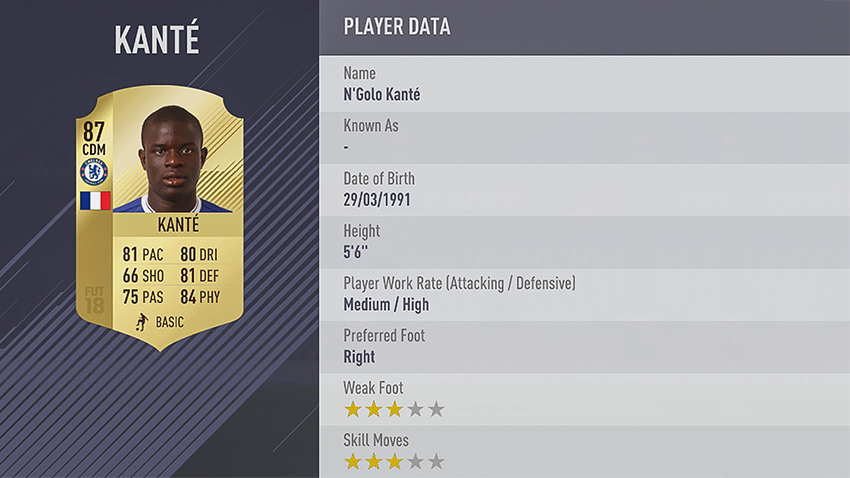 ?? MESUT ÖZIL
A very versatile player who can play across the attacking areas, Özil is lethal when utilizing his 87 Passing and crossing—especially with his left foot. Often deployed as a central attacking midfielder with a tendency to drift into wide areas, Özil uses his 86 Dribbling to carve out space wherever he goes on the pitch.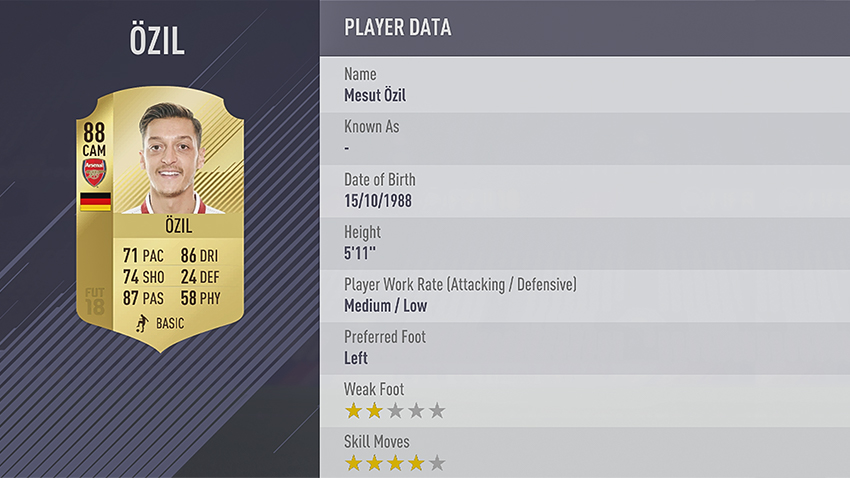 ?? DAVID SILVA
Having moved away from speedier roles on the wing in recent seasons, Silva is now most effective as an attacking midfielder where he can express his creativity. Whether he's putting in through balls (thanks to his 87 Passing) or using his technique to beat opponents (because of his 87 Dribbling) to set himself up in the box, Silva is still a feared player in the English Premier League.
?? ROMELU LUKAKU
As evidenced by his big-money move to Manchester, Lukaku is a bit of a hybrid forward that uses his 84 Physical and 83 Pace to win headers and chase down through balls, then finishes them off with his clinical 85 Shooting.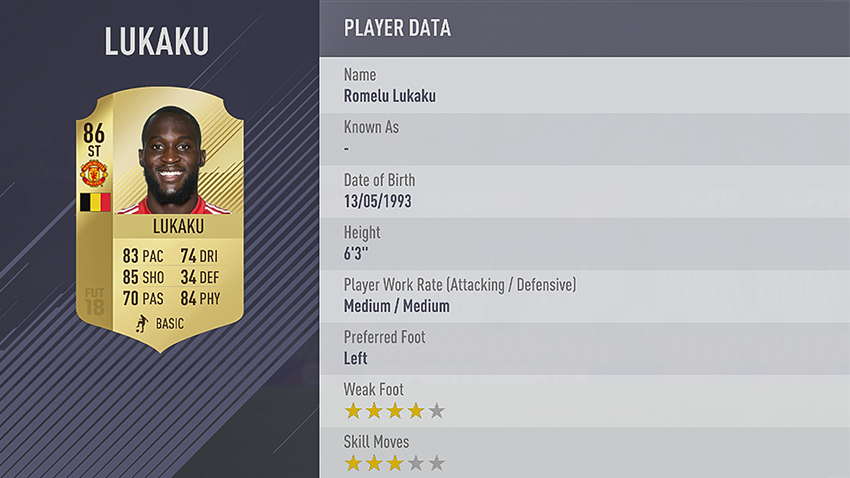 ?? PHILIPPE COUTINHO
The creative hub of Liverpool and Brazil, Coutinho's 88 Dribbling rating dazzles opponents and fans alike. But if his technique doesn't manage shred an opponent's defense, his 82 Pace and 83 Passing will finish the job.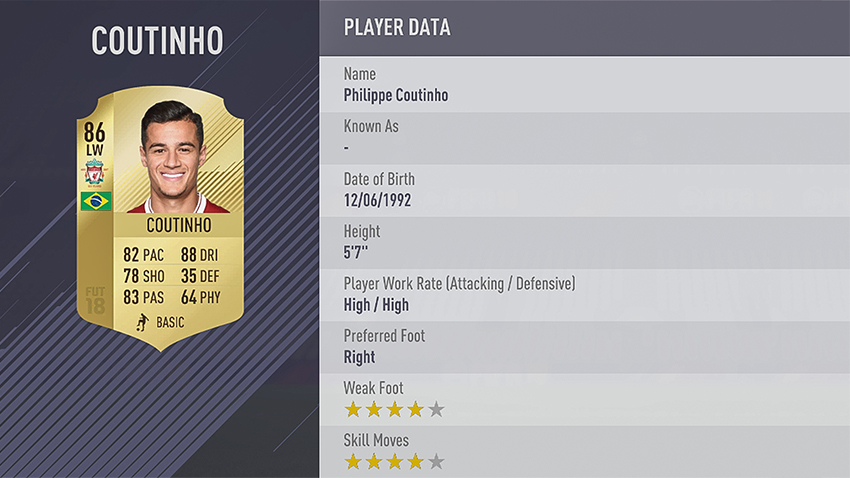 ?? HARRY KANE
Starting with his solid 83 Physical rating, the English forward is one of the most well-rounded in all of Europe. Kane's 87 Shooting ability has served him well in his young career, evidenced by his back-to-back Premier League Golden Boot awards.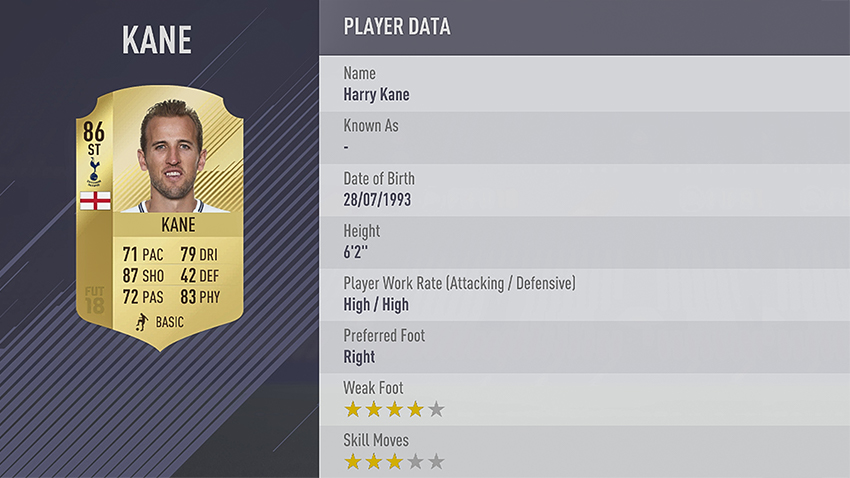 ?? CESC FÀBREGAS
Comfortable in central midfield at this point in his career, Fabregas pulls the strings from the middle of the park for Chelsea with his classy 88 Passing and 81 Dribbling.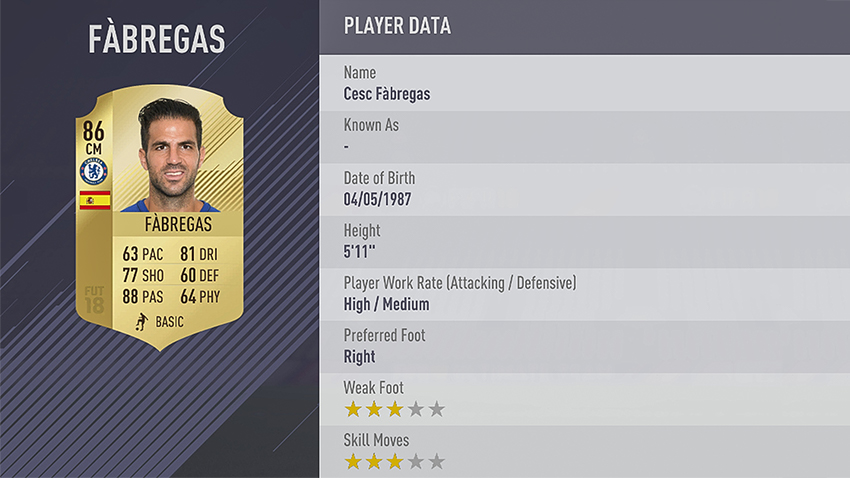 ?? TOBY ALDERWEIRELD
The French winger remains a permanent threat for one of the best squads in the world. His 89 Dribbling helps him breeze through defenders.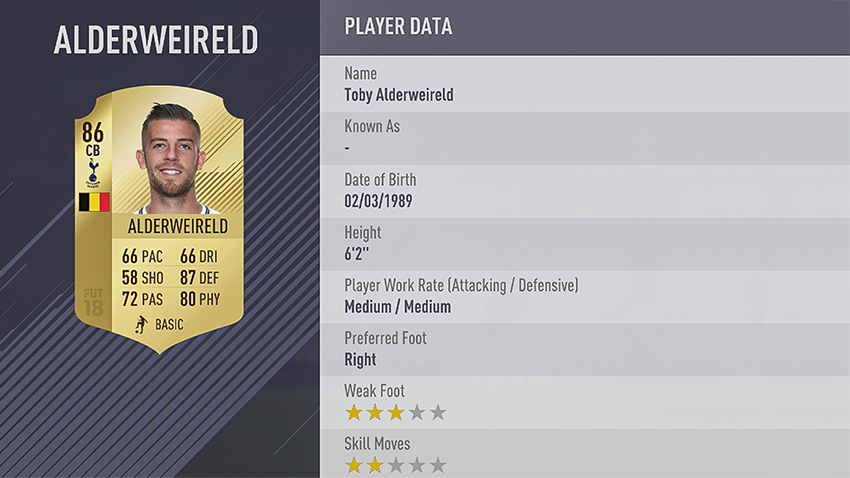 ?? DAVID LUIZ
Equally as famous for his hair as he is for his 84 Defending, the Brazilian centre back utilizes his 81 Physical to muscle opponents off the ball and keep possession to kick off dangerous counterattacks.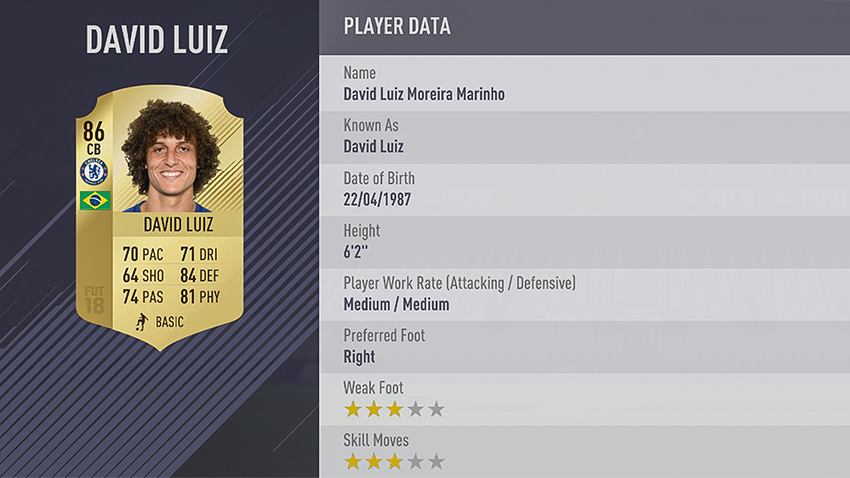 ?? DIEGO COSTA
The Brazilian striker is a dominant physical force. With 88 Physical and 83 Shooting, Costa can be a goal-scoring machine.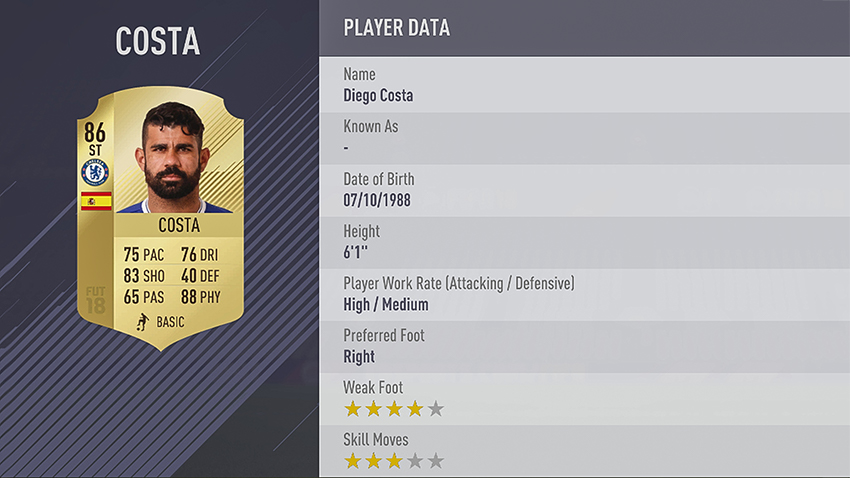 ?? PETR CECH
Petr Čech may not be the flashiest of goalkeepers, but with 87 Handling and 83 Positioning he doesn't need to be. The 35 year old Czech remains a reliable choice under the sticks.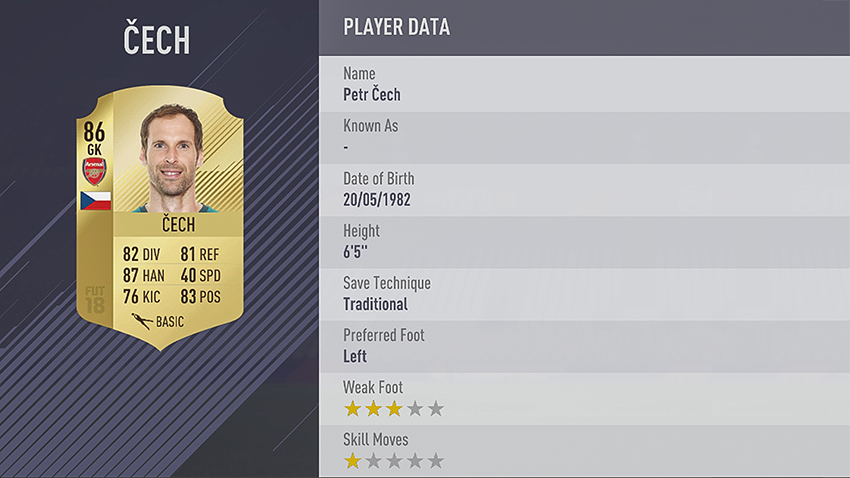 ?? ALEXANDRE LACAZETTE
There are few things that the Frenchman can't do. Lacazette's Pace, Shooting, Dribbling and Physicality make him one of the most complete strikers in the world.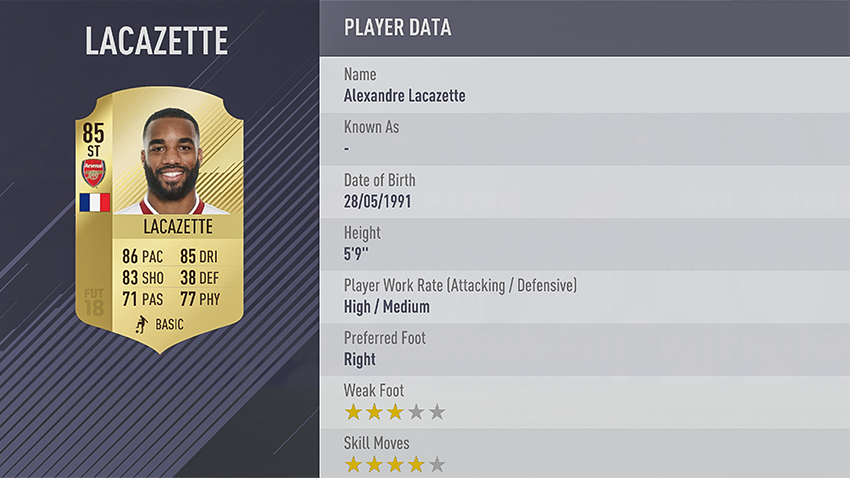 ?? CÉSAR AZPILICUETA
The Spanish centre back's 86 Defending has helped become a bastion in Chelsea's defensive line.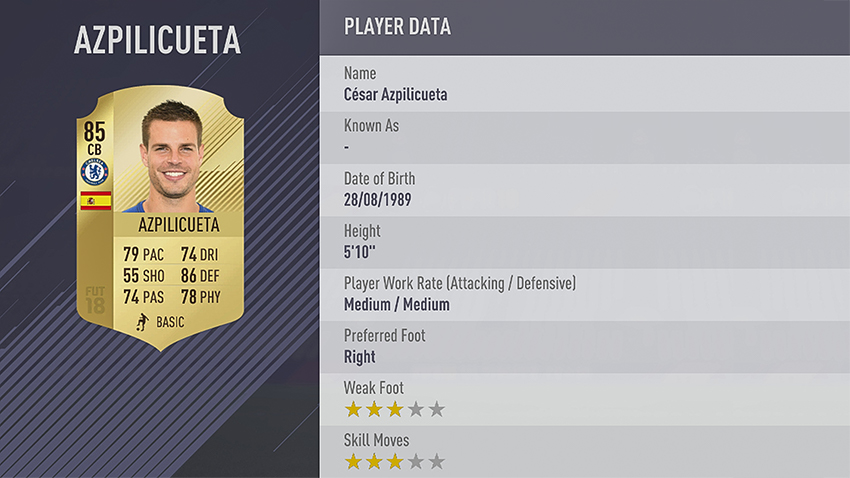 ?? JAN VERTOGHEN
The Belgian defender has emerged as one of the most complete central backs in the world. His 85 Defending and 81 Physical makes him very difficult to handle for any attacker.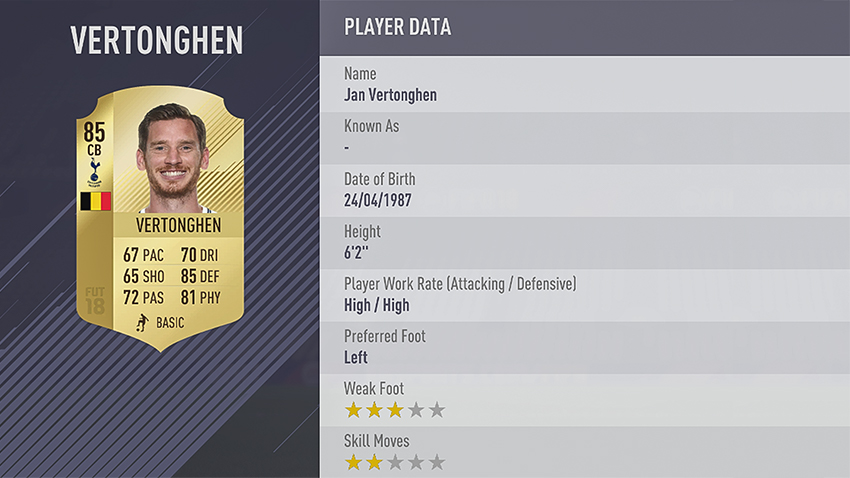 ?? HENRIKH MKHITARYAN
With 86 Pace and 86 Dribbling, Henrikh Mkhitaryan has what is needed to be one of the best outside players in the game.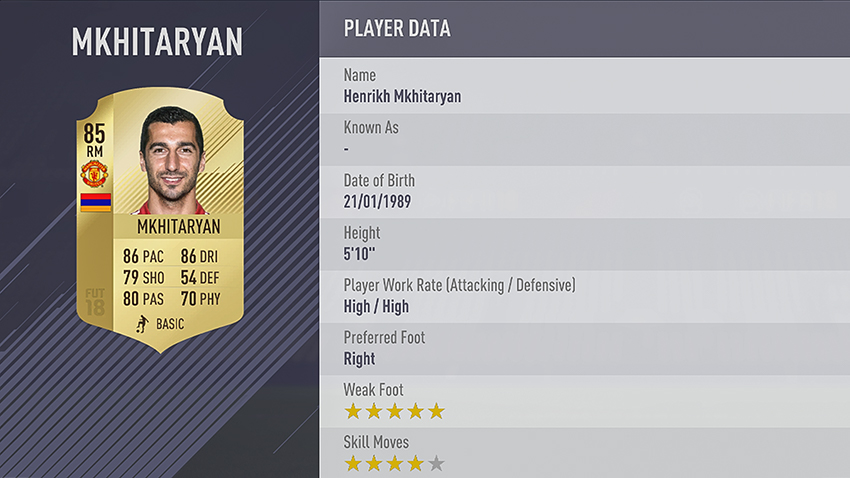 ?? VINCENT KOMPANY
A defensive household name for many years, the Belgian's 84 Defending and 83 Physical make him one of the most trusted central backs
?? ILKAY GÜNDOĞAN
Gündoğan's first year in England was cut short due to injury. The German will be itching to showcase why he was give 87 Dribbling and 83 Passing.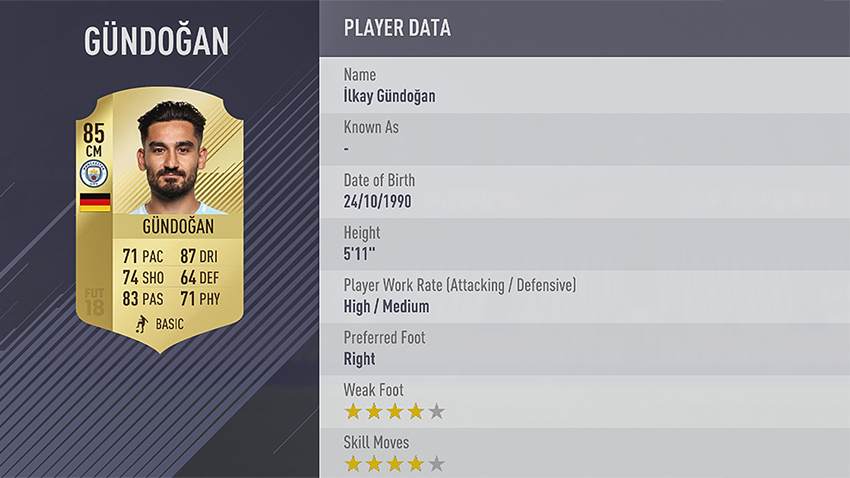 ?? DELE ALLI
The English midfielder is one of the world's most exciting young talents. The Spurs player combines 80 Shooting and 82 Dribbling makes him a threat for defenders and goalkeepers alike.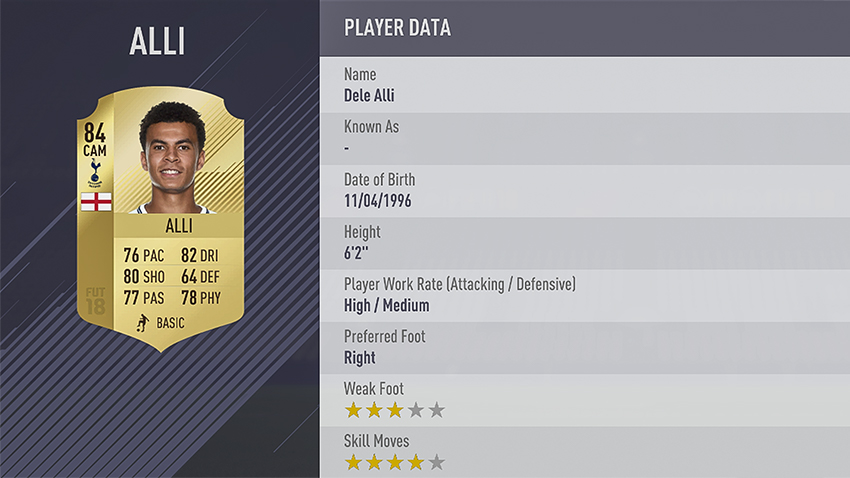 ?? SADIO MANÉ
Sadio Mané's speed is electric! With 93 Pace and 85 Dribbling, the Senegalese will terrorize defenders.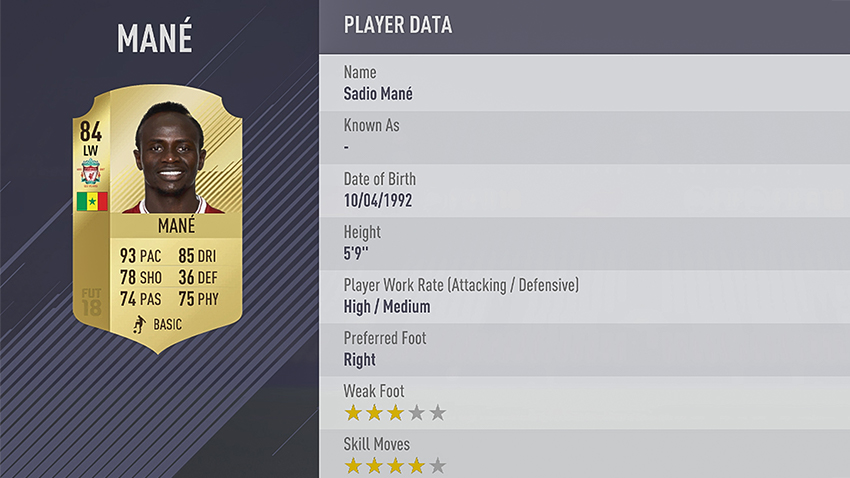 ?? BERNARDO SILVA
A revelation playing for Monaco last season, Bernardo Silva made a move to Manchester City. With 89 Dribbling and 81 Passing, the Portuguese will be a threat as CAM for any squad.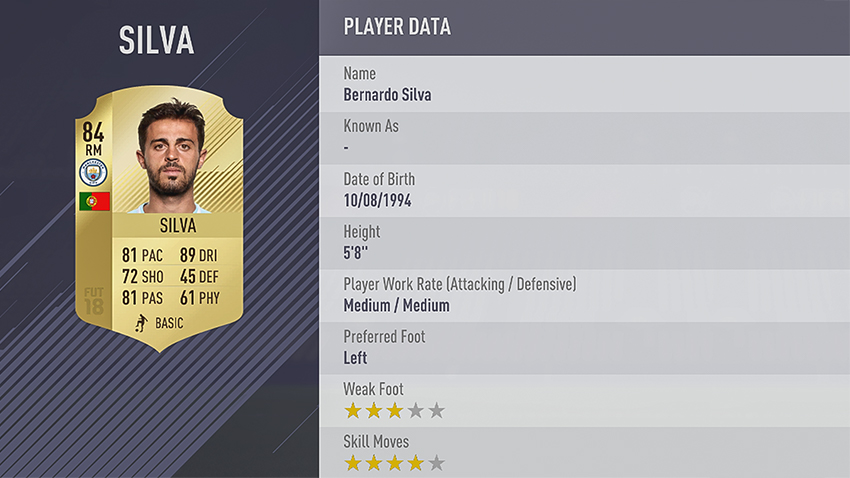 The Best LaLiga Players for FUT 18
Best players of LaLiga – the top professional division of Spain

? 11/09/2017

?? CRISTIANO RONALDO
There are few things that Ronaldo cannot do on a pitch, and few attacking positions in which he won't excel. His 93 Shooting is evidenced by the unreal number of goals he's scored in the past few seasons, and Ronaldo's 90 Pace and 90 Dribbling make him virtually untouchable when in top form. Sometimes deployed as a forward, Ronaldo can dance into the box and dispatch the ball into the net without skipping a beat. He is probably at his best on the left wing, where he can create chances for teammates, or as he does more often, cut inside and lash the ball past a helpless goalkeeper.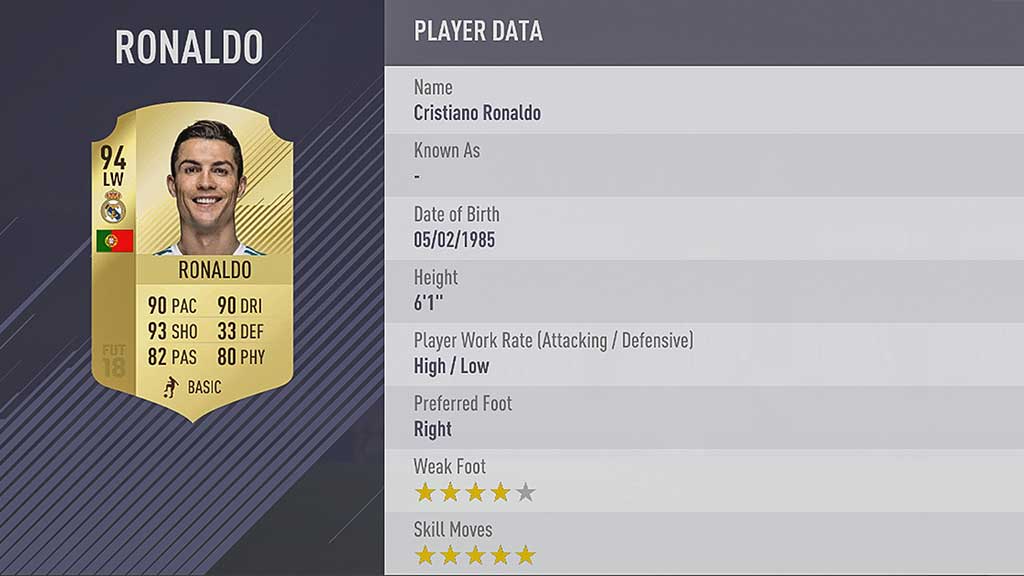 ?? LIONEL MESSI
In a constant battle for best in the world (and of all-time), it's hard to say anything about Messi without stretching into hyperbole. His 95 Dribbling is the highest, and very few defenders are able to even come close to stopping him when he's playing his best. Combined with 89 Pace and 90 Shooting, Messi may usually start on the wing but he always finds a way to get in front of goal—where he rarely misses.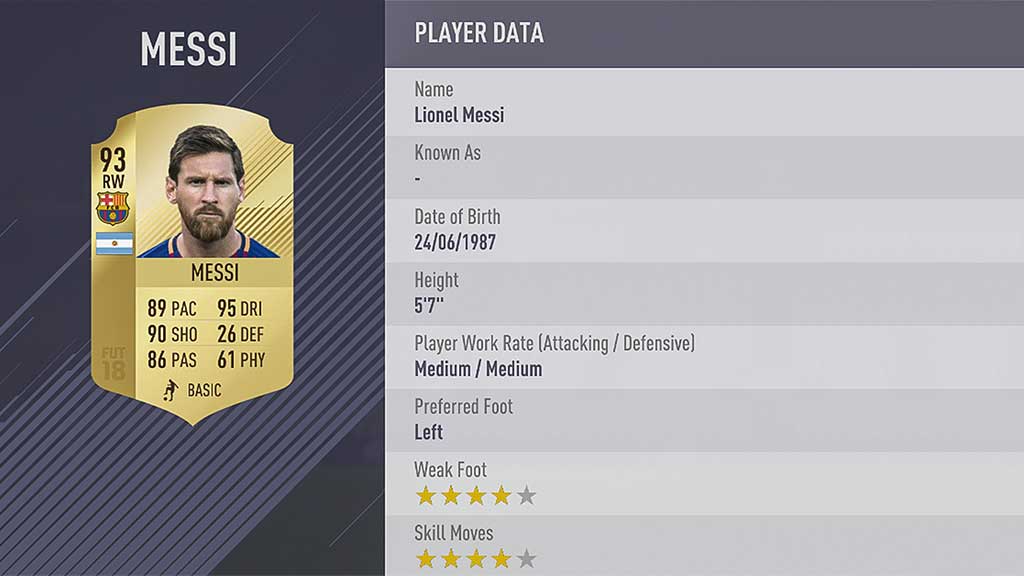 ?? LUIS SUÁREZ
As brilliant as he is controversial, Suárez can finish with the best of them thanks to his powerful, accurate 90 Shooting. But beyond his amazing ability in front of goal, it's Suárez's 86 Dribbling and 81 Physical that truly sets him apart. He works extremely hard both with and without the ball, and his unpredictable nature makes it impossible for defenders to truly prepare for what Suárez will do next.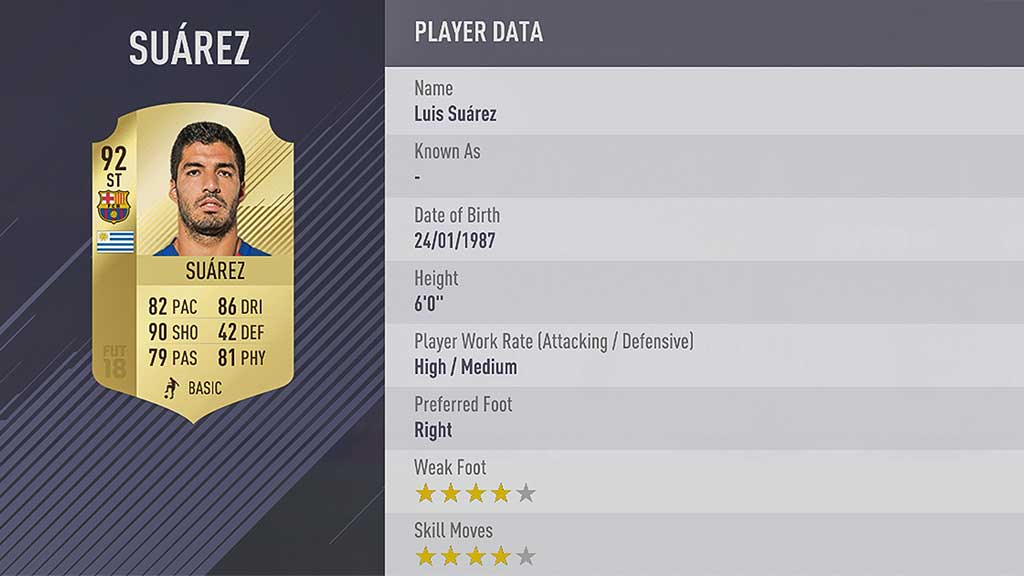 ?? SERGIO RAMOS
The best centre back in the world, Ramos has an 83 Physical rating that makes him brilliant on both sides of the ball. Whether heading out of his own box or into his opponent's net, few players can match Ramos' aerial prowess. His 88 Defending encompasses the many traits in which he excels, from leadership to composure on the ball to an excellent reading of the game.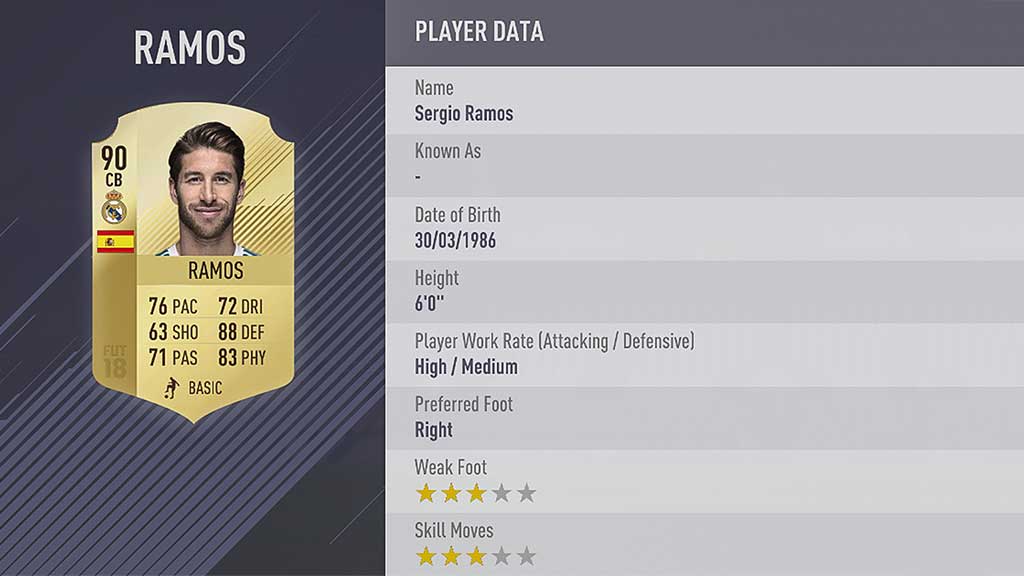 TONI KROOS
A key cog in the successful machines of both Real Madrid and the German national team, Kroos is the best passer (88 Passing) in the modern game. While his 81 Dribbling and 81 Shooting are both very important, it's his ability to place a ball literally anywhere on a pitch that makes him truly world class.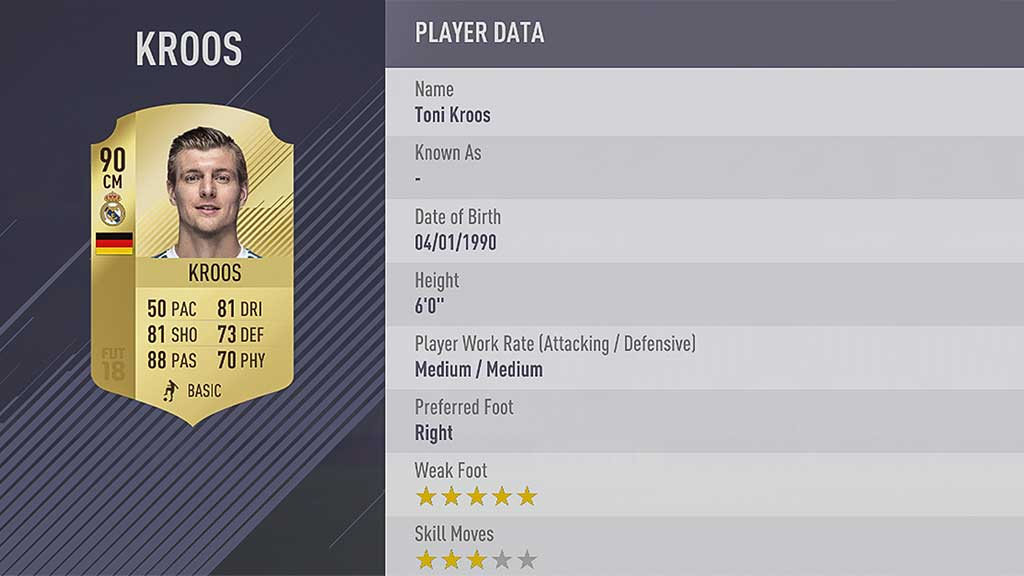 ?? LUKA MODRIĆ
A mainstay in Real Madrid's midfield since moving there from Tottenham Hotspur, Modrić is one of the more successful Croatian internationals in history. His 89 Dribbling and 86 Passing have put him among the top technical central midfielders in Europe. While not the best on defense, Modrić's skill set is diverse enough for him to shift into deeper roles when necessary.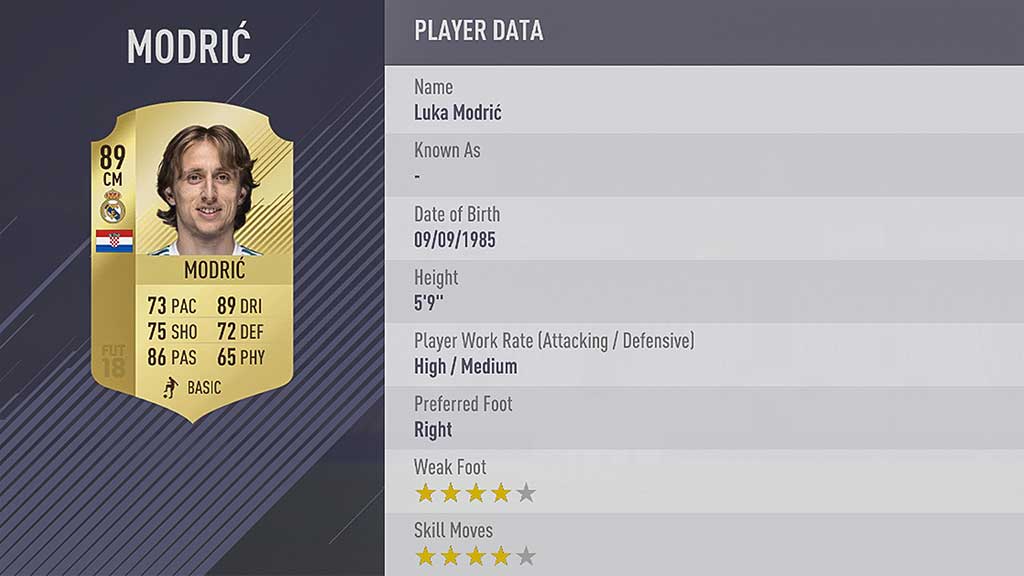 ?? GARETH BALE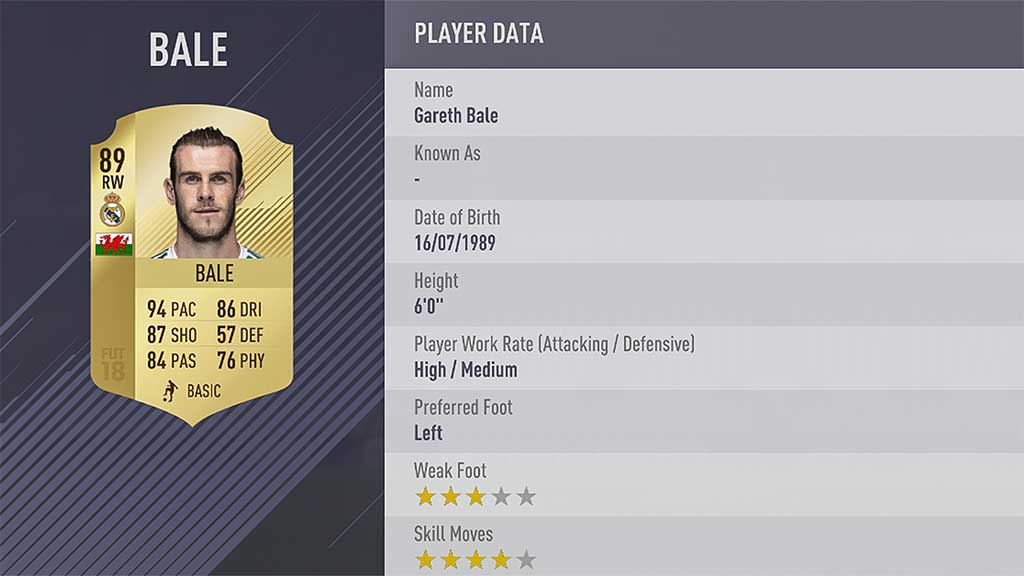 ?? ANTOINE GRIEZMANN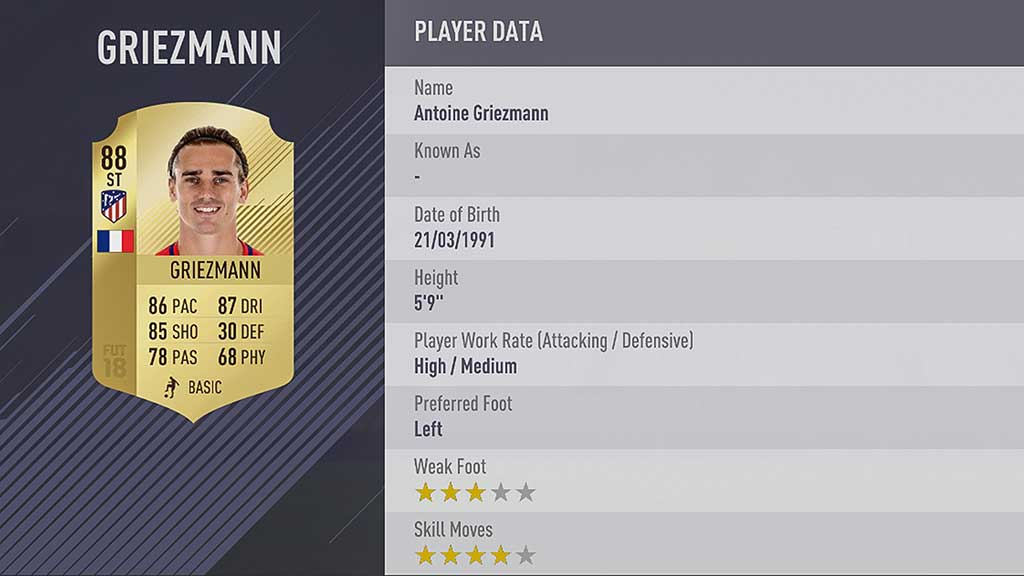 ?? DIEGO GODÍN
A leader in both word and action on the pitch, Godín's 88 Defending put him in the upper echelons of centre backs in all of world football.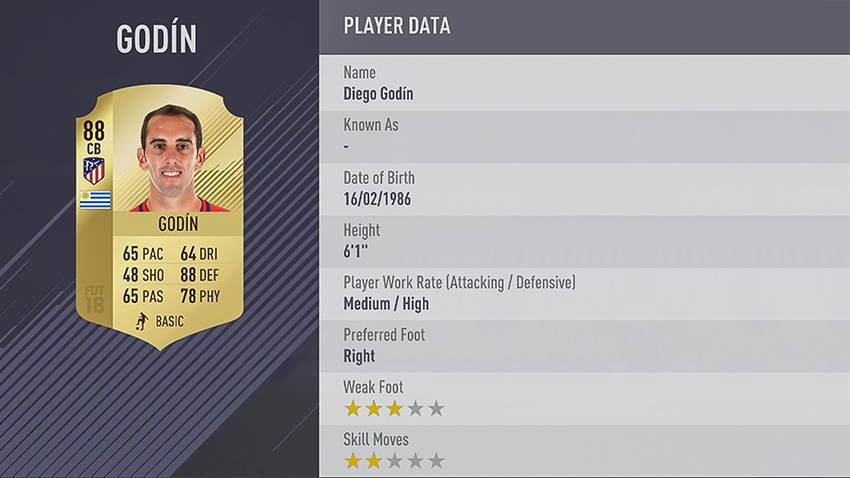 ?? MARCELO
The highest-rated left back in the world right now, Marcelo is a defender with the mindset of an attacker. Not only is he a solid rock on the left flank with his 82 Defending rating, but he can also fly up the pitch and create chances with his 85 Dribbling and 80 Passing.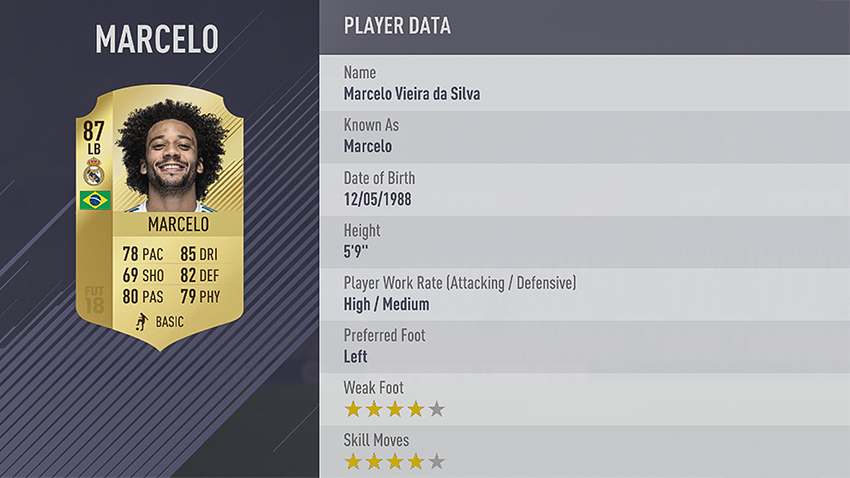 ?? JAN OBLAK
Frequently tasked with stopping shots from some of the best players in the world in La Liga and the UEFA Champions League, Oblak's 90 Handling is beyond world-class and his 87 Positioning shows how experienced and intelligent he is as a goalkeeper.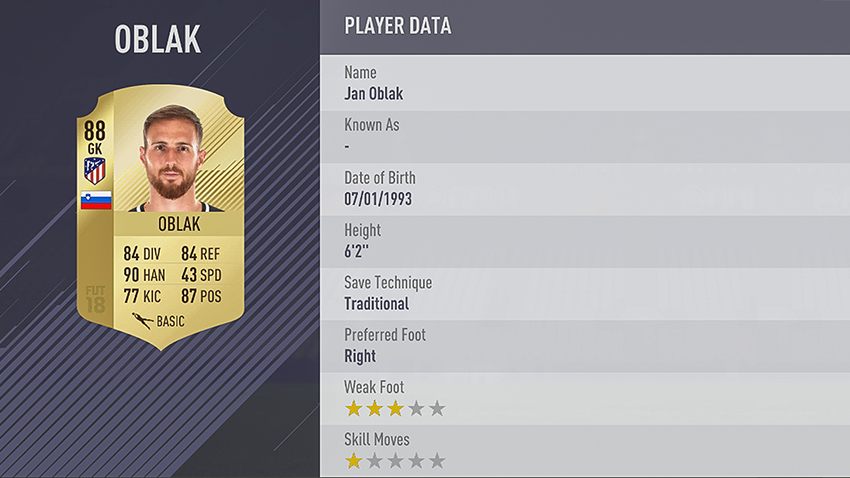 ?? GERARD PIQUÉ
A key component of the successful Barcelona and Spain teams of the past decade, Piqué has a wealth of experience and trophies to draw from. His tackling, strength in the air, and composure on the ball combine for his excellent 86 Defending rating.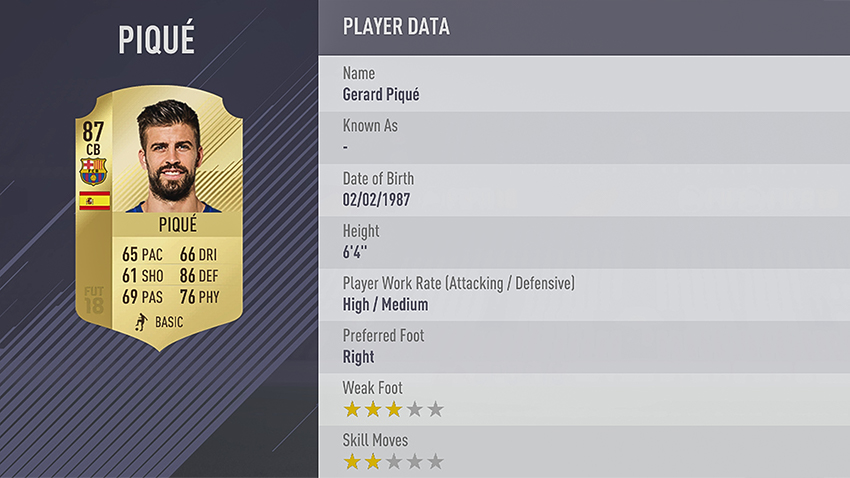 ?? IVAN RAKITIĆ
A great foil for his Barcelona teammates Iniesta and Busquets, Rakitić has the ability to score spectacular goals from midfield with his 84 Shooting rating and set up his teammates with 86 Passing.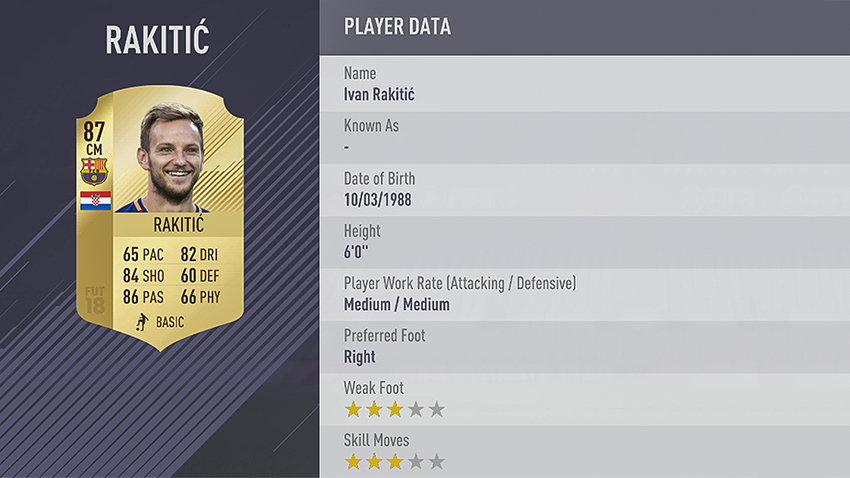 ?? ANDRES INIESTA
While not at the top like he once was, Iniesta is still one of the more skilled midfielders in the world. With staggering 90 Dribbling and 87 Passing ratings, Iniesta can still do the seemingly impossible from midfield.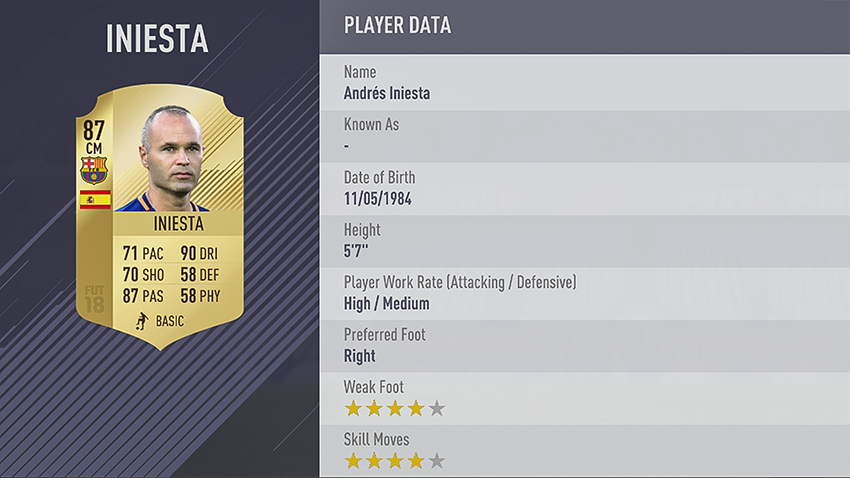 ?? ISCO
By far one of the most technically gifted players in the world, Isco's 89 Dribbling ability allows him to pick up the ball from deeper positions and open up space for teammates, while his respectable 83 Shooting score also makes him a threat.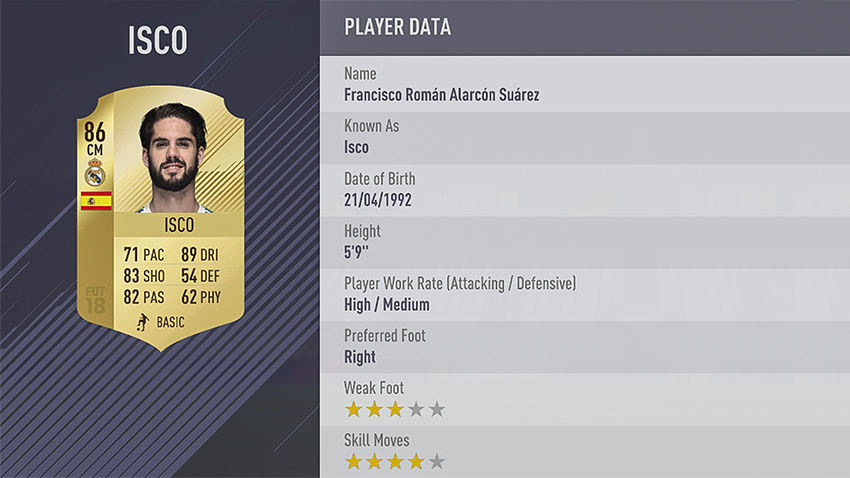 ?? KARIM BENZEMA
The French forward makes up for his lack of speed and physicality with top-class 84 Shooting ability and 82 Dribbling. His deadly ability in front of goal has played a key role in Real Madrid's recent successes.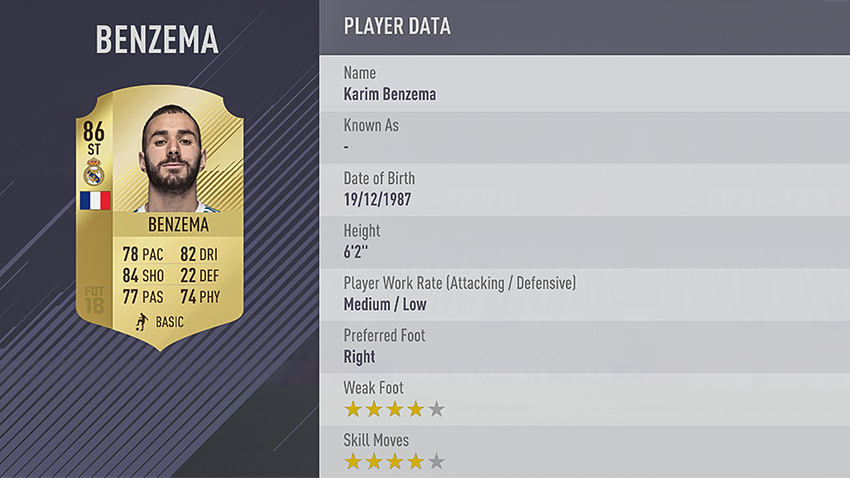 ?? SERGIO BUSQUETS
He may be a midfielder, but Busquets shields his defense using a world class combo of 82 Defending and 81 Physical.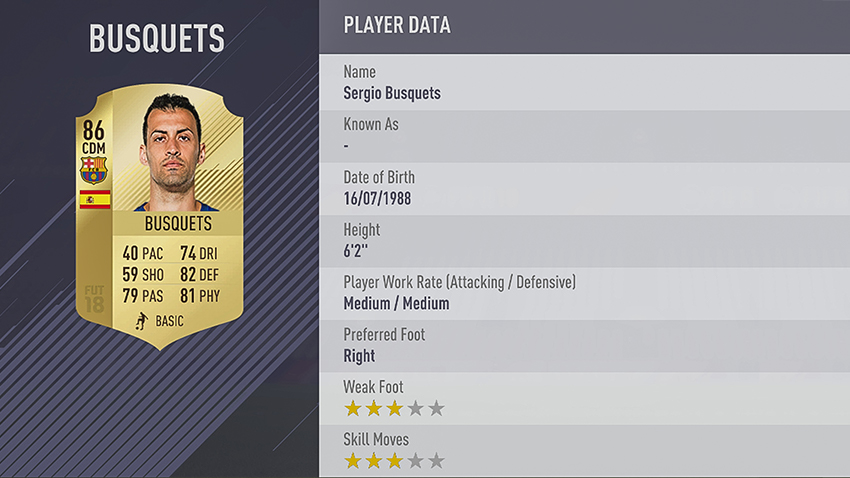 ?? CASEMIRO
Perhaps the key cog that keeps Real Madrid's engine working, Casemiro's 84 Defending and 86 Physical has helped him become a permanent fixture in Zinedine Zidane's squad.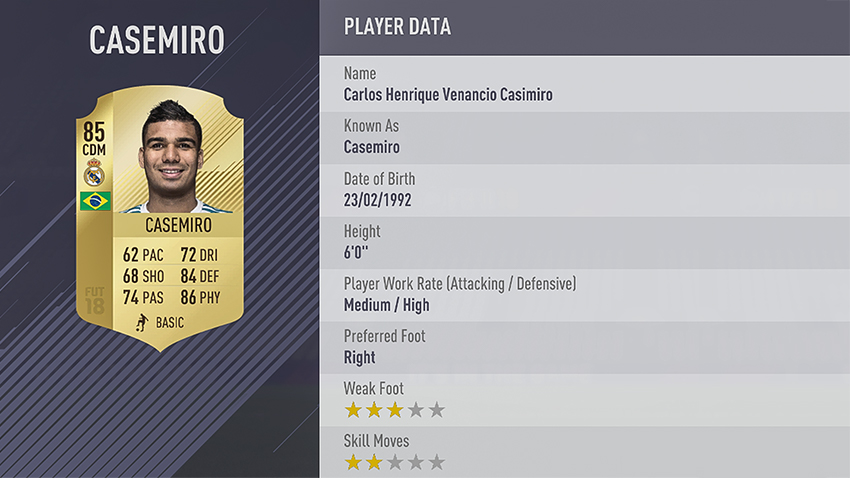 ?? KEYLOR NAVAS
With 87 Diving and 85 Reflexes it takes something really special to beat the Tico goalkeeper.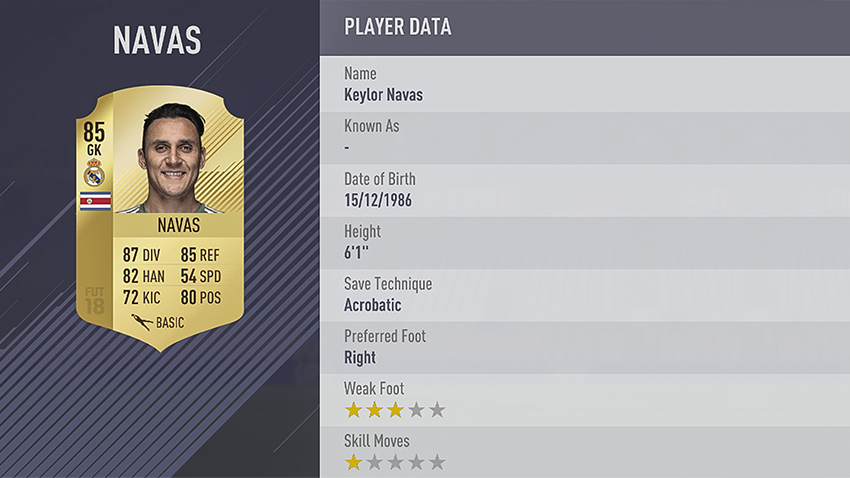 ?? JORDI ALBA
A dynamic, end-to-end fullback, Jordi Alba's pace, passing, dribbling and defending elevate him as one of the most balanced left backs in the world.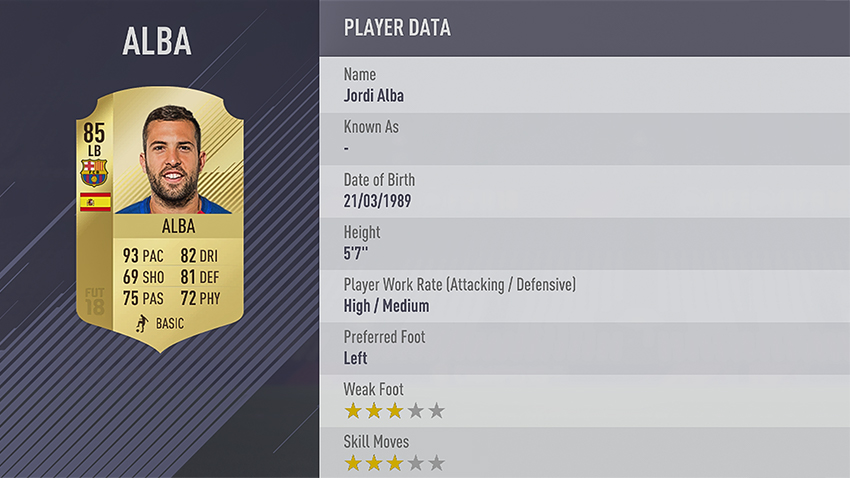 ?? FILIPE LUÍS
Filipe Luís is a poster boy of the modern full back. His 82 Defending, 78 Dribbling and 77 Passing make him extremely effective on both ends of the pitch.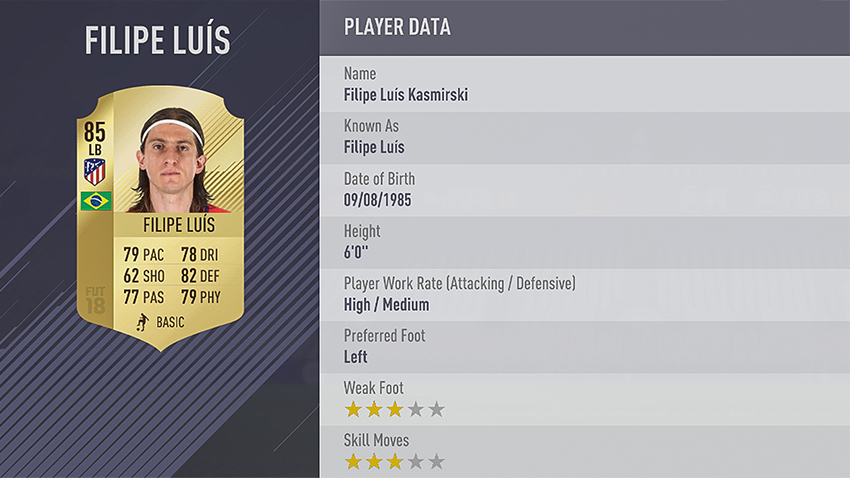 ?? MARC-ANDRÉ TER STEGEN
Fantastic distribution and outstanding reflexes (86) are only two of the aptitudes that make ter Stegen an elite goalkeeper.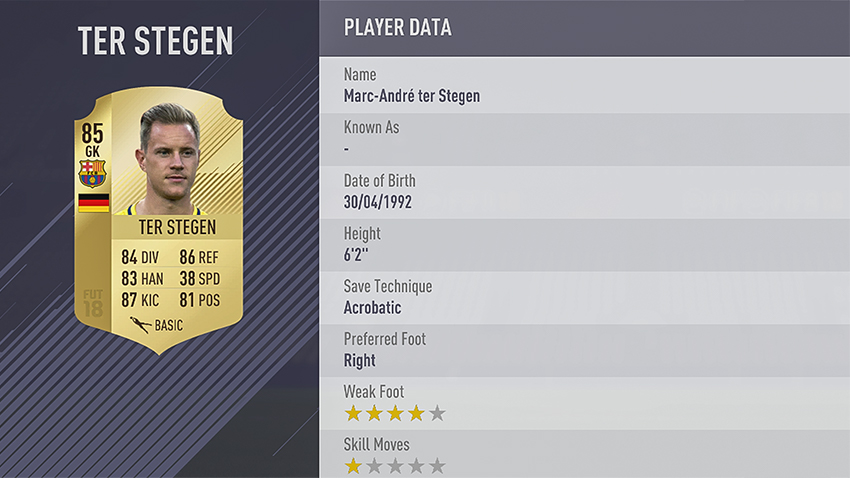 ?? YANNICK CARRASCO
The young Belgian continues to grow into becoming a true premier winger in world football. With 88 Pace and 87 Dribbling, Carrasco is ready to terrorize defenders.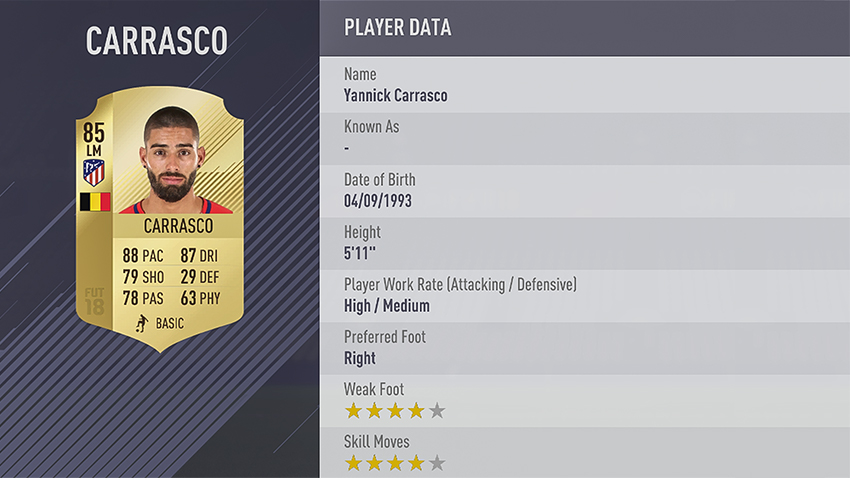 ?? RAPHAËL VARANE
With 84 Defending, 79 Physical and 79 Pace, Varane has emerged as one of the most balanced defenders in world football.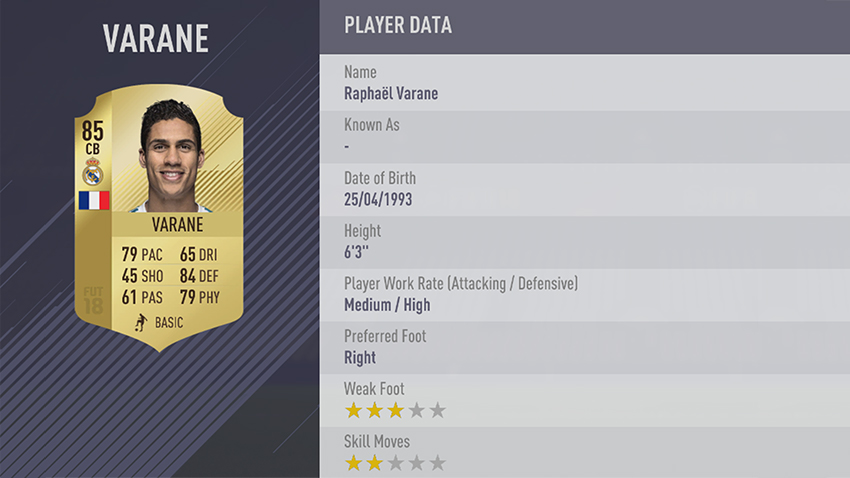 ?? MARCO ASENSIO
The Spanish wunderkind has proven that he belongs in football elite. With 83 Dribbling and 83 Passing, Asensio will be a household name in years to come.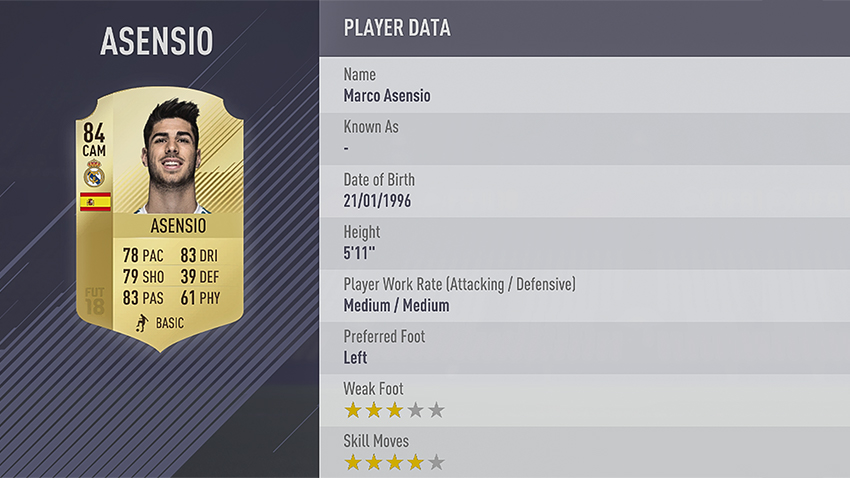 The Best Bundesliga Players for FUT 18
Best players of Bundesliga – the top professional division of Germany

? 11/09/2017

?? MANUEL NEUER
Famous for being as adept with his feet as he is with his hands, Neuer has held a firm grasp on the title of best goalkeeper for a few years. He's at the top of his game regarding traditional goalkeeping skills, like 91 Diving and 90 Handling, but it's his 95 Kicking score that truly sets him apart. Neuer's ability to kick off counterattacks with his feet is unprecedented, and having him between the sticks is like having an extra playmaker.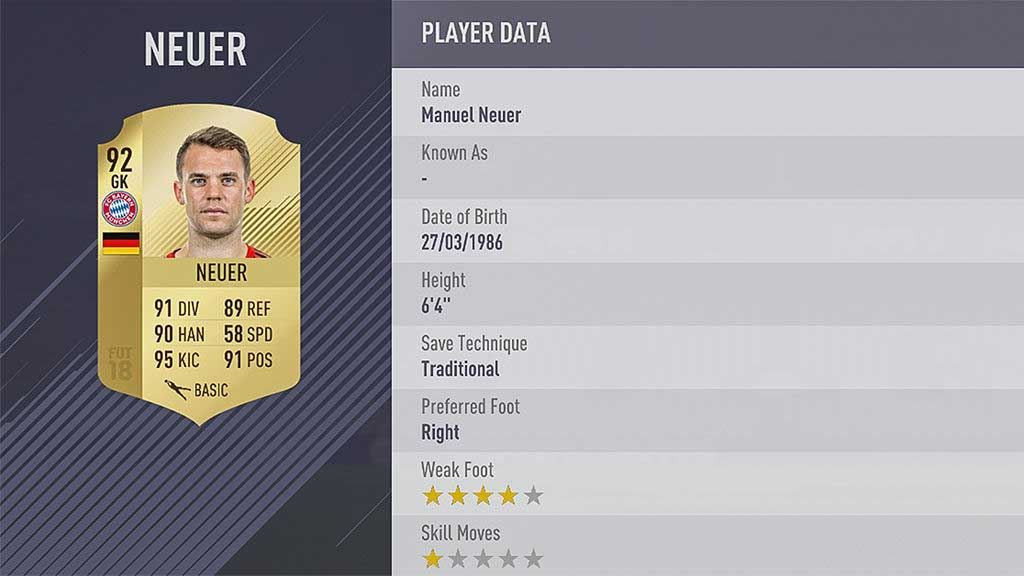 ?? ROBERT LEWANDOWSKI
Despite being dismissed early in his career as just a physical target forward, Lewandowski has evolved into the most complete striker in the game. He has the traditional target forward skills that his 88 Shooting and 82 Physical show, but his 86 Dribbling and 81 Pace round him out more than any other player at his position.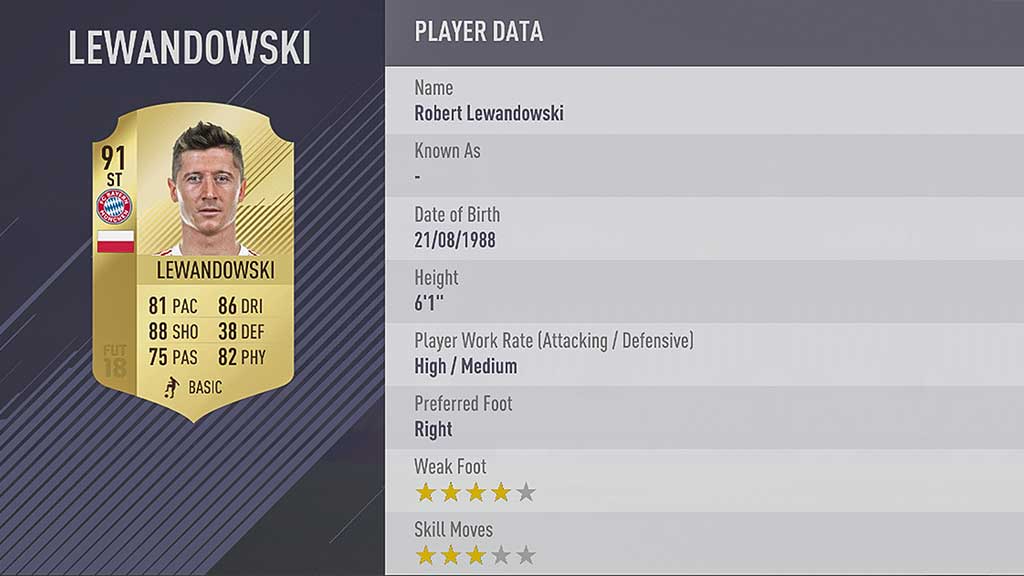 ?? THIAGO
At home in central midfield using his brilliant and creative 90 Dribbling ability, Thiago is the beating heart in the middle for Bayern. Incredibly accurate, Thiago uses his 85 Passing to pull the strings and create chances for his teammates all over the pitch.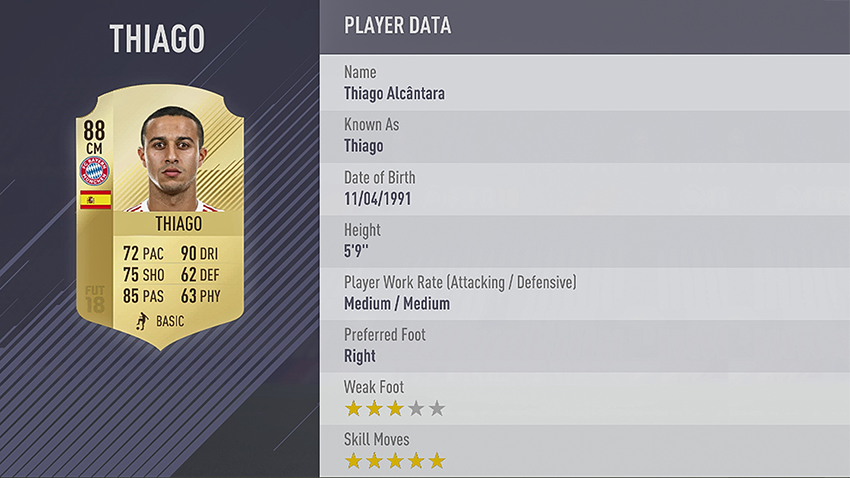 ?? ARJEN ROBBEN
Still one of the fastest wingers in the world with an 86 Pace, the Dutchman combines that with a 90 Dribbling ability to bamboozle defenders in the Bundesliga and Champions League. When put in a more inverted position to cut inside, his 86 Shooting rarely lets him down in front of goal.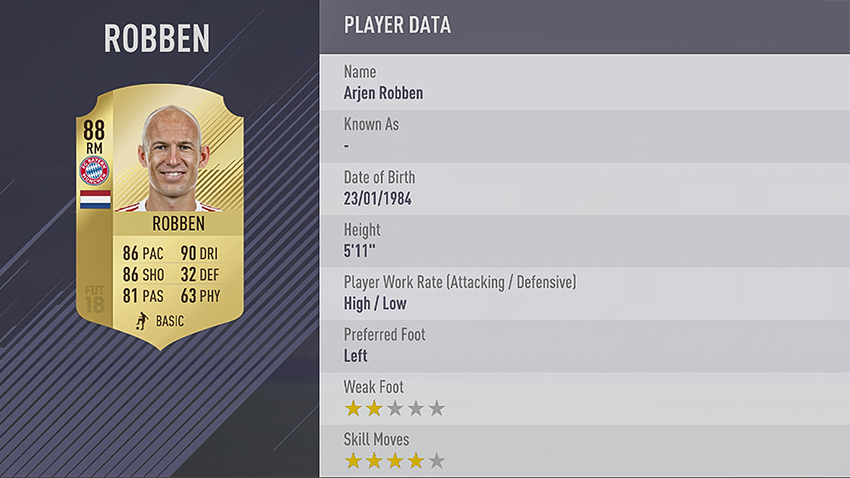 ?? MATS HUMMELS
Regularly compared to his Bayern and German predecessor Franz Beckenbauer, his 89 Defending can't explain how complete of a defender Hummels is. As strong in possession as he is when tackling the ball away, few centre backs in the world are as well-rounded.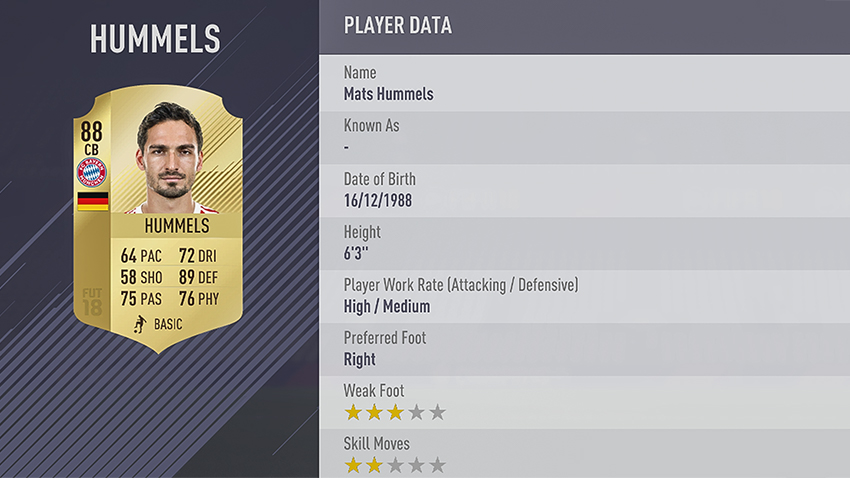 ?? PIERRE-EMERICK AUBAMEYANG
One of the fastest players in the world, Aubameyang's staggering 96 Pace leaves defenders in the dust on a regular basis. His 81 Dribbling helps him retain possession when getting into dangerous areas, and 84 Shooting means he reliably finishes the chances he gets.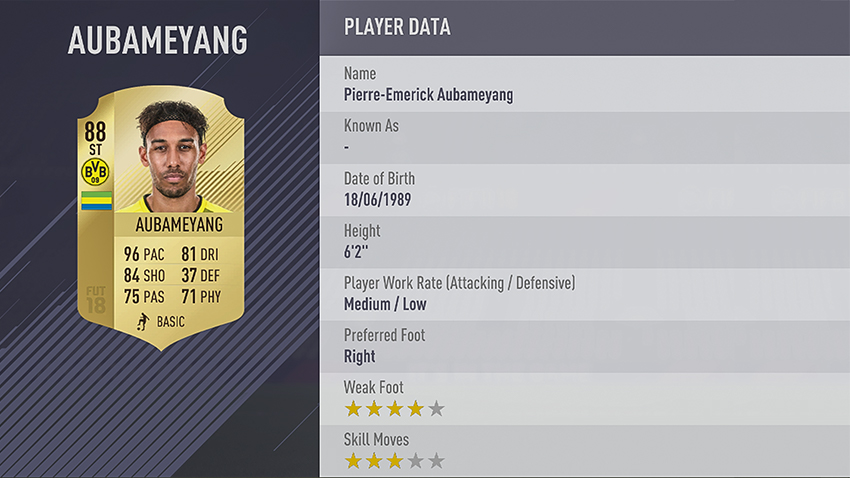 ?? ARTURO VIDAL
A box-to-box midfielder of the highest order, Vidal's most prominent traits are his 83 Defense and 84 Physical—but he's much more than that. With a respectable 81 Shooting rating and 80 Passing, Vidal can get the ball back from an opponent and turn it into a chance on goal for himself or his teammates.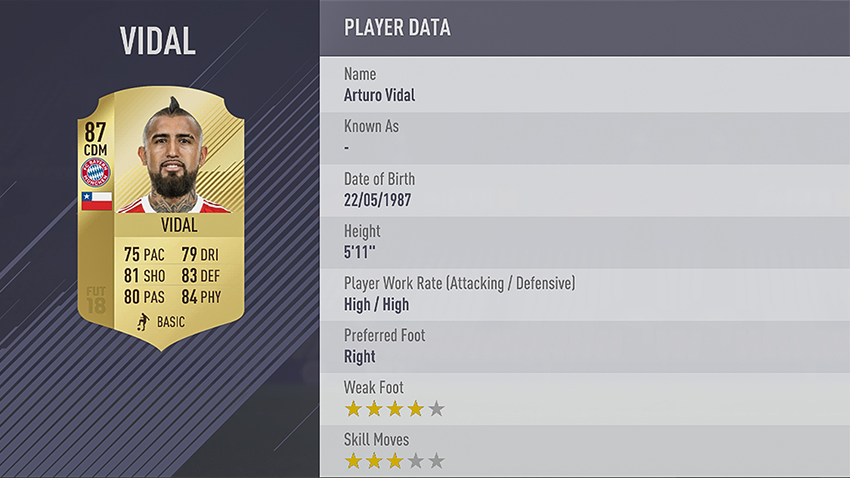 ?? JÉRÔME BOATENG
Known for his fierce, efficient tackling (88 Defending and 84 Physical), Boateng has played important defensive roles for both Bayern and the Germany national team.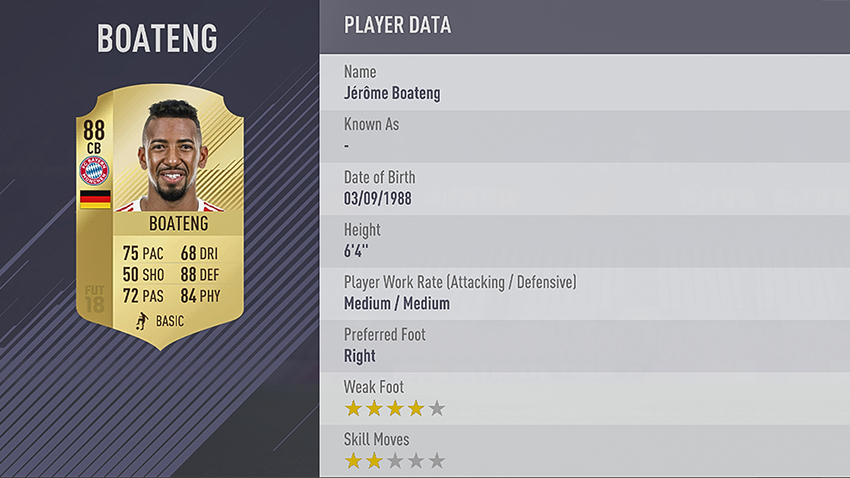 ?? THOMAS MÜLLER
Consistently one of the most accurate finishers in all of world football, the German can score goals from just about anywhere in or around the box thanks to his 82 Shooting.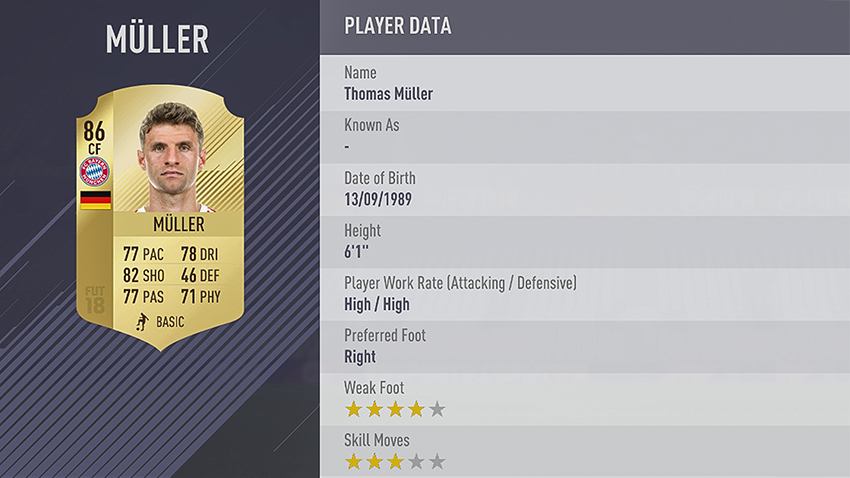 ?? JAMES RODRIGUEZ
The Colombian playmaker can disarm even the best defense with his combination of 85 Shooting, 85 Passing and 83 Dribbling. Rodriguez is ready to prove that he truly belongs in world football's elite.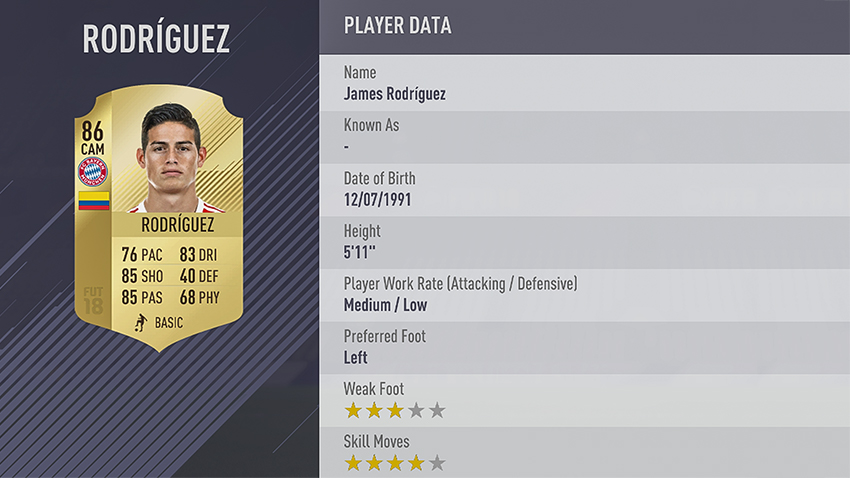 ?? FRANCK RIBÉRY
The French winger remains a permanent threat for one of the best squads in the world. His 89 Dribbling helps him breeze through defenders.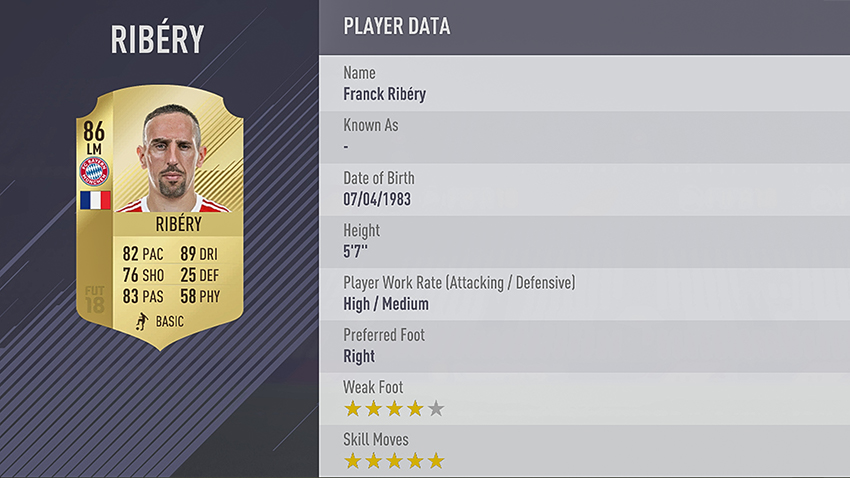 ?? SOKRATIS
No nonsense defending is one of the main traits of the Greek defender. His 87 Defending and 84 Physicality allow him to go toe to toe with any striker in the world.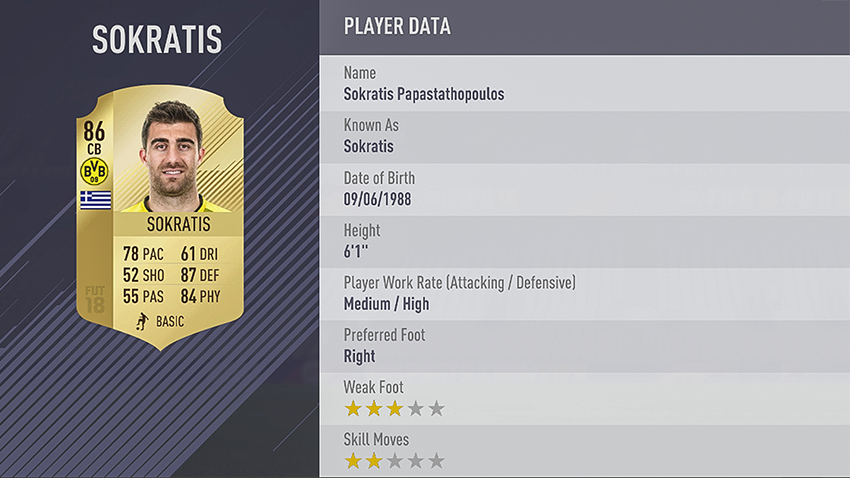 ?? MARCO REUS
With Superb Pace, Shooting and Dribbling, the German winger is a dangerous threat from the left wing scoring and assisting goals.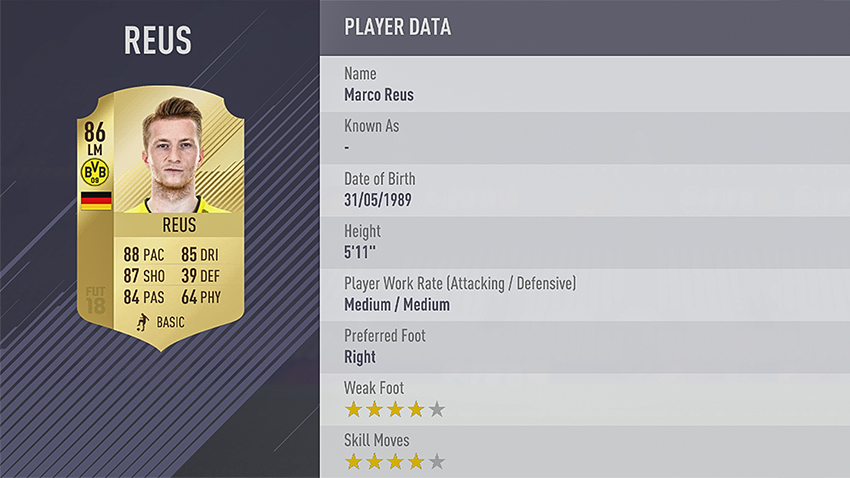 ?? JAVI MARTINEZ
The Spanish defender excels for club and country with his 86 Defending and 80 Physical.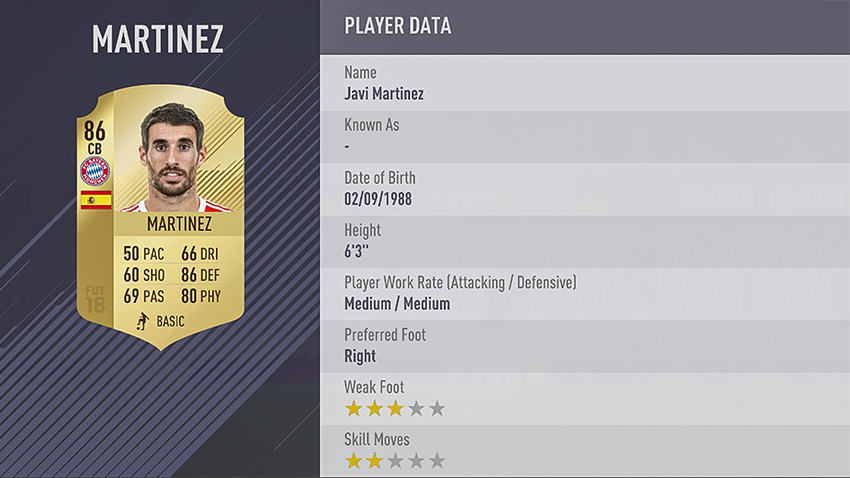 ?? DAVID ALABA
With 86 Pace, 81 Passing, 80 Dribbling and 82 Defending, the Austrian left back can get it done on both ends of the pitch.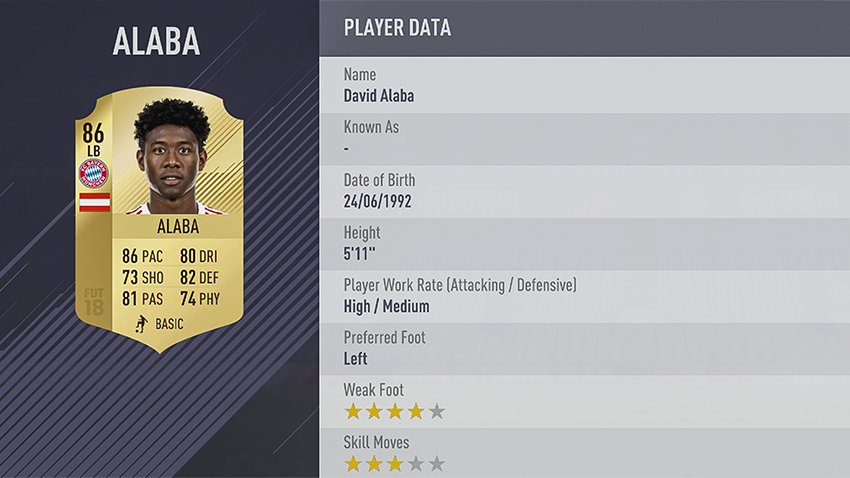 ?? BERND LENO
The German combines 85 Diving with 85 Positioning making him a very well-balanced goalkeeper.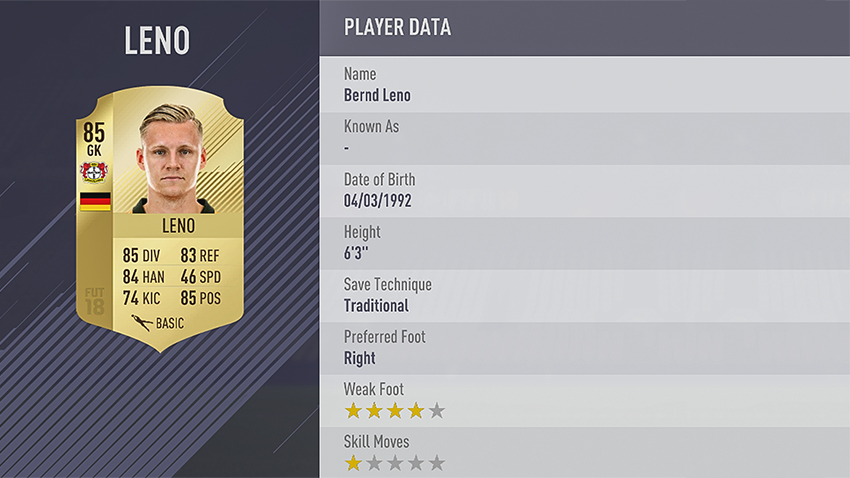 The Best Serie A Players for FUT 18
Best players of Serie A – the top professional division of Italy

? 11/09/2017

?? GONZALO HIGUAIN
More on the traditional side as far as forwards go, Higuaín can finish nearly anything with both feet and his head. His 87 Shooting is extremely impressive, and his 83 Dribbling gives him the ability to open up space for himself and his teammates.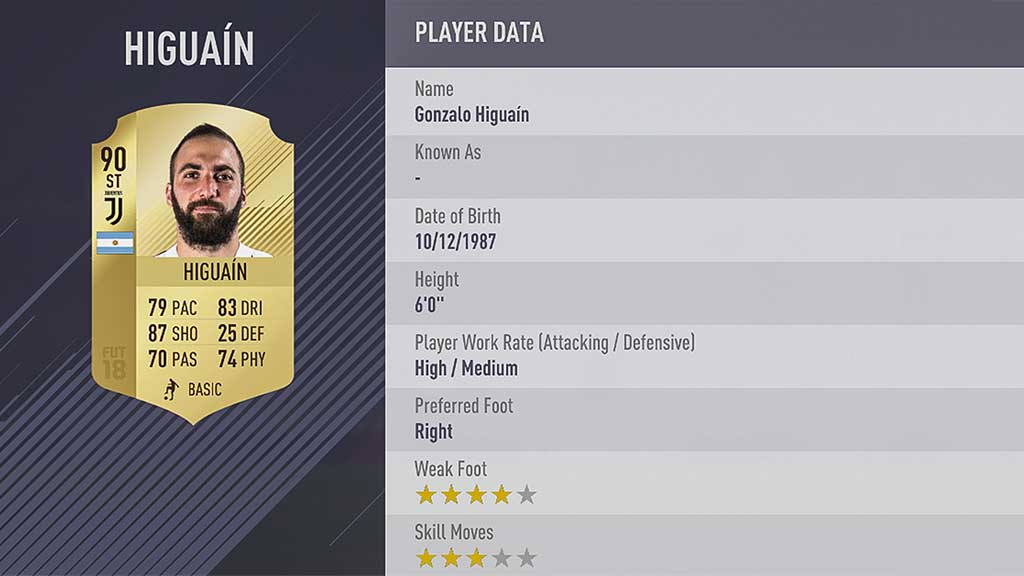 ?? GIORGIO CHIELLINI
Aggressive and strong, Chiellini's 85 Physical makes him a very intimidating centre back. Coupled with his 90 Defending, the highest in the game, Chiellini is a rock at the back for both Juventus and Italy.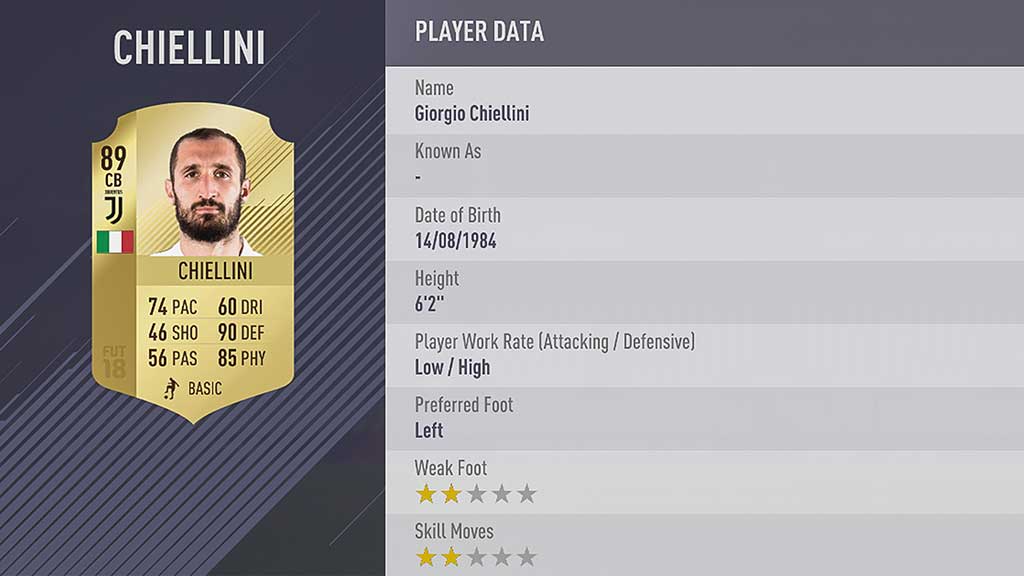 ?? GIANLUIGI BUFFON
Still going strong despite playing the fifth-most professional football matches in history, Buffon's reflexes might not be what they once were—but he has replaced them with experience and intelligence. His 90 Positioning makes up for much, as do his 89 Diving and 88 Handling. Still a calm leader at the back after all these years, any player in the world would feel comfortable with the Italian minding his net.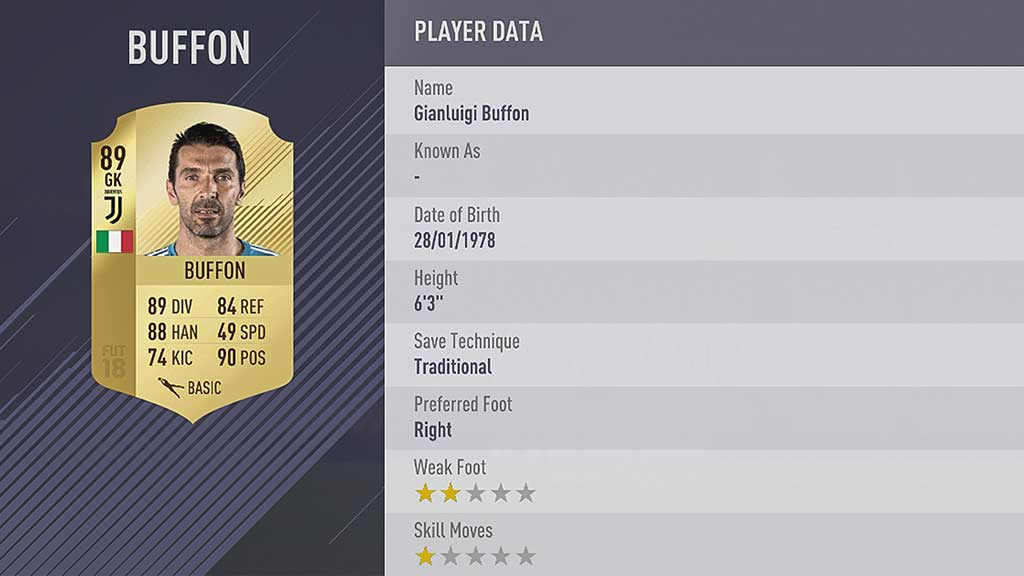 ?? PAULO DYBALA
A breakout star for the Turin club, Dybala's combination of 91 Dribbling and 86 Pace constantly puts him in positions to wreak havoc in the opponent's box. Whether starting in a deeper playmaking role or as any type of forward, Dybala's 85 Shooting and 81 Passing mean that he'll succeed just about anywhere.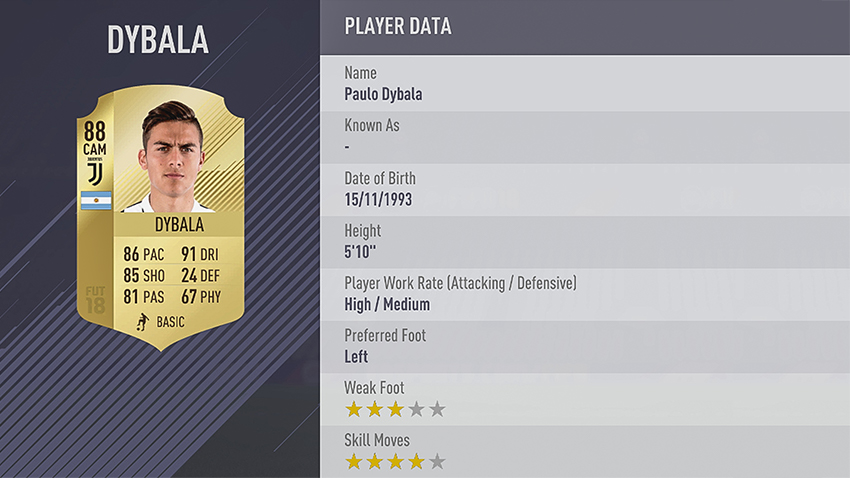 ?? LEONARDO BONUCCI
Because he spent his early career as a midfielder, Bonucci brings strong technique and finesse to his current role in the heart of Milan's defense. 87 Defending means he can go toe-to-toe with the best in the world, and then he can muscle them off the ball with his 81 Physical.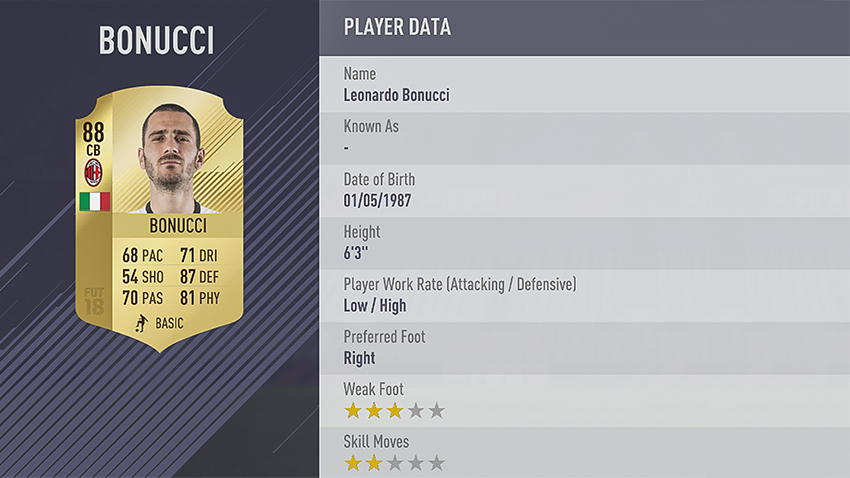 ?? MAREK HAMŠÍK
84 ratings in both Passing and Dribbling make Hamšík a playmaker of the highest caliber, one who often operates either in central midfield or in an attacking midfield role.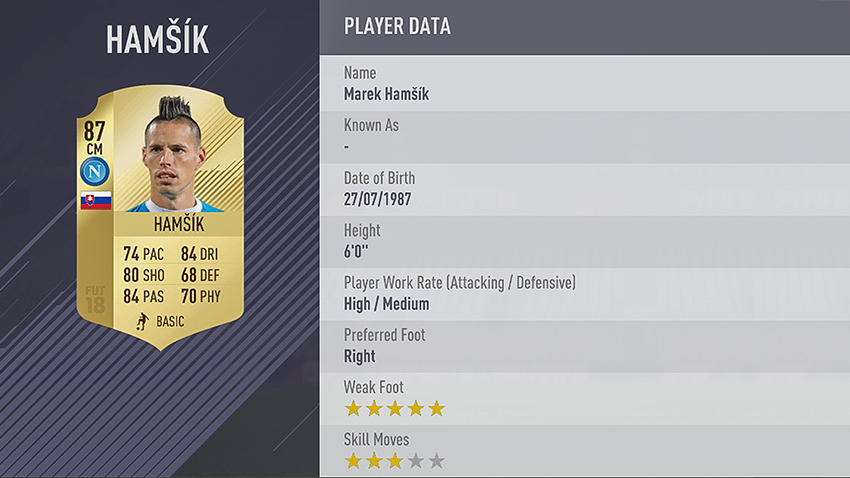 ?? SAMIR HANDANOVIČ
Handanovič has the deadly combination of 87 Reflexes, 87 Diving, and 87 Positioning, which makes him one of the best goalkeepers in the world at stopping penalties and making acrobatic saves.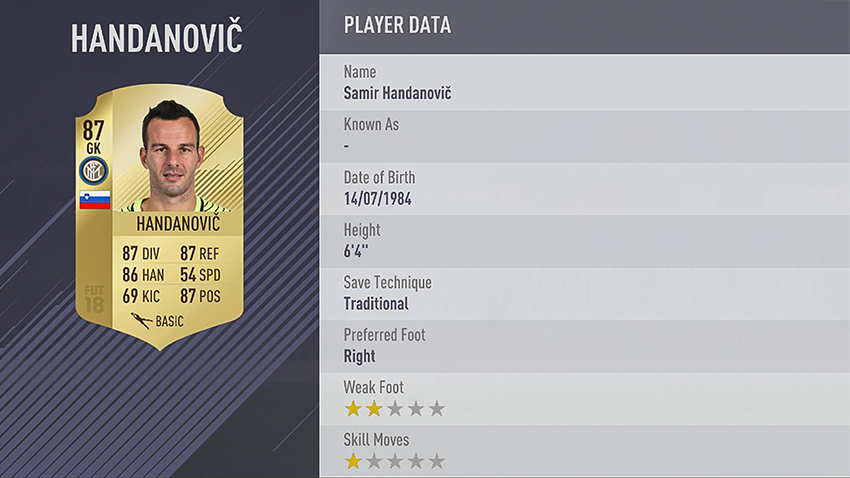 ?? DRIES MERTENS
Able to play on the wing or at forward, Mertens' blistering 90 Pace and 89 Dribbling allow him to beat opponents with speed and skill. His 82 Shooting isn't too shabby either, as he often finds himself with space in front of goal.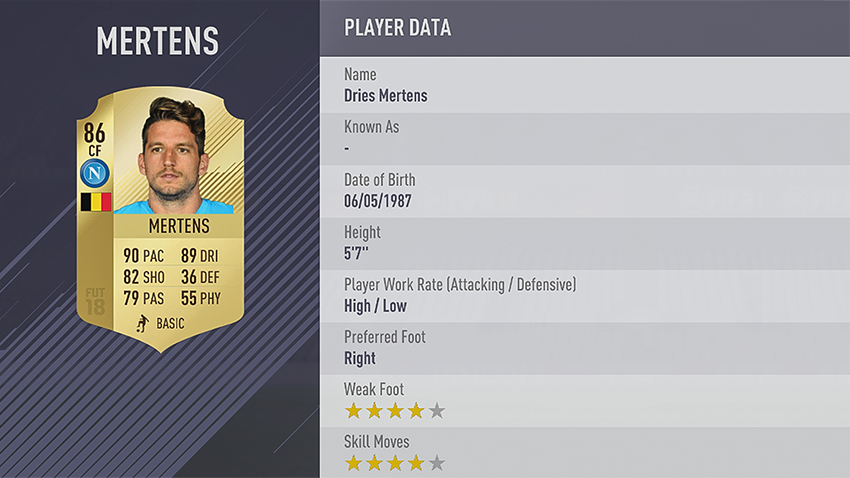 ?? RADJA NAINGGOLAN
The textbook definition of a central midfielder, Nainggolan excels in just about every area required of his position. 80 Shooting and 82 Dribbling mean he can push towards goal, while 81 Defense and 83 Physical give him the tools to break up opposing attacks.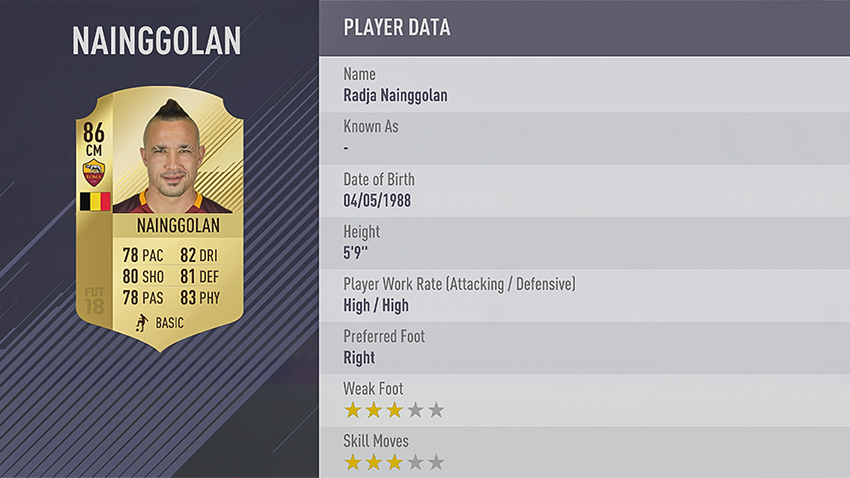 ?? ALEX SANDRO
A versatile, complete left back, Sandro is a key member of Juventus' world class defense. Not only is he adept at flying up the wing to join the attack with his 86 Pace, but he also terrorizes opponents with 81 Defense and 84 Physical attributes.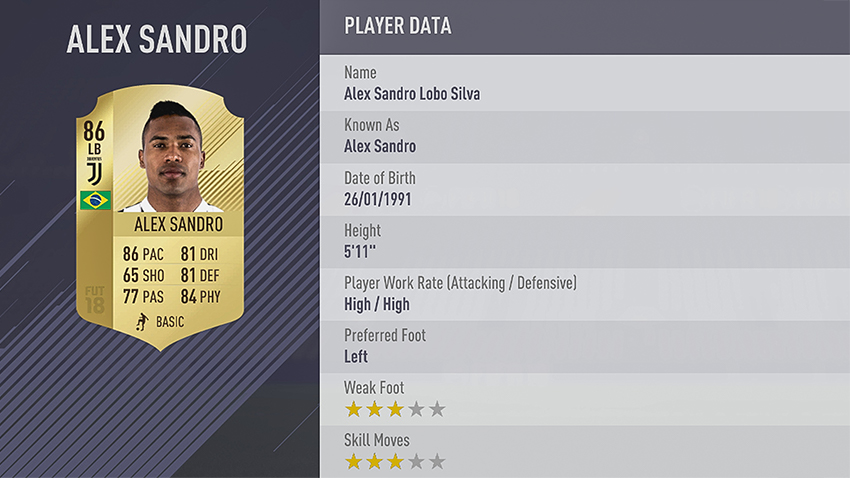 ?? BLAISE MATUIDI
Blaise Matuidi's industry on the pitch may sometimes go unnoticed, but with 82 Defending and 84 Physical the work of the midfielder is absolutely key for any squad.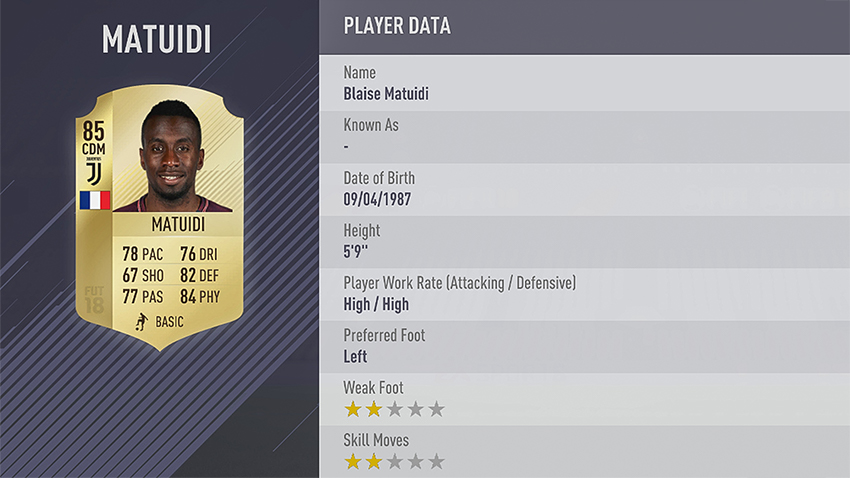 ?? MIRANDA
The Brazilian centre back is a regular fixture at Inter. With 88 Defending, Miranda provides safety in the back to any squad.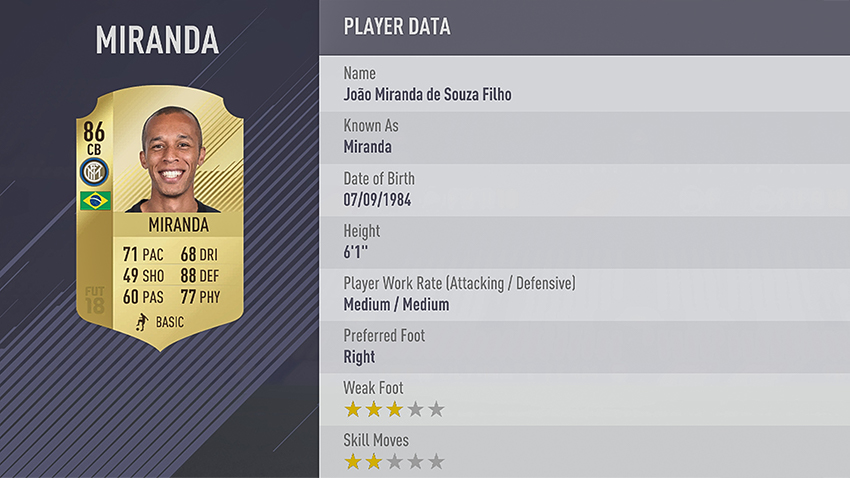 ?? MIRALEM PJANIC
The Bosnian midfielder has become a staple in Italian football. With 86 Passing and 86 Dribbling, you can trust that he will deliver a perfect ball every time.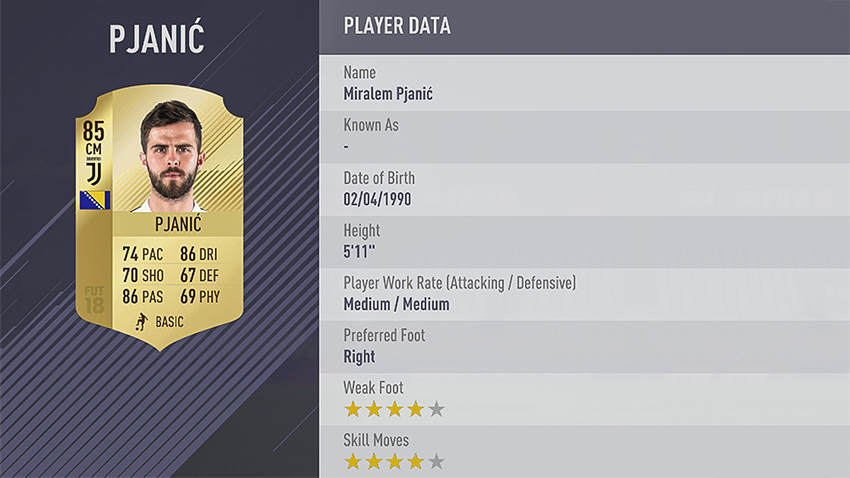 ?? LORENZO INSIGNE
Insigne is one of the best Italian players in world football. His 90 Pace, 82 Passing and 89 Dribbling gives him a triple threat from the wing.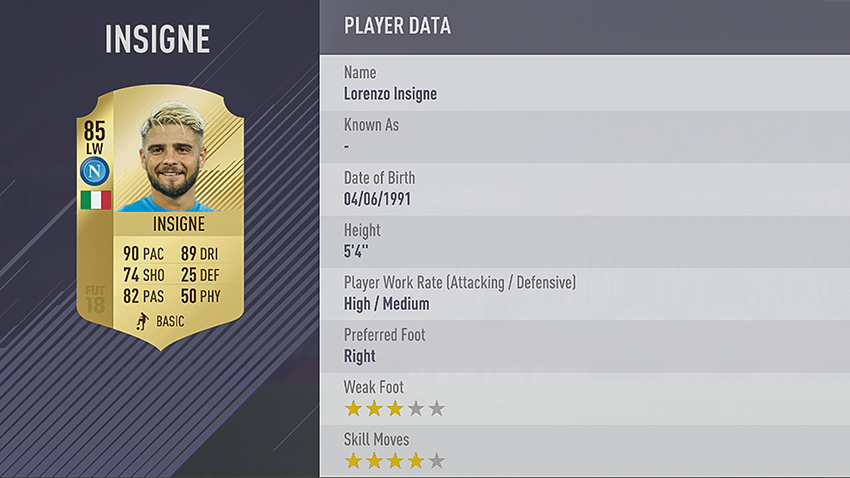 ?? ANDREA BARZAGLI
Barzagli was part of one of the best defensive lines in world football with Juventus. His 88 Defending was a big reason why.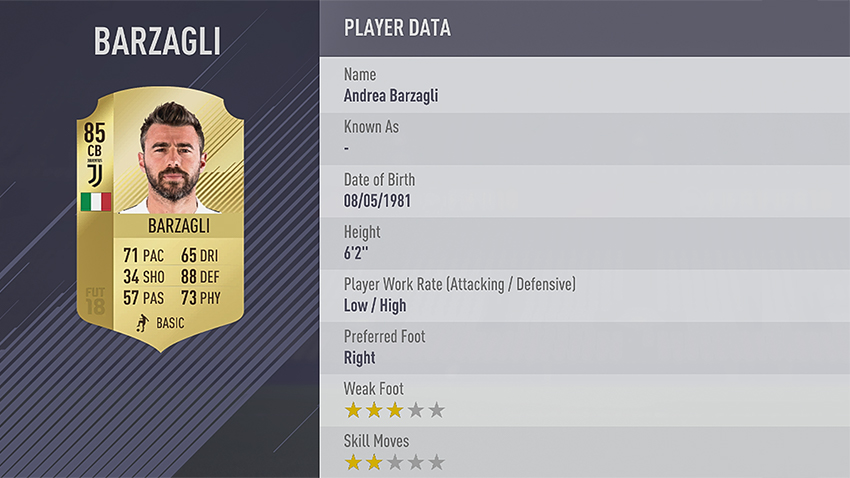 ?? CLAUDIO MARCHISIO
The Italian continues to be a staple in Juventus's midfield. With 83 Passing and 84 Dribbling, Marchisio can seamlessly slot into any squad.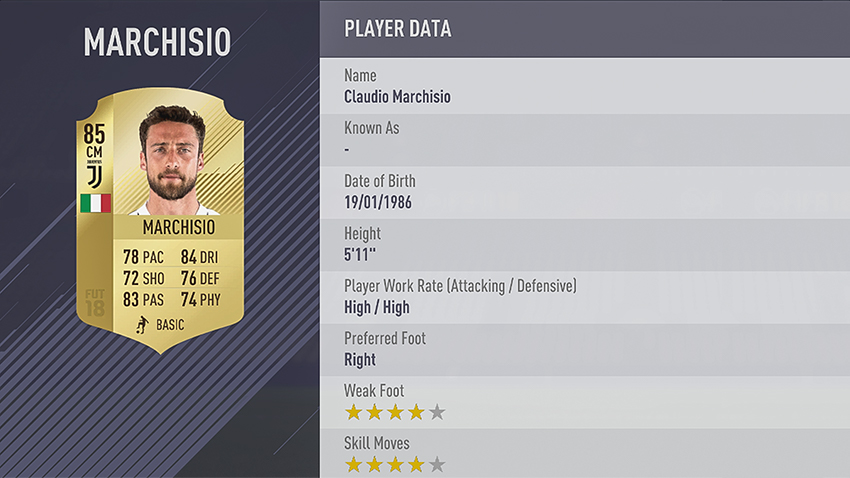 ?? MAURO ICARDI
The Argentinian continues to develop into an elite striker. His 83 Shooting can do a lot of damage both inside and outside the box.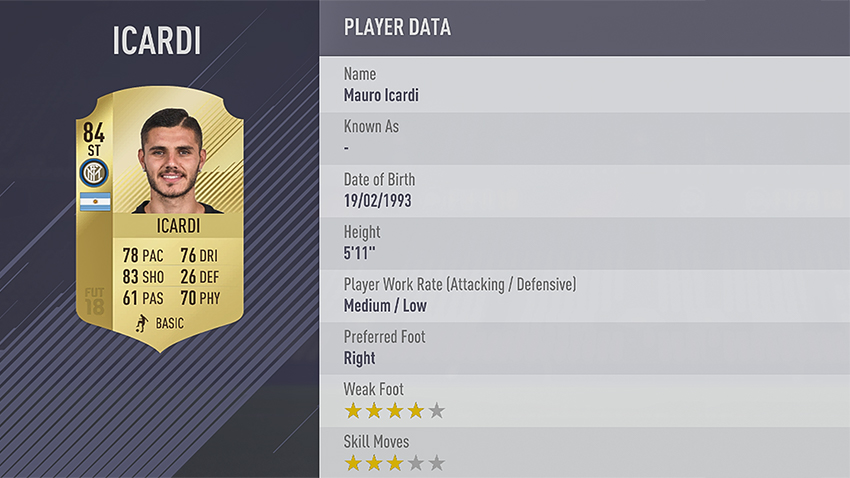 ?? SAMI KHEDIRA
With 84 Physical and 80 Defending, the German excels at anchoring the midfield while protecting the defence.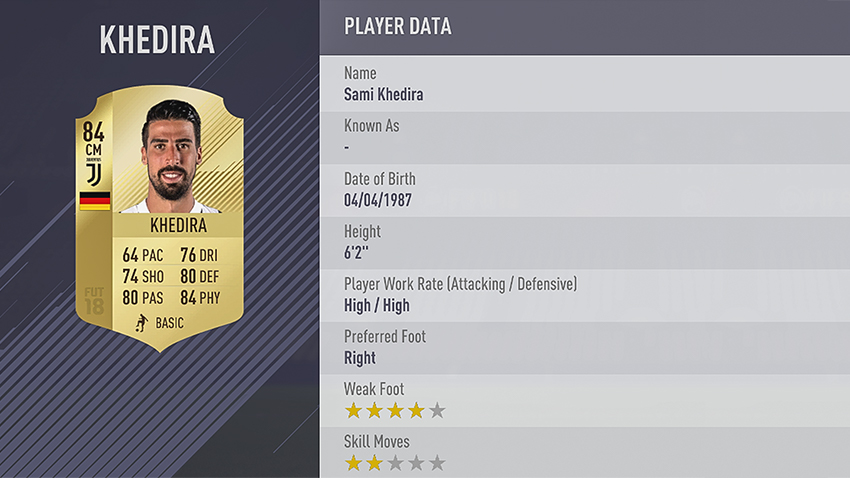 The Best Ligue 1 Players for FUT 18
Best players of Ligue 1 – the top professional division of France

? 11/09/2017

?? NEYMAR
The most expensive player in the world, Neymar recently headed for Paris in a move that shocked the football world. While still slightly below Messi and Ronaldo, Neymar is in the upper echelons of the talent-packed history of Brazilian football. His 92 Pace makes him one of the fastest players out there, and his 94 Dribbling is reminiscent of Ronaldinho at his peak.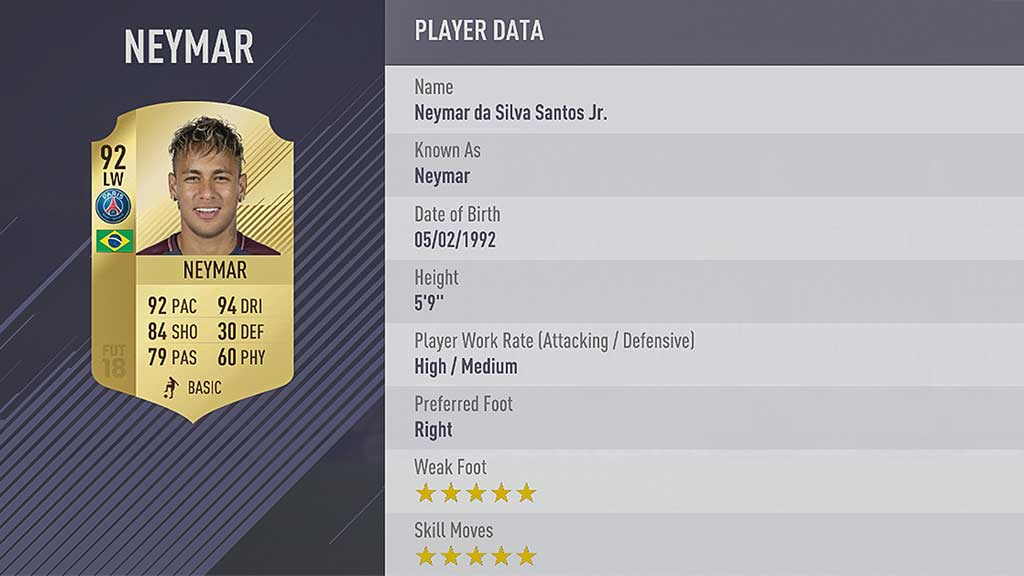 ?? THIAGO SILVA
While his 88 Defending is obviously a strong suit, Silva's 72 Pace and 79 Physical round him out in a way that applies to very few central defenders.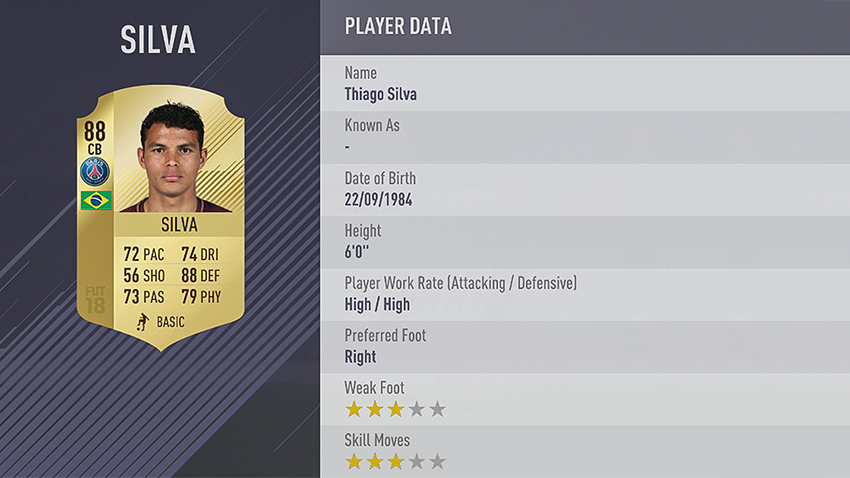 ?? EDINSON CAVANI
Equally gifted at finishing with his head and with his feet, Cavani is a constant goal threat thanks to his 83 Shooting, as well as 80 Dribbling that gets him into dangerous areas and 1v1 situations with goalkeepers.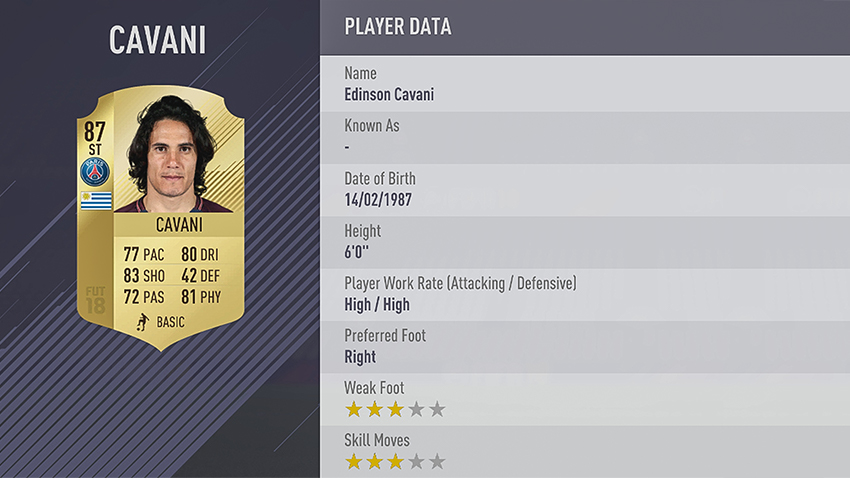 ?? MARCO VERRATTI
Despite often being deployed as a central midfielder, Verratti is a skilled playmaker that uses his 89 Dribbling to show off his skills on the ball and create chances no matter where he is on the pitch.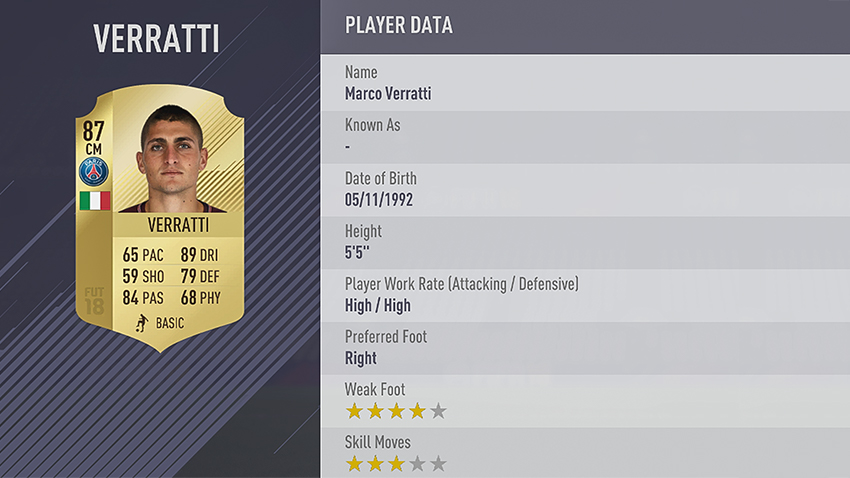 ?? ÁNGEL DI MARIA
There is a reason why Ángel Di Maria has played in some of the most renowned clubs in the world. The combination of 86 Pace, 85 Dribbling and 82 Passing make "El Fideo" a permanent threat in the wing.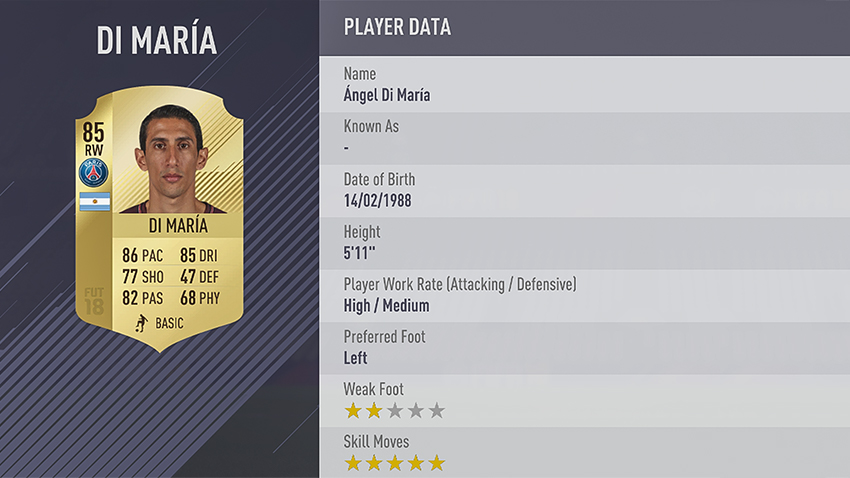 ?? KAMIL GLIK
Glik is an absolute rock in the back. With 86 Defending and 84 Physical, few can make it past the Polish man mountain.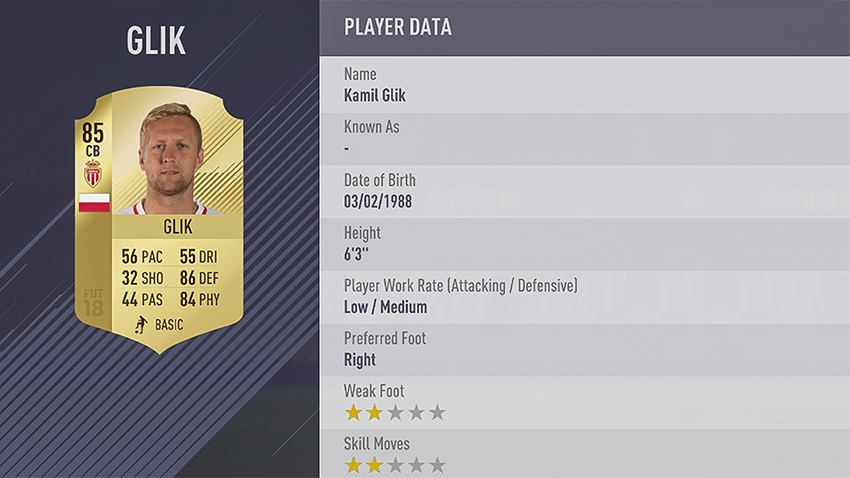 ?? DANIJEL SUBAŠIĆ
Monaco's outstanding season was anchored by their solid goalkeeping. With 87 Reflexes and 84 Diving, Subašić has a natural knack for spectacular saves.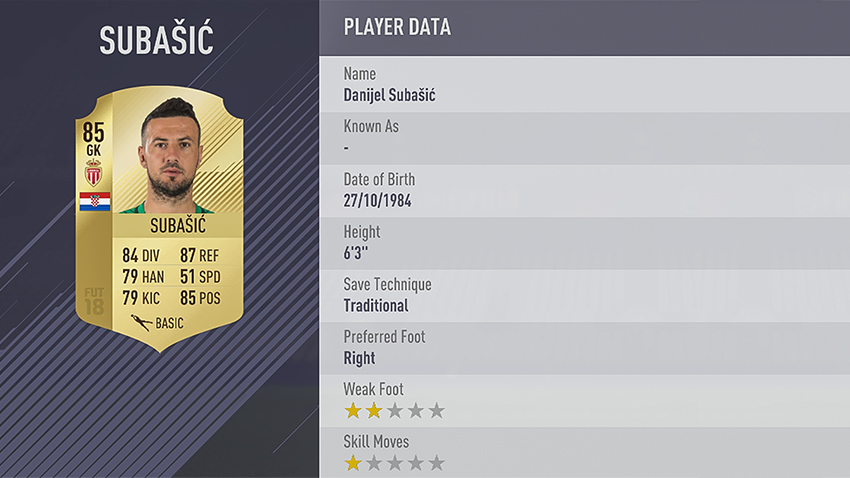 ?? STÉPHANE RUFFIER
A standout in Ligue 1, Ruffier boasts 87 Reflexes. It is truly difficult to beat the French goalkeeper.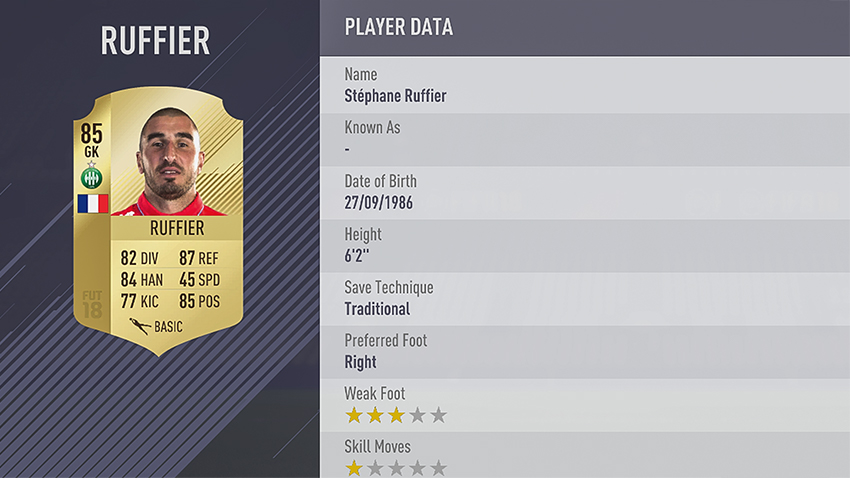 ?? FALCAO
Falcao's goal scoring prowess is back and it seems better than ever. With 84 Shooting, "El Tigre" can score almost from anywhere on the pitch.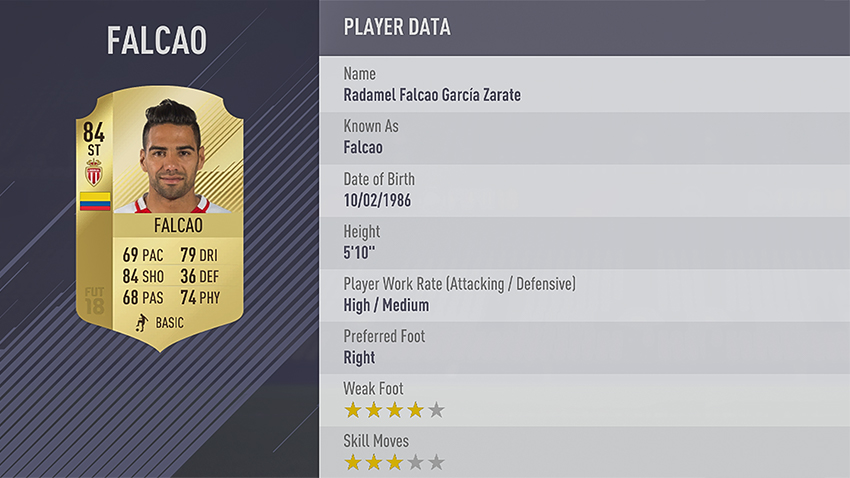 ?? DANI ALVES
Dani Alves seems to get better with age. His 84 Dribbling, combined with 81 Passing and 82 Pace make him a prime fullback in the modern game.