EFOOTBALL 2024 SOUNDTRACK
The eFootball soundtrack features 25 tracks.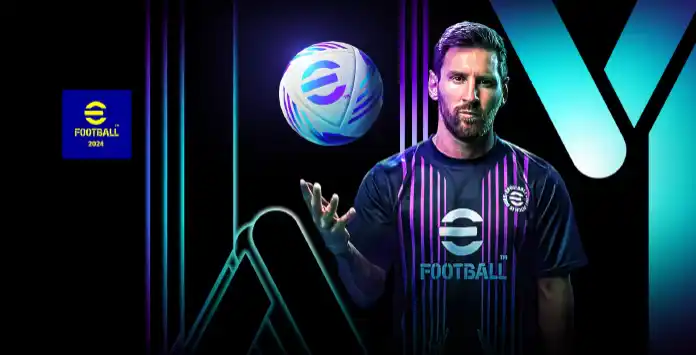 Music Experience
The eFootball 2024 soundtrack is an integral part of the gaming experience, providing players with a dynamic and immersive auditory backdrop to their virtual football matches.
Comprising a diverse selection of tracks from various genres and featuring contributions from renowned artists, the soundtrack aims to enhance the overall atmosphere and excitement of the game.
Whether it's the anthemic tunes that accompany menu navigation, the adrenaline-pumping beats during intense matches, or the celebratory music that follows a well-executed goal, the eFootball soundtrack adds depth and emotion to every aspect of gameplay.
It's not just a collection of songs; it's a sonic journey that complements the passion and thrill of the beautiful game, making each gaming session a memorable and engaging experience.
This year, the soundtrack boasts a collection of 25 songs, offering players the flexibility to choose which tracks they want to include or exclude from their gaming experience.
How to Customize Your Soundtrack
From the main eFootball screen, navigate to [Extras];
Select [Game Settings];
Choose [Audio];
Opt for [Soundtrack];
Add or remove songs from the list by pressing the triangle/Y button;
Frequently Asked Questions
The eFootball 2024 soundtrack is revealed on the game release date.
The official list is published on this page.
You can listen to all eFootball 2024 music songs on this page for free just by clicking on the play icon.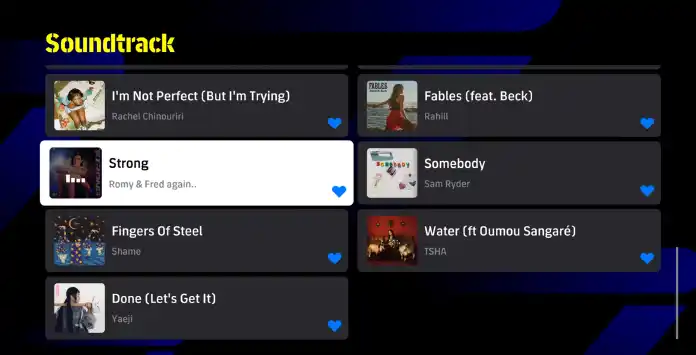 The Songs
While the official FC 24 VOLTA soundtrack is not announced, we will populate this space with a selection of the best FIFA 23 songs.
Artist / Song
Branko
000
Chlothegod
Camille
Devon Gilfillian
Imma Let My Body Move
DMA's
How Many Dreams?
Eli Smart
Cry At The Comedy
Elsy Wameyo
River Nile
Everything But The Girl
Nothing Left To Lose
Flying Lotus
You Don't Know (feat. Devin Tracy)
Gaz Coombes
Long Live The Strange
Guvna B
Replay
INJI
THE ONE
Jessica Winter
Clutter (feat. Lynks)
Khazali
High Hopes
Marlowe
My People
Milky Chance
Synchronize
Noga Erez
Have Fun
Overmono
Is U
Petite Noir
Finding Paradise
Rachel Chinpuriri
I'm Not Perfect (But I'm Trying)
Rahill
Fables (feat. Beck)
Romy & Fred again..
Strong
Sam Ryder
Somebody
Shame
Fingers Of Steel
TSHA
Water (ft Oumou Sangaré)
Yaeji
Done (Let's Get It)
Click to pop up the respective song on Spotify