FC 24 Beta allows a closed group of players to test the game before its release to the general public.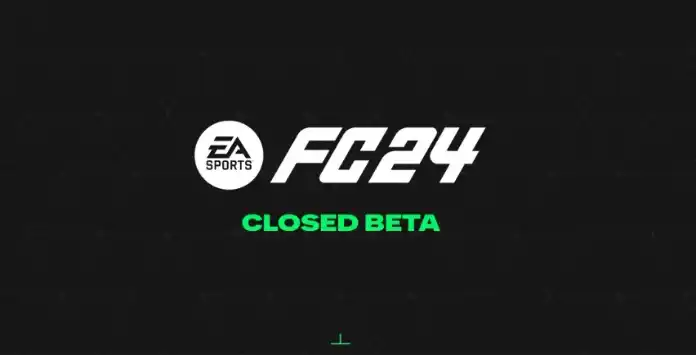 FC 24 Closed Beta
Every year, EA allows players to test the new title before it goes out, so they can give feedback about potential anomalies and suggest changes. It isn't the final version and doesn't include all new features and game modes, but it already gives a solid idea about what the game will look like.
Players
selected
for the FC 24 Beta receive an invitation to the Kick-Off, Learn to Play, Online Seasons, Co-Op Seasons, Online Friendlies, and, at least, one of the other game modes:
Club
(former Pro Clubs), Career Mode, VOLTA FOOTBALL and Ultimate Team. In the first days, they are limited to the game modes assigned to them, but from August 21, all game modes are unlocked, and they are free to play whatever they want.
The lucky users who get invited to test the game are required to offer
feedback
so that EA Sports can tweak the game and fix any last-minute bugs before the official release. They can do it in a forum created for the purpose, where the only people who have access to it are the invited registered players.
The closed beta is like a big test for the developer team, so they may ask to test something specifically. For example, in Ultimate Team game mode, players receive credits and are asked to use them to buy packs.
FC 24 Beta Release Date
All release times are indicated in the
UK time zone
.
Release Date
End Date
FC 24
10/08/2023 18:00 Thu
31/08/2023 18:00 Thu
FIFA 23
11/08/2022 18:00 Thu
02/09/2022 23:59 Thu
FIFA 22
12/08/2021 18:00 Thu
02/09/2021 18:00 Thu
FIFA 21
14/08/2020 19:00 Fri
01/09/2020 19:00 Tue
FIFA 20
09/08/2019 17:00 Fri
21/08/2019 18:00 Wed
FIFA 19
10/08/2018 17:00 Fri
22/08/2018 18:00 Wed
FIFA 18
10/08/2017 17:00 Thu
20/08/2017 18:00 Sun
FIFA 17
18/08/2016 17:00 Thu
28/08/2016 18:00 Sun
FIFA 16
13/08/2015 17:00 Thu
23/08/2015 18:00 Sun
FIFA 15
15/08/2014 17:00 Fri
25/08/2014 18:00 Mon
FIFA 14
02/09/2013 17:00 Mon
12/09/2013 18:00 Thu
FIFA 13
12/09/2012 18:00 Wed
19/09/2012 18:00 Wed
Release dates for FC 24 are official
How to be Selected
To improve your chances of being invited, follow these steps:
Update Your Contact Preferences
+
Go to the EA website;
Click in the top-right avatar icon and login into your account;
Select [Account Settings];
Go to [Email Preferences] and check the box 'Yes, email me about products, news, events and promotions consistent with EA Privacy and Cookie Policy';
Confirm that FIFA 22, FIFA 23 and Ultimate Team are all checked on the [Preferred Games] box (if you can't see them, click in [Add More]);
Check your [Preferred Platforms];
Click on the [Update] button at the bottom of the page.
Update Your Game Tester Program
+
After updating your contact preferences, click in the [Community Playtesting] button;
Follow the instructions to sign up.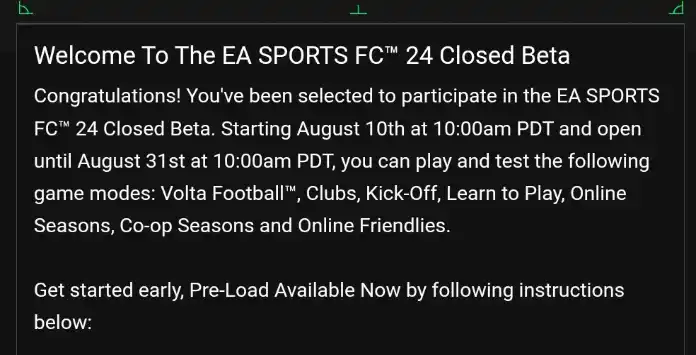 FC 24 Beta Code
Selected FIFA players in the US and the UK, who opted in to get EA emails, will get an email at their inbox that's linked to their EA account. Because of limited space,
not everyone
will get an email which includes a FC 24 Beta code.
In order to be eligible, there are a few basic requirements you have to meet:
You must be, at least, 18 years old;
Your console's account must be from the UK or North America (except for verified players);
You must have a PC, PlayStation 5, PlayStation 4, Xbox X|S, Xbox One, or Nintendo Switch console;
You must have played FIFA 23 regularly;
You'll need to have an Internet connection;
You'll need to accept the User and the FC 24 Beta Agreement;
You'll need an online connection and an active subscription to Xbox Live Gold, PlayStation Plus, or Nintendo Switch Online to play.
If you fulfilled these requirements, then you have chances to be invited. Generally speaking, the selection process is random but you can improve your chances if you update your
contact preferences
and your
game tester program
, as explained before.
Beta Invitation Date
All release times are indicated in the
UK time zone
.
Batch 1
Batch 2
FC 24
09/08/2023 18:00 Wed
21/08/2023 18:00 Mon
FIFA 23
10/08/2022 18:00 Wed
24/08/2022 18:00 Wed
FIFA 22
11/08/2021 18:00 Wed
25/08/2021 18:00 Wed
FIFA 21
12/08/2020 18:00 Wed
26/08/2020 18:00 Wed
FIFA 20
08/08/2019 18:00 Thu
FIFA 19
08/08/2018 18:00 Wed
FIFA 18
09/08/2017 18:00 Wed
FIFA 17
02/08/2016 18:00 Tue
FIFA 16
27/07/2015 18:00 Mon
FIFA 15
11/08/2014 18:00 Mon
FIFA 14
26/08/2013 18:00 Mon
FIFA 13
12/09/2012 18:00 Wed
Release dates for FC 24 are official
Frequently Asked Questions