FC 24 Consumables are items that can be used on players and managers to improve some of their characteristics.
Consumable Items
FC 24 Consumables are one of the four items categories in Ultimate TeamT. They improve, boost, modify or add a feature when you apply them to a player or manager. In this case, they are consumed and
removed
from your club.
You have to respect the slots available on the transfer list and the transfer target. However, you can store unlimited consumable items in your club.
There are four different types of FC 24 consumables:
Contacts;
Chemistry Styles;
Healing;
League Modifier.
How to Apply a Consumable
From the main Ultimate Team screen, use R1/RB to go to the [Club] tab;
Select [Enter Club], [Squad], and [Enter Squad];
Choose a player or a manager and press Square/X;
Select [Apply Consumable];
Press R1/RB to navigate through the different categories;
Select the desired consumable item and confirm.
Contracts
Contract Items are responsible for
increasing the number of matches
a player or a manager can play.
Except for loan items or starter pack items, when a player or a manager is released, he comes with seven contracts. The number of contracts printed on his item decreases every time you use him in a match. When it reaches zero, you cannot use him until you apply a contract item again.
You can use contract items at any time. You don't have to wait until your players or managers run out of contracts.
The numbers inside the colored box of a contract item represent how many extra matches players or managers can play if you apply that item. For example: if you use a contract item on a silver player, he will be able to play more matches according to the silver rectangle of that contract item, no matter the quality of his card.
You cannot apply contracts to players on loan or players/managers who would have more than 99 contracts. Anyone that plays a match would spend a contract, even if he started the match on the bench. That's why you should avoid making many substitutions.
Player Contracts
Bonus
Rare Gold
28G 24S 28B
Common Gold
13G 11S 15B
Rare Silver
18G 24S 20B
Common Silver
8G 10S 10B
Rare Bronze
3G 6S 15B
Common Bronze
1G 2S 8B
Manager Contracts
Bonus
Rare Gold
28G 24S 24B
Common Gold
13G 11S 11B
Rare Silver
18G 24S 20B
Common Silver
8G 10S 10B
Rare Bronze
3G 6S 15B
Common Bronze
1G 2S 8B
Styles
Chemistry Style Items are responsible for allowing players to choose which
attributes
will be affected by the chemistry.
You can apply Style Items to any player, adjusting his attributes to the squad's needs. These items do not change the chemistry numbers. They redistribute the stats that will receive chemistry boosts.
You are allowed to use Styles in a player as many times as you want, but only one per player at a time. He will keep with the style until you apply a new one. When someone trades a player item, the buyer will keep the style that it is active.
There are twenty-four chemistry styles: nineteen for outfield players and five for goalkeepers. You can only apply outfield player chemistry styles to outfield players. However, goalkeepers' chemistry styles are exclusive to goalkeepers, and you cannot use outfield player chemistry styles on them. You can also use styles on In Form players, including Icons and players on loan.
| | |
| --- | --- |
| Style Items | Bonus |
| GK Basic | Default |
| Wall | +2 Div Han Kic |
| Shield | +2 Kic Ref Spe |
| Cat | +2 Ref Spe Pos |
| Glove | +2 Div Han Pos |
| Player Basic | Default |
| Sentinel | +3 Def Phy |
| Guardian | +3 Dri Def |
| Gladiator | +3 Sho Def |
| Backbone | +2 Pas Def Phy |
| Anchor | +2 Pac Def Phy |
| Shadow | +3 Pac Def |
| Artist | +3 Pas Dri |
| Architecht | +3 Phy Pas |
| Powerhouse | +3 Pas Def |
| Maestro | +2 Pac Pas Sho |
| Engine | +2 Pac Pas Dri |
| Catalyst | +3 Pac Pas |
| Sniper | +3 Sho Dri |
| Deadeye | +3 Sho Pas |
| Hawk | +2 Pac Sho Phy |
| Marksman | +2 Sho Dri Phy |
| Finisher | +3 Sho Phy |
| Hunter | +3 Pac Sho |
Position Modifier
Position Modifier Items
are responsible for
modifying the position
of a player.
In Football Club 24, every player has a primary position and may eventually have up to three secondary position in which they have real-life experience. You can use a position modifier card to change them from primary to secondary positions and vice-versa. This way, you guarantee they won't impact chemistry.
In previous titles, you could alter each position, except for center-backs and goalkeepers, to fit your formation and provide maximum squad chemistry. Now, your players cannot play out of position or they won't have any chemistry. Instead of having multiple modifying items as before, you now have a unique card that allows you to swap the position of your player for one of allowed, regardless of which positions they are.
| | |
| --- | --- |
| Position Items | Bonus |
| Rare Gold | + |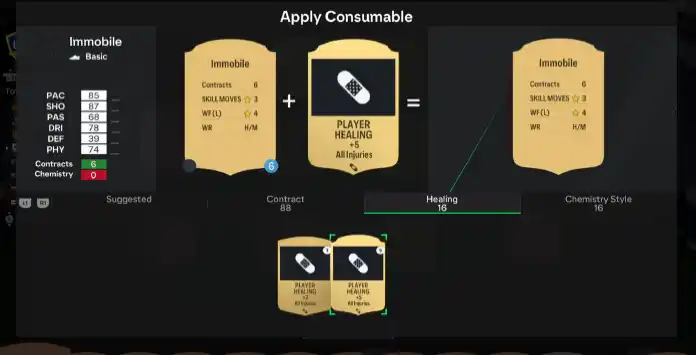 Healing
Healing Items are responsible for
reducing the downtime
of an injured player.
Any player can get hurt in a match. The chances are higher if he has low fitness and the opponent uses an aggressive playing style. When he gets injured, you can see the number of matches he will miss on his item.
If you leave him to rest on the reserves for as long as the period of the injury, he will heal naturally and become available again. If you want to use an injured player immediately or reduce his downtime, you can apply him a healing item.
The items of injured players have an 'X' on them. It is not possible to use a healing item on players who are not injured. On the other hand, you can apply as many healing items as you wish to injured players.
There are only two Healing Items in the game: Gold common and gold rare items. These will apply to any injury type and reduce the injury duration by two and five matches, respectively.
| | |
| --- | --- |
| Healing Items | Bonus |
| Rare Gold | +5 |
| Common Gold | +2 |
League Modifier
Manager's Leagues Items are responsible for
modifying the league
of a manager.
Managers boost the contract items, but they also contribute to the chemistry of all players from the starting eleven with the same nationality or league.
League items allow you to modify the league printed on the manager item to the one printed on the card. For each item you use, you can modify the league once. You can use them as many times as you want. The effect lasts until you apply a new league item to that manager.
| | |
| --- | --- |
| League Items | Bonus |
| 3. Liga | GER 3 |
| Allsvenskan | SWE 1 |
| Pro League | BEL 1 |
| Bundesliga | GER 1 |
| Bundesliga 2 | GER 2 |
| Ceská Liga | CZE 1 |
| CSL | CHN 1 |
| Ligue 2 | FRA 2 |
| EFL League One | ENG 3 |
| EFL League Two | ENG 4 |
| Ekstraklasa | POL 1 |
| Eliteserien | NOR 1 |
| Eredivisie | NED 1 |
| Finnliiga | FIN 1 |
| FL Championship | ENG 2 |
| Hellas Liga | GRE 1 |
| A-League | AUS 1 |
| K-League 1 | KOR 1 |
| LaLiga | ESP 1 |
| Liga Smartbank | ESP 2 |
| Liga I | ROM 1 |
| Liga do Brasil | BRA 1 |
| Liga Hrvatska | CRO 1 |
| Liga Portugal | POR 1 |
| Ligue 1 | FRA 1 |
| MLS | MLS |
| Austrian Bund. | AUT 1 |
| Premier League | ENG 1 |
| Raiffeisen SL | SWI 1 |
| Saudi PL | SAU 1 |
Frequently Asked Questions