The Round 16 of the FIFA 17 Weekend League was cancelled. We published this article to answer to the most common questions, like the ones about rewards, qualification and calendar.
FIFA 17 Weekend League Cancelled – FAQ
Q: Why the FIFA 17 Weekend League of this week was cancelled?
A: The round 16 of the Weekend League was cancelled because Electronic Arts is addressing the 'No Loss Glitch' and while they don't have it finished, it is not possible to guarantee a fair competition.
Q: How this glitch works?
A: It allow people to automatically disconnect an opponent from a game and give themselves either a win or a disconnect loss.
Q: What is the official statement from Electronic Arts?
A: "As part of our commitment to keep FUT Champions the most fair and fun place to compete, we are cancelling this week's FUT Champions Weekend League while we address some technical issues".
Q: Which round is being cancelled?
A: Round 16. The one that was supposed to be played from January 20 to January 23. You can know more about this round clicking here.
Q: When the weekly rewards will be out?
A: The weekly rewards of round 15 were released with a 24 hours delay. They are available on the FUT store Thursday night.
There will be no weekly rewards for round 16 since it will not be played.
The weekly rewards for round 17 will be out before the the round 18 starts.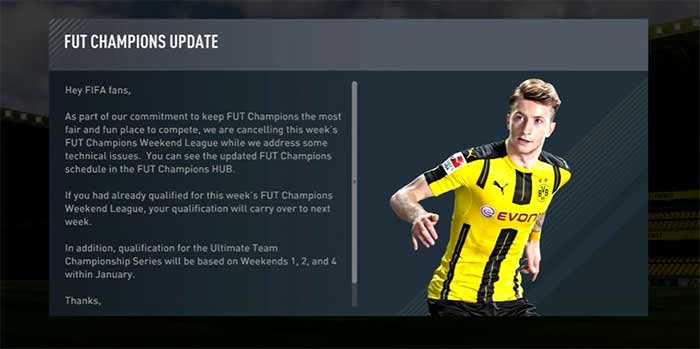 Q: What happens with the qualification I won for the round that was cancelled?
A: If you had already qualified for this week's FUT Champions Weekend League, your qualification will carry over to next week.
Q: I was promoted to division 1 in this past week. Am I qualified for the Weekend League round 17?
A: Yes. If you were qualified for the cancelled Weekend League, you will be given qualification to the next WL, regardless of method used to qualify.
Q: How many daily knockout rounds will give qualification for round 17?
A: Four. Two from the previous week and two from the week before the round starts. You can see here all the details about these daily knockouts.
Q: Is there any difference in the FUT Champions calendar for FIFA 17?
A: Yes. The second daily knockout for the round 17 was extended for another 24 hours.
Q: How this will affect the FUT Champions monthly rewards?
A: Monthly rewards for January will be based in the games you have played on rounds 14, 15 and 17.
Q: Does it means that it will be more difficult to rank well because now I have less 40 matches to play?
A: No. The monthly ranks for FUT Champions have been corrected. You can see the new win requirements for January clicking here.
Q: What about the Ultimate Team Championship Series?
A: Qualification for the Ultimate Team Championship Series will be based on Weekends 1, 2 and 4 within January.
Q: Where I can find more details about the FIFA 17 Weekend League rewards and calendar?
A: Here and here.