Have you ever asked yourself how the FIFA 18 FUT Birthday Players were chosen? Let's find out.
Who are the FIFA 18 FUT Birthday Players?
Who they are and why they were chosen?

As you know, the FIFA 18 FUT Birthday players were announced on March 16. The players selected to get one of the FIFA 18 FUT Birthday items were these ones.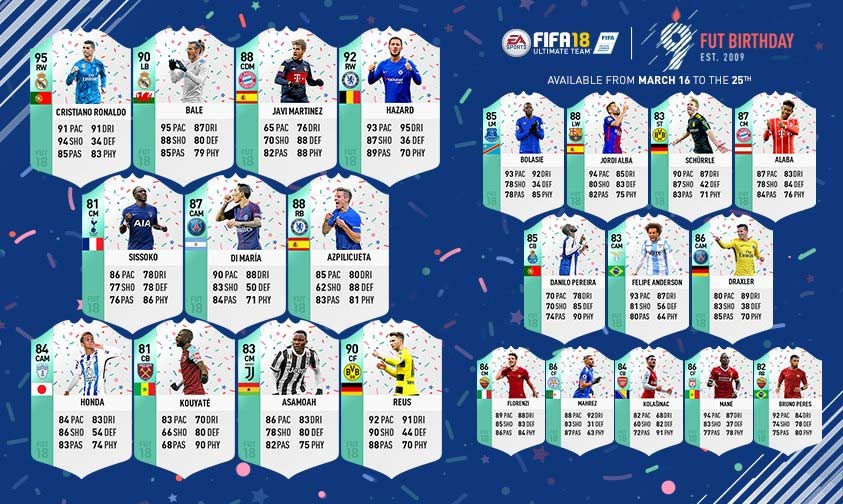 The FUT Birthday party is packed with special events and rewards, including the FUT Birthday squad, a variety of themed Squad Building Challenges (SBCs) and Weekly Objectives, and more. Look for new Prime ICONS, an End of an Era SBC, and St. Patrick's Day-themed events throughout the celebrations, too. The FUT Birthday squad, made up of players that dominated at different positions in previous versions of FUT, will be available in packs as special player items for the entire event. These items open up fresh and inventive ways of FUT roster-building, thanks to position changes and upgraded ratings. Let's see, player by player, why EA have chosen these ones.
Defenders
?? RB: Azpilicueta (Chelsea) – 88
Known for his speed and technical ability when he arrived at Chelsea, the Spanish defender was initially shoehorned into a central defensive role. But Azpilicueta thrived at center back, utilizing strength and size as well as his tactical awareness and tidy passing ability.
?? RB: Bruno Peres (AS Roma) – 82
It's not always a knock when a player is referred to as right- or left-sided only, especially when the player is exceptional at one or the other. Peres is a right-sided player, but he's still versatile in that he can shine literally anywhere on that side of the pitch. He showed off his pace and dribbling ability so much as a young right-back that he's often given license to play much further up the pitch.
?? CB: Danilo Pereira (FC Porto) – 85
Solid as a brick wall and quicker than most players of his stature and build, Pereira's strengths as a defensive midfielder were also on display at center back, a position that he occupied for a time in his nascent career.
?? CB: Sead Kolašinac (Arsenal) – 84
Kolasinac excelled as a center back in his first couple seasons as a professional at Schalke 04, and then moved to Arsenal where he continued to flourish at left-back. His physical style of play helps him in either defensive role, but Kolasinac's height and aerial ability saw extra use when he played in central defense.
?? CB: Cheikhou Kouyaté (West Ham United) – 81
Now firmly established in West Ham's midfield, Kouyaté spent his time in the Belgian league with Anderlecht at center back. The aerial and tackling skills he honed during that time have assisted him in his new role, often bailing out his defenders and kicking off counter attacks from deep positions.
??????? LB: Gareth Bale (Real Madrid) – 90
Before the agile Welshman was one of the most expensive players in world football, he quietly plied his trade at Southampton and Tottenham Hotspur as an attacking left-back. After some incredible performances in which he bombed up and down the wing, Bale was moved higher up the pitch to dedicate himself to beating opponents and sending crosses in for teammates.
Midfielders
?? CDM: Javi Martinez (FC Bayern München) – 88
Despite starting as a midfielder, Martinez made a successful shift to defense shortly after arriving at Bayern. There's no doubt it was the right move for him at the time (just look at his trophy case), but his recent return to a midfield role is a reminder of how good he can be in the center of the pitch.
?? CM: David Alaba (FC Bayern München) – 87
The Austrian made a name for himself as a central midfielder in the early days of his professional career, but has since blossomed into an extraordinary left-back during his time at Bayern. Alaba's powerful left foot and uncanny football mind suited him as a midfielder, but took him to the next level when he made the change to fullback.
?? CM: Alessandro Florenzi (AS Roma) – 86
The Italian has an "engine" with a seemingly endless supply of energy, which is why he started in central midfield, sprinting up and down the pitch and assisting the defense and attack equally. As the game evolved into a style in which full-backs need to have that same engine, Florenzi's skills came in handy when transitioning to his new role.
?? CM: Kwadwo Asamoah (Juventus) – 83
Asamoah was a versatile central midfielder before moving to Juventus, where he shifted his entire game to the left flank. A hard worker regardless of position, Asamoah has the tactical intelligence to play anywhere on the left side, but he is most often deployed as a left-back.
?? CM: Moussa Sissoko (Tottenham Hotspur) – 81
Having developed into a solid wide player with a fierce cross at Tottenham, Sissoko actually started his career in the center of the pitch. A box-to-box midfielder in the purest sense, Sissoko flourished when controlling the tempo of the game and kicking off attacks from the middle.
?? CAM: Di María (Paris Saint-Germain) – 87
Many of the skills that make Di Maria such an effective winger were carefully honed earlier in his career, where he often played as a central attacking midfielder, pulling the strings and making late runs into the box.
?? CAM: Julian Draxler (Paris Saint-Germain) – 86
As a young player at Schalke 04, Draxler was commonly deployed in attacking midfield, a position that took advantage of his one-on-one technical skills and exceptionally powerful shot. While his speed and crossing ability weren't as useful in central midfield, they've been quite a boon since he moved to the right wing a bit later in his career.
?? CAM: Keisuke Honda (Pachuca) – 84
Perhaps most famous for his role as a dead ball specialist, Honda played a central attacking role for the majority of his career. In the past couple seasons, Honda has moved out to the right wing where he can put his delivery skills to use by whipping crosses into the box.
?? CAM: Felipe Anderson (Lazio) – 83
As he developed his game in the center of the pitch, the young Brazilian honed the skills that helped him thrive upon being shifted to the wing in recent seasons. Instead of through balls and off-the-shoulder runs behind the defense, Anderson now focuses on crossing from the flank and cutting inside to shoot on goal.
?? RW: Cristiano Ronaldo (Real Madrid) – 95
Possibly the most versatile attacker that the game has ever seen, Ronaldo only gets better when tasked with another position or style of play. As a rising young star with Manchester United, he stunned the Premier League from the right wing, using his footwork and single-handedly destroying opponents with his ability to cut inside and shoot.
?? RW: Eden Hazard (Chelsea) – 92
Another top player able to dominate nearly anywhere in the attack, Hazard built his reputation at Lille as a speedy right winger. After a brief period as a central playmaker, the Belgian completed his journey across the front line by cementing a spot on the left wing at Chelsea.
?? LM: Yannick Bolasie (Everton) – 85
Some players don't necessarily favor one side of the pitch over another, especially when their strengths aren't affected by their place on the pitch. Bolasie has many of the typical qualities of a top winger, most notably pace and technical skills, so that he's able to slot in on either flank.
?? LW: Jordi Alba (FC Barcelona) – 88
Probably one of the most common position shifts for players as they get older, Alba's move backwards from winger to fullback was as helpful for his team as for him. The Spaniard can still use his breakneck speed and pinpoint crossing ability to overlap midfielders, and then track back to intercept the ball or mark an opponent.
Strikers
?? CF: Marco Reus (Borussia Dortmund) – 90
Flexible and able to adapt to any sort of attacking role, Reus has most-recently found a home as a wide player for Dortmund. But for years, he utilized that speed and creativity "in the hole" as a second striker playing between midfield and main forward.
?? CF: Riyad Mahrez (Leicester City) – 86
Mahrez's versatility allows him to be comfortable anywhere in the attack, a key trait in Leicester's miraculous title run. He has since settled on the right but still shows the finishing and first-touch that made him so valuable as a center forward before he arrived in the Premier League.
?? CF: Sadio Mané (Liverpool) – 86
Comfortable on either wing, the Senegalese attacker earned his transfer to Liverpool after impressing as a forward for part of two seasons at Southampton. Mane has since matured into an excellent left winger on Merseyside, where he plays a big role in the Reds' fearsome attacking trio.
?? ST: André Schürrle (Borussia Dortmund) – 83
Most commonly associated with speed and limitless energy, Schurrle uses those skills from wide midfield positions right now. But for a time, the German was deployed as a forward, where he would fly past defenders to latch onto through balls, launch counter-attacks, and shoot on goal at every opportunity.