Have you ever asked yourself how the FIFA 18 Spring Path to Glory Players were chosen? Let's find out.
Who are the FIFA 18 Spring Path to Glory Players?
Who they are and why they were chosen?

As you know, the FIFA 18 Path to Glory players were announced on November 10 making them the second themed cards of the game. The players selected to get one of the FIFA 18 Path to Glory items were these ones.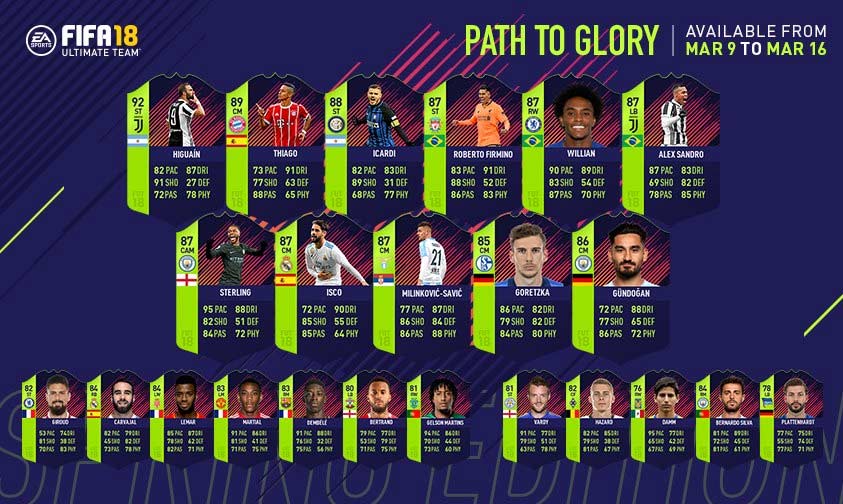 FIFA 18 Spring Path to Glory players were not randomly selected. PTG contains a selection of players that are contending for spots on their respective national teams. Let's see, player by player, why EA have chosen these ones.
Defenders
?? RB: Carvajal (Real Madrid) – 84
The Real Madrid right-back has been in and out of the Spanish national team fold since first called up a few years ago, but his consistent play for such a large club won't be overlooked. Carvajal is also one of the few natural right-backs contending for the position, giving him another boost when it's time for rosters to be finalized.
?? LB: Alex Sandro (Juventus) – 87
The Juventus fullback has been one of the best defenders in Serie A this season, but he may need to do even more to break into Brazil's dazzling and intrepid backline.
??????? LB: Ryan Bertrand (Southampton) – 80
Even though he has a respectable amount of experience playing for his country, Bertrand's international career never really found the consistency that he'd like. The English full-back has plenty of competition at his position for the Three Lions, and his form over the next few months could make or break his chance this summer.
?? LB: Marvin Plattenhardt (Hertha BSC) – 78
Only recently making his debut for the senior Germany squad, Plattenhardt's consistency for Hertha Berlin has vaulted him into the conversation at left-back. With no concrete starter at the position for Die Mannschaft, Plattenhardt could seize the opportunity and earn the nod for the reigning world champions.
Midfielders
?? CM: Thiago (FC Bayern) – 89
Despite being a consistent presence on the Spanish national team, Thiago has yet to become a truly first-choice player for La Roja. However, if he continues his solid club form with Bayern Munich for the rest of the season, the chances are he makes it onto Spain's roster in June.
?? CM: Isco (Real Madrid) – 87
Having quietly built a reputation in the shadow of superstars at Real Madrid, the young Spaniard known as Isco is finally getting global recognition. Even though there are many excellent midfielders pushing for a role with Spain, Isco's versatility in both midfield and attack could tip the scales in his favor.
?? CM: Sergej Milinković-Savić (Lazio) – 87
One of the more underrated young midfielders in Europe, Milinkovic-Savic only recently earned his first Serbia national team caps. Armed with strength and size to go with his finishing ability and technique on the ball, Milinkovic-Savic has been a revelation in Italy and seems likely to become a permanent fixture in his country's midfield.
?? CM: İlkay Gündoğan (Manchester City) – 86
The Manchester City midfielder has yet to cement a regular place in the club's starting XI, but his performances this season have played an important role in their domination of the league. If Gündogan continues to aid his team in their likely run to the title, he could lock down a role with the reigning world champions.
?? CM: Leon Goretzka (FC Schalke 04) – 85
Ahead of his move to Bayern Munich next season, the young Schalke 04 midfielder has a great opportunity to secure a spot with his country, not just this summer, but for years to come. Goretzka has been solid in his opportunities with Germany in the past year and been even better with his club, but meeting the standards of Die Mannschaft is no easy feat.
??????? CAM: Raheem Sterling (Manchester City) – 87
Having developed a more varied and useful skill set under the excellent coaching of Pep Guardiola at Manchester City, Sterling proved that he's no longer just a one-trick pony on the wing. Able to play behind the forwards or even lead the line, Sterling's remaining performances for City in their likely title run could seal his place with the Three Lions.
?? RW: Willian (Chelsea) – 87
Chelsea winger Willian is consistently one of the top attackers in the Premier League, which would make him a lock for nearly any national team in the world—but Brazil can be a different story. A strong, consistent close to the season could do wonders for Willian's chance to don that iconic yellow kit at the highest level.
?? RM: Bernardo Silva (Manchester City) – 84
After gradually making his case for a starting role with Manchester City over the course of this season, Silva has started to become something of a household name in English football. Silva also boasts a respectable amount of international experience despite his young age, so a role with Portugal this summer seems pretty likely.
?? RM: Ousmane Dembélé (FC Barcelona) – 83
After a blockbuster transfer to Barcelona this season, Dembele has struggled for minutes in the Catalan club's superstar-laden roster. However, his talent was evident even in making such a move, and if he's able to get more time on the pitch he will surely get a chance to represent his country when June rolls around.
?? RW: Gelson Martins (Sporting CP) – 81
One of the latest talents to emerge at Liga NOS powerhouse Sporting CP, Martins dazzles for club and country with speed and technique on the wing. Despite the established talents on the Portugal national team, Martins has proven himself a valuable asset for the squad since first called up in 2016.
?? RW: Jürgen Damm (Tigres UANL) – 76
One of the fastest players in world football, Damm's place with the Mexico national team has fluctuated over the years. If he can stay consistent and show off his speed alongside other positive qualities in the coming months, he could find himself on the roster.
?? LW: Thomas Lemar (AS Monaco) – 84
The versatile winger has been linked with clubs all over the world, but he continues to ply his trade with Monaco and is one of the best young players in Ligue 1. Lemar has yet to cement a regular place with his country, but he is certainly on the radar with a decent chance of making the squad if he continues to excel.
?? LM: Anthony Martial (Manchester United) – 83
Even though he tends to play as an attacking midfielder, Martial has proven himself to be creative and dangerous just about anywhere in Manchester United's attack. Already competing for starting spots at club level, Martial needs to find consistent form ahead of a big summer for Les Bleus.
?? LM: Marcus Rashford (Manchester United) – 79
Manchester United forward Rashford kicked off his international career in style when he scored within 135 seconds of his first ever appearance for the national team. In the year since, he has earned a handful of caps for the Three Lions, but he's not yet a regular. Rashford will be hoping to cement his position leading the line for England by scoring goals and living up to his prodigious talent.
Strikers
?? CF: Thorgan Hazard (Mönchengladbach) – 82
The tricky young midfielder is finally starting to step out of his brother's shadow, but still has a lot of work to do if he hopes to earn the big call-up to the Belgium squad this summer. Hazard was a star for many youth national teams, and his talent earned him a call-up to the senior squad at a young age; he'll need to really stand out in the coming months if he hopes to get a spot on the team this summer.
?? ST: Gonzalo Higuaín (Juventus) – 92
Despite being one of the most prolific goalscorers in Argentina national team history, the experienced Juventus forward must continue to impress at club level if he hopes to secure his place with La Albiceleste this summer.
?? ST: Mauro Icardi (Inter) – 88
The talented Inter Milan striker has led his team (and most of the league) in scoring this season, but Icardi still has work to do if he's to stand out in a national team pool brimming with world-class attackers.
?? ST: Roberto Firmino (Liverpool) – 87
After a few years of quiet hard work at Liverpool, Firmino is finally getting deserved respect as part of the Reds' terrifying attacking trio. If his form continues, a summer with Seleção will surely be in his future.
?? ST: Olivier Giroud (Chelsea) – 82
Having recently made the move from Arsenal to Chelsea in the English Premier League, the experienced French forward will be pushing hard at his new club to show that he still has what it takes to compete at the highest level for his country.
??????? ST: Jamie Vardy (Leicester City) – 81
The honeymoon for Leicester City's epic title win in 2016 might be over, but the tenacious English striker has maintained his reputation as one of the league's best. Between injuries and dips in form, Vardy could seize his chance to lead the line for his country if he keeps climbing the scoring charts.