THE BEST FIFA 21 LIGUE 1 FORWARDS
The forwards are the players on which fall the most responsibility of scoring goals.
Top 10
Kylian Mbappé
France
PSG
Memphis Depay
Netherlands
O Lyonnais
Wissam Ben Yedder
France
AS Monaco
Moussa Dembélé
France
O Lyonnais
Kevin Volland
Germany
AS Monaco
Mauro Icardi
Argentina
PSG
Andy Delort
Algeria
Montpellier HSC
Keita Baldé
Senegal
AS Monaco
Burak Yılmaz
Turkey
LOSC Lille
Darío Benedetto
Argentina
Ol Marseille
Click or tap in any player to pop up his item.
Key Attributes
Rating
Shooting
Physical
Pace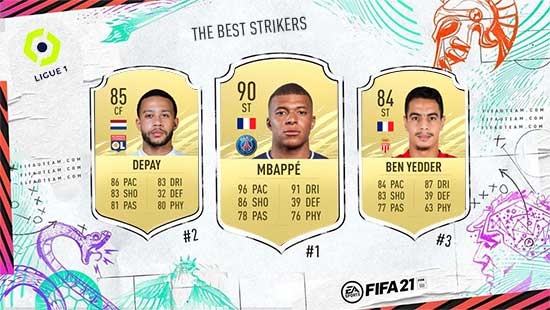 Mbappe is absolutely amazing. He is good at almost everything. He is one of the fastest players on the planet and also one of the most expensive ones.
Yedder and Depay are the best options to play next to him. In fact, there is so much talent on this position that it may be a good idea to use
Depay
as a CAM. Icardi is not as fast as we would like and for that reason, he is not on our top 5.
For low-budget squads, we suggest Dembelé and Volland.