FIFA 23 ACHIEVEMENTS AND TROPHIES
FIFA 23 Achievements and Trophies are systems for measuring a player's progress in the game.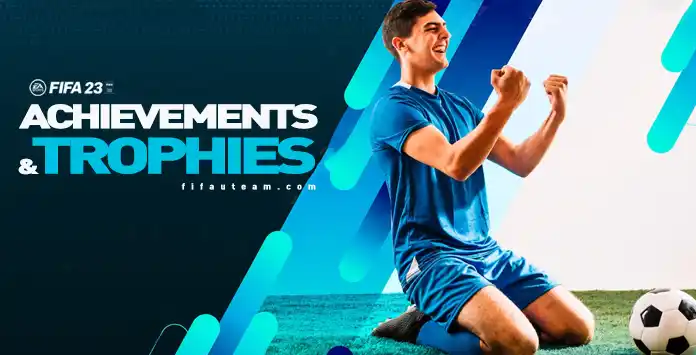 How to Get Platinum in FIFA 23
PlayStation's way of tracking a 'completion' of a game through bronze, silver, and gold trophies, while Xbox, Origin, Stadia, and
Steam
use an achievements system based on gamerscore. In the case of FIFA 23, those who complete all objectives earn a Platinum trophy, the most coveted of their kind, or 1,000 Gamerscore, depending on the platform.
In this FIFA 23 achievements and trophy guide, we will show you how to get every trophy in the game and achieve platinum or 1,000 Gamerscore. Platinum is earned by getting every other trophy in FIFA 23. The final milestone shows the world you've completed everything FIFA 23 has to throw at you. It is quite the bragging rights reward, so you will need to complete objectives in several
game modes
:
Pro Clubs / VOLTA 15
Ultimate Team 12
Gameplay & Skill Moves 5
Kick-off & Tournaments 4
Career Mode 3
You will need an online connection if your goal is to complete all objectives. You'll also need to subscribe to Xbox Live or PlayStation Plus as some achievements/trophies require access to the multiplayer segments, which these consoles don't allow without these services.
There are no hidden Xbox achievements or PlayStation trophies in FIFA 23, but you'll have to put some time into earning all of them as some require you to win multiple games against other players, which can be challenging. Some are as simple as just playing a single match of a certain game mode, but if you want to earn everything and platinum FIFA 23, you will need to give your best.
The FIFA 23 achievements and trophies can be divided into
15GS or bronze trophies 24;
30 GS or silver trophies 12;
90 GS or gold trophies 3.
You'll need a friend's help to earn some trophies, like 'In Cahoots' and 'Best of Five'. Some of them require multiple friends to play with you. For example, it's the case of 'Teamwork Works'.
The Gold trophies are pretty straightforward. However, they aren't easy to earn. You may have to play at least 200 FIFA Ultimate Team matches or win the European Champions League.
The real difficulty with Silver trophies comes with winning certain matches, such as the 'In Cahoots', which asks you to win 10 Co-Op games.
Bronze trophies are quite straightforward. Some of them, like 'Bring It On', 'Power Shot' and 'Football is Everything' can be gotten easily. Some require work, like 'On the Way Up' and 'Parking the Bus'.
FIFA 23 features 39 achievements and trophies. That's more two than in the last year. There is the same number of Gold trophies, but Silver and Bronze are not as balanced as they were.
Regarding the game modes, Career Mode lost most of its achievements. However, the existing ones are entirely new, asking you, for example, to play with a real manager (new in FIFA 23) or testing your transfer negotiations.
Frequently Asked Questions
Achivements and Trophies List
Gameplay & Skill Games
5
75
Bring It On
Bronze
15

Play a single player match with the Competitive Master Switch turned On.



Dead-Ball Specialist
Bronze
15

Score a goal from a Free Kick.



Intuition and Execution
Bronze
15

Win a penalty shoot-out without missing.



Power Shot
Bronze
15

Score a goal using the power shot mechanic.



Training Addict
Bronze
15

Complete all Main Menu Skill Games.



Kick-Off & Tournaments
4
150
European Legend
Gold
90

Win the UEFA Champions League Final.



Girl Power
Silver
30

Win a tournament with a team from the Women's League.



Best of Five
Bronze
15

Play 5 H2H matches with a friend in Kick Off.



Football is Everything
Bronze
15

Play a women's International football match.



Ultimate Team
12
330
The Chosen One
Gold
90

Reach 200 club appearances with a player in FIFA Ultimate Team.



Let the Games Begin
Silver
30

Earn enough FUT Champions Qualification Points to qualify for FUT Champions Play-Offs



In Cahoots
Silver
30

Win 10 Co-Op games with online friends in FUT Squad Battles or FUT Division Rivals



I Played Them All
Silver
30

Reach Milestone 3 in a FUT Division Rivals Season



Momentous Achievement
Silver
30

Earn 100 Stars in FUT Moments



Squad Building Connoisseur
Silver
30

Complete 10 Squad Building Challenges in FIFA Ultimate Team



A Moment of Your Time
Bronze
15

Complete 1 FUT Moment



Parking the Bus
Bronze
15

Keep 10 clean sheets in FUT Squad Battles.



Safe House
Bronze
15

Play a game using any House Rule in FUT Friendlies



Tactical Tinkerer
Bronze
15

Create your own custom tactic in FIFA Ultimate Team



The Winning Formula
Bronze
15

Build a squad with 33 Chemistry Points in FIFA Ultimate Team



Tune Your Club
Bronze
15

Play at least a match with 3 different goal songs in FIFA Ultimate Team



Career Mode
3
60
High Grades
Silver
30

Get an "A" rating for a transfer negotiation.



Like-Like
Bronze
15

Complete a season with a real manager and his original team.



Multitasking
Bronze
15

Complete 10 or more activities during a season.



Pro Clubs / VOLTA FOOTBALL
15
375
Full Wardrobe
Gold
90

Unlock 50 different vanity items



Balanced Path
Silver
30

Reach 40% Personality Points in two personalities of your choice.



Dazzling Personality
Silver
30

Have a personality trait being over 75% dominant.



Make the Grade
Silver
30

Receive an A grade in a Pro Clubs Skill Game.



On the way up
Silver
30

Reach Level 7 in a Season in VOLTA FOOTBALL or Pro Clubs



Sharing is Caring
Silver
30

Purchase a shareable item in the VOLTA Shop.



Volta's Best
Bronze
15

Reach 90 OVR with your Avatar in VOLTA FOOTBALL



Aiming High
Bronze
15

Complete 10 enhanced objectives across all matches.



Becoming Unplayable
Bronze
15

Unlock all the traits within a skill-tree in Pro Clubs.



First of Many
Bronze
15

Complete and win your first Pro Club Seasons league match.



Fresh Fit
Bronze
15

Change an item in the "Outfits" tab.



Full-House
Bronze
15

Play and Complete a Cup House Rules Match in Pro Clubs.



Shop till you drop
Bronze
15

Purchase an item in the VOLTA Store



Specialist
Bronze
15

Unlock an Archetype in Pro Clubs.



Teamwork Works
Bronze
15

Win a VOLTA SQUADS match with 3 friends.