Do you remember when Rooney was one of the best strikers of Ultimate Team mode ? This year he has a card that can make you travel in time: TOTS Rooney 92.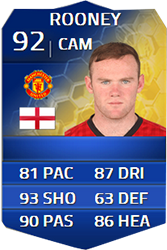 Other Cards

More Details
Release Date: April 23rd, 2014
Rating: 92
Position: CAM
Nationality: England
League: Barclays PL
Club: Manchester United
Att/Def Workrate: High / High
Foot: Right
Weak Foot: 4
Skill Moves: 3
Height: 176cm | 5'9″
Goals / Game: 0.40
Assists / Game: 0.3
Short Bio
Wayne Mark Rooney made his professional debut in 2002 at the age of 16. He spent two seasons at Everton, before moving to Manchester United for £25.6 million in the 2004 summer transfer window.
The United's third-highest goalscorer of all time have won the Premier League five times, the UEFA Champions League once, the FIFA Club World Cup once and the League Cup twice.
Rooney has won 95 international caps and scored 40 goals, making him England's ninth most-capped player and joint fourth-highest goalscorer in history.
Stats
Aggression 99
Attack Positioning 86
Interceptions 44
Vision 83
Acceleration 81
Agility 82
Balance 82
Jumping 84
Reactions 98
Sprint Speed 83
Strength 90
Stamina 99
Ball Control 92
Crossing 87
Curve 92
Dribbling 89
Finishing 96
Free Kick Accuracy 84
Heading Accuracy 84
Long Passing 94
Long Shots 94
Marking 33
Penalties 89
Short Passing 93
Shot Power 99
Sliding Tackle 37
Standing Tackle 61
Volleys 98
Rooney 92 Review
by Reece Alderman

When I first started playing with TOTS Rooney, his default position was CF, and straight away I started to notice a few things that have happened to me before when I have played with a CF. One of those points being the immediate lack of energy after the first half, although he still showed great potential on and off the ball, Rooney simply felt like his standard card, and presented no sign of improvement as he should from an 87 to a 92 rated card. I then tried using him as a CAM, but still the same problems were showing themselves, still great long shots, and it did feel like he was passing like he had 90 passing, his energy was still a major issue, as after the first half he became very lazy and didn't seem to want to create as many chances as the first half, or put any away himself.
Once I played Rooney as a ST, everything changed
After a few games of this I got very annoyed very quickly and began to think that the most expensive player of first TOTS so far was just a copy and paste job by EA, and was nowhere worth the 860K I paid for him, until I tried him as a striker.
Oh my. Once I played Rooney as a ST, everything changed, he was no longer tiring no the ball, nearly every effort from at least 20-25 yards either bulged the back of the net, hit the woodwork, or took ninja like saves from top flight goalkeepers. There was nothing that I could see that he was doing wrong, every time I crossed the ball in, Rooney was there to head it into the net, or struck sickening volleys that again, 9 times out of 10 would result in a goal.
Making runs for TOTS Rooney was an easy job, grounded through balls would reach him every time, lofted through balls would easily fall at his feet, the first touch also being a key factor is his attacking abilities, as well as having the 87 dribbling to be able to beat most defenders, if I wasn't ploughing my way through them, taking full advantage of his 90 strength. Not only did Rooney dominate the opponents goal throughout the game, but when he got the ball, every chance I got I was trying shooting from distance with him, abusing the 94 long shot stat, and as before, 9 times out of 10 he was putting them away from distances of up to 35 yards at times, on both feet! So even though he has a 4 star weak foot, it felt more like 5 stars.
He is good enough to slow play down and look for other options
One of my favourite things about TOTS Rooney was his pace, which I felt his original card lacked in some way, he wasn't too fast but not too slow which for me is a perfect balance as a dominant striker in this game. If given the option, you can have that sudden burst of pace to get ahead of defenders, but if needed, he is good enough to slow play down and look for other options, like dribbling round opponents using skill moves, be careful though, only 3 star skills.
There is only really 3 very minor things about TOTS Rooney that are disadvantages, the first being, only very rarely, at times, only when you are counter-attacking, he can be out of position, not even by a great deal but it seemed tough trying to use Rooney as a link player to execute a successful counter-attack. The second, being the lack of energy in the CF and CAM position, but once used as a striker, you won't ever feel the need to use him in any other position. Lastly being his price, it is still very expensive but to be completely honest, he was worth every penny I paid for him, and I'm sure that I will be using him in many squad builders to come.
Strong and Weak Points
– Amazing finishing
– Perfect volleys
– Great heading
– Very Strong
– 4 star weak foot feels like 5 star
– Great pace (not too fast, not too slow)
– Incredible long shots
– On the end of every cross
– Fantastic Dribbling
– Makes runs perfectly
-Rarely, but sometimes out of position.
-Tires very quickly in CAM or CF (H/H work rate)
-Expensive, but worth it
Suggestions


Best Position: ST

Best Formation: All





Notes
(1) Stats are H2H stats that may differ from Ultimate Team stats
(2) Goals/game and assists/game according to fut-score.com for the CAM position
(3) Player's performance depends of your formation, play style, preferences, position, team mates, skills, etc…