Ultimate Team was not included in the new EA title 2014 FIFA World Cup Brazil. However, we thought that it would be a good idea to show you the game as no one did it until now. We will try to answer to the most frequently asked questions about 2014 FIFA World Cup Brazil in a single post.



UPDATES
April 7th, 2014
Added a link to the list of national teams included
2014 FIFA World Cup Brazil – Frequently Asked Questions
North America: Tuesday, April 15th 2014
Europe: Thurday, April 17th 2014
Australia: Thurday, April 17th 2014
Japan: Thurday, April 24th 2014
Brazil: Thurday, April 24th 2014
Only Playstation 3 and XBox 360
It is not available for PC, PS4 and XBox One
Release Date: April 1st on all PSN members
April 1st for Xbox Live Gold members and April 8th for Xbox Live Silver members
Size: 1,66 Gb
Teams: Mexico, Brazil, USA, England, Australia, Japan, New Zealand and Ivory Coast
Stadiums: Estadio do Maracana and Arena de Amazônia
Ball: Brazuca, adidas' official match ball
TEAMS, PLAYERS AND STADIUMS
203 biggest national teams (click HERE to see the complete list)
7,469 players
19 officially licensed managers
21 new stadiums including all 12 authentic 2014 FIFA World Cup Brazil stadiums
Road to the FIFA World Cup
Road to Rio de Janeiro (on line)
Captain your Country
Story of Finals (online)
2014 FIFA World Cup
Story of Qualifying
World Class Control
Set Piece Tactics
Over-the-Back Headers
New Penalty Kicks
adidas Ball Physics

15 hours of added commentary with Clive Tyldesley and Andy Townsend
EA Sports Talk Radio featuring game-related commentary by Andy Goldstein, Ian Darke, Michael Davies and Roger Bennett
| | |
| --- | --- |
| TRACK | ARTIST |
| | |
| Wild Child – Radio Edit | Adrian Lux Marcus Schssow JJ |
| Mais Tarde | Alafia |
| Two Step | Bear Mountain |
| We are the Ones | Charles William |
| The Worls is Ours | David Correy Monobloco |
| Blackbossa | DJ Bitman |
| Hino Vira-lata | Emicida Quintento em Branco e Preto |
| Life Happens | Ester Rada |
| Lambada Alucinada | Felipe Cordeiro |
| Bundalelê da Verdade | João Nabuco |
| here's to Us | Kevin Rudolf |
| El Bendito | La Yegros |
| Las Memorias del Faro | Los Macuanos |
| Samba em Pliet | Luciana Oliveira |
| Pumpin Blood | Nonono |
| Caminho | Rael |
| Brazil | Ritmo Machine |
| Kids | Saints of Valory |
| Who We Are | Switchfoot |
| Beleza ! Beleza ! Beleza !!! | Trio Mocoto |
| Just Keep Breathing | We The Kings |
| Children of the Sun | Tinie Tempah |
You can listen all the 2014 FIFA World Cup Brazil songs clicking HERE.
Click HERE.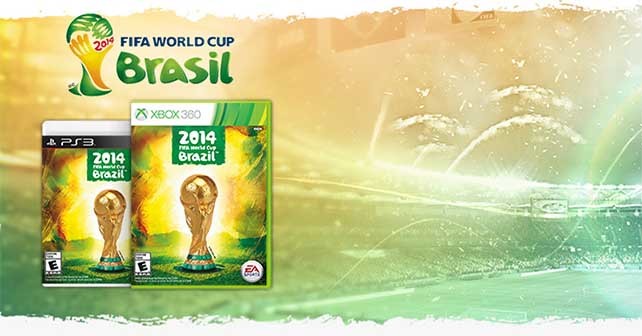 Price: starting ate 39 pounds (50 Euros)
Stores: any video games store
Suggestion: we don't think that this game is a must buy. Do it only if you want to live the World Cup at every second of your life. If you are thinking to buy it from Amazon and you live in Europe, please do it clicking on one of the following banners. You will be helping us to keep this website alive. Thank you.