It is the seventh birthday of the most popular FIFA game mode. Celebrate 7 years of FIFA Ultimate Team with free packs and find out this week's special FUT 16 events.
Celebrate 7 years of FIFA Ultimate Team
To celebrate FUT's seventh birthday, FIFA Ultimate Team will be holding special events throughout the week.
Let's see which ones…
Free Packs
Everyone loves free packs. And EA know it. As a thank you for your support, they are giving away free packs to all FUT 16 players.
Between March 21 (Monday) and March 28 (Monday), you will get a untradeable pack in your account, one per each day. You just need to go to your PC or console and open your FUT store. You can use the Companion or Web App to get your free pack. Remember to claim yours each day because they don't carry over. You can not sell them and the discard price is 0. These packs should be available for everyone except for mobile players. A new free pack is announced every day at 6pm (UK time).
Don't forget to share with us in the comments section what you pull from these free packs.
FUT Birthday Cup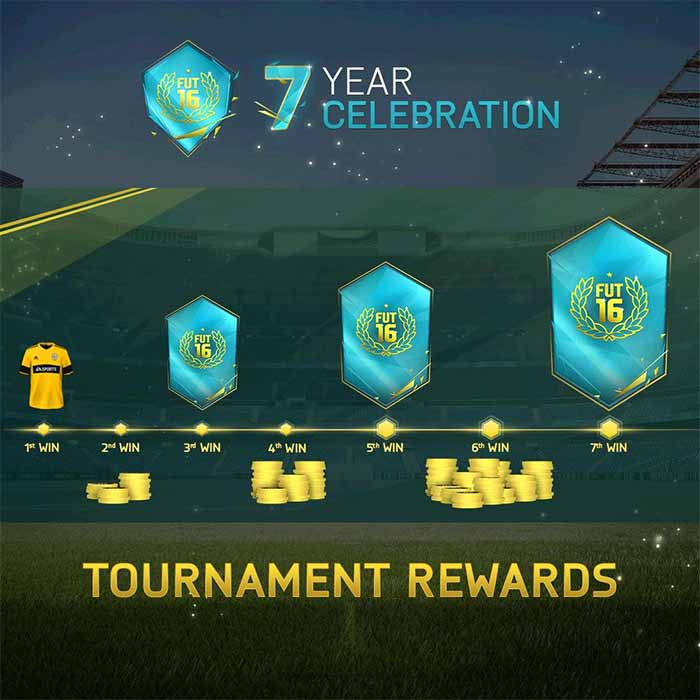 To celebrate the seventh FUT anniversary, EA released a great tournament. You can win it up to seven times and get ever-increasing rewards. The very first online winning reward will be an exclusive EA-branded kit for your club.
The FUT Birthday Cup starts at March 21 6pm (UK time) and ends exactly seven days later at March 28. The only requirement to play is to not repeat nationalities.
Rewards
Online:
First win – Exclusive Ultimate Team Kit
Second win – 7,000 coins
Third win – 25k Rare Gold Pack
Fourth win – 8,500 coins
Fifth win – 35k Mega Pack
Sixth win – 10,000 coins
Seventh win – 100k Jumbo Rare Players Pack
Eight or more wins – no reward
Single Player:
First win – 7.5k Premium Gold Pack
Second win – 3,000 coins
Third win – 25k Rare Gold Pack
Fourth win – 5,000 coins
Fifth win – 25k Premium Gold Players Pack
Sixth win: 7,000 coins
Seventh win – 50k Rare Players Pack
Eight or more wins – no reward
You can know more details about the FUT Birthday Cup clicking here.
Daily Happy Hours
As usual in these special occasions, new pack offers will be available every day. Starting at March 21 and until March 28, a new Happy Hour will be released at 6pm (UK time).
EA Sports has not announced which Happy Hours they will release, but it is easy to guess that they will release the most common ones: 15k, 25k and 35k during the week days and eventually 50k or / and 100k packs during the weekend. You can expect a new pack offer every 7 hours. With all these offers, we may expect a drop in the cards' prices this week.
You can check all the packs offers clicking here.
Player's International Positions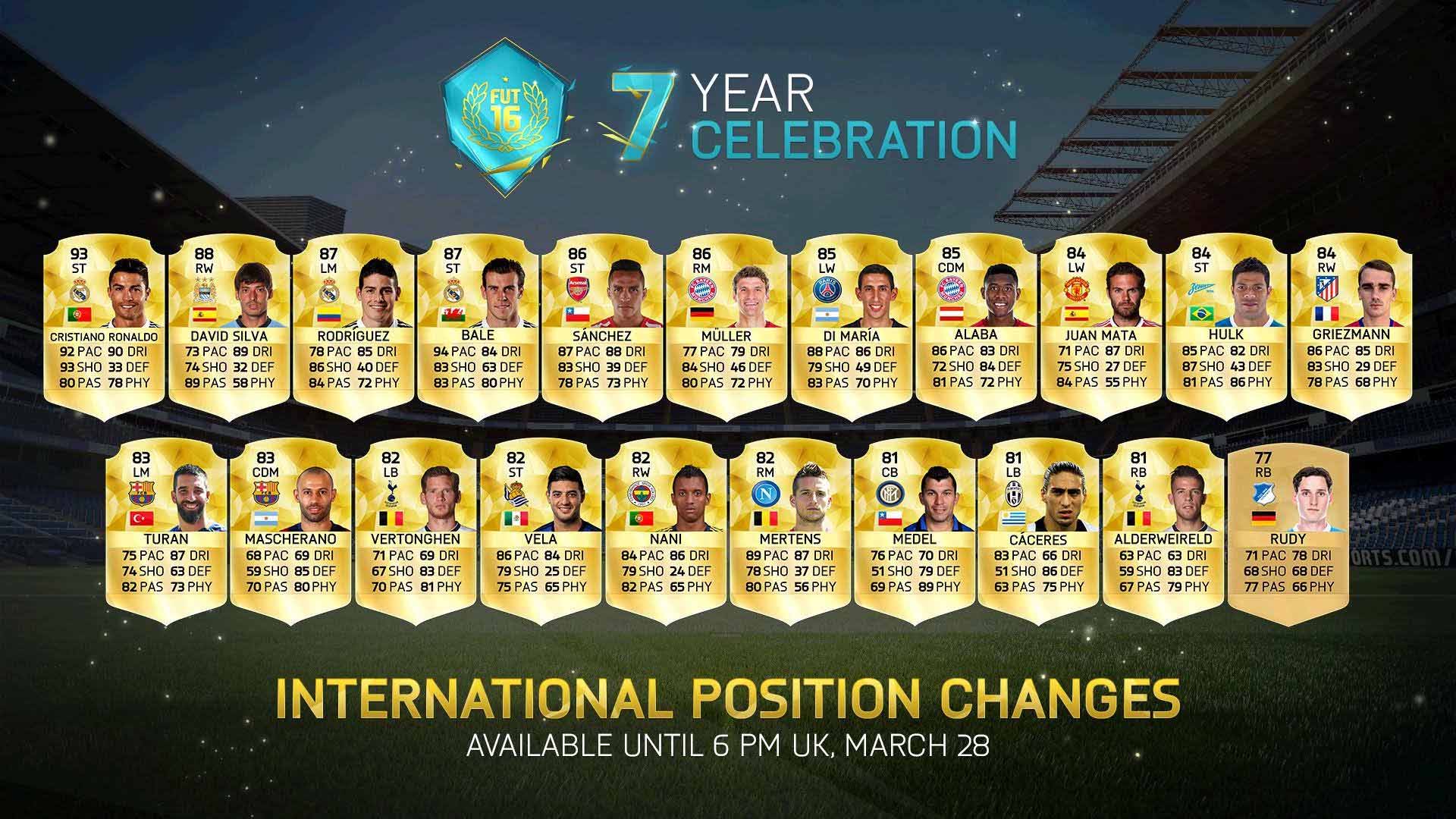 During this week, there is something that will happen for the first time: EA Sports will release the 21 cards that you can see in the picture with the player's international positions. It means that only until March 28, you will have the chance to pull a NIF Ronaldo ST or Hulk ST from a pack.
After this week, all the players will be released in their usual club's positions.
Good luck!