Welcome to Tête-à-Tête with Silvio Teixeira: a very special opinionated area that we are proud to include on our website.
Follow the wise, intelligent, humorous and insightful comments from Silvio. At the end of the article you may know him a bit better too.
In this new episode, "The Best FIFA 15 Players to Buy and Sell", the author points out many players who are always worth the investment.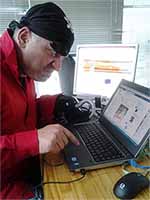 The Best FIFA 15 Players to Buy and Sell
I hope everyone's had a great new year's eve and now is ready to begin a 2015 full of frustrations on our good old FIFA. If for once the game causes us more and more rage, trading still manages to give us a good time, and one thing that you need to know when it comes to trading is which players are really worth the investment when we talk about higher values maintaining the risks close to zero. When it comes to low-cost players, if you make bad investments you'll end up losing small amounts of coins, but when you buy a player for 30K you want to be sure that he won't make you lose money. In this aspect, now more than ever, knowledge is power!
All the procedure is relatively simple, yet it demands a little hard work. What we'll do is evaluate the 4 strongest leagues (BBVA, BPL, Bundes and Serie A) plus the Brazilian squad going after players that are unique for their position without astronomical prices. The problem about players that cost too much is that few people have money to buy them, so once there are less daily transactions these players become less interesting deals. Don't get upset when I say a player is a mere bargain, there are great bargain kind of players out there, it's just a reference for low-cost players.
Let's get started, first with the Bundesliga.
Goalkeeper
There's Neuer and… well, there's no one else. That doesn't mean nobody uses Adler or some other goalkeeper, it's just that everyone wants Neuer, he's way ahead the concurrence and his price is very high, yet not prohibitive. So that's why he's the man you'll always want keep in your radar, don't hesitate to buy him when his price falls during one of these crashes.
Right-back
We've got Lukasz Piszczek. The other ones are below him, and since his price is very accessible (around 10K) he's certain to be a good investment, with quick and guaranteed return. You shouldn't lose any coins at all because the remaining RBs are very weak and they all cost around 800 coins (bargains). Besides he's got an IF, so everyone buys him and waits until they have enough coins for the IF.
Left-back
Alaba has no concurrence. Everyone wants him, but costing around 50K he's a bit expensive. There are two IF LBs cheaper than him, but again they don't get near Bayern's left-back. Since he doesn't have a concurrent you may buy him all you want and you'll manage to sell easily with profit (as long as you buy in the right moment, of course).
Centre-backs
I won't point out anyone here because there isn't an absolute preference for the position, while there's Hummels, Boateng, Benatia and others, there are many CBs on similar levels. Some prefer one and others prefer another, so the demand doesn't concentrate at all and I'll just choose not to buy anyone.
From now on the picture changes a bit because we have several position changing possibilities. Centre-backs are just centre-backs and the same goes for the right-backs, left-backs and goalkeepers, but a CDM can become even a striker, a LM can become LW or LF and vice-versa, so it's important to consider that if there isn't a decent LM out there, you can use a LW instead and so it goes on.
CDM/CM/CAM
Although there's Lahm that everyone likes, I don't buy anyone from here to make trades. And there's even the fact that he wasn't the chosen one for the starting eleven in our Bundelisga guide. For that reason I choose to stay away from any deals that concern these positions in the Bundesliga, except if I bump into an undeniable opportunity of course.
LM/LW
We've got Ribery and Reus in here, they're safe investment, but very expensive, Reus costs around 100K and Ribery, 200K. Ribery stays in my astronomical prices list, and Reus, sincerely I don't think he should cost all that, therefore sometimes I'm afraid his price ends up falling to never rising again. Besides that, there's no other great potential investment, so I end up not investing in this area, I would if I could buy Ribery, but then I would run out of money to diversify my investments, and I'd rather not.
RM/RW
There's Robben but he's just out of my league since his regular card costs over 400K. Besides him we've got a few good players but no favourite. Thomas Muller is an excellent shooter, Aubameyang's pace is just ridiculous and there are others who aren't bad, so the buyers don't really have a preference and that makes me not want to invest in this area either.
ST
The object of desire is Lewandowski. You can have Adrian Ramos, Huntelaar or Immobile, they're all good players, but everyone wants Lewandowski. Costing 80K he's in my radar, whenever his price falls I buy and it's guaranteed profit. In this position there's no one near him.
In the end, our list of Bundesliga players for constant observation is:
– Neuer
– Piszczek
– Alaba
– Lewandowski.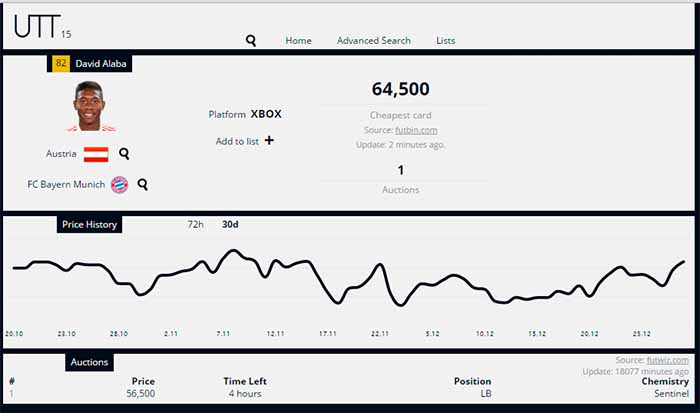 Shall we head to the next one? BPL.
Goalkeeper
We've got several good goalkeepers in the BPL: Courtois, Lloris, Cech, De Gea, Hart, Howard and Begovic. This way I don't invest in them, we don't have a favourite one. Let's skip this.
Right-back
Let's give special attention to Walker, with 91 of pace he's quite ahead of the others. And being a relatively low cost player (costs around 6K) he's worth the investment when prices fall.
Left-back
Here, the buyers' preferences split between Clichy, Filipe Luís, Alberto Moreno and José Henrique. Because of this I don't invest in this position of the BPL.
Centre-backs
Although you might think Kompany is a safe investment, I don't recommend him. He's an excellent centre-back, yes, the best in the BPL, but costing over 50K against the 5K or less of the remaining good BPL centre-backs, buyers will think ten times before they go after a centre-back that's not even fast. Instead I'd rather watch Koscielny, a very good centre-back who's also very fast (for a CB), which makes him a very demanded and accessible one (5K). It's common to win him for 3K while prices are falling and sell for 6K when they're rising. It's pretty much just him…
CDM/CM/CAM
Right here we've got a rain of good players. Which is good for someone who's looking to build a team, but not as good for people who's looking to invest. Touré is great but costs 200K, therefore sales are low. Di Maria is one of the best UT players this year, but for 120K there are players who prefer Ramires for example, I always keep this one in my radar. He's one of the best for both BPL and Brazilian squads at the same time. He's the only one in here that I like to keep in my list.
LM/LW
Hazard is the icing on the cake on the left side, but for more than 200K his business stays affected. The one that's in my radar in this position is David Silva, very good player who's relatively cheap, yet not a bargain. He used to be better on FIFA 14, so there are still many people that buy him for his fame, although I myself prefer Schurrle to him. Since we have two possible positions (LM and LW) I keep both David Silva and Schurrle in my list, but I still leave Hazard out.
RM/RW
The right midfield is another position full of good options but full of risks, too. Alexis Sanchez costs around 50K but I don't see him costing more than that, and the remaining are way below that. I believe he's going to lose some value, therefore he doesn't deserve my investment, and concerning the others there's just no favourite. Many people prefer Walcott for his pace. Others prefer Willian, or Navas, and there are still many others to divide the buyers. Skip.
ST
Excellent players in here, which is a problem since they're so good that even while there's Aguero above all of them (personal opinion), there are people who won't pay 230K to have him even if they have the money because they think Diego Costa is the best, or Rooney, or Van Persie. Falcão and Sturridge are out since Remy beats them at most times with his 90 of pace. Too many good players, so you know it, I just don't buy anyone from here.
So my BPL observation list ended up like this:
– Walker
– Koscielny
– Ramires
– David Silva
– Schurrle




Now let's head to the Spanish league, the BBVA has some great names for our list.
Goalkeeper
This position lacks options and that's why Casillas is the most demanded goalkeeper, he's just way ahead the concurrence. Costing 10K at the moment he joins our observation list.
Right-back
Dani Alves, no questions to ask. Any BBVA squad demands this player, the only way he's not there is if the person can't afford him. And since he can be used both in BBVA and Brazilian squads he's guaranteed in our list.
Left-back
Although Marcelo is one of the best (also eligible for Brazilian squads), many buyers opt to Jordi Alba's pace, but since it's just these two and all the rest will only be used until they can be replaced, both will go to the list.
Centre-backs
Sergio Ramos is good, but he's not in our list because no CB should cost 100K, the risk of him having his price decreased is quite high. Since all the rest are mere bargain players there's not much to invest in here.
CDM/CM/CAM
Among so many good players I'd like to point out James Rodríguez, I believe he remains as an object of desire both as CAM and CM. He has good attributes in general and when prices fall don't hesitate to buy him, he's certain to gain value again.
LM/LW
On the left side everyone wants CR7, of course, but since not all buyers are rich we'll have to leave him out. Once most people can't afford CR7 all eyes are on Neymar, who also fits perfectly in the Brazilian squad. He costs around 210K at the moment but his price fluctuates at all times, so if you buy when prices are low you'll always profit, and yet because the remaining players for the position are bargain players, some are even good but they surely aren't near Neymar.
RM/RW
On the right side we have Bale who costs over 400K but he's not worth all that, therefore I'd rather look the other way. The remaining players are all bargains, so let's skip this position.
ST
Messi (who's actually a CF) is way too expensive naturally, Suarez is super over priced, he should never cost these 500K, so this is the kind of risk that I'm not comfortable with. This way we have only one alternative: Benzema. You can buy him with your eyes closed every time he's at a good price, because he's certainly rising again.
This is our final BBVA players list:
– Casillas
– Dani Alves
– Marcelo
– Jordi Alves
– James Rodriguez
– Neymar
– Benzema
Now it's time to look at the Italian league. Shall we see if it's worth the investment?
Goalkeeper
Nothing in here, they're all bargains.
Right-back
Very few options and they're all cheap, skip.
Left-back
There are only three gold players in here, all of them cheap, nothing to do here.
Centre-backs
Cheap players, no favouritism either, nothing to invest in here.
CDM/CM/CAM
Complicated… There's Pogba and Vidal, but there's also Marchisio, Pirlo, Guarin, Nainggolan. Although Pogba is very good, buyers are pretty much divided and they end up not investing so much on him. Because of that, I also don't place my investment here.
LM/LW
Bargain players… We're having a hard time finding someone, huh?
RM/RW
Cuadrado is good, but he costs 15K while Biabiany costs 3K and he's even faster. Moral of the story? Nothing in here either.
ST
Finally somewhere to invest in. Tevez is the favourite one. Everyone wants him, so every time his price is low you may buy a dozen of him and it's certain profit.
Our long Serie A players list ended up like this:
– Tevez
🙂




Since now you've noticed that not all good leagues are worth the investment, we'll do a quick observation on the Brazilian players.
Goalkeeper
Nothing
Right-back
Dani Alves
Left-back
Marcelo
Centre-backs
Thiago Silva e David Luiz
CDM/CM/CAM
Ramires
LM/LW
Neymar
RM/RW
Nobody because there are 3 strong players which divide the buyers' preferences.
ST
Nobody
And here's our Brazilian list:
– Dani Alves
– Marcelo
– Thiago Silva
– David Luiz
– Ramires
– Neymar
Naturally we left out many excellent players, that happened because they're good but there are also other good players in the same position, and this way in terms of buying and selling we end up experiencing a dispersion factor that we're not interested in, while the ones in this list are the players that will always be demanded and therefore gain value every once in a while when the market rises in general. Of course this can suffer some alterations as something else changes, mainly when a determined player gets an IF that changes his position, or a player getting an upgrade in January may change this scenario too, but in general I believe you got the main idea.
You can access this list I created clicking here.
And you should have an improved perception of when is the best time to go buying. That's it for now, enjoy and next week we'll talk about the "last trading technique".
See yooou later!