The easiest way to start building a FUT 19 squad is to pick a league. If you still don't know which one to choose, get to know the strong and weak spots within the most popular choices. With our help, you will be able to find your best leagues to play on your FIFA 19 Ultimate Team campaign.
FIFA 19 LEAGUES
?? PREMIER LEAGUE
?? LA LIGA
?? BUNDESLIGA
?? SERIE A
?? LIGUE 1
? OTHER LEAGUES
The Best Leagues to Play on FIFA 19
How to pick the right league to play?
Every single year, several players ask us our opinion about which league should they pick to build their squad. The answer is not easy and depends on many factors, including your budget, play style, preferences, favourite formation and the amount of time you plan to play. In order to give you an extra help, we decided to create this article showing the strong and weak points for each one of the most popular leagues.
Premier League
➡️ Complete analysis of this league can be found here

The main football league in England works as basis for most FIFA 19 Ultimate Team squads out there. Why does that happen? First, because it's where more people play the game. Besides that, this league is considered the most spectacular professional football league in the world. But there are more reasons. Actually, this is one of the best leagues to choose to a FIFA 19 squad because although it's not the one with the best players in the game, it's got more quality players than any other. You have so many choices and potential variations to exercise, which means you can easily find a great team according to your preferences. The fact that the best players in the world are from other leagues is probably not a disadvantage because they're so expensive that few people are able to buy them. The Premier League still has got one more advantage: the fact that it has many players from other countries makes it easier for hybrid teams to be built based on it.
Basically, you can say the only big disadvantage of building a squad based on Premier League players is their high price. No other league has average prices as high as this one. Since the demand is bigger than the supply, the players' prices raise and surpass what you'd pay for equivalent players from other leagues.
Fabinho, Alisson and Jorginho were nice additions to this league, but none of them got a spot in the best team possible.

STRONG AND WEAK POINTS
✅ Many quality options
✅ Easier to build Hybrids
✅ Challenger
❌ Most expensive league
SQUAD SUGGESTION
91 ?? GK: David De Gea
84 ??????? RB: Kyle Walker
85 ?? CBR: Virgil van Dijk
86 ?? CBL: Azpilicueta
81 ?? LB: Benjamin Mendy
89 ?? N'Golo Kanté
91 ?? CAM: Kevin De Bruyne
88 ?? RM: Mohamed Salah
91 ?? LM: Eden Hazard
89 ?? STR: Sergio Agüero
87 ?? STL: Romelu Lukaku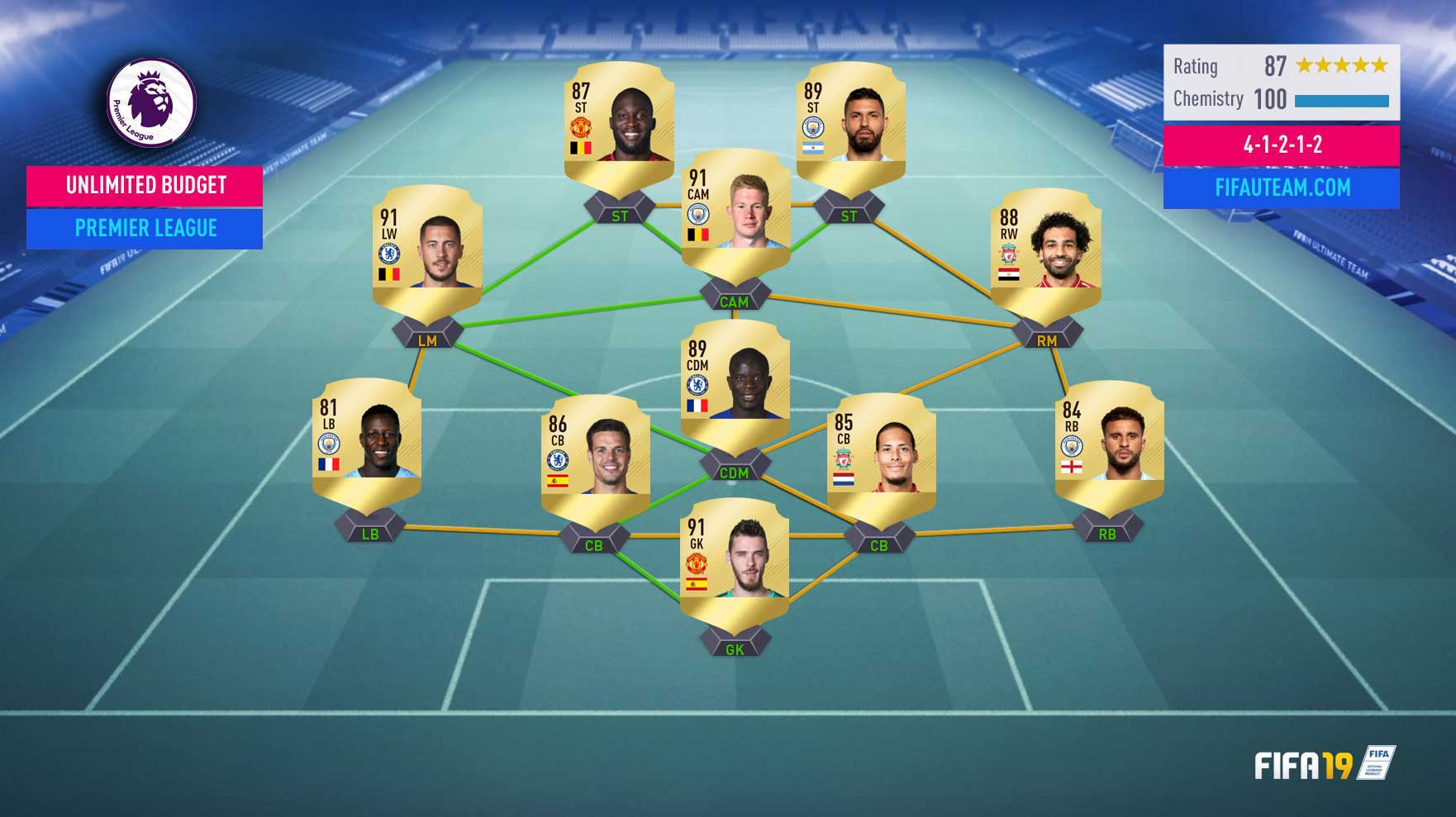 La Liga
➡️ Complete analysis of this league can be found here

La Liga is also one of the top leagues, but not just because it's got elite players such as Sergio Ramos, Lionel Messi and Luis Suárez. This is the mandatory squad league for people with an unlimited budget on FUT 19. However, there are few game players who can afford such players when building a squad. Even for a somewhat limited budget, the Spanish league comes out as a good option mainly because you can build a squad as good as a Premier League by spending way less coins. One of the good things about this league is that all positions are occupied by players that offer guaranteed quality.
Whoever decides to build a team based on this league will surely find a big variety of choices, much quality and relatively high prices. In our opinion, it's more appropriate for people who want to build a squad with no cost restrictions, but it's also a great alternative to the Premier League whilst being more accessible. The league is also a great one for hybrid teams since there are many Spanish players out there playing in the best European leagues.
New additions to this league, like Promes and Arturo Vidal, have increased the quality and variety of choices for medium-budget teams.

STRONG AND WEAK POINTS
✅ It has most of the best players in the world
✅ Good for hybrids
✅ Strong goalkeepers
❌ Expensive
SQUAD SUGGESTION
90 ?? GK: Thibaut Courtois
84 ?? RB: Carvajal
91 ?? CBR: Sergio Ramos
87 ?? CBL: Raphaël Varane
88 ?? LB: Marcelo
88 ?? CDM: Casemiro
91 ?? CAM: Luka Modric
88 ??????? RM: Gareth Bale
88 ?? LM: Coutinho
94 ?? STR: Lionel Messi
91 ?? STL: Luis Suárez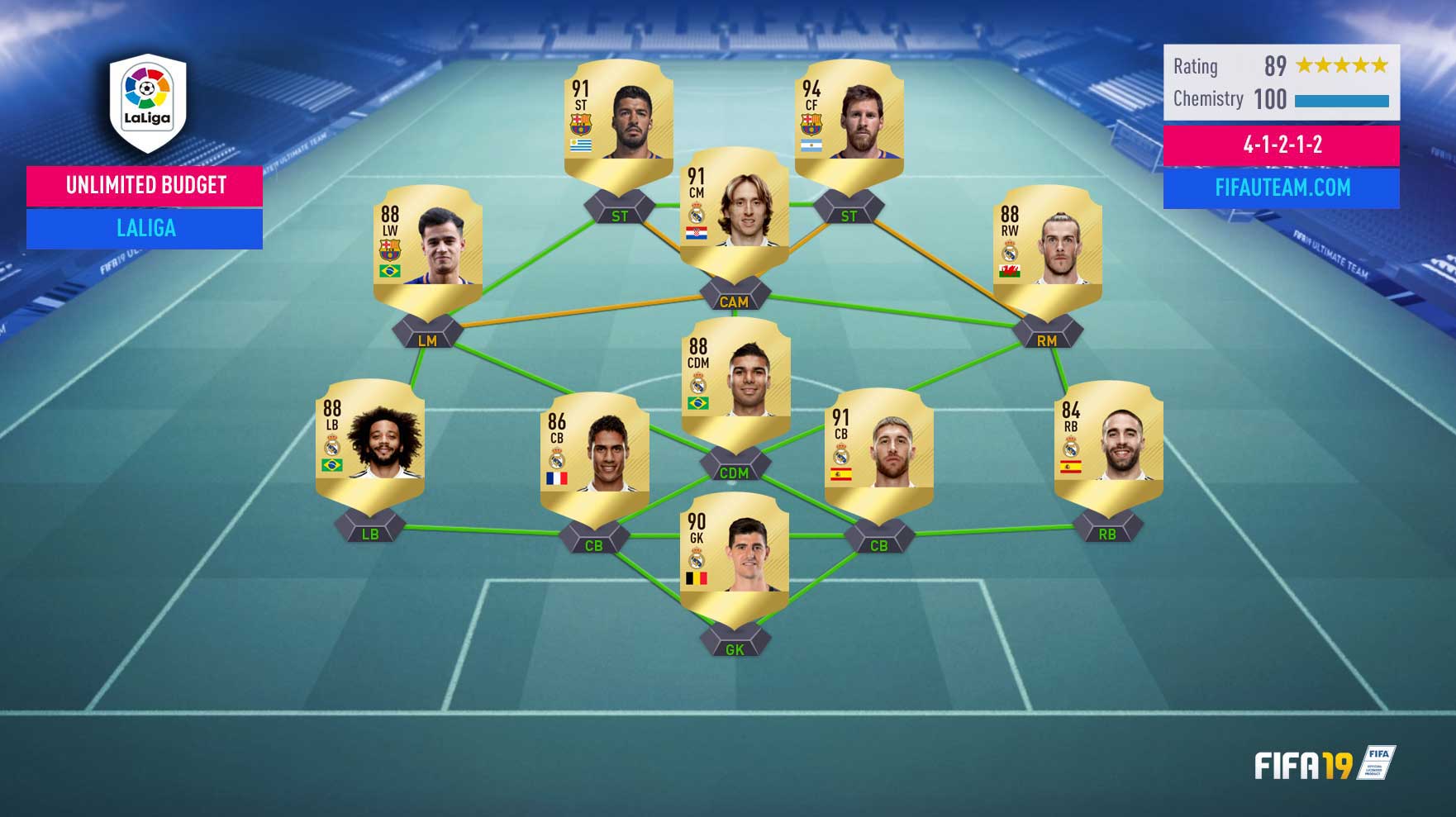 Serie A
➡️ Complete analysis of this league can be found here


Do you feel like you can't gather the coins necessary to build a squad based on one of the two leagues we described previously? Don't worry. The Serie A allows you to start from low or medium spending capacity while that doesn't mean a significant quality loss. It is no doubt the best FIFA 19 league regarding price vs quality for you to face any opponent head-to-head. Even with you not being able to reach an 88 squad rating, you definitely won't fail to have a good squad, plus you'll have that with the advantage of not carrying the responsibility of owning the most expensive teams.
This is basically a league with a defensive style and many options to the centre of the midfield. The biggest problem of this league is the lack of good wingers. If you plan to build a squad based on this league, try to avoid the use of formations with wingers. If you have a good amount of coins you can also buy Cristiano Ronaldo, the best FIFA 19 player. He is probably the strongest reason to see more people building squads from this league, this year.

STRONG AND WEAK POINTS
✅ Best value for money for the biggest five leagues
✅ Many high-quality choices on the centre of the midfield
✅ It has the best player in the game
❌ Difficult to create a squad as good as the top-squads from the other two leagues
SQUAD SUGGESTION
88 ?? GK: Samir Handanovic
81 ?? RB: João Cancelo
87 ?? CBR: Kalidou Koulibaly
89 ?? CBL: Giorgio Chiellini
86 ?? LB: Alex Sandro
85 ?? CDM: Radja Nainggolan
84 ?? RM: Juan Cuadrado
86 ?? LM: Douglas Costa
89 ?? CAM: Paulo Dybala
87 ?? STR: Dries Mertens
94 ?? STL: Cristiano Ronaldo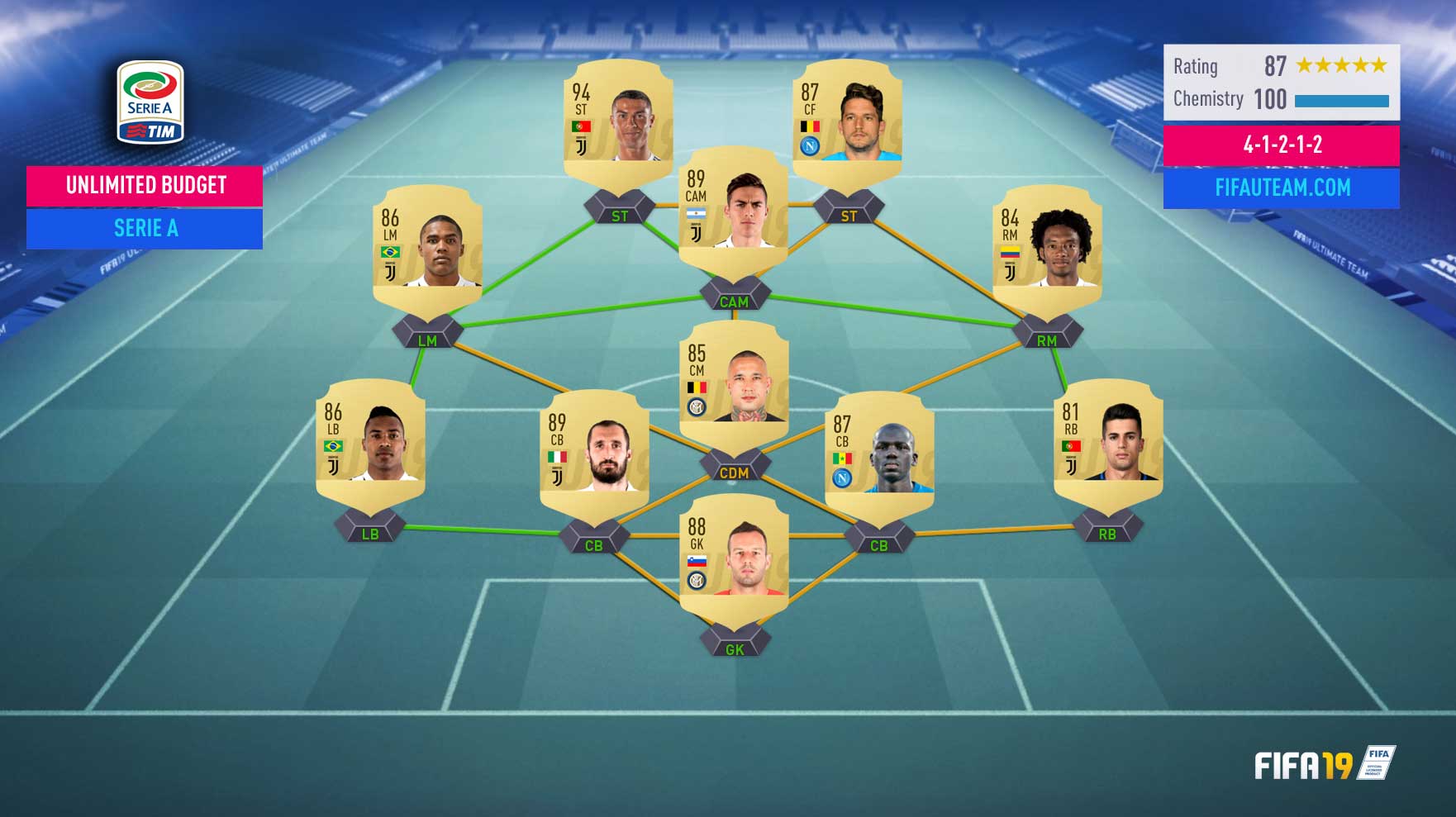 Bundesliga
➡️ Complete analysis of this league can be found here

The popularity of the German league fell sharply with the loss of important players like Aubameyang, Douglas Costa, Vidal and Bernat. It no longer is the third most used league in FIFA Ultimate Team. It always has good solutions for every – or almost every – position, with a more accessible price than the Premier League but there are not many replacements for the top-quality players. In other words, most of the times, for each position, there is only one good player. Still, it's possible for you to build an excellent squad based on the Bundesliga with around 600 thousand coins (much less after a few months). If these numbers are too big for you, we advise you to move on to another league.
Once again, it is a waste not using a formation with wingers when building a squad based on the Bundesliga.
This year, the chance to join Thiago, James and Goretzkain the midfield is one of the things that may convince you to play with this league. However, what really draws attention is the front line with Robert Lewandowski.

STRONG AND WEAK POINTS
✅ Top players for most of the positions
✅ Cheap alternative to the Premier League
❌ Expensive league
❌ Most of the positions don't have quality backups
SQUAD SUGGESTION
90 ?? GK: Manuel Neuer
85 ?? RB: Joshua Kimmich
86 ?? CBR: Jérôme Boateng
89 ?? CBL: Mats Hummels
85 ?? LB: David Alaba
83 ?? CDM: Leon Goretzka
88 ?? CAM: James Rodríguez
85 ?? RM: Arjen Robben
85 ?? LM: Marco Reus
90 ?? STR: Robert Lewandowski
86 ?? STL: Thomas Müller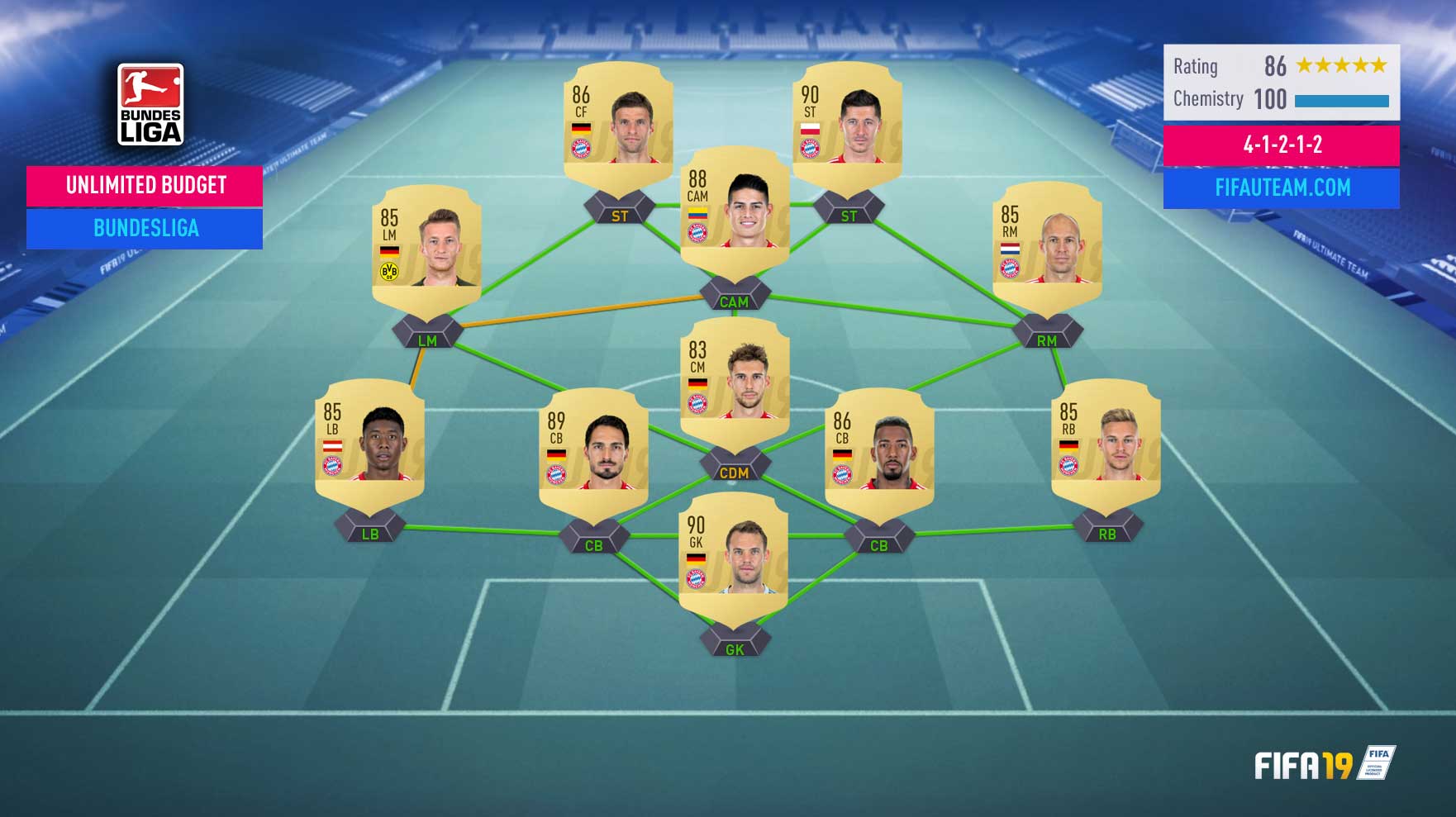 –>

Ligue 1
➡️ Complete analysis of this league can be found here

Among the five leagues given as the most popular ones, the Ligue 1 is clearly the weakest. It's relatively cheap, more than the Serie A, but it doesn't offer quality solutions for all positions like the Italian league does. The exception is on the wings, where this league is probably better than any other one.
People who want to build a strong team based on the French league will be forced to use Paris Saint-Germain players. They fill the league's tough core. Names like Thiago Silva, Neymar or Mbappé are an absolute choice for any team. There are alternatives but the truth is that they're never as good as, for example, what you get in the other four top leagues.

STRONG AND WEAK POINTS
✅ Affordable squad
✅ It has some top-quality players, specially on the wings
❌ Not as good as the other four leagues
❌ Defensively weak
SQUAD SUGGESTION
88 ?? GK: Gianluigi Buffon
82 ?? RB: Thomas Meunier
88 ?? CBR: Thiago Silva
83 ?? CBL: Presnel Kimpembe
79 ?? LB: Layvin Kurzawa
86 ?? CDM: Marco Verratti
85 ?? CAM: Nabil Fekir
87 ?? RM: Kylian Mbappe Lottin
92 ?? LM: Neymar Jr
89 ?? STR: Edinson Cavani
83 ?? STL: Memphis Depay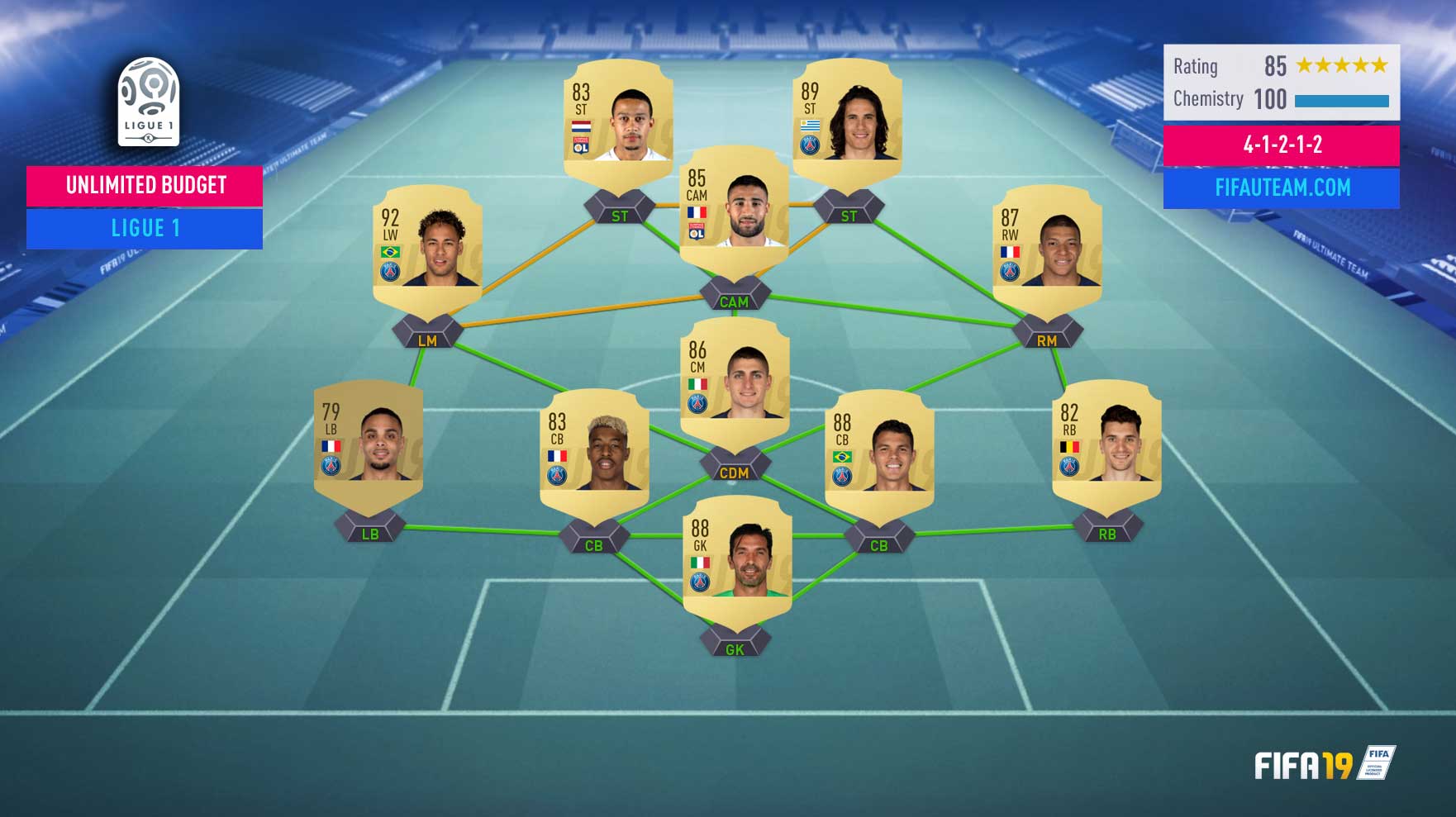 Other Leagues
More leagues besides the five already analysed
➡️ Complete analysis of Liga Nos ?? can be found here

If your budget is low, there are leagues that can be quite useful to you. Here are the Portuguese, Russian and Turkish leagues. Having them as a base, you'll be able to build minimally competitive squads with just a portion of your coins. The biggest problem you might come to find is player's choice as there are not many. Since there are fewer players in these leagues, some positions can't be occupied by players of the same quality as the rest. There is a point where you might have to call on silver or even bronze players. This is particularly noticed when it comes to defenders. Unbalanced but yet interesting squads can be frequently seen.
Besides the low cost, these leagues have also the advantage of causing your opponent to underestimate you or have too much confidence. They are so so cheap that anyone can build one, which means that they are perfect for who is starting to play. Since there are less IF and special cards, it's harder to improve your squad along the time. Although some of these teams can turn out to be very interesting, you'll hardly be able to face the best teams effectively.

STRONG AND WEAK POINTS
✅ Extremely cheap squads
❌ Lack of quality players in a few positions
❌ Less top-class players than in the other five leagues
❌ Most difficult to upgrade with IF/special cards
LIGA NOS SUGGESTION
82 ?? GK: Iker Casillas
76 ?? RB: Stefan Ristovski
83 ?? CBR: Felipe
81 ?? CBL: Jérémy Mathieu
84 ?? LB: Alex Telles
83 ?? CDM: Danilo Pereira
81 ?? RM: Eduardo Salvio
81 ?? LM: Yacine Brahimi
84 ?? CAM: Jonas
80 ?? STR: Moussa Marega
83 ?? STL: Bas Dost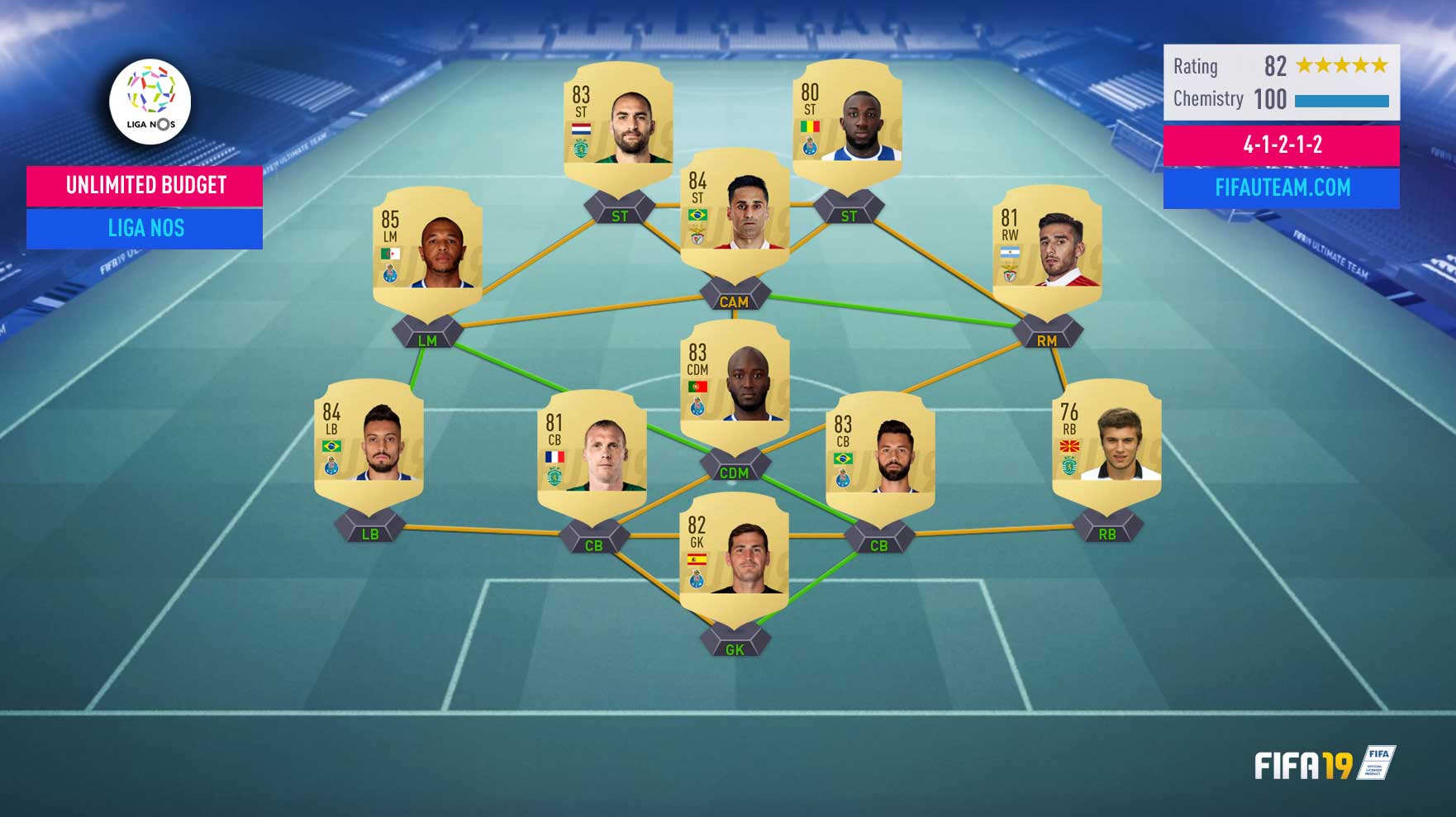 Which one is, in your opinion, the best league to use in your FIFA 19 Ultimate Team squad? Share your opinion with us in the comments, please.