IMPORTANT
Tête-à-Tête with Silvio Teixeira is a new addition to our website.
These weekly chronicles have been published in FIFAUTeam for a full year on our Portuguese website, gathering many thousands of fans in the process.
We are sure that, after two or three chronicles, you will join the large group of people who believe that 'Tête-à-Tête with Silvio Teixeira' is one of the best spots about FIFA.
It has everything: it talks about up to date subjects, it helps people with smart tips and suggestions. It is written by someone with a huge knowledge and experience about the game. Its a great read with a few funny moments along the way.
Welcome to Tête-à-Tête with Silvio Teixeira: a very special opinionated area that we are proud to include on our website.
Follow the wise, intelligent, humorous and insightful comments from Silvio. At the end of the article you may know him a bit better too.
In this new insertion, "For A Better FIFA 15 !", the author shares with us his wish list for the new game and how, in his opinion, it could get better.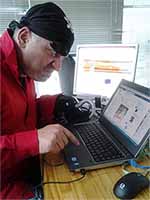 For A Better FIFA 15!
I understand how complex FIFA is, although I also know that many of the things that could be changed aren't that complex, the things that have been annoying us for quite a while because EA thinks it's better just to leave it that way. In fact, there are so many improvement possibilities that it feels like it's almost impossible for the game to get any worse.
Basically, the developers have been working really hard on the graphics, which are already very good and, for myself, they should leave it like this and focus on what's been bothering us, players, but they'd rather spend millions to just keep improving the graphics unnecessarily instead of investing on what would really make a difference. It's not that I don't enjoy good graphics, but it's already there, it's pretty nice, they could stop graphics improvement for a year and no one would be upset as long as they started using the time and money to work on the weak spots, and trust me, there are lots of them…
Recently we've been talking about the leagues we'd like to have but if we could stop and make a list giving priority to all the things we'd like to be improved, for it is what bothers us the most, what would they be? Of course each one has their preferences, and the list wouldn't have the same priorities for everyone, but since we're talking about problems it's very likely that there is going to be an overwhelming majority of players agreeing that the things we'll be pointing below are complete turn offs. So, EA, how about giving these cases some extra careful attention?

– That the defenders would be able to strike the ball with those amazing volleys according to their ability, this way they would miss 90% of the times.
– Improving the commentating that insists on calling your goalkeepers the wrong names.
– Fixing the players' stupidity on throw-ins, I mean, no one misses a simple throw when there isn't any ball pressing. On FIFA they miss way too much, the players don't keep up with the ball. This happens even when someone passes the ball, this player is right beside his teammate but still he can't get the ball on possession.
– Put an end to the ridiculously easy header goals.
– You're trying to get out of the replay screen then you accidently pass the ball to the opponent that's right there waiting for it to happen… This has to stop.
– Stop replaying the goals on 16 different angles, if he wants to see it on other angles then he can do it after the match ends. There's no need to keep staring at the screen over and over for the same goal, there should be only one replay, or else who conceded the goal should be able to stop it too.
– Allowing us the option to "disable replay" for offsides, after all they're determined by the computer, there's no error, so it's a bit stupid to see the replay. Unfortunately this won't only stay for FIFA 15 but also there's going to be the replay to see if the ball entered the goal or not, the new technology style, but really it's just padding, of course, the system never lies… After all it's just going to be another thing to piss people off when they're losing.

– The keeper is way outside of reality, he can't hold the ball from shots that are usually weak so corners are pretty frequent, and also for any slow shot he'll fall to the ground and delay counter attacks even when his team is losing.
– Holding the opponent has become sort of interesting but the referee sometimes doesn't know when to stop that, there should be harsher referees and more flexible ones, then it would be up to you not to mess up when you see the referee is a harsh one.
– Allowing you to create your own tactic and save it, after all you're the coach and you should be able to make up your formation without following any pre-defined ones.
– Improving the offside logic. If the long pass was supposed to be for the guy on the right and the guy on the left isn't participating, there shouldn't be an offside.
– Stop this easier last-minute goals rubbish, if there's an emotional component then it should be according to whom is controlling the players, that he should change for an offensive tactic, he use substitutes, turn on team pressure, but please, don't let this make Bernard win a header against Vidic.
– Adding a filter that allows searching for cards according to their rarity, if it's rare or not, this would help trading a lot.
– A serious and responsible posture from EA towards the players. We wouldn't care as much about knowing that the Web App won't work anymore as if EA keeps telling us there is a server maintenance or something like that, it would be convenient for them to be honest to the people that pay their salaries.
– For a FIFA 15 Web App that works all year and not just two months.
Anyway, it's an endless list of problems, I've pointed just a few of them that annoys me. And besides all that, we can't complain about the network since it's Sony's and Microsoft's problem, or even sometimes it's your connection, but who's never gotten disconnected at least once for no apparent reason and still got a DNF loss even though they were winning? This shouldn't happen, this is tragic… What about you? What problems annoy you the most in this version? What would you like to see fixed for FIFA 15? Is there anything else?
We'll be holding on for more FIFA 15 news, but that's all for today, good gaming for everyone and that's it!
See you later!