The speculation is over. Brazilian League will not be included into FIFA 16 but 16 Brazilian teams will.
Sixteen Brazilian Teams Included into FIFA 16
Every year we ask our fans which new league they want to see in the new FIFA. And every year the answer is the same: we want Brazilian League back. They should be happy, not because the league will be included into FIFA 16, but because they will have the chance to play with 16 Brazilian teams.
EA Sports announced today that 16 Brazilian teams will be available in FIFA 16. At launch, the 16 Brazilian teams will appear with authentic crests and kits. Updated player names and visuals will need an online* update when and if available.
"We have worked to create the best possible experience for FIFA fans in Brazil and around the world to include Brazilian teams," said Jonathan Harris, Brazil Manager, EA. "We know FIFA fans love playing with Brazilian players and teams across the game, so adding 16 clubs is positive news for all fans."
All Brazilian teams in FIFA 16 are available in the Rest of the World team menu and will be playable in most game modes:
Career Mode
Players on Brazilian clubs will be available in the transfer database for when fans want to acquire them for their campaign.
FIFA Ultimate Team
Players on Brazilian Clubs will become available after fans accept and download the update that should be available in late September or first days of October. Brazilian players will make part of ROTW section but they will have good links only with the players of Brazilian league and not with other ROTW players as it is usual to be.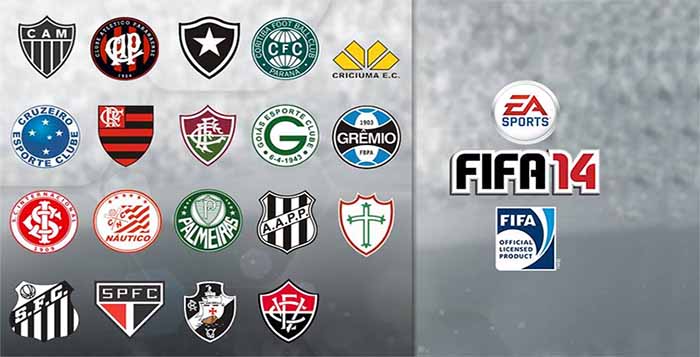 Brazilian teams are back to FIFA
The Brazilian teams with authentic crests and club name are:
Atlético-MG
Atlético-PR
Avaí
Coritiba
Chapecoense
Cruzeiro
Figueirense
Fluminense
Grêmio
Internacional
Joinville
Ponte Preta
Palmeiras
Santos
São Paulo
Vasco da Gama
The Brazilian league will not be fully licensed in FIFA 16 because Flamengo and Corinthians have signed up to appear exclusively in PES 2016 and will be completely absent from FIFA 16. Sport and Goiás were not included in the new game too.
Ronaldinho is the player from Brazilian teams with highest rating. In average, the players from these 16 teams have a rating overall of 74.