To pick the best chemistry style is not an easy task. If you need help to choose the right style for one of your players in FIFA 18, keep reading.
How to Choose the Best Chemistry Style for FIFA 18
Where to look when choosing a chemistry style?

There are many things you should look at before picking a chemistry style. It is a difficult choice but is ultimately your decision. Pay attention to the following points:
✅ PRICE
This is probably the most overlooked factor when choosing the right chemistry style to apply to the players. Teams with low budgets should pay attention to this point because the prices of these cards may range between 150 coins and 5,000 coins. You never should quit buying the player you want just to be able to apply the chemistry styles to your players. Look at these cards as an adjustment. It is also important to note that a more expensive chemistry style doesn't mean that it is a better style. Hunter, and Shadow are the most expensive cards. However, the Basic style, the cheapest one, is many times the best choice.
✅ POSITION
The position is an important factor when choosing a chemistry style. While not mandatory, most of the time defensive styles are applied to defenders (Sentinel, Guardian, Gladiator, Backbone and Anchor), attacking styles are applied to forwards (Sniper, Deadeye, Hawk, Marksman and Finisher) and the other styles to the midfielders (Artist, Architect, Powerhouse, Maestro e Engine). The five goalkeepers styles may only be applied to these players. Generally speaking, it is a good practice to apply chemistry styles according to the player's position, if it is in line with the other factors.
✅ FORMATION
The formation has an important role when choosing a chemistry style. Players which play in the same position but in different formations may have different needs. Let's take the example of the centre backs. If they play in a 4xx formation, they should be fast. However, to the central CB of a 5xx formation, the defending and the heading stats are much more important. When choosing a chemistry style, you should carefully analyse the roles of each player in the team.
✅ PLAY STYLE
There are no two people alike. So, no one plays FIFA in the same way. There are better players and worse players. There are players that like to use the wings to attack and there are players that like to do it by the middle. There are players that prefer to play in counter attacks and there are players that prefer to keep the ball. Not all of these preferences are reflected in the formations we choose. Ie, two people with the same formations and the same players can make use of them in a different manner. When choosing an FUT 18 chemistry style, you should carefully analyse the roles of each player according to your play style.
✅ SQUAD
Another factor that should not be overlooked is the environment surrounding the player who we want to apply a style. That is, the teammates and the needs of the squad. If for example, you are playing in a formation with three CMs and two of them have high defensive attributes, it will be reasonable not to improve this attribute in the third CM and give preference to others that can be assumed as added value for the team.
✅ PLAYER'S ATTRIBUES
There are no two players alike. So, it is impossible to apply a chemistry style without knowing the players' attributes and work rates. One of the most common questions has to do with the approach that should be done: it is better to boost the lower stats in order to get a more balanced player or it is better to boost the higher stats to make the player even better than their opponents? The answer is not easy. In a general way, players tend to follow the second option because most of the times the higher attributes are also the most important ones according to the player's position. For example: Messi has a low defending stat because he doesn't need it to play well in his position. It is natural that players try to improve his attacking attributes. But sometimes it may be different. When a player plays in a position and in a formation in which the importance of the various attributes is not so uneven, it may be better to try to balance the player. Let's look at the example of Harry Kane. He is a great striker but there are many people that don't like to play with him because his pace is poor. In these cases, it makes all the sense to apply a style to improve his pace instead of his shooting and physical that already are incredibly good. To choose a chemistry style according to the players' attributes is something very personal. It depends on who is choosing.
FIFA 18 Chemistry Styles Suggestions
Most common FIFA 18 chemistry styles by position

We are pretty sure that, even after all the explanations, there are many people that still need help to choose the right chemistry style to their players. If it is your case, don't worry. We will help you.
We made our suggestions only according to the positioning, because price is not something very important to most of the players, because it is impossible to show the right style for every players and because the play style is something very personal. Don't forget that our suggestions are only suggestions. You can have a different opinion.
GK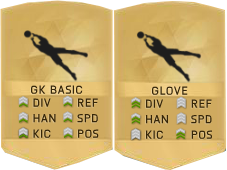 In our opinion, the importance of the goalkeeper's attributes follow this order: reflexes, diving, handling, positioning, speed and kicking. In that way, and since there is no chemistry style card that boosts both reflexes and diving, our choice goes to 'Glove'. It improves the diving, handling and positioning.
All the other cards boost at least speed or kicking, attributes of less importance to us. That's why we think that the 'Basic' card could be a good choice many times.
CB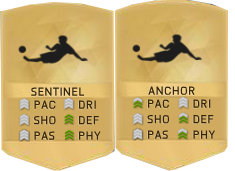 Everyone should know that defending and heading are crucial to every CB. Some times, pace is also very important. That's why we think that 'Sentinel' and 'Anchor' are two best cards to apply in a CB.
The first one should be used on the central CBs playing in 5xx formations or in defenders with high defensive work rate and low attacking work rate. The second one should be applied to the other players.
RB, LB, RWB, LWB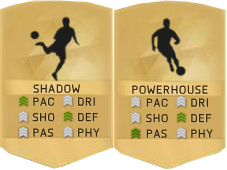 The fullbacks are defenders that can attack by the wings. They should have good defending, pace and passing stats in order to be able to do it well.
The style 'Shadow' is the most recommended card to these players. However, if you are a crossing abuser, you may prefer applying the 'PowerHouse' style. It is perfect if you play with high heading stats players.
CDM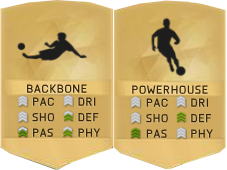 It is not easy to choose which chemistry style to apply to a defensive midfielder because it depends on his role on the team and which formation you are using.
One of the most common problems of the CDMs are their pace. Most of them are too slow. In that cases, the card 'Shadow' may be very useful. However, we still believe that 'Backbone' and 'Powerhouse' are the best cards to the players playing in this position.
CM, CAM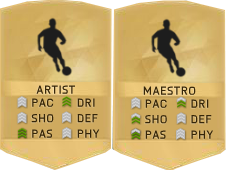 Also to this position, the choice of the style depends on many factors which mean that it isn't easy to choose.
To most of the players, 'Artist' and 'Maestro' styles would be perfect. Passing and dribbling are the stats with the higher bonus on this chemistry styles. If you love long shots, 'Deadeye' is a good card.
ALAS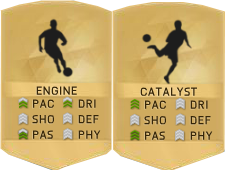 The 'Engine' style is our favourite to apply in a winger, independently to play in the right side or in the left side. The mix of speed, dribbling and passing are perfect for the demands of players who play in this position, allowing them to be effective in crossing style and cutting to the area.
However, depending on other factors, they could be better with the 'Catalyst'.
CF, ST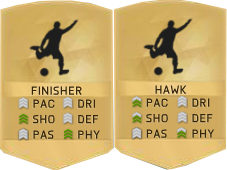 Depending of your play style, there are five FIFA 18 chemistry styles that can be applied to a forward:
– 'Finisher' to who plays as a reference in the opposite box;
– 'Hawk' to who also wants mobility;
– 'Hunter' to who plays in counter and doesn't like to cross to the box;
– 'Marksman' to the skiller;
– and 'Sniper' to who apply in very fast forwards and in a play style without many crossings.
Remember that our suggestions were based only in the players' positions. When choosing a FUT 18 chemistry style, you should look to the formation, attributes and style's prices.
Don't expect any miracles with chemistry styles cards. In the best of chances they only boost two of the basic attributes by three points. You should build your squad, test it and use these cards as fine tuning. On players with low individual chemistry, it makes no sense to use chemistry style cards.