There is a special FIFA 13 version designed for FUT 13 players: the Ultimate Edition. With it you receive an extra weekly income.
What is the FIFA 13 Ultimate Edition ? ?
There are more and more players playing FUT. So much so that EA Sports has released a special edition designed to these players: the Ultimate Edition. Besides the cover and the higher price, the only difference to the main FIFA 13 version is the offer of a gold pack in each of the 24 weeks after the registration of your club.
How to receive coins thanks to FIFA 13 Ultimate Edition ?
The Ultimate Edition doesn't offer you coins. This special edition gives you packs. You can sell the cards on the market and convert it into coins. As you get one pack every week, then you can turn those packs in an extra weekly income. Obviously, this applies if you have the version dedicated to FIFA 13 Ultimate Team players.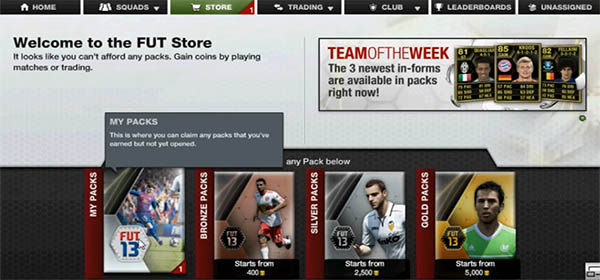 As you can see from the image above, the "1" which appears on "Store" indicates that you have one unopened pack.
The packs offered by Ultimate Edition are placed in "My Packs" until you open them.
The 3 Step Method
Here are the steps to follow in order to earn coins thanks to Ultimate Edition:
The first step is to buy the Ultimate Edition of FIFA 13. You will pay a little more but if you usually buy packs, then the money will be well spent because the price per pack will be much lower than normal.
Step 2 – Receive the Packs
Once you get into FIFA 13 Ultimate Team for the first time, you will be gifted with a pack. You do not have to do anything except to get into the store to open it. You will receive the remaining 23 gold packs the same way during the 23 weeks, always on the same day of the week.
Every time you receive a pack, open it and put the cards on sale on the market. When the auctions finished, you will receive some coins or even lots of coins. Depends on the luck you had with the cards you got in the pack.
Optimize the Method of earning Coins thanks to Ultimate Edition
There isn't a lot to improve in this method in order to make more profit because it depends on the cards you get.
There is only one special care that you should have. As you know, if you have the Ultimate Edition, you will receive one pack every week. However, if you do not get into FIFA 13 Ultimate Team for one week, the pack of that week will expire and you will never receive it. And getting less packs means receiving fewer coins…
How many coins can I earn thanks to FIFA 13 Ultimate Edition ?
It's impossible to answer to this question. You can either get a Messi or a Ronaldo in the first pack as you can never receive any player with more than 75 rating. The number of coins that you can win with this method is therefore extremely uncertain.
Still, it is possible to calculate the minimum coins that the FIFA 13 Ultimate Edition will offer you. Each Gold Pack has 12 cards. The large majority are of the gold level and one are rare. This means that the sale of these cards will never give you less than 1,000 coins. At the end of the 24 weeks, 24k coins are guaranteed. It is obvious that this amount is very low but we are talking about the minimum. In a very general way, we can say that in most cases each pack could be worth about 1800-2000 coins.
Advantages and Disadvantages of this Method
This method of earning FIFA 13 Ultimate Team coins thanks to Ultimate Edition has two major advantages. Firstly, the income is guaranteed. Since you go into FIFA 13 Ultimate Team every weeks, you will receive the packs that you will transform into coins. Secondly, it is easy and simple. You almost do not have to do anything because the packs are credited to your account automatically. You just have to sell them.
The major problem with this method is that it costs real money. As in the method of buying packs, you are investing your money hoping to get lucky in packs. In most cases you will be disappointed with the coins you earn with this method. Still, buying the Ultimate Edition is an alternative apparently advantageous compared to buying packs because the unit pack price is lower. Receiving one pack every week and not when you want can be a negative point. Furthermore, this method can not be repeated.

Guaranteed income.
Easy and Simple.
Costs real money.
Income generally small.



Should I use this Method ?
In general, no. Buying the Ultimate Edition is like buying packs with fixed date. Unless you consider yourself very lucky, the more likely is to come to the end of the 24 weeks with just a few thousand coins in your pocket. If you want to earn coins seriously choose another method.
This method is recommended for those who do not mind spending a bit more money. If you usually buy packs, the Ultimate Edition could be the right choice.