For all those players who plan to build the best FIFA 18 World Cup squad possible, we've conducted an analysis on the best players. In this page, we will show you who are the best CONCACAF Confederation players for each position.
The Best FIFA 18 World Cup Squad
Introduction to the FIFA 18 World Cup update

The FIFA 18 World Cup is a new separate game mode within FUT that gives you the chance to build your dream international squad in the FIFA Ultimate Team World Cup experience.
We believe that most of the players will feel lost when they start building their teams. First, because they will not be able to buy the players they want on the transfer market. It doesn't exist. Secondly, because the card weight will be more favourable to pack players from less popular nations.
Besides that, the chemistry doesn't work exactly the same way as it does in the regular FUT. Basically, the club is replaced by the nationality and the league it's replaced by the confederation. In other words, players from the same country get a perfect link, while players from the same federation but different nation get a weak link. Since it is extremely hard to build a squad with all players from a single nation, even more if we are trying to build a squad based in a strong and popular nation, the best option is to base our squad in a single confederation. Our suggestion is exactly that: focus in a single confederation, open the player's packs of that federation and follow the recommendations we make on this page.
This guide will help you to know what is the best CONCACAF confederation squad for FIFA 18 World Cup. As you probably know, the players in World Cup will have refreshed ratings and stats on this game mode. Their items are built to match real-world performance and will be updated based on the performances of players who stood out on matchday, with upgraded stats, ensuring a fresh and relevant experience for the entire tournament. Keep in mind, that our choices are based only on the starting World Cup ratings, and not on eventual upgrades.
The Best CONCACAF Confederation Squad
The best players from the Confederation of North, Central American and Caribbean Association Football

The team that we will suggest, should serve merely as orientation because it's impossible to build a team that fits everyone. They depend on various factors we don't know such as budget to buy packs, formation, style of play and player preferences. It is also important to take into consideration the players you think have more chances to be upgraded.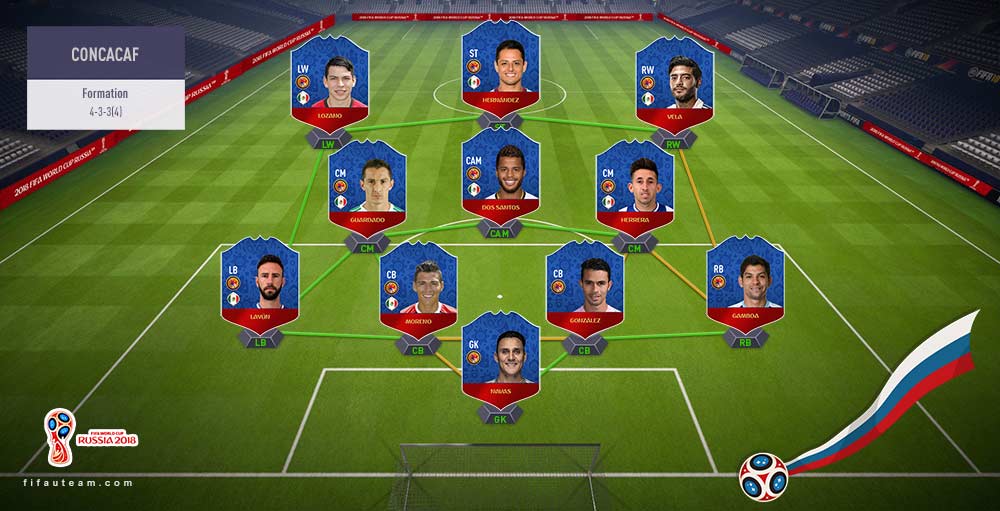 Click on the image to maximize it
FIRST SQUAD
86 ?? GK: Keylor Navas
73 ?? RB: Cristian Gamboa
76 ?? CBR: Giancarlo González
80 ?? CBL: Héctor Moreno
78 ?? LB: Miguel Layún
80 ?? CM: Héctor Herrera
81 ?? CM: Andrés Guardado
81 ?? RW: Carlos Vela
81 ?? LW: Hirving Lozano
81 ?? CAM: Giovani dos Santos
81 ?? ST: Javier Hernández
SUBSTITUTES AND RESERVES
79 ?? GK: Guillermo Ochoa
76 ?? RB: Paul Aguilar
77 ?? CB: Diego Reyes
77 ?? CB: Carlos Salcedo
71 ?? LB: Ronald Matarrita
80 ?? CM: Jonathan dos Santos
78 ?? CM: Celso Borges
81 ?? RW: Jesús Corona
76 ?? LW: Javier Aquino
78 ?? CAM: Rodolfo Pizarro
79 ?? ST: Raúl Jiménez
Nation by Nation
All the players from the CONCACAF confederation

?? MEXICO
Manager Juan Carlos Osorio leads a Mexican side that has never advanced past the round of 16 at a World Cup hosted outside Mexico. Will this year be different? Mexico placed first in CONCACAF qualifying after a strong campaign, giving them the momentum and belief that they can do just about anything. Carlos Vela, Andrés Guardado, and Hirving Lozano highlight a talented Mexico squad hoping to make history in Russia.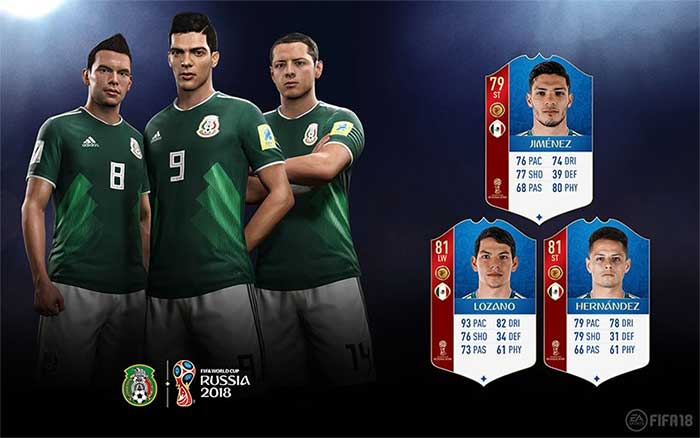 | Name | POS | RAT | PAC | SHO | PAS | DRI | DEF | PHY | SKI | WF | WR |
| --- | --- | --- | --- | --- | --- | --- | --- | --- | --- | --- | --- |
|    Carlos Vela | RW | 81 | 79 | 79 | 77 | 82 | 25 | 66 | 3 | 2 | H \ L |
|    Andrés Guardado | CM | 81 | 76 | 65 | 81 | 82 | 66 | 67 | 2 | 2 | M \ M |
|    Hirving Lozano | LW | 81 | 93 | 76 | 73 | 82 | 34 | 61 | 3 | 4 | H \ M |
|    Javier Hernández | ST | 81 | 79 | 79 | 66 | 78 | 31 | 61 | 2 | 3 | M \ L |
|    Jesús Corona | LW | 81 | 84 | 72 | 74 | 87 | 40 | 51 | 3 | 5 | M \ M |
|    Héctor Moreno | CB | 80 | 66 | 50 | 65 | 63 | 81 | 75 | 1 | 2 | M \ M |
|    Héctor Herrera | CM | 80 | 74 | 70 | 72 | 74 | 74 | 79 | 2 | 4 | H \ H |
|    Jonathan dos Santos | CM | 80 | 66 | 68 | 82 | 80 | 59 | 66 | 2 | 4 | H \ H |
|    Giovani dos Santos | CAM | 79 | 86 | 76 | 73 | 81 | 29 | 53 | 3 | 4 | H \ L |
|    Guillermo Ochoa | GK | 79 | 79 | 69 | 72 | 87 | 47 | 78 | 0 | 3 | M \ M |
|    Raúl Jiménez | ST | 79 | 76 | 77 | 68 | 74 | 39 | 80 | 2 | 4 | H \ M |
|    Miguel Layún | LB | 78 | 78 | 72 | 75 | 76 | 74 | 70 | 2 | 5 | H \ H |
|    Marco Fabián | CM | 78 | 72 | 78 | 77 | 82 | 48 | 68 | 3 | 4 | H \ M |
|    Rodolfo Pizarro | CAM | 78 | 83 | 72 | 76 | 77 | 66 | 72 | 2 | 4 | H \ M |
|    Diego Reyes | CB | 77 | 65 | 45 | 62 | 70 | 78 | 68 | 1 | 3 | M \ H |
|    José de Jesús Corona | GK | 77 | 78 | 78 | 68 | 74 | 41 | 78 | 0 | 3 | M \ M |
|    Talavera | GK | 77 | 82 | 75 | 71 | 78 | 58 | 75 | 0 | 4 | M \ M |
|    Elías Hernández | RW | 77 | 75 | 73 | 76 | 80 | 50 | 58 | 3 | 3 | M \ L |
|    Carlos Salcedo | CB | 77 | 68 | 36 | 62 | 64 | 76 | 75 | 1 | 3 | M \ M |
|    Oribe Peralta | ST | 76 | 72 | 74 | 67 | 74 | 38 | 76 | 2 | 4 | H \ M |
|    Javier Aquino | LW | 76 | 90 | 66 | 72 | 80 | 34 | 54 | 3 | 4 | H \ M |
|    Paul Aguilar | RB | 76 | 83 | 66 | 69 | 70 | 72 | 74 | 1 | 3 | H \ H |
|    Néstor Araujo | CB | 76 | 70 | 40 | 53 | 58 | 76 | 78 | 1 | 3 | L \ M |
|    Erick Gutiérrez | CM | 76 | 77 | 71 | 74 | 74 | 67 | 66 | 1 | 2 | H \ M |
|    Hugo Ayala | CB | 76 | 67 | 55 | 61 | 60 | 77 | 73 | 1 | 2 | L \ H |
|    José Juan Vázquez | CDM | 76 | 75 | 54 | 68 | 69 | 73 | 72 | 2 | 3 | M \ H |
|    Orbelín Pineda | CM | 75 | 86 | 68 | 72 | 78 | 63 | 64 | 2 | 4 | H \ H |
|    Jesús Dueñas | CDM | 75 | 77 | 64 | 73 | 71 | 71 | 76 | 2 | 4 | H \ M |
|    Alejandro Palacios | GK | 74 | 77 | 73 | 68 | 77 | 55 | 72 | 0 | 3 | M \ M |
|    Jürgen Damm | RW | 74 | 94 | 64 | 67 | 76 | 42 | 68 | 2 | 3 | H \ M |
|    Rodolfo Cota | GK | 74 | 74 | 69 | 67 | 77 | 59 | 77 | 0 | 2 | M \ M |
|    Luis Fuentes | LB | 73 | 72 | 59 | 68 | 71 | 73 | 73 | 1 | 3 | H \ M |
|    Jair Pereira | CB | 73 | 55 | 38 | 52 | 54 | 75 | 78 | 1 | 3 | L \ H |
|    Jesús Molina | CDM | 73 | 69 | 58 | 65 | 67 | 73 | 80 | 1 | 4 | M \ H |
|    Luis Reyes | LB | 73 | 78 | 48 | 66 | 69 | 70 | 63 | 1 | 3 | H \ M |
|    Edson Álvarez | CB | 73 | 71 | 47 | 62 | 68 | 73 | 70 | 1 | 2 | M \ M |
|    Jesús Gallardo | LW | 72 | 77 | 64 | 68 | 73 | 55 | 51 | 1 | 1 | M \ L |
|    Oswaldo Alanís | CB | 71 | 50 | 47 | 64 | 60 | 74 | 65 | 1 | 3 | L \ H |
|    Moisés Muñoz | GK | 70 | 71 | 68 | 66 | 68 | 32 | 72 | 0 | 3 | M \ M |
|    Luis Montes | CM | 69 | 68 | 69 | 72 | 70 | 50 | 66 | 2 | 3 | H \ H |
?? COSTA RICA
| Name | POS | RAT | PAC | SHO | PAS | DRI | DEF | PHY | SKI | WF | WR |
| --- | --- | --- | --- | --- | --- | --- | --- | --- | --- | --- | --- |
|    Keylor Navas | GK | 86 | 90 | 78 | 72 | 88 | 54 | 81 | 0 | 3 | M \ M |
|    Celso Borges | CDM | 78 | 61 | 77 | 73 | 71 | 76 | 74 | 2 | 4 | H \ M |
|    Giancarlo González | CB | 76 | 69 | 45 | 49 | 60 | 77 | 76 | 1 | 3 | M \ M |
|    Bryan Ruíz | RM | 76 | 65 | 71 | 77 | 82 | 44 | 56 | 3 | 2 | M \ M |
|    Joel Campbell | RM | 76 | 85 | 73 | 73 | 78 | 42 | 71 | 3 | 2 | H \ M |
|    Óscar Duarte | CB | 75 | 65 | 31 | 51 | 54 | 76 | 71 | 1 | 3 | M \ M |
|    Kendall Waston | CB | 74 | 55 | 30 | 44 | 45 | 70 | 86 | 1 | 2 | M \ H |
|    Cristian Gamboa | RWB | 73 | 85 | 47 | 64 | 70 | 66 | 72 | 1 | 2 | H \ M |
|    Bryan Oviedo | LWB | 72 | 75 | 60 | 67 | 73 | 69 | 68 | 2 | 3 | H \ M |
|    Francisco Calvo | CB | 71 | 68 | 39 | 57 | 63 | 71 | 73 | 1 | 3 | H \ M |
|    Randall Azofeifa | CM | 71 | 53 | 69 | 75 | 70 | 57 | 66 | 2 | 3 | L \ M |
|    Ronald Matarrita | LWB | 71 | 85 | 47 | 65 | 70 | 67 | 69 | 1 | 2 | M \ H |
|    David Guzman | CM | 71 | 65 | 59 | 72 | 68 | 66 | 73 | 1 | 3 | M \ H |
|    Christian Bolaños | LM | 71 | 69 | 66 | 70 | 73 | 34 | 61 | 3 | 4 | H \ M |
|    Jhonny Acosta | CB | 70 | 61 | 29 | 41 | 43 | 71 | 66 | 1 | 2 | M \ M |
|    Marco Ureña | ST | 69 | 83 | 66 | 58 | 71 | 40 | 70 | 1 | 3 | H \ H |
|    Rodney Wallace | LM | 68 | 77 | 62 | 63 | 66 | 57 | 71 | 2 | 2 | H \ M |
|    Johan Venegas | CAM | 68 | 72 | 68 | 64 | 68 | 38 | 69 | 2 | 3 | M \ M |
|    Yeltsin Tejeda | CM | 68 | 66 | 55 | 64 | 68 | 66 | 75 | 1 | 3 | M \ M |
|    Michael Umaña | CB | 67 | 59 | 44 | 46 | 45 | 67 | 70 | 1 | 3 | M \ M |
|    Patrick Pemberton | GK | 66 | 69 | 64 | 64 | 68 | 49 | 67 | 0 | 2 | M \ M |
|    Ulises Segura | CM | 66 | 69 | 64 | 63 | 68 | 55 | 64 | 2 | 3 | H \ M |
|    Esteban Alvarado | GK | 66 | 69 | 60 | 65 | 70 | 51 | 63 | 0 | 3 | M \ M |
|    Júnior Díaz | LWB | 65 | 64 | 49 | 63 | 61 | 65 | 66 | 1 | 2 | M \ M |
|    José Guillermo Ortiz | ST | 64 | 76 | 65 | 57 | 61 | 25 | 62 | 3 | 4 | H \ L |
|    David Ramirez | ST | 63 | 78 | 61 | 51 | 65 | 23 | 62 | 1 | 3 | M \ M |
|    Daniel Colindres | ST | 63 | 61 | 61 | 44 | 60 | 20 | 57 | 1 | 4 | M \ M |
|    Kenner Gutiérrez | CB | 63 | 60 | 25 | 34 | 37 | 62 | 62 | 1 | 3 | M \ M |
|    Yendrick Ruíz | ST | 62 | 62 | 61 | 46 | 61 | 18 | 48 | 2 | 2 | M \ L |
|    Dany Carvajal | GK | 62 | 63 | 61 | 62 | 60 | 17 | 62 | 0 | 3 | M \ M |
|    Allan Miranda | RWB | 61 | 64 | 26 | 43 | 55 | 63 | 56 | 1 | 3 | M \ M |
|    Pablo Salazar | CB | 61 | 48 | 20 | 37 | 31 | 60 | 70 | 1 | 3 | L \ M |
|    Jhamir Ordain | RWB | 60 | 69 | 25 | 38 | 59 | 57 | 54 | 1 | 3 | M \ M |
?? PANAMA
| Name | POS | RAT | PAC | SHO | PAS | DRI | DEF | PHY | SKI | WF | WR |
| --- | --- | --- | --- | --- | --- | --- | --- | --- | --- | --- | --- |
|    Román Torres | CB | 73 | 50 | 53 | 48 | 45 | 71 | 79 | 1 | 3 | M \ M |
|    Aníbal Godoy | CDM | 73 | 52 | 56 | 65 | 69 | 64 | 76 | 1 | 3 | M \ H |
|    Adolfo Machado | CB | 72 | 63 | 33 | 56 | 59 | 71 | 75 | 1 | 2 | L \ H |
|    Gabriel Gómez | CDM | 72 | 65 | 59 | 71 | 68 | 66 | 77 | 2 | 3 | M \ M |
|    Quintero | RM | 70 | 83 | 61 | 64 | 72 | 22 | 53 | 2 | 3 | H \ L |
|    Baloy | CB | 69 | 38 | 42 | 50 | 49 | 67 | 74 | 1 | 2 | M \ M |
|    Gabriel Torres | ST | 69 | 78 | 66 | 60 | 70 | 30 | 65 | 2 | 3 | H \ L |
|    Pérez | ST | 68 | 64 | 67 | 59 | 63 | 28 | 75 | 2 | 4 | M \ M |
|    Michael Murillo | RB | 68 | 80 | 46 | 59 | 64 | 65 | 75 | 1 | 2 | M \ H |
|    Armando Cooper | CDM | 68 | 78 | 56 | 67 | 73 | 62 | 67 | 3 | 3 | H \ H |
|    Jaime Penedo | GK | 68 | 68 | 62 | 55 | 75 | 56 | 65 | 0 | 3 | M \ M |
|    Édgar Bárcenas | LM | 68 | 82 | 59 | 63 | 70 | 26 | 51 | 2 | 3 | M \ M |
|    Luis Tejada | ST | 67 | 67 | 66 | 55 | 60 | 30 | 69 | 2 | 3 | L \ L |
|    Valentín Pimentel | RM | 67 | 75 | 61 | 64 | 66 | 20 | 61 | 2 | 3 | M \ M |
|    Ricardo Buitrago | CAM | 67 | 68 | 60 | 66 | 70 | 38 | 62 | 2 | 3 | M \ L |
|    Jan Carlos Vargas | CB | 67 | 60 | 24 | 41 | 40 | 64 | 76 | 1 | 2 | L \ M |
|    Harold Cummings | CB | 66 | 57 | 29 | 49 | 52 | 64 | 72 | 1 | 2 | M \ M |
|    Fidel Escobar | CB | 66 | 77 | 37 | 38 | 42 | 65 | 76 | 1 | 2 | L \ H |
|    Ismael Díaz | LM | 66 | 81 | 66 | 53 | 70 | 25 | 73 | 2 | 3 | H \ M |
|    Abdiel Arroyo | ST | 66 | 70 | 62 | 39 | 56 | 25 | 66 | 2 | 3 | H \ L |
|    Roberto Chen | CB | 66 | 55 | 35 | 43 | 52 | 65 | 69 | 1 | 3 | M \ M |
|    Luis Carlos Ovalle | LB | 65 | 74 | 41 | 51 | 60 | 62 | 61 | 2 | 3 | M \ M |
|    José González | CAM | 64 | 73 | 56 | 54 | 69 | 34 | 46 | 2 | 3 | M \ M |
|    Roberto Nurse | ST | 64 | 50 | 64 | 58 | 57 | 33 | 70 | 2 | 4 | M \ M |
|    Luis Henríquez | LB | 64 | 69 | 56 | 62 | 63 | 63 | 70 | 1 | 2 | H \ M |
|    Roderick Miller | CB | 64 | 50 | 38 | 43 | 43 | 64 | 72 | 1 | 3 | L \ H |
|    Tony Taylor | RM | 63 | 73 | 60 | 55 | 64 | 23 | 61 | 1 | 3 | M \ L |
|    Rolando Blackburn | ST | 63 | 67 | 61 | 46 | 60 | 22 | 58 | 2 | 2 | M \ M |
|    Josiel Núñez | CAM | 63 | 69 | 62 | 58 | 64 | 37 | 63 | 3 | 3 | M \ M |
|    Eric Davis | LB | 63 | 73 | 34 | 51 | 58 | 59 | 64 | 2 | 2 | M \ M |
|    Manuel Vargas | CDM | 62 | 72 | 35 | 58 | 59 | 58 | 68 | 1 | 2 | L \ M |
|    Alex Rodríguez | GK | 62 | 64 | 65 | 62 | 63 | 45 | 58 | 0 | 2 | M \ M |
|    José de Jesús Calderón | GK | 62 | 64 | 62 | 59 | 64 | 42 | 59 | 0 | 2 | M \ M |
|    Jean Carlos Cedeño | CDM | 61 | 56 | 38 | 56 | 54 | 56 | 70 | 1 | 2 | L \ M |