IMPORTANT
Doc FUT Diary is a new addition to our website. It reflects the personal experience
of Patrik "Hody" Hodapp, a very well successful FIFA Ultimate Team gamer.
Doc FUT Diary – (Trans)Formations
Less than a month has passed and I have had it all. First I played the Demo numerous times, next step six hours of EA Access.
I gladly managed to get another EA Access subscriber to gift me the transfer list upgrades. I could start to make money. But only until I had to notice that the web app had other plans.
My trading strategy did not include most of the tips I have given in the last episode of Doc Fut Diary. Like Adenauer once said "what do I care about my silly talk from yesterday?" I tried to sell my players on quickly, did not stock up on consumables, invest in the first TOTW players, or stocked up on any particular player.
What I did stick to, was not to waste my Fifa Coins on packs.
Instead I organized pre-order codes for 15 FUT Sets for all of my five accounts. Because I did not have to buy the actual game, I decided to spend the money saved in Fifa Points. The best I got out my 60 Euros was Yaya Touré, who got a pink slip after seven matches and went to sell on for 200k – the left leg of Ibra!
I also stick to my Bronze packs trading method and I turned out to be very effective this year! Last year I could double the 400 coins for the standard pack each time in earnings. This year, due to the fact that health cards are in demand more than ever, I sometimes make 2000 Coins on a pack. Every now and then I get Bronze payers of major clubs like Chelsea, Arsenal or Bayern München in pack and can sell them on for 300 to 3000 coins like Gianluca Gaudino or Héctor Bellerin from Arsenal. One time I even pulled the Cristiano Ronaldo of Bronze Players – in regards of his price – Marvell Wynne and made 42k  – half my Diego Costa.
So I did not even have to go near Kits trading, which I hold as plan B. There are lots of kits in the Mexican league, that will sell for many coins. Also the 2nd Spanish league and the Russian League offer great fashion potential this year – two words Arsenal Tula.

In regards of player prices in general, it seems that the new EA banning policy actually did seem to have an effect on the FUT market. Maybe it is only my impression, but it seems player prices are lower than last year. The first high rated player I got was Carlos Tevez which costs me 30k, next Balotelli for 80k and thanks to two of my friends that got FUT 14 coins at a 10:1 rate in exchange for FUT 15 coins I could afford mighty Zlatan in less than a month after the FIFA 15 release for "only" 800k. I have also moved amounts up to 100k between my accounts without any banning problems.
My first impression of the game mechanics were that skill would be superior to strength in this year's instalment. So I went for player with high dribbling and ball control, won all the matches against my friends, until everybody figured out that strength and pace are the government factors again.
In the BPL I first went with Vargas, which was in my starter pack and Zarate as striker a Taarabt as CAM. Quickly I noticed that only speed and dribbling would not lead to success again bulky defenders so I switched to Lukaku and Costa with Jovetic in the CAM Spot. Strong defenders are only to be countered with strong attackers.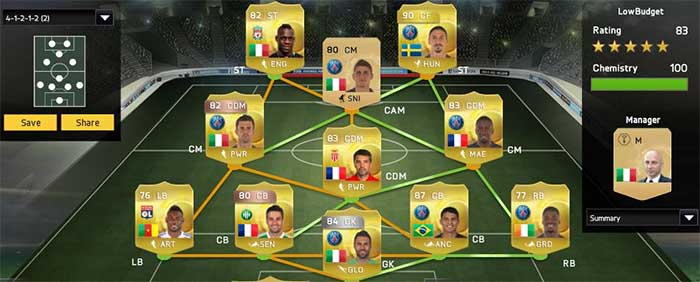 In the BBVA I started with El Arabi and Dos Santos, which seemed not to work for me, for similar reasons then their BPL friends. Xavier Hernandez was a big disappointment too, while Carlos Bacca, Rodrigo and Cerci as CAM seem to save my day.
In my fellow German Bundesliga I trusted Raffael and Kalou, but switched to Ramos and Olic. While I of course try to use as many SC Freiburg players like Mehmedi, Darida, Riether and Schmid as well. The Sportclub lads where also part of a hybrid team with Yassine Chikhaoui – who is a real beast this year! I later replaced them with Depay a 5 another five star skiller and Quaresma  alongside with Leroy Fer and Chermiti to give everybody full chemistry.
Other very beastly players are Doumbia, Musa and Emenike this year, around which I built my Russian/Turkish League Hybrid Team. Doumbia and Musa (CAM) have lots of goals while the designated goal scorer Emenike has only tons of assists at this point in time but refuses to score himself.
But most of all I play with Serie A teams. I own enough Serie A players to make four or five teams. In fact I have built four different squads. My best scorers are Palacio, Higuaín, Rossi and Ibarbo only topped by Balotelli that was homesick for an all Italian squad. Like last year Tevez did not do much for me, due to his High/High work rates.

My most favourite squad is a remake from last year and features Zlatan and Super-Mario at attack with Marco Verrati to connect the two master minds up front. In the first formation I was using Giaccherini and Santon to boost Balotelli's chemistry but figured out that wingers don't bring much to much game this year.
In general I stick to some simple rules for all my squads:
Defenders should have low/high or medium/high work rates – medium/medium or high/high can work (But I never buy high/low or high/medium players like David Luiz) Pace should be about 65 and I like my defenders tall. Depending on your defence settings, pace is not that important, I had good results which Vidic or Alex which are both not sprinters – but I still wouldn't go near Mertesacker.
The CDM should also have low/high or medium/high and very high interception rating. My favs are De Rossi, Toulalon, Khedira or Luis Gustavo.
The CAM should have very good passing, shooting is a bonus, work rate should be high/medium, m/l, m/m or h/h can work. I tend to use strikers a lot in this position.
If I play with two strikers, they will have different roles, one is the creator and one is my target man. The creator should have m/m or h/h work rates, while the target man should have h/l, m/l or h/m work rates. Preferably one should be technical and the other one very strong.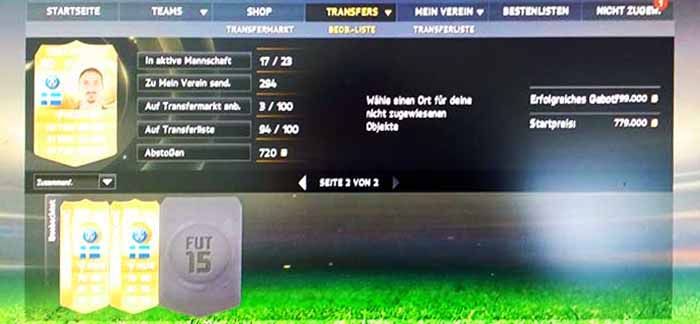 My main struggle at this moment in time is to figure out the right formation. I was used to 4-1-2-1-2 but find that the two wingers are a complete waste, as crossing too seldom leads to a goal and the wings don't help much in defence, as the majority of people now play through the middle.
I have tried 5-2-1-2 and 5-2-2-1 which both helped in defence but make it much harder to score goals, if I got the lead everything was good, but when I conceded early all plans were screwed.
My next try was 4-3-3(4) as I did lose against most opponents with this tactic. But my results don't seem to improve too much – at least I am in division 5 now. I tried out 4-2-2-2 which seems to be the favourite of many youtubers but I am missing triangles for passing. Especially in the front of the box, there's CAM to feed my strikers.
4-3-2-1 does work with some teams that have very good wingers like Ligue 1 with Lavezzi and Lucas or Seria A with El Shaarawy and Candreva, my next experiments are dedicated to formats that have triangle in attack like  4-1-2-1-2 (2), 4-3-1-2 and 4-3-2-1. Maybe Rodrigo's new FUT 15 formation guide will enlight me and you.
The formation has to suit the tactic or vice versa. I use two custom tactics. One is more a fast passing counter attack style of tactic, the second is a short passing, Tiki Taka like tactic. Sadly custom tactics can not be saved any more, so that I have to enter my settings before each game.
I also figured out, that if I leave the game at the team management screen before the FUT squad of the other opponent is shown, it will not count as a loss. I have made use of this a few times if I don't like the opponents' formation as it's displayed in that menu or if the opponent uses a stadium which loads of shadows like San Siro or Veltins or a bad camera angle.
Other than last year, I did not play offline at all; I only did two or three matches to get my free gold pack for the manager tasks.
Overall I am pretty satisfied with FIFA 15 as my quote is way better than in 14  and have advanced to online division 5. I think I would be even higher if I would not mostly play against my friends whenever they are on. I used to win almost every game against them, but now as they have picked up the game mechanics I seem to struggle a lot again and are not able to win 4 or 5 games online in a row to secure a cup. I need to get more consistent.
The Author: Patrik "Hody" Hodapp