Big changes are coming to FIFA for Android and iOS devices. Take a look to this EA Sports FIFA 16 Mobile Preview.
Introduction
EA Sports FIFA, a brand new mobile game in development, will deliver stunning, console quality, game play and Ultimate Team that's been designed for mobile. The game will be available from September 22 as a free download on the on the App StoreSM and Google Play™. Until there, you can see here what's new.
FIFA 16 Mobile Console-Quality Game Play
EA Sports FIFA takes advantage of the increased power of new mobile devices to deliver stunning console-quality game play. Fans will enjoy our most realistic mobile football game yet, with a wide variety of game play animations, a sophisticated A.I. on both ends of the pitch, new star heads, a full range of skill moves and for the first time ever on mobile – celebrations. To complement the new depth in game play, hybrid touch controls have been enhanced to give fans more options while keeping the game simple and easy to play.
FIFA 16 Mobile Ultimate Team
The evolution of Ultimate Team on mobile takes a leap forward with EA Sports FIFA. Everything from squad management to how fans get the players they want has been improved to deliver a better experience on mobile devices. Live events, such as tournaments and dynamic accomplishments, will keep the game fresh and exciting with new content added on a regular basis. Most importantly, there is no need to start over from scratch every year, the will game keep going year after year, with regular updates, while fans keep their players.
Player exchange is a new feature that gives fans more chances to get the players they really want. Instead of selling or discarding unwanted players, fans will be able to exchanging them for random, new, player items. The higher the quality of players offered to exchange, the better the chances of getting a high rated player in return.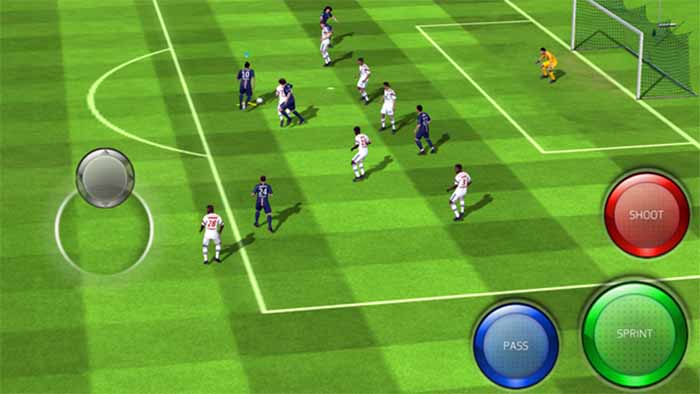 EA Sports FIFA 16 Mobile Preview Summary:
– There is no FIFA 16 or FIFA 17 Mobile. From now on, the name is 'EA Sports FIFA' and you don't have to install it year after year;
– You keep your players forever, like it happened before in the extinct FIFA World;
– Game play looks like FIFA on Playstation 3 and XBox 360;
– New moves make action more fluid;
– For the first time ever, celebrations were added to the game;
– Only Ultimate Team game mode;
– Instead of quick sell cards, you can now exchange them.
– FIFA 16 Mobile will be available from September 22.