As you know, EA Sports FIFA is the world's most popular football videogame simulator. However, it has not always been so. Find out what happened to make this franchise so successful.
How EA Sports FIFA Has Become the Most Popular Football Videogame
How FIFA Football nearly wasn't and then very suddenly was
In July 1993, modern football was adjusting to a new era. The first season of England's breakaway Premier League was underway, comprised of 22 clubs that had ditched the Football League for a share of a then-enormous TV deal.
Immediately, the influx of cash was felt, and footballers increasingly took on pin-up status. In that 1993 season, Alan Shearer had joined Blackburn Rovers for a British record £3.6 million, while the division's top scorer and Shearer's future international strike-partner, Teddy Sheringham, was signed by Tottenham for £2.1 million.
The inaugural campaign saw Manchester United crowned as English champions for the first time in 26 years, and their prodigious 19-year-old winger Ryan Giggs named as Young Player of the Year. The footballing landscape was all change – a period of history in the making.
With the £304 million splashed out by BSkyB and the BBC for five years of television rights, and highlights to the Premier League and the European Cup undergoing a similar rebranding that season (becoming the Champions League), football was to witness the introduction of a third new, major, game-changing franchise – the debut FIFA video game, entitled FIFA International Soccer, released in the aftermath of that seminal season.
It was Electronic Arts' (EA) first foray into the soccer video game market. Having established themselves in North America since 1988, with their first title – the American Football game John Madden Football – they wanted to break Europe. Research told them that it was the other football that would be their best bet.
The company had enjoyed success by securing official licenses to their American Football and Ice Hockey titles, so it was only natural that EA made a beeline for football's governing body, FIFA, negotiating a five-year deal. Though that sounds like a huge commitment, it was actually quite a tentative step. The agreement with EA Sports FIFA included small royalty payments due to limited licensing: the first release didn't include any team or player names, logos or stadiums, or graphical likenesses. With a relatively small budget of $50,000 to $100,000 and a tiny team of just ten developers working on it, FIFA International Soccer was a toe dipped into the water rather than a bomb from the high board for EA.
Assistant Producer Marc Aubanel recalled that it was a low-risk punt into an unknown market, an experiment with something – soccer – they weren't really sure about. He said: "It really was an American company that had just started to have some success with the sport titles. Before EA Sports it was called EASN, Electronic Arts Sports Network, until ESPN sued and then they changed it. At that point in time, Europe was not a big market – they didn't even think FIFA was worth a franchise; were people going to buy it again and again? There was probably a concern that we were building a soccer game in Canada. I'm sure that was a bit strange for a lot of people. We had NHL right next to us and that seemed a much more natural fit. No one in San Francisco knew what FIFA was in fact, they pronounced it 'Fifer' when they saw it, and they couldn't understand why we were applying for a license when FIFA didn't run any league, just the World Cup."
The First Steps
Known initially as EA Soccer, the introduction of the moniker 'International' indicated the key licensing agreement – the only playable teams in the game were nations. Fictional squad lists took the place of real players. Instead of Shearer, Producer Matt Webster was England's striker; colleagues Joey Della-Savia (Italy) and Aubanel (France) lined up for their virtual national teams too, while Lead Producer Bruce McMillan put his newborn son into the game by way of tribute.
Nick Channon, now Senior Producer on EA Sports FIFA, was beginning a career with EA at the time and remembers the release of the company's first football title with enthusiasm. He said: "I've been with EA for 27 years, working on the PGA games before we had the Tiger Woods license. I actually started in PR and took a journalist to Canada and, from that visit, that's how I ended up working on FIFA. EA Sports was very North American focused at the time, and here, all of a sudden, was a European game. That felt very different because it was all Madden and NHL at the time. You have to remember, it was an American company. In the last few years, football has become big in North America, and we've seen huge growth in our game, but back then, they didn't really know what it was. People would play football at a younger age, but it was never a big sport – the 1994 World Cup in the USA hadn't even happened at that time."
Though the game was coming out the season prior to a World Cup, EA were unable to make that a key element of their offering. The FIFA World Cup license belonged to a rival publisher, U.S. Gold, whose official game would be appearing on shelves in Spring 1994, in the build-up to America's hosting of the tournament.
Quite understandably, all these factors worried EA somewhat – the possibility of disastrous sales a very real one, with no clear USP to the game. In the midst of the confusion and alarm, it was briefly mooted that the game should be branded as Team USA Soccer in North America, to appeal to Americans' famous patriotism.
If more had been made of the World Cup rights issue earlier, it's a real possibility that EA could have pulled the plug on FIFA and changed the course of video game history. Sensibly, someone could have flagged it as an insurmountable obstacle, and the EA Sports FIFA series might never have happened.
Marc Aubanel, who now works as a University lecturer, reflected: "It was a constant battle to not have it cancelled. Some games were committed SKUs (Stock Keeping Units), which meant that those titles were going to make X amount of revenue that fiscal year; or uncommitted SKUs, which were games where the approach was like 'well, we're spending some money on it but we don't know if it's ever going to ship'. FIFA was the latter, the sort of project that was done in a side room that no one knew about – it wasn't such an investment that people were panicking about it. It probably got put on the chopping block to be killed multiple times. Luckily, we were able to hide and get the game out before someone pulled the plug."
Thanks to the doggedness of the team working on the game – liaising across time zones between Canada and the UK – EA stuck to their guns, predicting healthy sales of 300,000 throughout Europe.
But their research was wrong. FIFA International Soccer hit the shelves in December 1993, a little over six months ahead of the World Cup and – crucially – before U.S. Gold's rival title. Within the first four weeks of sales alone, it had shifted half a million copies, instantly establishing itself as the biggest selling video game of the year – despite its December release – and it continued to top the charts for six straight months. As Channon put it: "It became quite a big game really quickly – it felt like FIFA was a big deal, even without all the licenses."
Aubanel added: "We doubled our sales forecast in the first five weeks, despite it shipping really late, so it was hugely successful. That cemented FIFA. We realised fairly soon that this series was going to run for a long time. Getting it out early was key. Timing is really important; you never want to be number two. That was partly why FIFA became so popular and the official World Cup game didn't – when they came out, we were already out there and established."
U.S. Gold's World Cup USA '94 was to be an irrelevance by the time it came out and was the last time the publisher secured the official FIFA World Cup franchise. That's because FIFA International Soccer was a revelation, reimagining the football video game genre. It was the first to step away from the norm of 16-bit graphics, with an isometric view of the pitch, rather than the bird's eye view best used by Sensible Soccer, or top-down angle that had also become popular at the time. This unique approach was inspired by a beach volleyball game created by British indie developers Jules Burt and Jon Law.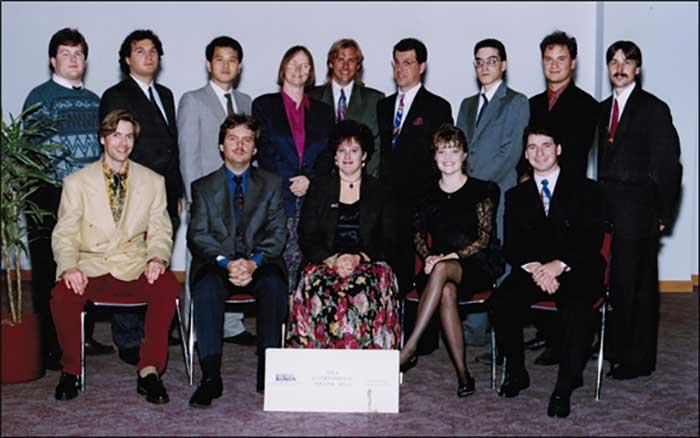 The original EA Sports FIFA team. Back row, left to right: Jon Bruce, John Santamaria, Jan Tian, Linda Stansfield, Bruce McMillan, Joey Della-Savia, Lee Patterson, Jeff van Dyck, Kevin Pickell. Front row, left to right: David Adams, Brian Plank, Dianna Davies, Suzan Germic, Mike Smith. Not pictured: Marc Aubanel and George Ashcroft.
FIFA International Soccer
FIFA International Soccer earned rave reviews upon its debut, with Edge magazine highlighting the relationship between crowd noises and on-pitch action as particularly impressive. GamePro lauded the graphics and animation, while Mega Machines Sega hailed it as the "greatest soccer game yet seen".
Rik Henderson was amongst those who reviewed the first release of the FIFA series, for Sky One's Games World TV and was an immediate convert. He said: "I was a massive FIFA fan right from the start – I've owned every single version of it through the years. The first one came out at a time when Sensible Soccer was king of the football games, because it was arcade-y and fast and in comparison, FIFA felt quite slow. But the thing that FIFA International Soccer had going for it was that it felt more like football, rather than just a game. Although it was nowhere near as sophisticated as it is now, even back then it felt more like football than anything else on the market."
Originally released for the Sega Mega Drive – the dominant console of the time – as International Soccer's success became clear, EA ported it to other devices, including PC, Amiga, the SNES, and Game Boy.
FIFA's success was part of a ground-breaking time in video games – a year earlier, in 1992, fighter game Mortal Kombat had generated worldwide outrage for its gratuitous violence; SEGA's historic Virtua Fighter debuted in arcades two months before FIFA's release; while 1994 was anointed as 'year of the cartridge' by Nintendo, as their Game Boy took gaming portable. The year's headlines were stolen by Sony in December, however, as they launched the iconic PlayStation, a year and a month after forming Sony Computer Entertainment.
In short, EA's timing in targeting the European market was impeccable. And who was the man they chose to lead the charge for the maiden title? Erm, David Platt. Then England's Mr Reliable, the playmaker had just completed a £5.2 million move from UEFA Cup winners Juventus to Italian rivals Sampdoria, and he was chosen as FIFA's first ever cover star, in a photo showing him taking on Polish midfielder Piotr Świerczewski. Another version, for the later release on the SNES, showed Platt's Dutch Sampdoria teammate, Ruud Gullit, being beaten to a cross by Irish keeper Packie Bonner. In turn, the Goldstar 3DO release showed the US team's poster-boy, Alexi Lalas, winning a header against Norway, while the game itself boasted an array of improvements, including a rotating camera effect and enhanced graphics.
Such was the impact of FIFA International Soccer, a sequel was inevitable and, upon its release, FIFA Soccer 95 was considered the established market leader, reflecting an incredible twelve months for EA Sports, as well as the team working on the game. As Marc Aubanel reminisces: "There was a massive shift in atmosphere after the first game's success. It was great to be vindicated – no one makes a game to die in obscurity – when we hadn't been getting a lot of positive responses from around us, and there was a lot of hesitance and negativity and doubts about even doing a sequel. The game just exploded, it seemed like we did every version under the sun. Some years we were doing like thirty or forty versions, if you think of all the different languages. It really allowed EA to enter into markets it may not have been able to with its other franchises. If you took out US sales, it was really the dominant game at the time, globally."
That second game, which went on sale in November 1994, for the Sega Mega Drive, saw the introduction of club sides from across eight different national leagues, including England's Premier League, Germany's Bundesliga, Italy's Serie A, Spain's La Liga, France's Ligue 1, and Holland's Eredivisie – although the squads still consisted of made-up players as the new licenses again didn't include real players. Penalty shootouts were the major gameplay addition, rather than the 'next goal wins' method used to decide drawn games in its predecessor.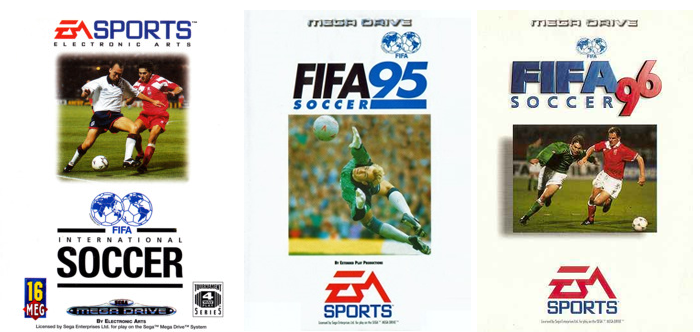 The first three covers of the FIFA series.
Licenses
EA's thirst for licenses is best exemplified by the experiences of Steven McKevitt, who was Head of PR at Gremlin Interactive during the Nineties, and worked on Actua Soccer, a would-be rival to EA Sports FIFA.
He said: "Actua Soccer was one of the launch titles for the PlayStation in 1995, and it was really advanced – the first 3D football game and the first to use motion capture. It also had a really advanced commentary engine. So, in about 90% of the reviews, it did better than FIFA, which still hadn't really cracked 3D at that point. In spite of that, we didn't sell as many as EA. Even then, FIFA was a juggernaut – but we knew EA had been stunned; they even tried to poach a few people on the team. While we were working on Actua Soccer 2, the opportunity to get the Premier League license came up. Both EA and ourselves went for it, along with Eidos, who made Championship Manager. With hindsight, I think there was a slight degree of complacency on our side. A few people thought that because we were a British company, that could cut some ice with the Premier League – 'well, EA are American, they call it soccer, it's developed in Canada, so what do they know?' – that sort of thing. We put a lot of effort into the pitch, though, and we had good support from people involved in the game – Trevor Brooking, the Match of the Day commentator Barry Davies, and quite a few of the Premier League clubs as well. Surprisingly, the FA didn't immediately award the license to anyone following the pitches. A few months of negotiations followed before they announced that they were giving it to EA. By the time Actua Soccer 2 came out, it was clear that EA were catching up and, the following year, when Actua Soccer 3 was released, they'd so completely eclipsed us that it was game over for Actua."
"The thing that most impressed me about EA was how much they learned from the competition. They weren't just resting on their laurels because they'd got the Premier League license; they really just wanted to have the best game. It's that combination of investment in the R&D side, a real understanding of what fans want and supporting that with licenses. That's made them unstoppable. We were delighted when the original Actua 'beat' FIFA, but that's where it ended. Rather than use that to take subsequent games to the next level, we squeezed three versions out of the same engine. Meanwhile, EA were committed to improving everything on all fronts. We were too dismissive to learn from EA, and that was the difference between the two companies – if you asked people at Gremlin what they thought of FIFA or even Pro Evo, quite a few would say 'rubbish'. EA didn't think we were rubbish, they learned from what we had done, and then tried doing it much better. You only had to look at EA Sports. At a time when games of questionable quality were released all the time, they never seemed to put out a bad game. EA had that attention to detail. 'If it's in the game, it's in the game' wasn't just a strapline, it was something they committed to. Working on PR for Actua Sports, I ended up feeling just completely under-gunned, like leading cavalry into battle against panzers. At Gremlin, we knew how to make games – but EA knew how to build franchises."
Gremlin weren't the only ones to feel like they were off the FIFA pace in the early nineties – it took EA Sports' hunger for official licensing to spark the English FA and Premier League into life on what would, later, be a hugely lucrative route. Back in 1993, 'image rights' wasn't a recognised phrase, let alone a standard contract clause – so EA Sports actually played a major part in formalising such detail in English football, when they were trying – unsuccessfully – to secure them.
Tom Stone, who worked on FIFA in the UK team, told in 2013: "My first job at EA was to get on a plane and fly to Switzerland to see FIFA. We met the head of ISL Marketing who were the representatives of FIFA, and we shook hands on a deal there and then over dinner. The deal lasted through until 1998; it was a five-year deal. I'm not going to reveal what the royalty payments were, but they were miniscule. In many ways, our asking for these rights helped football become organised. I went to the Football Association, the Premier League, the PFA and so on. I got to know these people quite well and they were like, 'Oh, right, who has the rights to player likenesses then? Who has the rights to the stadium? These guys are asking for those rights.' So, in a way, we actually helped the associations work all these things out."
Not that EA Sports were the experts on all things licensing – though they secured the rights to eight national leagues for FIFA Soccer 1995 in that deal, they didn't manage to negotiate rights for any of the players in those divisions. Oops!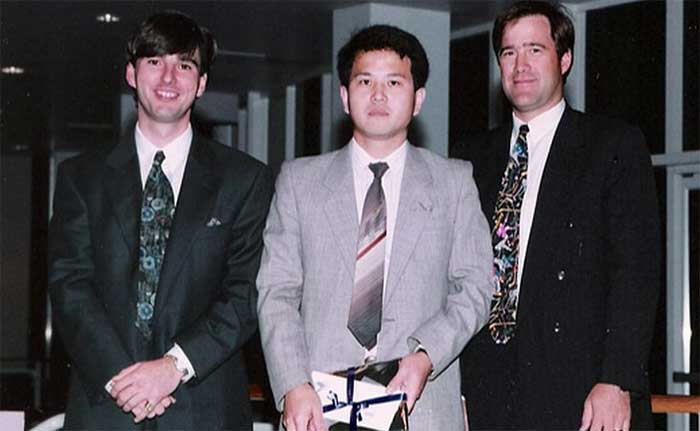 Jan Tian receiving EA's Outstanding Performance Award from executives Don Mattrick and Bing Gordon, for his work on EA Sports FIFA International Soccer.
Gameplay
Gameplay and stature have come a long way from the series' beginnings. Lead Programmer on EA Sports FIFA International Soccer was Jan Tian – probably better known as Janco Tianno the Brazil forward, his in-game alter ego – and he remembers laying the foundations of FIFA clearly.
He said: "I came to Canada from China in the early Eighties, when I was about 30. I got into gaming by accident, because it wasn't an industry back then. I was working in the computer hardware field when my recruiter suggested a vacancy at a game company, and I said 'what's a video game?' That company went on to be bought by EA. At the time of FIFA International Soccer, I had just finished a tennis game, and my manager wanted me to work on this project because I played soccer. They gave me a little prototype and it had the isometric view of a player dribbling a ball. There was no gameplay but it had something; it was different. So I went out and bought every soccer game in the store, and wrote reviews on each of them, the good and the bad. From that, I started to make my own prototype. I drew the field, without goalposts, the ball was a white dot and players were just a vertical line. Once I had worked out how to dribble a ball, I put five players on the field and started to work on AI. That was the major challenge. Player versus player is fine, there's no challenge, but for someone to sit at home and play a computer is. But computers were really weak back then, with not a lot of memory and there was no graphics card. Other sports games were assuming the position of a super-coach, directing the game like a show – you go there and you go there. But that's not how soccer works. The most important thing in soccer isn't shooting or passing, it's positioning, where to stand. The digital process of 22 players doing that would need a lot of power, more than we had. So I created a formation table technology to speed up a team's logic."
Single-handedly, Tian had created the template for the series to follow for years to come, effectively creating, from scratch, the FIFA game we know and love today. For the first month of the project he worked alone, until he turned to his colleagues – who were busy with other projects – for some feedback.
"I asked my co-workers to come try it. We started playing and got a game going. They were standing at the table, cheering, like a real soccer game. At that point, I knew we had something. One of the senior, senior execs happened to be walking past and saw us playing the prototype and said: 'Oh, this game has to ship before Christmas.' My original estimate was 13 months. I was like 'shit', so we formed a small team really quickly – two or three engineers and a couple of artists – but a really great team, and got to work."
With the stakes suddenly raised by the massively reduced turnaround time, plus the pressure of seeing off the rival U.S. Gold title, the team had to work around the clock to make FIFA International Soccer viable.
Jan chuckles: "Those first two FIFAs, holy smoke, I almost killed myself. I worked myself into the hospital emergency room three times, I was that exhausted. My kids were still very little back then. For a couple of months, I didn't see them. One day, I was working late on a Sunday night, just me and my manager Bruce McMillan, when the phone rang. He answered it, and it was my son – he said: 'Could you please let my dad come home, please?' That almost brought Bruce to tears. But that was how hard I worked – nobody forced me to, I was just so passionate about what I wanted to do."
"We were fortunate, really. To take on a game by yourself now – there's no way, people don't give you that chance. We realised that. And EA were always fantastic with us. For example, during those two games, I don't remember which exactly, my dad had his first stroke, and he lived in Beijing in China. EA bought me the airline ticket and said, 'Jan, go back to see your dad for two weeks, don't worry about work'. So I flew back with my wife and kids, with my daughter on my passport, because you can have two people on the same visa. After a week, my dad had mostly recovered, and I was thinking so much about FIFA that, at that first weekend, I decided I had to go back. I had tasks to finish. Back then, there weren't that many flights from Beijing to Vancouver, so you couldn't change. In order for me to get a plane home early, I had to go to the airport with my sister, holding a bag of $1,000 to try and bribe someone she knew on the crew desk to get me a flight. Isn't that crazy? I did it, but I'd forgotten that my daughter was still on my passport – two weeks later, she couldn't leave China. My wife had to struggle in China for another month, until the Canadian Embassy could get her another passport and get her out. To this day, I can't believe that I did that. But it's the sort of story I will tell my grandchildren one day; a highlight, in a way."
Amongst those anecdotes of dedication and self-sacrifice, surely, is the success story that EA Sports FIFA has gone on to become, building on Tian's solid starting point. The programmer, now working at Microsoft, is incredibly modest about his achievements, saying: "I'm so proud of what my team achieved and what FIFA has become – I feel like, finally, I contributed something to the gaming industry. It's great that it gave so many young people so much joy and happiness, that's all that matters, to be honest. After so many years, people are still interested in the story of FIFA – people always ask me about it. I'm happy they remember it as a great game."