eFootball Coins are used to purchase in-game items.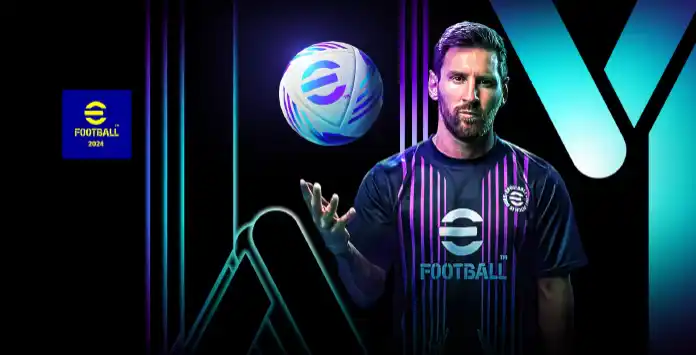 eFootball Points
eFootball Coins, often abbreviated as eFootball Points or simply 'Coins', are a virtual in-game currency used within the eFootball video game franchise, developed and published by Konami.
Players can earn or purchase eFootball Coins to enhance their gaming experience. These coins can be used for various in-game activities:
Players;
Trainers
Skill Trainers and Position Trainers;
Strips (Kits).
Essentially, eFootball Coins serve as a premium currency that allows players to access additional content and improve their teams, providing a more enjoyable and personalized gaming experience.
Players can earn eFootball Coins through gameplay achievements or choose to purchase them using real money through microtransactions. To spend your eFootball Points on purchasing items, you must link your Konami ID with eFootball 2024.
Coins are primarily available for purchase within the eFootball 2024 game. However, there are also ways to acquire coins without making real-money purchases. These methods include;
Getting coins as rewards
By completing in-game objectives
Acquiring eFootball Coins as Gifts
Some free gifts such as daily login may give you some amounts of coins.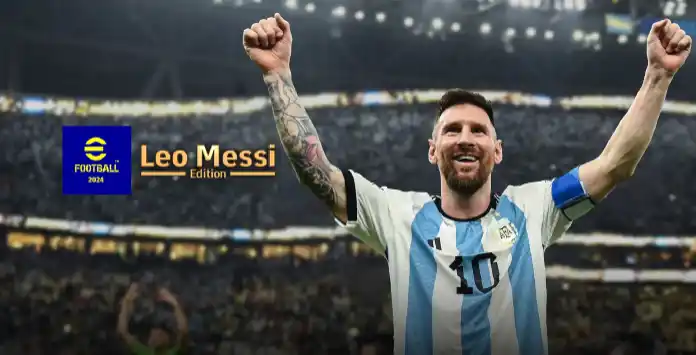 How to Buy
To purchase eFootball 2024 Coins, you can typically access the in-game store within the eFootball game itself. Once in the store, you'll find various coin packages available for purchase, often offered at different price points and quantities. If you want to know how to buy them cheaper, follow these steps.
How to Buy eFootball Points Cheap
When redirected to the website showing the gift cards available, use the filter to make sure the product matches with your console region, otherwise it won't work;
Check which gift cards you need to buy to cover the price of the eFootball Points in your region. Usually, 3x £25 gift cards is the best option but sometimes it can be cheaper to buy other combinations like 5x £15 or 15x £5. When you click in a gift card, be sure you are choosing the lower offers in 'other offers';
Add the gift cards to the cart, checkout and select one of the payment methods available;
Before confirming the payment, click in 'Got a discount code' and insert FIFAUTEAM8;
Save the keys you will receive by email and in your dashboard library if you are registered.
Go to eFootball 2024, select the package that suits your needs, change the payment method for 'Codes and Gift Cards' and use the keys you saved in the previous step;
After a successful transaction, the eFootball Coins will be added to your in-game balance, allowing you to use them for various in-game enhancements and purchases. Be sure to review and confirm the transaction details before finalizing the purchase.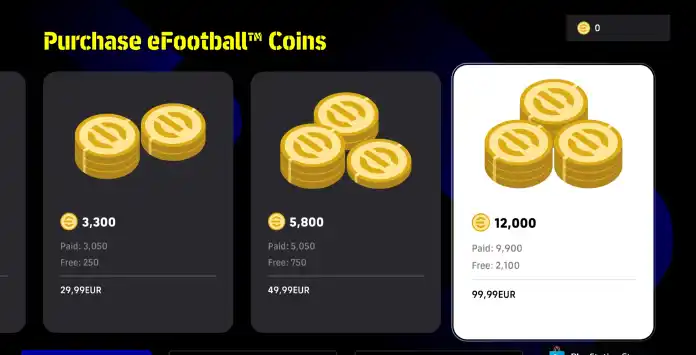 Coin Prices
eFootball coins are sold in
bundles
of seven different sizes, as described bellow:
100 eFootball Points;
250 eFootball Points;
1,050 eFootball Points;
2,150 eFootball Points;
3,300 eFootball Points;
5,800 eFootball Points;
12,000 eFootball Points.
The pricing of eFootball 2024 coins is determined by your account's region. Below is the list of purchasable coins in sveeral countries.
Frequently Asked Questions
eFootball Points prices in more than 30 countries are stated on this page.
No. eFootball Coins Bundles are the same as last year.