The name of your club is how you are represented to the world in FC 24 Ultimate Team.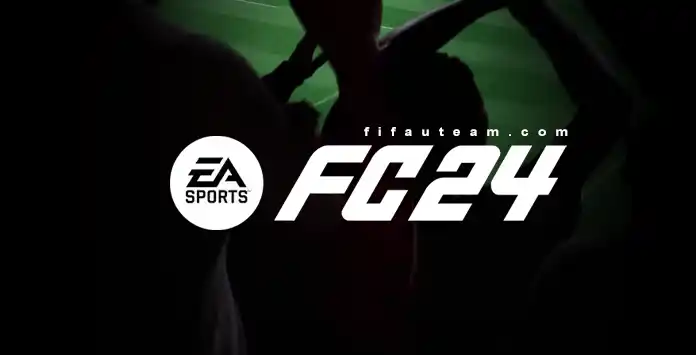 Team Name
A FUT club's visual identity during the season comprises three elements: name, badge, and kit. You can assign a ball, a stadium, a theme, a tifo, or customize your stadium, but that's not how your opponents will know your team.
When you start your new Ultimate Team journey, the system will give you a random name and prompt you to choose a new team name. Every club must have one. It is the one your opponents will see on the pre-match screen.
You can pick any name you like, as long as it doesn't have more than
15 characters
and Electronic Arts does not recognize it as profanity or offensive terminology in any language.
Spaces are allowed, but you may have to avoid them if you need all characters available to write your club's name. In that case, CAPS can also be very useful.
Once you have picked your team's name, you will be asked to choose the respective three-letter abbreviation. This acronym is used to display the result of a match while in-game.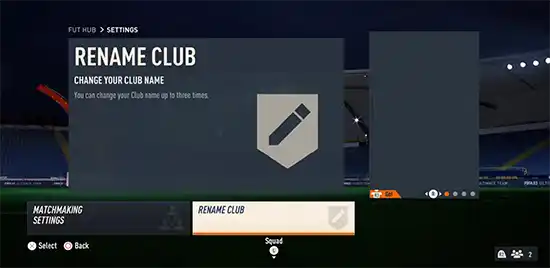 Changing the UT Team Name
Changing the FC 24 club name doesn't provide any benefit or bonus to your Ultimate Team experience. It's a cosmetic option and, for some players, is not important. However, since FUT is a game mode focused on creating your unique club, it makes sense to choose a name that says something to you.
In previous years, you were allowed to renamed your club only once, via a specific objective, but since last year you can change it up to three times.
You can change the FC 24 club name at any time going to your Club Settings Menu.
How to Change Club Name in FC 24
From the main Ultimate Team screen, press R1/RB twice to go to [Club];
Select [Settings];
Select [Rename];
Press X/A;
Type the new team name;
Type the new abbreviation;
Double-check the new names. Go back if it is not as you desire;
Confirm your selection when you are happy.
Once you change the club name, it will be available in the whole FUT ecosystem, including in the
Web App
and all Ultimate Team game modes.
Frequently Asked Questions
FC 24 Club Names Suggestions
| | | |
| --- | --- | --- |
| 0-G | H-N | O-Z |
| 500DaysOfSummer | Haaland Security | ObiWanIwobi |
| ABCDEFC | HappyBdayYaya | OccasionallyUtd |
| ABCDEFC | HappyBdayYaya | OccasionallyUtd |
| ACMeRollin | HeyJuve | OnZidanesFloor |
| AnsuFUTi | HierroRocher | OsasunaOrLater |
| AstonVanilla | HipHipPayet | OspinaColada |
| AyewSerious | HowIMetYourMata | Paralympiakos |
| Bad Kompany | IDontDrinkwater | PepePig |
| Bacuna Matata | IbeGotAFeeling | PepeShow |
| BallBusters | Ibracadabra | PiqueBlinders |
| BayerNeverlusen | IDontKjaer | PjanicAtTheIsco |
| Balotellitubbie | IGotzeNoIdea | PortBale |
| BetterCallSaul | ImLovrenIt | QParkStrangers |
| BigLewandowski | ISkipReplayIfUDo | RashfordFiesta |
| Blink1Etoo | IsUrMotherwell | RealBetisHotpot |
| BocaSeniors | ItsATrapp | RealSocialDad |
| BorussiaTeeth | ItDoesntMata | RollsReus |
| CabayeOnChips | IVardySoHardy | SaltAndPepe |
| CamavingaBoys | IvoryToast | SayNeymarName |
| CanSalahKarius | JohnStoned | SendUmtities |
| CerealKillers | KaneYouKickIt | ShowMeTheMane |
| CescAndTheCity | KanteBeStopped | ShutTheFACup |
| ChickenTikiTaka | KanteTouchThis | SkipReplayIfUDo |
| CitizenKane | KanyeWestHam | SlumdogMignolet |
| CtrlAltDeLigt | KroosControl | SmallingThanYou |
| CtrlAltDefeat | LadyYaya | SonicHuth |
| DidYeDropback | Lahmageddon | SuarezidentEvil |
| DirtySanchez | LeaveMyArcelona | SugarKane |
| DolceAndLallana | LordOfTheIngs | SungParkTheBus |
| DonnarumAndCoke | LukeKyleWalker | TeaAndBusquets |
| DraftSquad | ManChestHairUd | TheKouyateKid |
| DukesOfHazard | MarkNoballs | TheWalkingDede |
| DyslexiaUntied | MartialLaw | TheWizardOfOzil |
| EatMyGoal | MarYJuanaFC | TheZarateKid |
| EggFriedReus | Meet The Fekirs | TikkaMoSalah |
| EnterShaqiri | MichuAtDeGeaBar | TurkishDeLigt |
| ExeterGently | MkhitaryanStark | TwoLeftFeet |
| ExpectToulouse | MoLeicester | TyranoSuarezRex |
| Farcelona | MortalComan | UnprotectedCesc |
| Fenerbackache | Neighmar | UnrealMadrid |
| FightClub | NetsixAndChill | UrGoingToulouse |
| FiorentinaTurner | NeverWokAlone | Victorious Secret |
| ForFuchsSake | NoFIFAPointsFC | Whateverton |
| GameOfStones | NoKaneNoGain | WhatsTheMata |
| GameOfThrowIns | NorfolkInChance | WillianDollarBaby |
| GiroudSandstorm | NoWeimannNoCry | WhoAteAllDepays |
| GoalOfDuty | | WiiNotFit |
| GunsNMoses | | |