FC 24 Game Plans allows you to create different dynamic tactics to use in different moments of the game.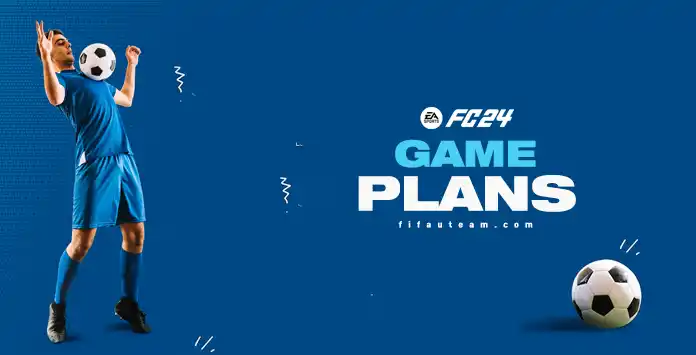 Dynamic Tactics
Game Plans is a feature that gives you deeper, more advanced control over your team's tactics both before and during matches. It allows you to save up to four different
tactical approaches
and set up tactics, formations, instructions and roles separately for each one.
With Dynamic Tactics, you can create multiple game plans that you can switch between during a match simply from the D-Pad. Every option you have when creating your pre-match plan can be assigned to one of your custom game plans, so you aren't constantly going to the pause menu when you need your team to play differently.
When using a game plan, your team will execute your approach in an obvious manner so you can get a visual idea of how it's working on the pitch. If you can identify what your opponent is using, you can respond quickly during a match by changing your tactics.
In FC 24, there are four game plans plus the standard:
Ultra Defensive
Plan ahead for scenarios in which a tigher defense will help you keep the lead until the final whistle;


Defensive
Plan ahead for scenarios in which a defensive approach will provide more opportunities to recover the ball;


Attacking
Plan ahead for scenarios in which an attacking approach will provide more opportunities for you to score;


Ultra Attacking
Plan ahead for scenarios in which an all-out attack will push the outcome of the match in your favour.
It's not possible to edit game plan names. They were created to make your job easier, but you can, for example, give an attacking style to an ultra-defensive plan. It's up to you.
There are differences in dynamic tactics depending on the game mode you are playing. In the Ultimate Team case, swapping your players and adjusting their position on the field when editing a game plan is impossible.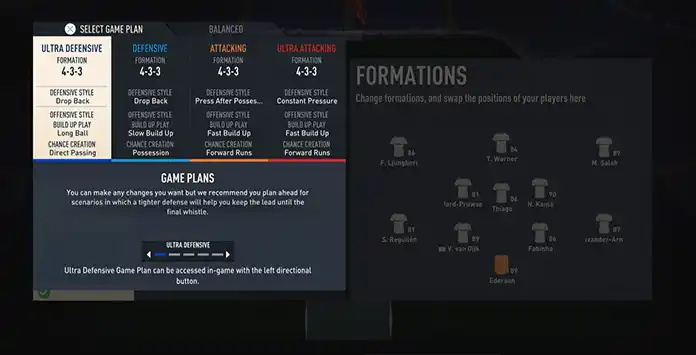 Setting Up Game Plans
Customizing FC 24 game plans is easy, and we strongly recommend doing so.
How To Set Up Game Plans
From the main Ultimate Team screen, press R1/RB twice to navigate to the [Club] tab and then press X/A to go to [Squad];
Press L2/LT to pop-up [Squad Actions];
Scroll down to [Custom Tactics] and press X/A;
From the custom tactics screen, you can make any change you want for the upcoming match but you can also press L2/LT to display the [Edit Game Plans] screen;
Select one of the four game plans available;
After you confirm the game plan you want to edit, you can make all the changes you want on your tactics;
After editing the tactics, press L1/LT and choose a new formation or keep with the existing one;
After editing the formation, press L1/LT again and set up the player's instructions;
After editing the instructions, press L1/LT again and set up the player's roles;
When you feel happy with the game plan you set, press Circle/B to save that configuration;
Repeat the process for other game plans.
After setting up your FC 24 game plans, you can access them in-game with the directional button:
Ultra Defensive – left twice;
Defensive – left once;
Attacking – right once.
Ultra Attacking – right twice;
Frequently Asked Questions