FC 24 POTM items are awarded to the best players of the month in six different leagues.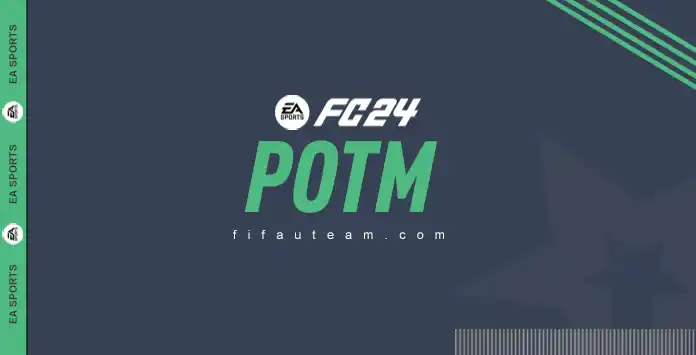 Player of the Month
POTM cards are upgraded items awarded to players who have received the Player of the Month award, once a month except when the competition is suspended, in the following six leagues: Premier League, LaLiga, Bundesliga, Serie A, Ligue 1, and Eredivisie.
They are released every month, featuring improved stats and dynamic images, and you cannot find them in Ultimate Team packs. To get these cards, you have to complete specific SBCs which remains available usually for 30 days.
FC 24 POTM Calendar
All release times are indicated in the UK time zone
Except the Eredivisie, in all other leagues, the winner is determined through a voting process that includes other nominees. Both the announcement dates for the nominees and the winners vary from month to month, making it challenging to keep track of all these announcements in the six leagues whose POTM players receive special cards in the game.
For this reason, we have created this calendar where you can track all of these dates and thus stay updated on upcoming votes and the latest winners.
Date
06/09/23 Wed
Bundesliga Nominees
August
07/09/23 Thu
EPL Nominees
August
23/09/23 Sat
EPL Winner
August
27/09/23 Wed
La Liga Nominees
September
28/09/23 Thu
Bundesliga Winner
August
05/10/23 Thu
EPL Nominees
September
05/10/23 Thu
Serie A Nominees
September
06/10/23 Fri
La Liga Winner
September
06/10/23 Fri
Eredivisie Winner
September
10/10/23 Tue
Ligue 1 Nominees
September
11/10/23 Wed
Bundesliga Nominees
September
13/10/23 Fri
EPL Winner
September
13/10/23 Fri
Serie A Winner
September
19/10/23 Thu
Bundesliga Winner
September
24/10/23 Tue
Ligue 1 Winner
September
25/10/23 Wed
La Liga Nominees
October
02/11/23 Thu
EPL Nominees
October
02/11/23 Thu
Serie A Nominees
October
03/11/23 Fri
La Liga Winner
October
03/11/23 Fri
Eredivisie Winner
October
07/11/23 Tue
Ligue 1 Nominees
October
08/11/23 Wed
Bundesliga Nominees
October
10/11/23 Fri
EPL Winner
October
10/11/23 Fri
Serie A Winner
October
16/11/23 Thu
Bundesliga Winner
October
22/11/23 Wed
La Liga Nominees
November
22/11/23 Wed
Ligue 1 Winner
October
30/11/23 Thu
EPL Nominees
November
30/11/23 Thu
Serie A Nominees
November
01/12/23 Fri
La Liga Winner
November
01/12/23 Fri
Eredivisie Winner
November
06/12/23 Wed
Bundesliga Nominees
November
08/12/23 Fri
EPL Winner
November
08/12/23 Fri
Serie A Winner
November
12/12/23 Tue
Ligue 1 Nominees
November
14/12/23 Thu
Bundesliga Winner
November
26/12/23 Tue
Ligue 1 Winner
November
27/12/23 Wed
La Liga Nominees
December
28/12/23 Thu
Serie A Nominees
December
29/12/23 Fri
Eredivisie Winner
December
04/01/24 Thu
EPL Nominees
December
05/01/24 Fri
La Liga Winner
December
05/01/24 Fri
Serie A Winner
December
09/01/24 Tue
Ligue 1 Nominees
December
10/01/24 Wed
Bundesliga Nominees
December
12/01/24 Fri
EPL Winner
December
18/01/24 Thu
Bundesliga Winner
December
23/01/24 Tue
Ligue 1 Winner
December
31/01/24 Wed
La Liga Nominees
January
01/02/24 Thu
EPL Nominees
January
02/02/24 Fri
Eredivisie Winner
January
01/02/24 Thu
Serie A Nominees
January
06/02/24 Tue
Ligue 1 Nominees
January
07/02/24 Wed
Bundesliga Nominees
January
09/02/24 Fri
EPL Winner
January
09/02/24 Fri
Serie A Winner
January
09/02/24 Fri
La Liga Winner
January
15/02/24 Thu
Bundesliga Winner
January
20/02/24 Tue
Ligue 1 Winner
January
29/02/24 Thu
EPL Nominees
February
29/02/24 Thu
Serie A Nominees
February
01/03/24 Wed
La Liga Nominees
February
01/03/24 Fri
Eredivisie Winner
February
06/03/24 Wed
Bundesliga Nominees
February
08/03/24 Fri
EPL Winner
February
08/03/24 Fri
Serie A Winner
February
10/03/24 Fri
La Liga Winner
February
12/03/24 Tue
Ligue 1 Nominees
February
14/03/24 Thu
Bundesliga Winner
February
26/03/24 Tue
Ligue 1 Winner
February
27/03/24 Wed
La Liga Nominees
March
28/03/24 Thu
Serie A Nominees
March
29/03/24 Fri
Eredivisie Winner
March
04/04/24 Thu
EPL Nominees
March
05/04/24 Fri
La Liga Winner
March
05/04/24 Fri
Serie A Winner
March
09/04/24 Tue
Ligue 1 Nominees
March
10/04/24 Wed
Bundesliga Nominees
March
12/04/24 Fri
EPL Winner
March
18/04/24 Thu
Bundesliga Winner
March
23/04/24 Tue
Ligue 1 Winner
March
24/04/24 Wed
La Liga Nominees
April
02/05/24 Thu
EPL Nominees
April
02/05/24 Thu
Serie A Nominees
April
03/05/24 Fri
La Liga Winner
April
03/05/24 Fri
Eredivisie Winner
April
07/05/24 Tue
Ligue 1 Nominees
April
08/05/24 Wed
Bundesliga Nominees
April
10/05/24 Fri
EPL Winner
April
10/05/24 Fri
Serie A Winner
April
16/05/24 Thu
Bundesliga Winner
April
21/05/24 Tue
Ligue 1 Winner
April
23/05/24 Thu
Serie A Nominees
May
29/05/24 Wed
La Liga Nominees
May
29/05/24 Wed
Bundesliga Nominees
May
30/05/24 Thu
EPL Nominees
May
31/05/24 Fri
Serie A Winner
May
31/05/24 Fri
Eredivisie Winner
May
06/06/24 Thu
Bundesliga Winner
May
07/06/24 Fri
EPL Winner
May
07/06/24 Fri
La Liga Winner
May
11/06/24 Tue
Ligue 1 Nominees
May
25/06/24 Tue
Ligue 1 Winner
May
All future dates are estimated
Frequently Asked Questions