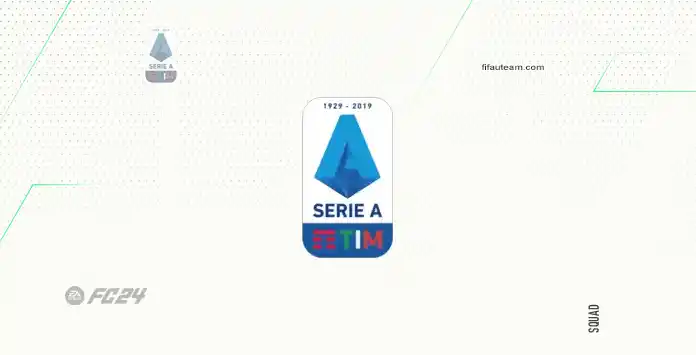 Squad Suggestions
Building a team in FC 24 Ultimate Team can be a challenge. It's not necessary to have the best team if your budget doesn't allow it, but it's crucial to create a team that suits your style and needs.
When selecting players, it's essential to carefully consider their attributes. Choosing a team solely based on ratings is a common mistake. We will guide you through the best players for each position, focusing on their key attributes.
It's also important to ensure that the players you choose fit the formations you prefer. For example, having a skilled full-back won't be beneficial if your chosen formation only includes three defenders.
Additionally, maximizing chemistry is crucial. While many players build squads based on a single league or nation, experienced players can create hybrid teams without sacrificing chemistry.
To cater to different player preferences and budgets, we recommend three squads with varying formations and budgets. However, please note that these formations are not necessarily the best for the Serie A but are generic formations used across our squad guides.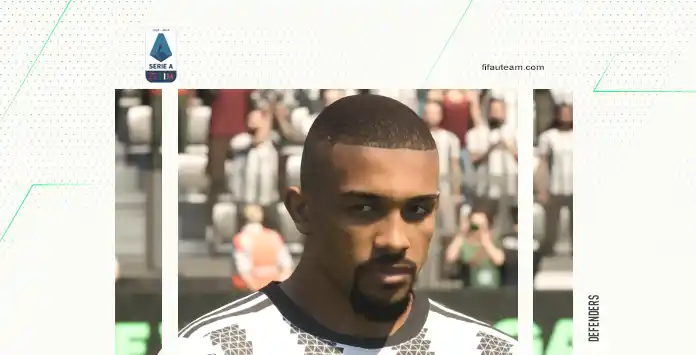 Disclaimer Notes
This guide is based on our perception of the game, which may differ from yours. It should serve as a general orientation rather than a definitive solution, as it's impossible to build a team that suits everyone's preferences. Additionally, there are various factors that we are unaware of that can influence choices, such as budget, formation, custom tactics, instructions, play style, and individual player preferences.
It's important to clarify certain criteria that we used in this guide:
Only Gold Players:
We have not considered silver and bronze players in this guide. Most of them are not capable of replacing the gold players in terms of quality.

Only Regular Players:
This guide does not take into account In-Form (IF) and special items, including Icons and FUT Heroes. These items are often more expensive and may not provide good value for players with limited budgets.

Only Normal Players:
Upgraded or transferred items are not considered in this guide. We have only included players who started the season in the Serie A with their original attributes.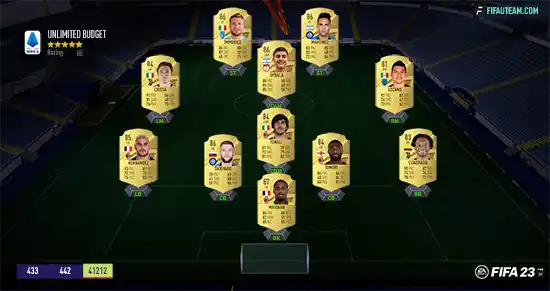 The choice for this team's players was based on the analysis made in the position guides. Please look at those guides to understand why we picked player A instead of player B.
Maignan is our natural choice for the goal. He is much better than the other goalkeepers playing in Italy.
In our opinion, Tomori and Škriniar are, without a doubt, the best center-backs in this league. They are solid and fast, and only de Vrij defends as well as them.
On the right side of the defense, you will have to make your first big decision. Not because you are unsure about the best player, but because Cuadrado is the best right back and the best right midfielder playing in Serie A. In our opinion, you should leave him as RB because there are no suitable replacements for this position, while you have some decent RMs.
Theo Hernández, supported by his amazing pace, has no competition on the left side of the defense.
No one is better than Tonali giving you the security to the back line. He is the fastest defensive midfielder but also one of the best in the other face stats, which means he is also ready to support the attack. In front of him, Dybala is one of the best players in this league. Among all the attacking midfielders from Serie A, he has the best shooting, passing, and dribbling skills.
Lozano is an excellent option to fill the right side of the midfield. Chiesa is even better on the opposite side, leaving Rafael Leão out of the starting eleven.
In the attack, Immobile and Lautaro are better than Lukaku, but you may have a different opinion based on your play style and preferences.
We used this formation not because we think it's the best for this league but because it's the default formation we use in all our league guides. Formations that won't feature the CM position have the downside of not giving the chance to include one of the best players: Barella.
If you use these players, you won't need a manager on your team since he will be useless while wasting contracts.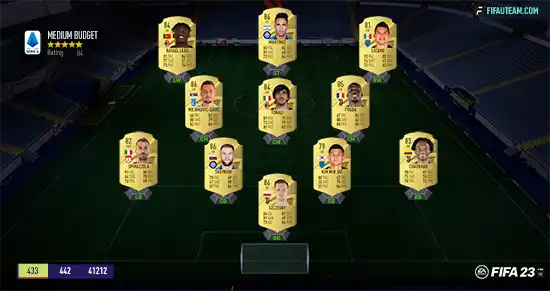 The choices for this more affordable team were based on the analysis made in the position guides. If you want to understand our choices, read those guides.
On the defense, Škriniar and Cuadrado are cheap enough to remain on our squad. Kim Min Jae and Spinazzola are the best replacements for Tomori and Theo Hernández. If you are unsure about the Napoli defender, give him a try. He performs very well on the pitch. If he doesn't convince you, replace him with Bremen.
For the center of the midfield, we have chosen Tonali. He's strong, defends well, and is a good player to start the attacks. Just like the Milan player, Sergej Milinković-Savić has both good defensive skills but is also strong on the attack giving more freedom to Pogba.
Lozano on the right and Rafael Leão on the left are perfect for assisting Lautaro, a striker who will score many goals.
This squad was built with players whose price was under 15k coins on the release date. However, if you still have room in your budget, Tomori would significantly improve this squad.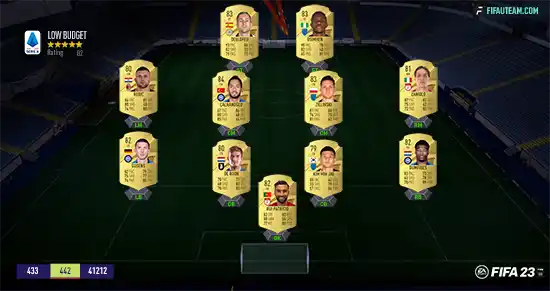 The choice for this team's players was based on the analysis made in the position guides. To understand why these players were selected, please read those guides.
Once again, Rui Patrício is our choice for the goal. It won't be because of him that you will lose. Dumfries, Gosens, Kim Min Jae, and de Roon complete the defense.
In the midfield, Piotr Zieliński and Hakan Çalhanoğlu complement each other well. Zaniolo on the right and Rebić on the left fill the wings to assist Osimhen and Deulofeu.
This squad was built with players whose price was under 1k coins on the release date. There is room for improvement, but you will need to save some coins. If you still have some space in your budget, Handanovic, Bastoni, Di María, and Muriel are players who would improve this squad a lot.
If you use these players, you won't need a manager on your team since he will be useless while wasting contracts.