The FC 24 soundtrack features 102 tracks by more than 100 artist from 30 different countries.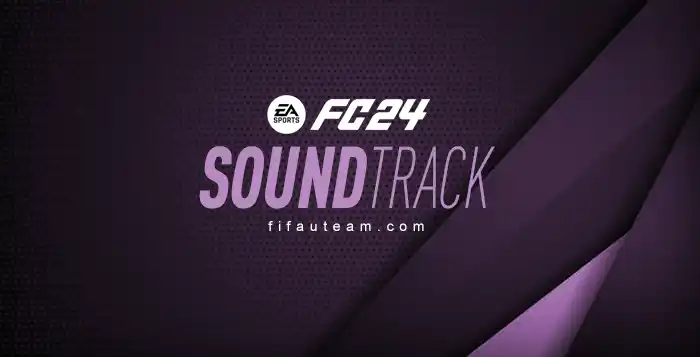 FC 24 Soundtrack
For over twenty-five years, the FIFA OST has acted as a cultural mirror, elevating the game for millions of players. Designed to trigger emotion through a bold blend of genres, it breaks ground every year and drives worldwide culture. More than just a top international destination for new music, it is a collective energy that ignites the year. Artists recognize this, coveting spots on the soundtrack that will take their careers to the next level.
Featuring over 100 artists from around the globe, with an unprecedented cross-section of genres, the far-reaching track list showcases a range of global hitmakers, from Major Lazer to The Blessed Madonna and The Rolling Stones. Other superstar artists include multiple BET, MOBO, MTV Europe and Q Award-winner Stormzy, multi-Platinum megastar Jack Harlow, Grammy winner Baby Keem with 17x Grammy winner Kendrick Lamar and Latin Grammy Award winner Karol G. and many more.
Global Playlist
The official FC 24 soundtrack features 57 songs.
Artist / Song / Album
Baby Mala
1,2 & Mer 2:37
1,2 & Mer 2023
DameDame*
A Stranger 2:47
A Stranger 2023
Barry Can't Swim
Always Get Through To You 2:57
Always Get Through To You 2023
M83
Amnesia 3:03
Fantasy 2023



BETA

The Rolling Stones
Angry 3:47
Angry 2023
ARIETE
AVVISO 3:03
SPECCHIO 2023
KAROL G
BICHOTAG 2:13
Mañana Será Bonita 2023
070 Shake
Black Dress 3:57
Black Dress 2023
swim school
BORED 3:26
BORED 2023
Hak Baker
DOOLALLY 3:22
DOOLALLY 2023
Young Eman
Eazi 2:25
Eazi 2023
Ninho
Eurostar 3:07
NI 2023
Roosevelt
Fall Right In 4:39
Embrace 2023
Frost Children
FLATLINE 3:45
FLATLINE 2023
Miss Grit
Follow the Cyborg 4:46
Follow the Cyborg 2023
Yaeji
For Granted 2:42
For Granted 2023



BETA

whenyoung
Gan Ainm 4:07
Paragon Songs 2023
Royel Otis
Going Kokomo 3:11
Sofa Kings 2023



BETA

Overmono
Good Lies 2:40
Good Lies 2023
ODESZA
Heavier 4:18
Heavier 2023
ill peach
HOLD ON 4:05
HOLD ON 2023
Peter Xan
Hostage 3:29
Hostage 2023
Willo
i've got a bf (best friend) 2:28
i've got a bf (best friend) 2023
Hava
Killa 2:48
Killa 2023
Myke Towers
LALA 3:18
LA VIDA ES UNA 2023
The Blaze
Lonely 4:25
JUNGLE 2023



BETA

Stormzy
Longevity Flow 3:03
Longevity Flow 2023
Major Lazer
Mamgobhozi 3:56
Mamgodbhozi 2023
The Blessed Madonna
Mercy 2:58
Mercy 2023
piri
nice 2 me 2:51
nice 2 me 2022
The Last Dinner Party
Nothing Matters 3:02
The Last Dinner Party 2023
Rod 3030
O que se Leva 2:45
O que se Leva Da Vida 2023
Michael Brun
Oh Ah 1:49
Oh Ah 2023
Zack Bia
One of Those Days 2:27
One of Those Days 2023
Bas
Passport Bros 2:45
Passport Bros 2023
MEDUZA
Phone 2:35
Phone 2023
Mandy
Pinking Shears 2:32
Pinking Shears 2023
Lovejoy
Portrait of a Blank State 3:48
Wake Up & It's Over 2023
2hollis
poster boy 2:01
2 2023
Pontypool
Powder 3:26
Powder 2023
Awich
RASEN in OKINAWA 4:49
098RADIO vol.1 2023
Soo Joo
Running Water 3:16
Running Water 2023
King Krule
Seaforth 4:06
Space Heavy 2023
DJ Dahi & Elmiene
Shame 2:25
Shame 2023
Pahua x Barzo
Sigo Tus Pasos 3:05
Sigo Tus Pasos 2023
Karma Kid
The Gates Will Open 4:25
The Gates Will Open 2023
Sid Sriram
The Hard Way 3:33
The Hard Way 2023
Baby Keem
The Hillbillies 3:25
The Hillbillies 2023
Romy
The Sea 3:11
The Sea 2023
Gus Dapperton
The Stranger 3:42
AHENGE 2023
English Teacher
The World's Biggest Paving Slab 3:05
The World's Biggest Paving Slab 2023



BETA

Ezekiel
there she goes 2:42
there she goes 2023
WALKER
TOMMY 3:32
TOMMY 2023
King the Kid
We Are the Ones 2:12
We Are the Ones 2023
Baby Queen
We Can Be Anything 3:21
We Can Be Anything 2023
Genesis Owusu
What Comes Will Come 3:51
Struggler 2023
KayCyy
Who Else Would It Be 1:31
Who Else Would It Be 2022
Obongjayar
Who Let Him In 3:00
Who Let Him In 2023
Click to pop up the respective song on Youtube or Spotify
Frequently Asked Questions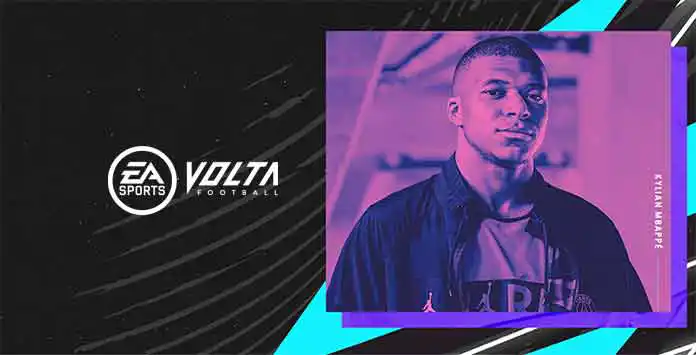 VOLTA Soundtrack
Released for the first time in FIFA 20, the VOLTA soundtrack drives street action with the latest and greatest in grime, electronic, and hip-hop. The sound of VOLTA FOOTBALL is found under buzzing street lights in neighborhoods from Lagos and São Paulo to Los Angeles and Rome. Its gritty underground vibe can be felt in the scuttling trainers on a packed dirt lot or hot concrete playground. Anywhere players can express their style, the soundtrack will be the amped-up underscore to all the action.
Once again, the VOLTA track list in FC 24 is shorter than the one from the original soundtrack. However, remember that you can listen to it while playing other game modes, such as Ultimate Team, Pro Clubs, Online Seasons and Career Mode, by changing the
in-game settings
.
VOLTA Playlist
The official FC 24 VOLTA soundtrack features 45 songs.
Artist / Song / Album
Channel Tres
6am 3:42
6am 2022



BETA

ILLAMAN
Absolutely Tidy 2:51
Absolutely Tidy 2023
Sam Gellaitry
Assumptions 3:40
Assumptions 2023
Shakes
Better Than I? 2:25
Better Than I? 2023
DROELOE
Catalyst 3:26
Catalyst 2023
Winston Surfshirt
Complicated 2:57
Panna Cotta 2022
blackwave
cracked screen 3:32
no sleep in LA 2022
Killer Mike
Don't Let the Devil 2:45
MICHAEL 2023
Disrupta
Dreaming Of You 3:24
Dreaming Of You 2023
POLICE CAR COLLECTIVE
EYELIDS 2:06
EYELIDS 2023
Bianca Oblivion
EZ 4 Me 3:00
EZ 4 Me 2022
Jords & Jordan Mackampa
Fist in the Sky 4:27
FIST IN THE SKY 2023



BETA

Dumb Buoys
FORMULA 2:54
FORMULA 2023
Run the Jewels
fuera de vista 4:04
RTJ CU4TRO 2022
Kah-Lo
Pain/Pleasure 3:16
Pain/Pleasure 2023
IMANU & Tudor
Haunt My Mind 3:25
Haunt My Mind 2023



BETA

Charlie Brix
I Can't Stay 4:17
I Can't Stay 2023
Souls of Creation
I Go Get It 2:11
I Go Get It 2023
Higgo
I Just Wanna Dance 2:43
I Just Wanna Dance 2023
Strategy & Footsie
Kwik Wontoo 3:10
Kwik Wontoo 2023
P Money x Whiney
Lowkey 3:20
Low Key 2023
Skinny Local
MMM 2:24
MMM 2023
Charlotte Devaney
My Way 2:28
My Way 2023
Matata & Liam Bailey
Not Today 4:13
Not Today 2022



BETA

Zakes Bantwini & Kasango
Osama 4:41
Osama 2023



BETA

SLUMBERJACK
Paradox 3:43
DICHOTOMY 2022
La Fine Equipe
Pemmican 3:43
Pemmican 2023
Smino
Pro Freak 4:28
Luv 4 Rent 2022
Jeshi ft Obongjayar & Westside Boogie
Protein v2 3:08
Universal Credit 2022



BETA

Gardna
R.A.V.E.A.S.A.P 3:43
R.A.V.E.A.S.A.P 2022
Ternion Sound
Relentless 2:58
Relentless 2022
Skrillex, Fred Again & Flowdan
Rumble 2:27
Rumble 2023



BETA

Halogenix
Sekkle In 3:45
Earache / Sekkle In 2022
Snakehips
Show Me The Money 3:07
Show Me The Money 2023
Fliptrix
So Clear 3:32
Mantra No.9 2023
Effy
Stone 3:02
Stone 2023
Belters Only
Superstar 3:42
Belters Only 2022
Bree Runway
THAT GIRL 2:05
THAT GIRL 2022
Freq Motif
Tings My Way 2:05
Tings My Way 2023
Jack Harlow
They Don't Love It 1:53
Jackman 2023
Kaleena Zanders
Vibration 2:49
Vibration 2023
salute
Wait for It 3:59
Wait for It 2023
DRS
Waiting to Go 2:30
Waiting to Go 2022
Doktor
Why You Waiting? 2:34
Why You Waiting? 2023
Ashnikko
Worms 2:29
Worms 2023



BETA

Click to pop up the respective song on Youtube or Spotify
Soundtrack Release Date
FIFA sountrack release dates from previous years.
| | | |
| --- | --- | --- |
| Video Game | Release Date | |
| FC 24 | 20/09/2023 Wed | |
| FIFA 23 | 22/09/2022 Thu | |
| FIFA 22 | 20/09/2021 Mon | |
| FIFA 21 | 28/09/2020 Mon | |
| FIFA 20 | 13/09/2019 Fri | |
| FIFA 19 | 31/06/2016 Fri | |
| FIFA 18 | 13/09/2017 Wed | |
| FIFA 17 | 12/09/2016 Mon | |
| FIFA 16 | 10/09/2015 Thu | |
| FIFA 15 | 16/09/2014 Tue | |
| FIFA 14 | 17/09/2013 Tue | |
| FIFA 13 | 06/09/2012 Thu | |
| FIFA 12 | 12/09/2011 Mon | |