FIFA 13 is EA's new bet, with date released of September 28, 2012.
Check out the game's cover here and buy it here.
FIFA 13: Basic Features
Studio: EA Canadá
Franchise: FIFA
Genre: Sports
Pegi Rating: 3+
Platforms: PS3, XBox 360, PS Vita, Wii, PC, PS2, Nintendo 3DS, PSP, iPhone, iPad, iPod and other mobile platforms
Features:
Offline Players 1 – 4
Offline Cooperation 1 – 2
Dolby Digital
Online Features:
Online MultiPlayer 2 – 22
Online Cooperation 1 – 4
Downloading Content
Leaderboards
Voice Chat
FIFA 13: The Big News
EA Sports introduces FIFA 13 as the game of their franchise with more innovations.
Know the main:
All-new positioning intelligence infuses attacking players with the ability to analyse plays, and to better position themselves to create new attacking opportunities. Players will work harder and smarter to break down defences, make runs that pull defenders out of position, and open passing channels for teammates. Plus, players possess an off-the-ball vision and the ability to think two plays ahead to create, curve, or alter runs to capitalize on openings as they occur.
Make every touch matter with complete control of the ball. Take on defenders with the freedom to be more creative in attack. Players are more explosive accelerating with the ball, and utilise precise dribble touches with true 360° mobility with the ball while facing a defender. Face an opponent to threaten attack while moving with the ball in any direction to dodge tackles, or turn and shield the ball, maintaining position, and holding off defenders for longer stretches.
FIFA 13 1st Touch Control
A new system eliminates near-perfect control for every player by creating uncertainty when receiving difficult balls. Poor passes are harder to control, enabling defenders to capitalize on errant balls and poor touches. Factors such as defensive pressure, trajectory of the ball, and velocity of the pass all factor into a player's success. Players with better control and skill stand out. Fewer perfect touches, the potential to over hit passes, more opportunity for loose balls, and greater balance between defending and attacking.
The second generation of the award-winning physics engine expands physical play from just collisions to off-the-ball battles, giving defenders more tools to win back possession. Defenders can use their body to win possession, push and pull for position, and utilise their size and strength to force opponents into poor touches and decisions before the ball arrives.
FIFA 13 Tactical Free Kicks
Create dangerous and unpredictable free kicks. Position up to three attacking players over the ball and confuse opponents with dummy runs, more passing options, and more elaborate free kicks. Opponents can counter by adding or subtracting players to the wall, creeping the wall forward, or sending a bullet man to intercept the pass or block the shot.
Two new passing options give players the ability to finesse passes over the outstretched leg of a defender or play lower trajectory lofted through balls into space or to teammates.
Essential elements have been refined to make the experience more authentic. Referees will now make better decisions awarding fouls and cards, goalkeeper intelligence has been improved, and Tactical Defending has added lateral mobility for players in defensive containment. Plus, new animations have been developed for off-balance shots, 180° shots, and celebrations.
Over 500 officially licensed clubs and more than 15,000 players.
FIFA 13: What EA Sports Says About the Game
FIFA 13 captures all the drama and unpredictability of real-world soccer, and is driven by five game-changing innovations which revolutionize artificial intelligence, dribbling, ball control and physical play. It is the largest and deepest feature set in the history of the franchise. These innovations create a true battle for possession across the entire pitch, deliver freedom and creativity in attack, and capture all the drama and unpredictability of the real-world game.
FIFA 13: The First Screenshots
(click on images to maximize)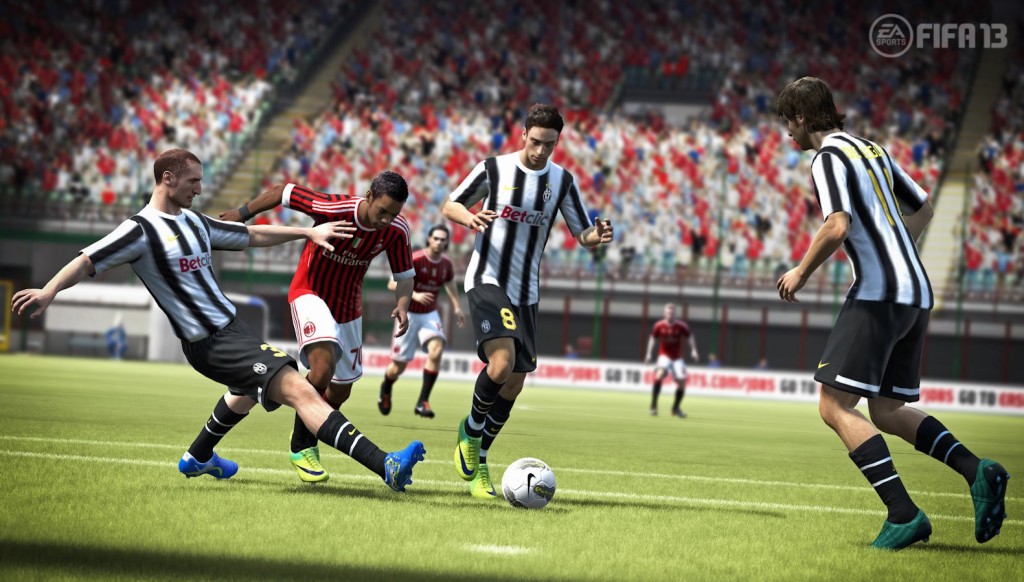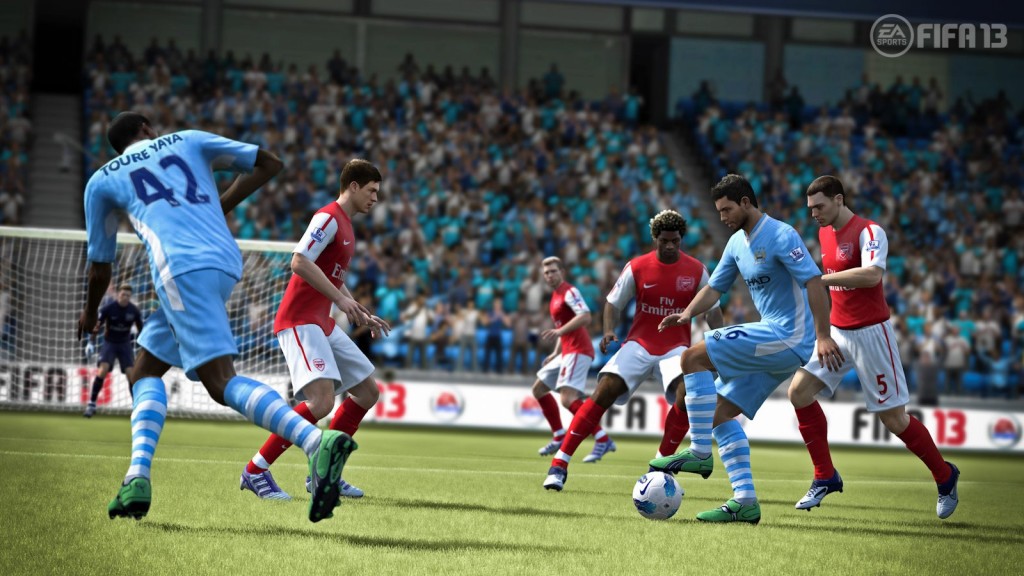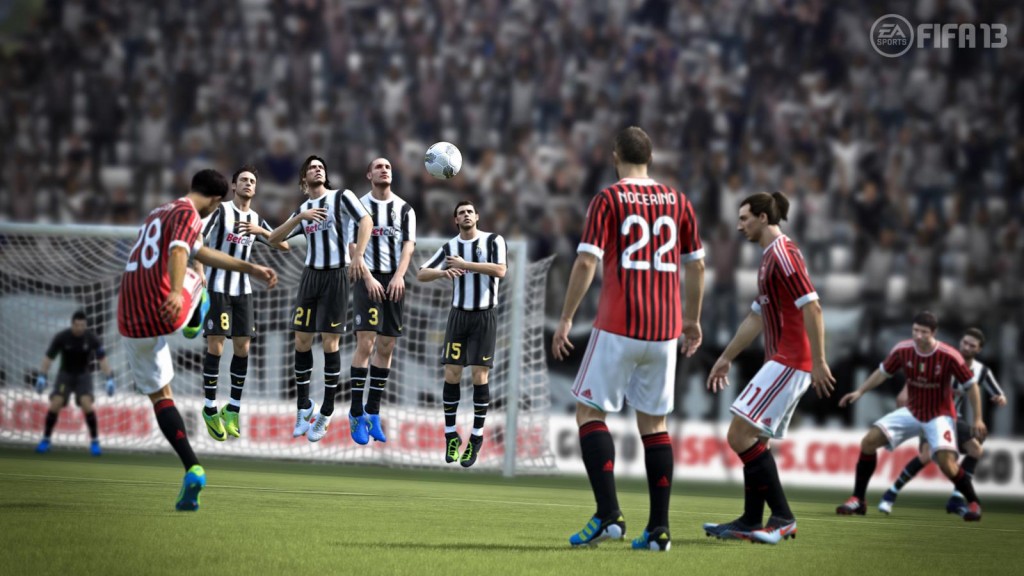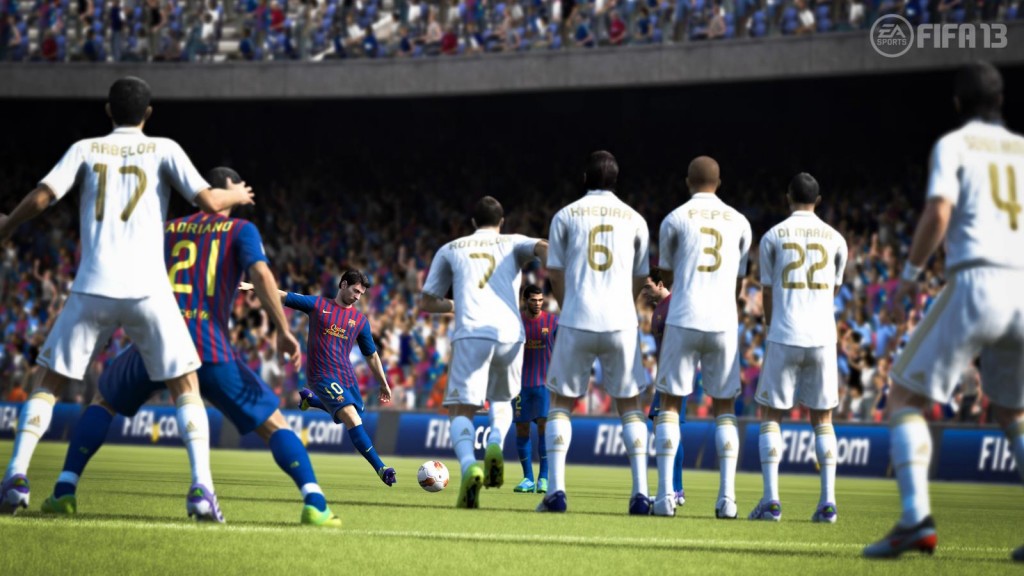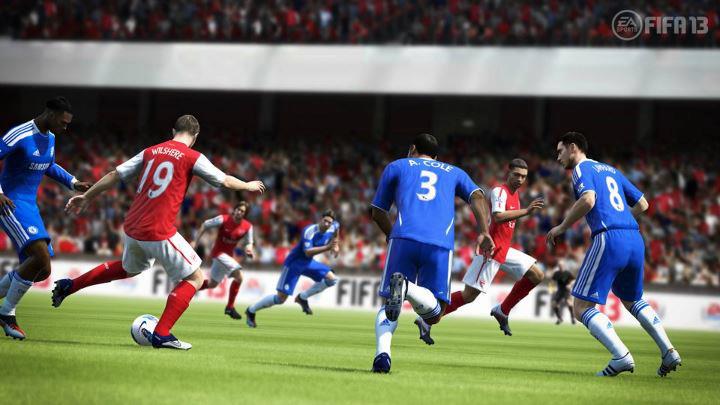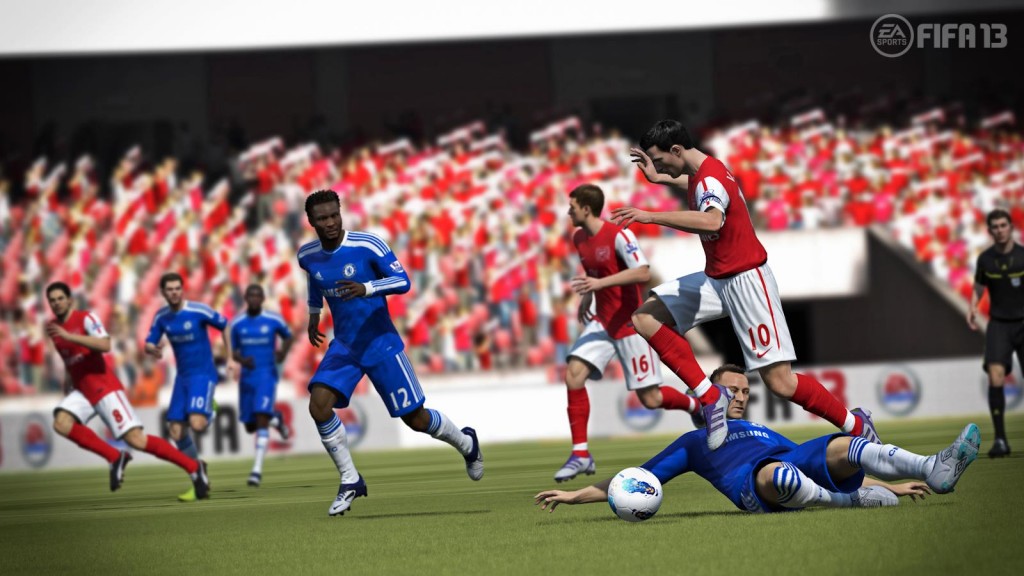 FIFA 13: The First Trailer