The FIFA 13 producer, Garreth Reeder, was interviewed by FIFA.com and said that the opinion of the players is very important in the work of his team.
Read the interview here.
The interview of FIFA 13 producer, Garreth Reeder
FIFA.com
Hello Garreth, thank you for joining us today. You must be thrilled at how well FIFA 13 has been received by fans. There seem to have been a ton of changes implemented in the new game. Do you think that top players will adapt or do you think that we'll see lots of new faces in Madrid for the FIWC13 Grand Final?
Garreth Reeder
I think the top players will adapt. However, in the end, only the best players will win. The current changes that have been added to the FIWC have made the format in general more accessible and fun, which will enable the best players to rise to the top.
FIFA.com
Back in September, before the official release of FIFA13, four former champions visited EA SPORTS for a Tournament of Champions. Were you amazed by how fast they adapted?
Garreth Reeder
Definitely. It also enabled us to pick up any nuances within the game very quickly. FIFA 13 gameplay is quite different to FIFA 12 because new features like First Touch Control and Attacking Intelligence are game-changing features, but all the former champions were able to adapt to the new features and style of the game very quickly.
FIFA.com
When you observe top gamers playing the game does it help you in future development?
Garreth Reeder
Yes, the gameplay team gets a lot of ideas and feedback from the top players. It is always good to see them in action because we can learn so much from them.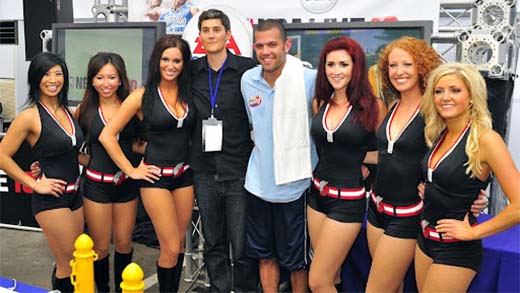 FIFA.com
Where else do you draw inspiration from for new virtual football features?
Garreth Reeder
We get our inspiration from football. In every game something will happen that will spark an idea or start a conversation so we never run out of ideas. We also have a very vocal fan base and they let us know what they like, what they don't like and the things that they find frustrating. We make sure we address and prioritize as many of these items as we can to make our fans happy.
FIFA.com
So when will you start working on the next edition of the FIFA-series?
Garreth Reeder
Once a game launches we take a short break and then begin putting plans into place. We are always trying to push innovation forward, so while we are focused on creating the best game at the moment, we are also looking beyond and thinking about what we can do next and what could be possible.
FIFA.com
This year you made the game more realistic and unpredictable, what can we expect for the next edition?
Garreth Reeder
I can't comment on the specifics of the next edition but I can tell you that the EA SPORTS™ FIFA philosophy is to refine the features that are in the game now to ensure high quality, respond to the feedback from our fans so that we can prioritize the things that matter most to them and finally to innovate new features so that every year we create unexpected or surprising things that change the experience. There are some fantastic features in FIFA 13 but we have a massive list of things that we can do better and things that we want to achieve for next year.


This interview was taken from FIFA.com.
You can read it here.