EA Sports has released a new video of FIFA 13.
FIFA 13: The Game
FIFA 13 promises to be the best football simulation game in videogame history. FIFA Ultimate Team has been improved and will be included.
Learn more about FIFA 13 and buy it with us.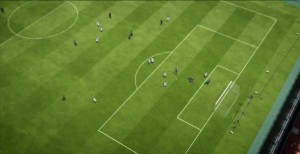 FIFA 13: The Second Video
EA Sports released the second video of their new game FIFA 13, satisfying the curiosity of their followers.
In the short video, the highlight is the presentation of new Arsenal 's away kit for the season 2012/13.
The one-minute teaser is divided into two stages: the entrance on the Emirates Stadium pitch of London rival teams, Arsenal and Chelsea; and a portion of that game that ends in goal. In the latter, Alex Oxlade-Chamberlain recovered the ball that goes through Theo Walcott, Jack Wilshere and Tomas Rosicky, before coming to Mikel Arteta who beats Cech and John Terry.

Watch the Video here: