The Christmas brings news to FIFA 13 Ultimate Team.
Watch the new TV ad and check out the new FIFA 13 special edition.
FIFA 13 TV Ad – Christmas 2012
EA already accustomed us to great TV ads at Christmas time. This year Santa joins to the Messi club. Do not miss it…
FIFA 13 Ultimate Team and the Christmas – Special Prices
Christmas has brought with it great opportunities for those who want to buy the FIFA 13 game.
Besides the Bonus Edition, there are many attractive promotions that may reduce the price up to 50%. There are stores that sell FIFA 13 for just £5 if delivered two games.
If you do not have FIFA 13, enjoy!
FIFA 13 Bonus Edition
Taking advantage of the holiday season, EA has released a special edition of FIFA 13 dedicated to FIFA 13 Ultimate Team players: The Bonus Edition.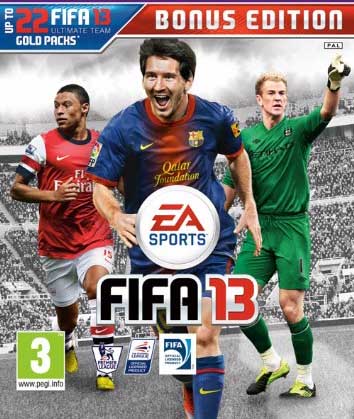 The FIFA 13 Bonus Edition is available at EA retail partners in Europe and will be exclusive to Walmart and the PlayStation Store (Digital Download) in the US.
Fans that purchase the FIFA 13 Bonus Edition will receive FIFA 13 and 2200 FIFA Points, redeemable instantly for FIFA 13 Ultimate Team item packs, including up to 22 gold packs to help build their FUT of football superstars.
Each gold pack is a mix of 12 items, including players, contracts, stadiums, managers, staff, fitness, healing, balls, kits, and badges. Gold Packs consist of players rated 75+ in-game, and include one rare item, such as enhanced player attributes, longer contracts, or the most coveted players.
This offer is available only for new purchases of FIFA 13 Bonus Edition to PS3 or XBox 360 and expires at May 31, 2013.
Merry Christmas!