The new orange card of FIFA 13 Ultimate Team is out.
FIFA 13 Ultimate Team Orange Card
The end of January 2012 brought something new to the thousands of FIFA 13 Ultimate Team enthusiasts. Was launched and put into circulation a new type of In Form player card.
These new orange cards reward the players that played better on certain games, calling them Man Of The Match (MOTM). Most of attributes are improved, making this type of card very desirable among the Ultimate Team players.
It seems that EA drooped the purple colour and joined MOTM and iMOTM into a single one: orange.
Generally speaking, these cards are the second most valuable of the whole game. For the same player, the orange card worth more than his black card of Team Of The Week (TOTW) and less than his blue card of Team Of the Year (TOTY) and Team of the Season (TOTS). For being a very rare type of card and limited release of only 24 hours, their market prices are extremely high. If that player does not have any IF card, this orange card will reach values ​​even more impressive.
The first FIFA 13 Ultimate Team Orange Card
The first player to hold a MOTM card was the gunner Gervinho.
His exhibition and the goal he scored by Ivory Coast in the African Cup of Nations elected him to that title.
In the image below you can see the improvement of the attributes of Gervinho orange card . As it happens with some In Form cards, the player's position has changed. This is due to the fact that he occupied a new position in the match which he highlighted.
Who will be the next one ?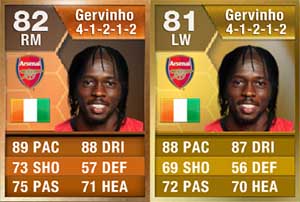 MOTM Card vs Regular Card of Gervinho in FIFA 13 Ultimate Team
FIFA 13 Ultimate Team Colours Cards
For anyone who is starting in FUT, the colours of the players cards may create some confusion.
Let's summarize what each colour of FIFA 13 Ultimate Team cards means:
Regular Cards

Golden (gold level), grey (silver level) and brown (bronze level).
Each of these three colours has a brighter variant – the rare cards.

In Form Cards (IF)

Black (TOTW – Team of the Week)
Blue (TOTY – Team of the Year and TOTS – Team of the Season)
Orange (MOTM – Man of the Match)
Blue/ Red (Special)
To learn more about this subject, please read our special article.