Are you looking for FIFA 14 Demo details ? You can find them here: download links, release date, clubs included and more…
FIFA 14 Demo Release Date
The FIFA 14 Demo release date depends of your region and your platform:
September 10th, 2013 (Tuesday)
– PC (9:30am) and XBox 360 players (2pm)
– North America Playstation 3 players (7:30pm)
September 11th, 2013 (Wednesday)
– European Playstation 3 players (5pm)
There will not be released any demo for next-gen consoles.
Last year, FIFA 13 Demo was available on September 11.
FIFA 14 Demo Download Links
The FIFA 14 Demo download link for PC is: https://www.origin.com/store/shop/demos-trials
To download FIFA 14 Demo to the current-gen consoles PS3 or XBox 360, you will need to do it directly from PSN Store and Xbox LIVE.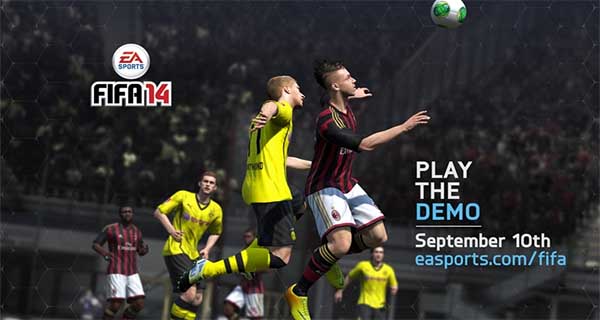 Useful Informations about FIFA 14 Demo
FIFA 14 Demo will be available for the platforms PS3, XBox 360 and PC from early September.
On the demo, it will be possible to play in the Camp Nou a 3 minutes halves "Match Day" with a selection of eight teams: Manchester City and Spurs from UK, Barcelona from Spain, NY Red Buls from USA, Boca Juniors from Argentina, AC Milan from Italy, Borussia Dortmund from Germany and PSG from France.
For the first time ever, Ultimate Team will be part of the demo. Besides the access to an interactive tutorial called Icebreaker, you will have the chance to play with one of the three pre-set FIFA 14 Ultimate Team teams.
It will be possible to send to EA Sports Football the goals scored on the demo.
This article will be updated as soon as more FIFA 14 Demo news are released.