There are new details about the FIFA 14 Ultimate Team Legends. Find out the release date and the three new cards.


UPDATE
Novembro 20th, 2013
EA Sports has released the Legend cards in packs on November 20th.
FIFA 14 Ultimate Team Legends Release Date and New Cards
FIFA 14 Ultimate Team Legends are special cards that will be included in the game as any other card. The players of these cards are some of the greatest football players of all time. Each football legend will have unique attributes based on their skills and flair during the peak of their careers. They will be probably the best cards of the game.
In a special next-gen preview event, FIFA 14 producer Nick Shannon told that the Microsoft exclusive addition will be available "on the Xbox Marketplace as soon as Xbox One launches". With both editions sharing the same marketplace, Legends content will go live on both Xbox 360 and Xbox One on the same day. Which means that FIFA 14 Ultimate Team Legends will be launching on November 20.
But the release date of the FIFA 14 Ultimate Team Legends cards was not the only new thing. Three more Legend cards were announced for FUT 14: Figo, Romario and Nedved. Now there is another Brazilian player, besides Pelé. The number of Legends included in FIFA 14 Ultimate Team now stands at 42. Here is the full list of FIFA 14 Ultimate Team Legends:
Bergkamp
Bierhoff
Campbell
Cannavaro
Crespo
De Boer
Desailly
Effenberg
Fowler
Hierro
Figo [NEW]
Futre
Gullit
Hagi
Inzaghi
Kluivert
Larsson
Lehmann
Lineker
Ljunberg
Maldini
Matthaus
Neville
Nedved [NEW]
Owen
Pauleta
Pelé
Pirès
Rijkaard
Romário [NEW]
Rui Costa
Seaman
Sheringham
Shevchenkho
Suker
Van Basten
Van Der Sar
Van Nistelrooy
Vieira
Vieri
Whea
Zola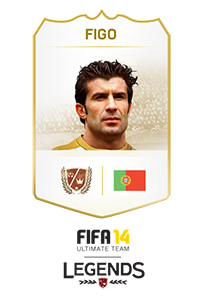 With Figo's addition, there are four Portuguese players
in this list but the greatest one of all times isn't there: Eusébio.
You can learn more about FIFA 14 Ultimate Team Legends, clicking HERE. Al the players ratings are HERE.