FIFA 14 Ultimate Team Legends will be an exclusive content for XBox Consoles. Do you want to know more ?


UPDATES
November 25th 2013
Added the Legends Spotlight feature
Updated several details
November 20th 2013
Added a new picture
Added the new release date
Changed the availability of the cards during the year
Added the FUT Legends Challenge feature
October 23rd 2013
Added Figo, Nedved and Romario to the Legends List
Added first cards release date
Everything about the FIFA 14 Ultimate Team Legends
If you want to know a bit more about FIFA 14 Ultimate Team Legends, you are in the right place. We will try to explain you what it is and how it will work.
What is FIFA 14 Ultimate Team Legends ?
FIFA 14 Ultimate Team Legends are special cards that will be included in the game as any other card. The players of these cards are some of the greatest football players of all time. Each football legend will have unique attributes based on their skills and flair during the peak of their careers. They will be probably the best cards of the game.
For which consoles FIFA 14 Ultimate Team Legends will be available ?
You should know that FUT Legends is an exclusive content for XBox users. It means that if you are a Playstation or PC user, you will not see it on your game. Then, it is also important to clarify that this special content is available for XBox One and for XBox 360. You don't need to buy the new Microsoft console to play with it.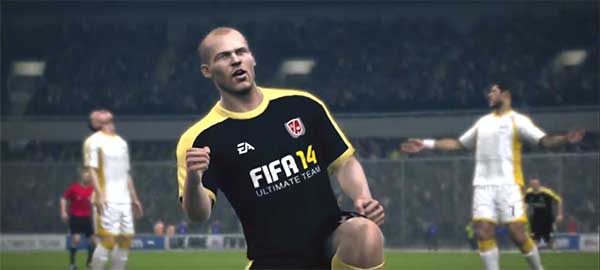 How will be the cards of these players ?
The Legends cards will be white. They will be randomly inserted into FIFA 14 Ultimate Team Gold Packs as it happens with any other card. It will be possible to sell or buy them on the transfer market. As you may imagine, these cards will be very expensive.
What is the FUT Legends Challenge ?
Each week, EA Sports will highlight a particular Legend, whom players can then challenge along with a few of his legendary friends in Legends Team Challenge. Gamers will be able to earn coins for defeating that week's featured Legend and their squad (only the first time). It's just like FUT Team of the Week, but with the world's finest footballers. Be sure to check Legends Team Challenge every week as the squad and featured Legend will change every week on Friday at 6pm UK time.
What is a Legends "Spotlight" and how it works ?
During the week in which a Legend is featured in the Spotlight, you are more likely to find this item than at any other time of the year. During a Legends Spotlight, all other Legends will still available in FIFA 14 Ultimate Team. The Spotlight will change to a new Legend each week on Friday at 6pm UK time (9am Pacific).
When these cards will be available ?
FIFA 14 Ultimate Team Legends will not be available in the current-gen FIFA 14 release date. They will be inserted in packs only at XBox One release date. In this way, they will be available for the two consoles at the same time. The first cards will be added to packs on November 20th. All the cards will be available whole the year. You can find them on any pack that contains Gold Rare slots.

It will be possible to join a legend to a normal squad ?
Sure. Legends work as any other card with the exception that it is only possible to play with them in specific tournaments (to be confirmed).
Which Legends cards will be available ?
EA Sports may add some more legends but until now there are 42 players (you can check all the stats HERE):
Bergkamp
Bierhoff
Campbell
Cannavaro
Crespo
De Boer
Desailly
Effenberg
Fowler
Hierro
Figo
Futre
Gullit
Hagi
Inzaghi
Kluivert
Larsson
Lehmann
Lineker
Ljunberg
Maldini
Matthaus
Neville
Nedved
Owen
Pauleta
Pelé
Pirès
Rijkaard
Romário
Rui Costa
Seaman
Sheringham
Shevchenkho
Suker
Van Basten
Van Der Sar
Van Nistelrooy
Vieira
Vieri
Whea
Zola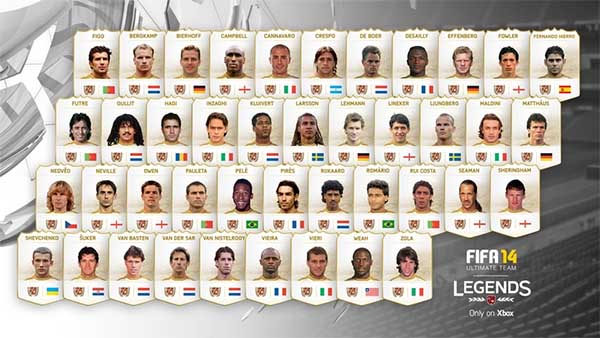 Here is an intro video of FIFA 14 Ultimate Team Legends: